Abstract
Seaweeds are the primary producers of all aquatic ecosystems. Chemical constituents isolated from diverse classes of seaweeds exert a wide range of nutritional, functional and biological activities. Unique metabolites of seaweeds possess specific biological properties that make them potential ingredients of many industrial applications such as functional foods, pharmaceuticals and cosmeceuticals. Cosmeceuticals of natural origin are becoming more popular than synthetic cosmetics. Hence, the investigation of new seaweeds derived functional components, a different source of natural products, has proven to be a promising area of cosmeceutical studies. Brown seaweeds also produce a range of active components including unique secondary metabolites such as phlorotannins and many of which have specific biological activities that give possibilities for their economic utilization. Brown seaweeds derived active compounds have been shown various functional properties including, antioxidant, antiwrinkling, whitening, antiinflammatory and antiallergy. It is well-known that these kind of biological effects are closely associated with cosmeceutical preparations. This communication reviews the current knowledge on brown seaweeds derived metabolites with various biological activities and the potential use as cosmeceutical ingredients. It is hoped that the reviewed literature on multifunctional properties of brown seaweeds will improve access to the seaweed based natural products specially the ability to incorporate these functional properties in cosmeceutical applications.
Access options
Buy single article
Instant access to the full article PDF.
USD 39.95
Price excludes VAT (USA)
Tax calculation will be finalised during checkout.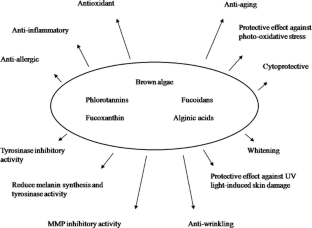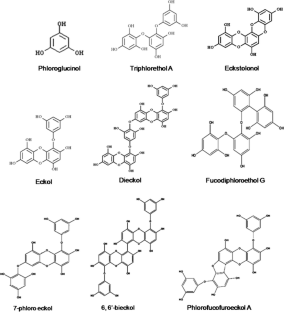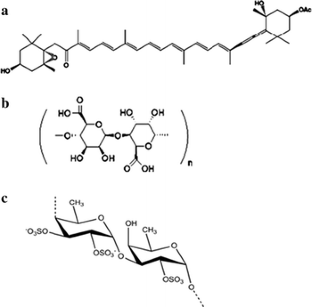 References
Agar N, Young AR (2005) Melanogenesis: a photoprotective response to DNA damage. Mutat Res 571:121–132

Ahn GN, Kim KN, Cha SH, Son CB, Lee J, Heo MS, Yeo IK, Lee NH, Jee YH, Kim JS, Heu MS, Jeon YJ (2007) Antioxidant activities of phlorotannins purified from E. cava on free radical scavenging using ESR and H2O2-mediated DNA damage. Eur Food Res Technol 226:71–79

Andrade LR, Salgado LT, Farina M, Pereira MS, Mourão PAS, Amado-Filho GM (2004) Ultrastructure of acidic polysaccharides from the cell walls of brown algae. J Struct Biol 145:216–225

Antignac E, Nohynec GJ, Re T, Clouzeau J, Toutain H (2011) Safety of botanical ingredients in personal care products/cosmetics. Food Chem Toxicol 49:324–341

Boisson-Vidal C, Haroun F, Ellouali M, Blondin C, Fischer AM, de Agostini A, Josefonvicz J (1995) Biological activities of polysaccharides from marine algae. Drugs Futur 20:1237–1249

Caliceti M, Argese E, Sfriso A, Pavoni B (2002) Heavy metal contamination in the seaweeds of the Venice lagoon. Chemosphere 47:4436–4454

Cardozo KHM, Guaratini T, Barros MP, Falcao VR, Tonon AP, Lopes NP, Campos S, Torres MA, Souza AO, Colepicolo P, Pinto E (2007) Metabolites from algae with economical impact. Comp Biochem Phys C146:60–78

Cha SH, Ko SC, Kim D, Jeon YJ (2010) Screening of marine algae for potential tyrosinase inhibitor: those inhibitors reduced tyrosinase activity and melanin synthesis in zebra fish. J Dermatol 37:1–10

Chandini SK, Ganesa P, Bhaskar N (2008) In vitro antioxidant activities of three selected seaweeds of India. Food Chem 107:707–713

Chen Z, Seo JY, Kim YK, Lee SR, Kim KH, Cho KH, Eun HC, Chung JH (2005) Heat modulation of tropoelastin, fibrillin-1, and matrixmetalloproteinase-12 in human skin in vivo. J Invest Dermatol 124:70–78

Choi CM, Berson DS (2006) Cosmeceuticals. Semin Cutan Med Surg 25:163–168

Connan S, Deslandes E, Gall EA (2007) Influence of day-night and tidal cycles on phenol content and antioxidant capacity in three temperate intertidal brown seaweeds. J Exp Mar Biol Ecol 349:359–369

Costa LS, Fidelis GP, Cordeiro SL, Oliveira RM, Sabry DA, Câmara RB, Nobre LT, Costa MS, Almeida-Lima J, Farias EH, Leite EL, Rocha HA (2010) Biological activities of sulfated polysaccharides from tropical seaweeds. Biomed Pharmacother 64:21–28

Davis TA, Volesky B, Mucci A (2003) A review of the biochemistry of heavy metal biosorption by brown algae. Water Res 37:4311–4330

Dawczynski C, Schubert R, Jahreis G (2007) Amino acids, fatty acids, and dietary fibre in edible seaweed products. Food Chem 103:891–899

de la Coba F, Aguilera J, de Galves MV, Alvarez M, Figueroa FL, Herrera E (2009) Prevention of ultraviolet effects on clinical and histopathological changes, as well as the heat shock protein-70 expression in mouse skin by topical application of algal UV-absorbing compounds. J Dermatol Sci 55:161–169

Fails A, Corda M, Era B, Fadda MB, Matos MJ, Quezada E, Santana L, Picciau C, Podda G, Delogu G (2009) Tyrosinase inhibitor activity of coumarin-resveratrol hybrids. Molecules 14:2514–2520

Fisher GJ, Kang S, Varani J, Csorgo ZB, Wan Y, Datta S, Voorhees JJ (2002) Mechanisms of photoaging and chronological skin aging. Arch Dermatol 138:1462–1470

Fitton JH, Irhimeh M, Falk N (2007) Macroalgal fucoidan extracts: a new opportunity for marine cosmetics. Cosmet Toilet 122:55–64

Fujii T, Wakaizumi M, Ikami T, Saito M (2008) Amla (E. officinalis Gaertn.) extract procollagen production and inhibits matrix metalloproteinase-1 in human skin fibroblasts. J Etnopharmacol 119:53–57

Gao XH, Zhang L, Wei H, Chen HD (2008) Efficiency and safety of innovative cosmeceuticals. Clin Dermatol 26:367–374

Glombitza KW, Hauperich S (1997) Phlorotannins from the brown alga C. torulosa. Phytochemistry 46:735–740

Guan Y, Chu Q, Fu L, Ye J (2005) Determination of antioxidants in cosmetics by micellar electrokinetics capillary chromatography with electrochemical detection. J Chromatogr A 1074:201–204

Han X, Shen T, Lou H (2007) Dietary polyphenols and their biological significance. Int J Mol Sci 8:950–988

Heo SJ, Jeon YJ (2009) Protective effect of fucoxanthin isolated from S. siliquastrum on UV-B induced cell damage. J Photoch Photobiol B 95:101–107

Heo SJ, Ko SC, Kang SM, Kang HS, Kim JP, Kim SH, Lee KW, Kim JP, Kim SH, Lee KW, Cho MG, Jeon YJ (2008) Cytoprotective effect of fucoxanthin isolated from brown algae S. siliquastrum against H2O2-induced cell damage. Eur Food Technol 228Z:145–151

Heo SJ, Ko SC, Cha SH, Kang DH, Park HS, Choi YU, Kim D, Jung WK, Jeon YJ (2009) Effect of phlorotannins isolated from E. cava on melanogenesis and their protective effect against photo-oxidative stress induced by UV-B radiation. Toxicol In Vitro 23:1123–1130

Heo SJ, Ko SC, Kang SM, Cha SH, Lee SH, Kang DH, Jung WK, Affan A, Oh C, Jeon YJ (2010) Inhibitory effect against UV-B radiation-induced cell damage. Food Chem Toxicol 48:1355–1361

Hosokawa M, Kudo M, Maeda H, Konho H, Tanaka T, Miyashita K (2004) Fucoxanthin induces apoptosis and enhances the antiproliferative effect of the PPARγ ligand, troglitazone, on colon cancer cells. Biochim Acta 1675:113–119

Jenkins G (2002) Molecular mechanisms of skin aging. Mech Ageing Dev 123:801–810

Jiang Z, Okimura T, Yokose T, Yamasaki Y, Yamaguchi K, Oda T (2010) Effect of sulfated, ascopphyllan, from the brown alga A. nodosum on various cell lines: a comparative study on ascophyllan and fucoidan. J Biosci Bioeng 110:113–117

Jung WK, Ahn YW, Lee SH, Choi YH, Kim SK, Yea SS, Choi I, Park SG, Seo SK, Lee SW, Choi IW (2009) Ecklonia cava ethanolic extracts inhibit lipopolysaccharide-induced cyclooxygrnase-2 and inducible nitric oxide synthase expression in BV2 microglia via the MMP kinase and NF-κB patheays. Food Chem Toxicol 47:410–417

Kamatou GPP, Zyl RLV, Vuuren SFV, Figueiredo AC, Barroso JG, Pedro LG, Viljoen AM (2008) Seasonal variation in oil composition, oil toxicity and the biological activity of solvent extracts of three South African Salvia species. S Afr J Bot 74:230–237

Kang HS, Kim HR, Byun DS, Son BW, Nam TJ, Choi JS (2004) Tyrosinase inhibitors isolated from the edible brown alga E. stolonifera. Arch Pharm Res 27:1226–1232

Kang KA, Lee KH, Chae S, Zhang R, Jung MS, Lee Y, Kim SY, Kim HS, Hong GJ, Park JW, Ham YM, Lee NH, Hyun JW (2005) Eckol isolated from E. cava attenuates oxidative stress induced cell damage in lung fibroblast cells. FEBS Lett 579:6295–6304

Kang KA, Zhang R, Lee KH, Chae S, Kim BJ, Kwak YS, Park JW, Lee NH, Hyun JW (2006) Protective effect of Triphloretheol-A from E. cava against ionizing radiation in vitro. J Radiat Res 47:61–68

Kang KA, Lee KH, Park JW, Lee NH, Na HK, Surh YJ, You HJ, Chung MH, Hyun JW (2007) Triphlorethol-A induces heme oxygenase-1 via activation of ERK and NF-E2nrelated factor 2 transcription factor. FEBS Lett 581:2000–2008

Kashman Y, Rudi A (2004) On the biosynthesis of marine isoprenoids. Phytochem Rev 3:309–323

Kazlowska K, Hsu T, Hou CC, Yang WC, Tsai GJ (2010) Antiinflammatory properties of phenolic compounds and crude extract from P. dentata. J Ethanopharmacol 128:123–130

Kim MM, Ta QV, Mendis E, Rajapakse N, Jung WK, Byun HG, Jeon YJ, Kim SK (2006) Phlorotannins in E. cava extract inhibit matrix metalloproteinase activity. Life Sci 79:1436–1443

Kim KJ, Lee OH, Lee BY (2010a) Fucoidan, a sulfated polysaccharide, inhibits adipogenesis through the mitogen-activated protein kinase pathway in 3T3–L1 preadipocytes. Life Sci 86:791–797

Kim KM, Heo SJ, Kang SM, Ahn G, Jeon YJ (2010b) Fucoxanthin induces apoptosis in human leukemia HL-60 cells through a ROS-mediated Bcl-xL pathway. Toxicol In Vitro 24:1648–1654

Kladi M, Vagias C, Roussis V (2004) Volatile halogenated metabolites from red algae. Phytochem Rev 3:337–366

Ko SC, Cha SH, Heo SJ, Lee SH, Kang SM, Jeon YJ (2010) Protective effect of E. cava on UVB-induced oxidative stress: in vitro and in vivo zebrafish model. J Appl Phycol (in press). doi:10.1007/s10811-010-9565-z

Kochanek KS, Brenneisen P, Wenk J, Herrmann G, Ma W, Kuhr L, Meewes C, Wlaschek M (2000) Photoaging of the skin from phenotype to mechanisms. Exp Gerontol 35:307–316

Koivikko R, Loponen J, Honkanen T, Jormalainen V (2005) Contents of soluble, cell-wall-bound and exuded phlorotannins in the brown alga F. vesiculosus, with implications on their ecological aspects. J Chem Ecol 31:195–212

Le QT, Li Y, Qian ZJ, Kim MM, Kim SK (2009) Inhibitory effects of polyphenols isolated from marine algae E. cava on histamine release. Process Biochem 44:168–176

Leal D, Rossi M, Caruso F (2008) FT-IR spectra of alginic acid block fractions in three species of brown seaweeds. Carbohyd Res 343:308–316

Lee JH, Park JC, Choi JS (1996) The antioxidant activity of E. stolonifera. Arch Pharm Res 19:223–227

Lee NY, Ermakova SP, Zvyagintseva TN, Kang KW, Dong Z, Choi S (2008) Inhibitory effects of fucoidan on activation of epidermal growth factor receptor and cell transformation in JB6 C141 cells. Food Chem Toxicol 46:1793–1800

LI B, Lu F, Wei X, Zhao R (2008) Fucoidan: structure and bioactivity. Molecules 13:1671–1695

Li Y, Quian ZJ, Ryu B, Lee SH, Kim MM, Kim SK (2009) Chemical components and its antioxidant properties in vitro: an edible marine brown alga, E. cava. Bioorg Med Chem 17:1963–1973

Likhitwitayawuid K (2008) Stilbenes with tyrosinase inhibitory activity. Curr Sci 94:44–52

Lupo MP (2001) Antioxidants and vitamins in cosmetics. Clin Dermatol 19:467–473

Maeda H, Hosokawa M, Sashima T, Funayama K, Miyashita K (2005) Fucoxanthin from edible seaweed, U. pinnatifida, shows antiobesity effect through UCP1 expression in white adipose tissues. Biochem Biophys Res Commun 332:392–397

Masaki H (2010) Role of antioxidants in the skin: anti-aging effects. J Dermatol Sci 58:85–90

Matou S, Helley D, Chabut D, Bros A, Fisher AM (2002) Effect of fucoidan on fibroblast growth factor-2-induced angiogenesis in vitro. Thomb Res 106:213–221

Moon H, Chung JH, Lee JK, Zee OP (2004) Triterpenoid saponin from V. hondoensis W. Becker, H. Boss and their effect on MMP-1 and type 1 procollagen expressin. Arch Pharm Res 27:730–733

Moore DE, Miao WG, Benikos C (2004) Quantitative determination of alginicacid in pharmaceutical formulations using capillary electrophoresis. J Pharmaceut Biomed 34:233–238

Nohynek GI, Antignac E, Re T, Toutain H (2010) Safety assessment of personal care products/cosmetics and their ingredients. Toxicol Appl Pharmacol 243:239–259

O'Sullivan AM, O'Callaghan YC, O'Grady MN, Queguineur B, Hanniffy D, Troy DJ, Kerry JP, O'Brien NM (2011) In vitro and cellular antioxidant activities of seaweed extracts prepared from five seaweeds harvested in spring from the west coast of Ireland. Food Chem 126:1064–1070

Plaza M, Cifuentes A, Ibanez E (2008) In the search of new functional food ingredients from algae. Trends Food Sci Tech 19:31–39

Reddy P, Urban S (2009) Meroditerpenoids from the southern Australian marine brown alga S. fallax. Phytochemistry 70:250–255

Reszko AE, Berson D, Lupo MP (2009) Cosmeceuticals: practical applications. Dermatol Clin 27:401–416

Rioux LE, Turgeon SL, Beaulieu M (2009) Effect of season on the composition of bioactive polysaccharides from the brown seaweed S. longicruris. Phytochemistry 70:1069–1075

Ryu B, Li Y, Qian ZJ, Kim MM, Kim SK (2008) Exhibitory effects of compounds from brown alga E. cava on the human osteoblasts. Abstr J Biotechnol 136S:S588

Satomi Y, Nishino H (2009) Implication of mitogen-activated protein kinase in the induction of G1 cell cycle arrests and gadd45 expression by the carotenoid fucoxanthin in human cancer cells. Biochem Biophys Acta 790:260–266

Schurch C, Blum P, Zulli F (2008) Potential plant cells in culture for cosmetic application. Phytochem Rev 7:599–605

Shang YF, Kim SM, Lee WJ, Um BH (2010) Pressurized liquid method for fucoxanthin extraction from E. bicyclis (kjellman) setchell. J Biosci Bioeng (in press). doi:10.1016/j.jbiosc

Shibata T, Yamaguchi K, Nagayama K, Kawagushi S, Nakamura T (2002) Inhibitory activity of brown algal phlorotannins against glycosidases from the viscera of the turban shell T. cornutus. Eur J Phycol 37:493–500

Sima VH, Patris S, Aydogmus Z, Sarakbi A, Sandulescu R, Kauffmann JM (2011) Tyosinase immobilized magnetic nanobeads for the amperometric assay of enzyme inhibitors: application to the skin whitening agents. Talanta 83:980–987

Sun T, Ho CT (2005) Antioxidant activities of buckwheat extracts. Food Chem 90:743–749

Susanto S, Feng Y, Ulbricht M (2009) Fouling behavior of aqueous solutions of polyphenolic compounds during ultrafiltration. J Food Eng 91:333–340

Teruya T, Konishi T, Uechi S, Tamaki H, Tako M (2007) Anti-proliferative activity of oversulfated fucoidan from commercially cultured C. okamuranus TOKIDA in U937 cells. Int J Biol Macromol 41:221–226

Thiele JJ, Podda M, Packer L (1997) Tropospheric ozone an emerging environmental stress to skin. Biol Chem 378:1299–1305

Torres A, Enk CD, Hochberg M, Srebnic M (2006) Porphyra-334: a potential natural source for UVA protective screens. Photochem Photobio S 5:432–435

Wang Y, Xu Z, Bach SJ, McAllister TA (2008) Effects of phlorotanninsfrom A. nodosum (brown seaweed) on in vitro ruminal digestion of mixed forage or barley rain. Anim Feed Sci Tech 145:375–395

Weber C, Podda M, Rallis M, Thiele JJ, Traber MG, Packer L (1997) Efficacy of topically applied tocopherols and tocotrienols in protection of murine skin from oxidative damage induced by UV-irradiation. Free Radic Biol Med 22:761–769

Wijesinghe WAJP, Won-Woo L, Young-Mog K, Young-Tae K, Se-Kwon K, Byong-Tae J, Jin-Soo K, Min-Soo H, Won-Kyo J, Ahn G, Lee KW, Jeon YJ (2011) Value-added fermentation of E. cava processing by-product and its antioxidant effect. J Appl Phycol. doi:10.1007/s10811-011-9668-1

Woo MN, Jeon SM, Kim HJ, Lee MK, Shin SK, Shin YC, Park YB, Choi MS (2010) Fucoxanthin supplementation improves plasma and hepatic metabolism and blood glucose concentration in high-fat fed C57BL/6N mice. Chem Biol Interact 186:316–322

Xu G, Snellman E, Bykov VJ, Jansen CT, Hemminki K (2000) Effect of age on the formation and repair of UV photoproducts in human skin situ. Mutat Res 459:195–202

Yamasaki M, Ogura K, Hashimoto W, Mikami B, Murata K (2005) A structural basis for depolymerization of alginate by polysaccharide lyase family-7. J Mol Biol 352:11–21

Yang L, Zhang LM (2009) Chemical structural and chain conformational characterization of some bioactive polysaccharides isolated from natural sources. Carbohydr Polym 76:349–361

Yoon NY, Eom TK, Kim MM, Kim SK (2009) Inhibitory effect of phlorotannins isolated from E. cava on mushroom tyrosinase activity and melanin formation in mouse B16F10melanoma cells. J Agr Food Chem 57:4124–4129

Zvyagintseva TN, Shevchenko NM, Chizhov AO, Krupnova TN, Sundukova EV, Isakov VV (2003) Water-soluble polysaccharides of some far-eastern brown seaweeds. Distribution, structure and their dependence on the developmental conditions. J Exp Mar Biol Ecol 294:1–13
Conflicts of interest
The authors declare that there are no conflicts of interest.
About this article
Cite this article
Wijesinghe, W.A.J.P., Jeon, YJ. Biological activities and potential cosmeceutical applications of bioactive components from brown seaweeds: a review. Phytochem Rev 10, 431–443 (2011). https://doi.org/10.1007/s11101-011-9214-4
Received:

Accepted:

Published:

Issue Date:

DOI: https://doi.org/10.1007/s11101-011-9214-4
Keywords
Biological properties

Natural products

Phaeophyceae

Phytochemicals

Secondary metabolites