Abstract
Hydroxycinnamates are among the most widely distributed plant phenylpropanoids present in the free, conjugated-soluble and insoluble-bound forms. This review will focus on the occurrence, in vitro and in vivo antioxidant activities of ferulic, coumaric, caffeic and sinapic acids and their derivatives. Hydroxycinnamates are found in almost all food groups though they are abundant in cereals, legumes, oilseeds, fruits, vegetables and beverages and render antioxidant activity by scavenging hydroxyl radical, superoxide radical anion, several organic radicals, peroxyl radical, peroxinitrite and singlet oxygen, among others. Further, their antioxidant activity as chain breaking antioxidants and reducing agents is also notable. Ferulic acid and its derivatives such as ferulic acid ethyl ester, ferulic acid dehydrodimers, feruloyl glycosides and curcumin have demonstrated potent antioxidant activity in both in vitro and in vivo systems. Similarly, caffeic acid and some of its derivatives such as caffeic acid phenethyl ester, rosmarinic acid, and chlorogenic acid exhibit antioxidant activity. The highest antioxidant activity was observed for caffeic acid whereas p-coumaric acid had the least effect among major hydroxycinnamic acids. The importance of structural effects on the potency of antioxidant activity of hydroxycinnamates is discussed. While this review also shows the existence of substantial body of evidences for in vitro antioxidant activity of hydroxycinnamates, there is a clear gap for in vivo information, particularly for sinapic and p-coumaric acids and their derivatives. The role of grains, fruits, vegetables and red wine in disease risk reduction and health promotion could partly be attributed to their constituent hydroxycinnamates.
This is a preview of subscription content, log in to check access.
Access options
Buy single article
Instant access to the full article PDF.
US$ 39.95
Price includes VAT for USA
Subscribe to journal
Immediate online access to all issues from 2019. Subscription will auto renew annually.
US$ 99
This is the net price. Taxes to be calculated in checkout.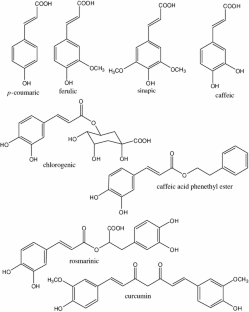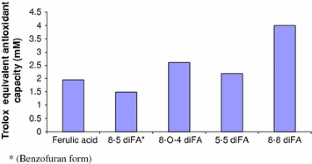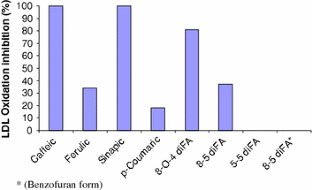 Abbreviations
AAPH:

2, 2′-Azobis-(2-methyl propionamidine) dihydrochloride

diFA:

Dehydrodiferulic acid

CAPE:

Caffeic acid phenethyl ester

DPPH:

1, 1-Diphenyl 2-picrylhydrazil

DOPAC:

3, 4-Dihydroxyphenylacetic acid

FAEE:

Ferulic acid ethyl ester

FRAP:

Ferric reducing antioxidant power

IR:

Ischaemia-reperfusion

LPS:

Lipopolysacchride

LDL:

Low density lipoprotein

NO:

Nitric oxide

TPA:

12-O-Tetradecanoylphorbol-13-acetate

TEAC:

Trolox equivalent antioxidant capacity

TBARS:

Thiobarbituric reactive substances
References
Abdul HM, Butterfield DA (2005) Protection against amyloid beta-peptide (1-42)-induced loss of phospholipid asymmetry in synaptosomal membranes by tricyclodecan-9-xanthogenate (D609) and ferulic acid ethyl ester: Implications for Alzheimer's disease. Biochim Biophys Acta 1741:140–148

Akihisa T, Yasukawa K, Yamaura M, Ukiya M, Kimura Y, Shimizu N, Arai K (2000) Triterpene alcohol and sterol ferulates from rice bran and their anti-infammatory effects. J Agric Food Chem 48:2313–2319

Akpinar MB, Erdogan H, Sahin S, Ucar F, Ilhan A (2005) Protective effects of caffeic acid phenethyl ester on rotenone-induced myocardial injury. Pesticide Biochem Physiol 82:233–239

Akyol A, Ulusoy H, Imamoglu M, Cay A, Yulug E, Alver A, Erturk E, Kosucu M, Ahmet Besir A, Akyol A, Ozen I (2006) Does propofol or caffeic acid phenethyl ester prevent lung injury after hindlimb ischaemia-reperfusion in ventilated rats? Injury Int J Care Injured 37:380–387

Alasalvar C, Karamać M, Amarowicz R, Shahidi F (2006) Antioxidant and antiradical activities in extracts of hazelnut kernel (Corylus avellana L.) and hazelnut green leafy cover. J Agric Food Chem 54:4826–4832

Altug ME, Serarslan Y, Bal R, Kontas T, Ekici F, Melek IM, Aslan H, Duman T (2008) Caffeic acid phenethyl ester protects rabbit brains against permanent focal ischemia by antioxidant action: A biochemical and planimetric study. Brain Res 1201:135–142

Amarowicz R, Shahidi F (1994) Chromatographic separation of glucopyranosyl sinapate from canola meal. J Am Oil Chem Soc 71:551–552

Amarowicz R, Weidner S (2001) Content of phenolic acids in rye caryopses determined using DAD-HPLC method. Czech J Food Sci 19:201–205

Amarowicz R, Wanasundara UN, Karamac M, Shahidi F (1996) Antioxidant activity of ethanolic extract of mustard seed. Nahrung 40:261–263

Amarowicz R, Naczk M, Shahidi F (2000) Antioxidant activity of various fractions of non-tannin phenolics of canola hulls. J Agric Food Chem 48:2755–2759

Andreasen MF, Landbo A, Christensen LP, Hansen A, Meyer AS (2001) Antioxidant effect of phenolic rye (Secale cereale L.) extracts, monomeric hydroxycinnamates, and ferulic acid dehydrodimers on human low density lipoproteins. J Agric Food Chem 49:4090–4096

Arts I, Hollman P (2005) Polyphenols and disease risk in epidemiologic studies. Am J Clin Nutr 81:317S–325S

Atik E, Sadık Gorur S, Kiper AN (2006) The effect of caffeic acid phenethyl ester (CAPE) on histopathological changes in testicular ischemia-reperfusion injury. Pharmacol Res 54:293–297

Aydogan H, Gurlek A, Parlakpinar H, Askar I, Bay-Karabulut A, Aydogan N, Fariz A, Acet A (2007) Beneficial effects of caffeic acid phenethyl ester (CAPE) on the ischaemia-eperfusion injury in rat skin flaps. J Plastic Reconstructive Aesthetic Surg 60:563–568

Bahorun T, Soobrattee MA, Luximon-Ramma V, Aruoma OI (2006) Free radicals and antioxidants in cardiovascular health and disease. Internet J Med Update 1:1–17

Bakalbassis EG, Chatzopoulou A, Melissas VS, Tsimidou M, Tsolaki M, Vafiadis A (2001) Ab initio and density functional theory studies for the explanation of the antioxidant activity of certain phenolic acids. Lipids 36:181–191

Balasubashini MS, Rukkumani R, Viswanathan P, Venugopal M (2004) Ferulic acid alleviates lipid peroxidation in diabetic rats. Phytother Res 18:310–314

Behl C (1999) Alzheimer's disease and oxidative stress: implications for novel therapeutic approaches. Prog Neurobiol 57:301–323

Borrelli F, Izzo AA, Carlo GD, Maffia P, Russo A, Maiello FM, Capasso F, Mascolo N (2002) Effect of a propolis extract and caffeic acid phenethyl ester on formation of aberrant crypt foci and tumors in the rat colon. Fitoterapia 73:S38–S43

Bunzel M, Ralph J, Marita J, Steinhart H (2000) Identification of 4-O-5'- coupled diferulic acid from insoluble cereal fiber. J Agric Food Chem 48:3166–3169

Bunzel M, Allerdings E, Sinwell V, Ralph J, Steinhart H (2002) Cell wall hydroxycinnamates in wild rice (Zizania aquatica L.) insoluble dietary fibre. Eur Food Res Technol 214:482–488

Bunzel M, Allerdings E, Ralph J, Steinhart H (2008) Cross-linking of arabinoxylans via 8–8 coupled diferulates as demonstrated by isolation and identification of diarabinosyl 8–8(cyclic)-dehydrodiferulates from maize bran. J Cereal Sci 47:29–40

Cai R, Hettiarachchy NS, Jalaluddin M (2003) High-Performance Liquid Chromatography determination of phenolic constituents in 17 varieties of cowpeas. J Agric Food Chem 51:1623–1627

Cantos E, Espin JC, Barberan TF (2001) Effect of wounding on phenolic enzymes in six minimally processed lettuce cultivars upon storage. J Agric Food Chem 49:322–330

Cartron E, Carbonneau MA, Fouret G, Descomps B, Leger CL (2001) Specific antioxidant activity of caffeoyl derivatives and other natural phenolic compounds: LDLprotection against oxidation and decrease in the proinflammatory lysophosphatidylcholine production. J Nat Prod 64:480–486

Castelluccio C, Paganga G, Melikian N, Bolwell GP, Pridham J, Sampson J, Rice-Evans C (1995) Antioxidant potential of intermediates in phenylpropanoid metabolism in higher plants. FEBS Lett 368:188–192

Castelluccio C, Bolwell P, Gerrish C, Rice-Evans C (1996) Differential distribution of ferulic acid to the major plasma constituents in relation to its potential as an antioxidant. Biochem J 316:691–694

Ceriello A (2008) Possible role of oxidative stress in the pathogenesis of hypertension. Review. Diabetes Care 31:S181–S184

Chen JH, Ho C (1997) Antioxidant activities of caffeic acid and its related hydroxycinnamic acid compounds. J Agric Food Chem 45:2374–2378

Chen J, Shao Y, Huang M, Chin C, Ho C (1996) Inhibitory effect of caffeic acid phenethyl ester on human leukemia HL-60 cells. Cancer Lett 108:211–214

Chen CY, Milbury PE, Kwak HK, Collins FW, Samuel P, Blumberg JB (2004) Avenanthramides and phenolic acids from oats are bioavailoable and act synergistically with vitamin C to enhance hamster and human LDL resistance to oxidation. J Nutr 134:1459–1466

Chen CY, Milbury PE, Collins FW, Blumberg JB (2007) Avenanthramides are bioavailoable and have antioxidant activity in humans after acute consumption of an enriched mixture from oats. J Nutr 1374:1375–1382

Cheng J, Dai F, Zhou B, Yang L, Liu Z (2007) Antioxidant activity of hydroxycinnamic acid derivatives in human low density lipoprotein: Mechanism and structure-activity relationship. Food Chem 104:132–139

Christen Y (2000) Oxidative stress and Alzheimer disease. Am J Clin Nutr 71:621S–629S

Coban S, Yildiz F, Terzi A, AL B, Ozgor D, Ara D, Polat A, Esrefoglu M (2009) The effect of caffeic acid phenethyl ester (CAPE) against cholestatic liver injury in rats. J Surg Res. doi:10.1016/j.jss.2008.10.023

Cos P, Rajan P, Vedernikova I, Calomme M, Pieters L, Vlietinck AJ, Augustyns K, Haemers A, Berghe DV (2002) In vitro antioxidant profile of phenolic acid derivatives. Free Radic Res 36:711–716

Crosara-Alberto DP, Darini ALC, Inoue RY, Silva JS, Ferreira SH, Cunha FQ (2002) Involvement of NO in the failure of neutrophil migration in sepsis induced by Staphylococcus aureus. Br J Pharmacol 136:645–658

Cunha FM, Duma D, Assreuy J, Buzzi FC, Niero R, Campos MM, Calixto JB (2004) Caffeic acid derivatives: in vitro and in vivo anti-inflammatory properties. Free Radic Res 38:1241–1253

Cuvelier ME, Richard H, Berset C (1992) Comparison of the antioxidative activity of some acid -phenols: structure activity relationships. Biosci Biotechnol Biochem 56:324–325

Davis KL, Martin E, Turko IV, Murad F (2001) Novel effects of nitric oxide. Ann Rev Pharmacol Toxicol 41:203–236

Diaz-Batalla L, Widholm JM, Fahey GC, Castano-Tostado JE, Paredes-Loapez O (2006) Chemical components with health implications in wild and cultivated Mexican common bean seeds (Phaseolus vulgaris L.). J Agric Food Chem 54:2045–2052

Droge W (2002) Free radicals in the physiological control of cell function. Review. Physiol Rev 82:47–95

Duenas M, Estrella I, Hernndez T (2004) Occurrence of phenolic compounds in the seed coat and the cotyledon of peas (Pisum sativum L.). Eur Food Res Technol 219:116–123

Espinosa-Alonso G, Lygin A, Widholm JM, Valverde ME, Paredes-Lopez O (2006) Polyphenols in wild and weedy Mexican common beans (Phaseolus vulgaris L.). J Agric Food Chem 54:4436–4444

Fabre N, Urizzi P, Souchard JP, Frechard A, Claparols C, Fouraste C, Moulis E (2000) An antioxidant sinapic acid ester isolated from Iberis amara. Fitoterapia 71:425–428

Farah A, Monteiro MC, Calado V, Franca A, Trugo LC (2006) Correlation between cup quality and chemical attributes of Brazilian coffee. Food Chem 98:373–380

Faulds CB, Williamson G (1999) The role of hydroxycinnamates in the plant cell wall. J Sci Food Agric 79:393–395

Feng Y, Lu Y, Xu P, Long Y, Wu W, Li W, Wang R (2008) Caffeic acid phenethyl ester and its related compounds limit the functional alterations of the isolated mouse brain and liver mitochondria submitted to in vitro anoxia–reoxygenation: Relationship to their antioxidant activities. Biochim Biophys Acta 1780:659–672

Figueroa-Espinoza MC, Morel MH, Surget A, Asther M, Moukha S, Sigoillot JC, Rouau X (1999) Attempt to cross-linkferuloylated arabinoxylans and proteins with a fungal laccase. Food Hydrocol 13:65–71

Fito M, Covas MI, Lamuela-Raventos RM, Vila J, Torrents J, de la Torre C, Marrugat J (2000) Protective effect of olive oil and its phenolic compounds against low density lipoprotein oxidation. Lipids 35:633–638

Foley S, Navaratnam S, McGarvey DJ, Land EJ, Truscott TG, Rice-Evans CA (1999) Singlet oxygen quenching and the redox properties of hydroxycinnamic acids. Free Radic Biol Med 26:1202–1208

Foley S, Navaratnam S, McGarvey DJ, Land EJ, Davis KL, Martin E, Turko IV, Murad F (2001) Novel effects of nitric oxide. Annu Rev Pharmacol Toxicol 41:203–236

Frankel EN, Kanner J, German JB, Parks E, Kinsella JE (1993) Inhibition of oxidation of human low-density lipoprotein by phenolic substances in red wine. Lancet 341:454–457

Friedman M (1997) Chemistry, biochemistry, and dietary role of potato polyphenols. A review. J Agric Food Chem 45:1523–1540

Fry S (1982) Phenolic components of the primary cell wall. Biochem J 203:493–504

Garcia E, Tullia-Filisetti TMCC, Udaeta JEM, Lajolo FM (1998) Hard-to-cook beans (Phaseolus vulgaris): involvement of phenolic compounds and pectates. J Agric Food Chem 46:2110–2116

Garcia-Conesa MT, Plumb GW, Kroon PA, Wallace G, Williamson G (1997a) Antioxidant properties of ferulic acid dimers. Redox Rep 3:239–244

Garcia-Conesa MT, Plumb GW, Waldron KW, Ralph J, Williamson G (1997b) Ferulic acid dehydrodimers from wheat bran: isolation, purfication and antioxidant properties of 8-O-4-diferulic acid. Redox Rep 3:319–323

Garcia-Conesa MT, Wilson PD, Plumb GW, Ralph J, Williamson G (1999) Antioxidant properties of 4, 4'-dihydroxy-3, 3'-dimethoxy-b, b'-bicinnamic acid (8–8-diferulic acid, non-cyclic form). J Sci Food Agric 79:379–384

Genestra M (2007) Oxyl radicals, redox-sensitive signalling cascades and antioxidants Review. Cell Signal 19:1807–1819

Glenner GG, Wong CW (1984) Alzheimer's disease: initial report of the purification and characterization of a novel cerebrovascular amyloid protein. Biochem Biophys Res Commun 120:885–890

Grace SC, Salgo MG, Pryor WA (1998) Scavenging of peroxynitrite by a phenolic/peroxidase system prevents oxidative damage to DNA. FEBS Letters 426:24–28

Graf E (1992) Antioxidant potential of ferulic acid. Free Radic Biol Med 13:435–448

Guenzi WD, McCalla TM (1966) Phenolic acids in oats, wheat, sorghum and corn residues and their phytotoxicity. Agron J 58:303–304

Guglielmi F, Luceri C, Giovannelli L, Dolara P, Lodovici M (2003) Effect of 4-coumaric and 3, 4-dihydroxybenzoic acid on oxidative DNA damage in rat colonic mucosa. Br J Nutr 89:581–587

Gulcin I (2006) Antioxidant activity of caffeic acid (3, 4-dihydroxycinnamic acid). Toxicology 217:213–220

Guney M, Oral B, Karahan N, Mungan T (2007) Protective effect of caffeic acid phenethyl ester (CAPE) on fluoride-induced oxidative stress and apoptosis in rat endometrium. Environ Toxicol Pharmacol 24:86–91

Guyot S, Marnet N, Laraba D, Sanoner P, Drilleau JF (1998) Reversed-phase HPLC following thiolysis for quantitative estimation and characterization of the four main classes of phenolic compounds in different tissue zones of a french cider apple variety (Malus domestica var. kermerrien). J Agric Food Chem 46:1698–1705

Hakala P, Lampi AM, Ollilainen V, Werner U, Murkovic M, Wahala K, Karkola S, Piironen V (2002) Steryl phenolic acid esters in cereals and their milling Fractions. J Agric Food Chem 50:5300–5307

Halliwell B (2001) Role of free radicals in neurodegenerative diseases: therapeutic implications for antioxidant treatment. Drugs Aging 18:685–716

Han BS, Park CB, Takasuka N, Naito A, Sekine K, Nomura E, Taniguchi H, Tsuno T, Tsuda H (2001) A ferulic acid derivative, ethyl 3-(4′-geranyloxy-3-methoxyphenyl)-2-propenoate, as a new candidate chemopreventive agent for colon carcinogenesis in the rat. Cancer Sci 92:404–409

Hartley RD, Morrison WH, Himmelsbach DS, Borneman WS (1990) Cross-linking of cell wall phenolic arabinoxylans in Graminaceous plants. Phytochemistry 29:3705–3709

Harukaze A, Masatsune M, Homma S (1999) Analysis of free and bound phenolics in rice. Food Sci Technol Res 5:74–79

Hernanz E, Nunez V, Sancho AI, Faulds CB, Williamson G, Bartolome C, Gomez-Cordoves C (2001) Hydroxycinnamic acids and ferulic acid dehydrodimers in barley and processed barley. J Agric Food Chem 49:4884–4888

Hotta H, Nagano S, Ueda M, Tsujino Y, Koyama J, Osakai T (2002) Higher radical scavenging activities of polyphenolic antioxidants can be ascribed to chemical reactions following their oxidation. Biochim Biophys Acta 1572:123–132

Huang M, Smart RC, Wong C, Conney AH (1988) Inhibitory effect of curcumin, chlorogenic acid, caffeic acid, and ferulic acid on tumor promotion in mouse skin by 12-O-tetradecanoylphorbol-13-acetate. Cancer Res 48:5941–5946

Huang M, Lysz T, Ferraro T, Abidi IF, Laskin JD, Conney AH (1991) Inhibitory effects of curcumin on in vitro lipoxygenase and cyclooxygenase activities in mouse epidermis. Cancer Res 51:813–819

Huang MT, Ma W, Lou Y, Ferraro I, Reuhl K, Newmark H, Conney AH (1994) Inhibitory effect of dietary curcumin on gastrointestinal tumorigenesis in mice. Cancer Res 54:5841–5847

Hwang HJ, Park HJ, Chung HJ, Min H, Park E, Hong J, Lee SK (2006) Inhibitory effects of caffeic acid phenethyl ester on cancer cell metastasis mediated by the down-regulation of matrix metalloprotenase expression in human HT1080 fibrosarcoma cells. J Nutr Biochem 17:356–362

Ichihashi M, Ueda M, Budiyanto A, Bito T, Oka M, Fukunaga M (2003) UV-induced skin damage. Toxicology 189:21–39

Iiyama K, Lam TBT, Stone BA (1990) Phenolic acid bridges between polysaccharides and lignin in wheat internodes. Phytochemistry 29:733–737

Iiyama K, Lam TBT, Stone BA (1994) Covalent cross-links in the cell wall. Plant Physiol 104:315–320

Ilhan A, Koltuksuz U, Ozen S, Uz E, Ciralik H, Akyol O (1999) The effects of caffeic acid phenethyl ester (CAPE) on spinal cord ischemia/reperfusion injury in rabbits. Eur J Cardio-thoracic Surg 16:458–463

Itagaki S, Kurokawa T, Nakata C, Saito Y, Oikawa S, Kobayashi M, Hirano T, Itagaki I (2009) In vitro and in vivo antioxidant properties of ferulic acid: A comparative study with other natural oxidation inhibitors. Food Chem 114:466–471

Jolivalt CG, Howard RB, Chen LS, Mizisin AP, Lai CS (2003) A novel nitric oxide scavenger in combination with cyclosporine A ameliorates experimental autoimmune encephalonyelitis progression in mice. J Neuroimmunol 138:56–64

Joshi G, Perluigi M, Sultana R, Agrippino R, Calabrese V, Butterfield DA (2006) In vivo protection of synaptosomes by ferulic acid ethyl ester (FAEE) from oxidative stress mediated by 2,2-azobis(2-amidino-propane) dihydrochloride (AAPH) or Fe2+/H2O2: insight into mechanisms of neuroprotection and relevance to oxidative stress-related neurodegenerative disorders. Neurochem Intern 48:318–327

Juliano C, Cossu M, Alamanni MC, Piu L (2005) Antioxidative activity of gamma-oryzanol: mechanism of action and its effect on oxidative stability of pharmaceutical oils. Int J Pharm 299:146–154

Jung E, Kim S, Hwang K, Ha TY (2007) Hypoglycemic effects of a phenolic acid fraction of rice bran and ferulic acid in C57BL/KsJ-db/db mice. J Agric Food Chem 55:9800–9804

Jung W, Lee D, Kim J, Choi I, Park S, Seo S, Lee S, Lee C, Park Y, Jeon Y, Lee C, Jeon B, Qian Z, Kim S, Choi I (2008a) Anti-inflammatory activity of caffeic acid phenethyl ester (CAPE) extracted from Rhodiola sacra against lipopolysaccharide-induced inflammatory responses in mice. Process Biochem 43:783–787

Jung W, Lee D, Choi YH, Yea SS, Choi I, Park S, Seo S, Lee S, Lee C, Kim S, Jeon Y, Choi I (2008b) Caffeic acid phenethyl ester attenuates allergic airway inflammation and hyperresponsiveness in murine model of ovalbumin-induced asthma. Life Sci 82:797–805

Kanski J, Aksenova M, Stoyanova A, Butterfield DA (2002) Ferulic acid antioxidant protection against hydroxyl and peroxyl radical oxidation in synaptosomal and neuronal cell culture systems in vitro: structure–activity studies. J Nutr Biochem 13:273–281

Kasai H, Fukada S, Yamaizumi Z, Sugie S, Mori S (2000) Action of chlorogenic acid in vegetables and fruits as an inhibitor of 8- hydroxydeoxyguanosine formation in vitro and in a rat carcinogenesis model. Food Chem Toxicol 38:467–471

Kato Y, Ogino Y, Aoki T, Uchida K, Kawasaki S, Osawa T (1997) Phenolic antioxidants prevent peroxynitrite-derived collagen modification in vitro. J Agric Food Chem 45:3004–3009

Kazimierz J, Dabrowski KJ, Sosulski FW (1984) Composition of free and hydrolizable phenolic acids in defatted flours of ten oilseeds. J Agric Food Chem 32:128–130

Kikuzaki H, Hisamoto M, Hirose K, Akiyama K, Taniguchi H (2002) Antioxidant properties of ferulic acid and its related compounds. J Agric Food Chem 50:2161–2168

Kim JE, Kim AR, Chung HY, Han SY, Kim BS, Choi JS (2003) In vitro peroxynitrite scavenging activity of diarylhepatanoids from Curcumin longa. Phytothe Res 17:481–484

Koksel O, Ozdulger A, Tamer L, Cinel L, Ercil M, Degirmenci U, Unlu S, Kanik A (2006) Effects of caffeic acid phenethyl ester on lipopolysaccharide-induced lung injury in rats. Pulm Pharmacol Ther 19:90–95

Koltuksuz U, Ozen S, Uz E, Aydinc M, Karaman A, Gijltek A, Akyol O, Gursoy MH, Aydm E (1999) Caffeic acid phenethyl ester prevents intestinal reperfusion injury in rats. J Pedia Surg 34:1458–1462

Kono Y, Shibata H, Kodama Y, Sawa Y (1995a) The suppression of the N-nitrosating reaction by chlorogenic acid. Biochem J 312:947–953

Kono Y, Shibata H, Kodama Y, Ueda A, Sawa Y (1995b) Chlorogenic acid as a natural scavenger for hypochlorous acid. Biochem Biophys Res Commun 217:972–978

Kono Y, Kobayashi K, Tagawa S, Adachi K, Ueda A, Sawa Y, Shibata H (1997) Antioxidant activity of polyphenolics in diets. Rate constants of reactions of chlorogenic acid and caffeic acid with reactive species of oxygen and nitrogen. Biochim Biophys Acta 1335:335–342

Koshihara Y, Neichi T, Murota SI, Lao AN, Fujimoto Y, Tatsuno T (1984) Caffeic acid is a selective inhibitor for leukotriene biosynthesis. Biochim Biophys Acta 792:92–97

Kris-Etherton PM, Yu-Poth S, Sabate J, Ratcliffe HE, Zhao G, Etherton TD (1999) Nuts and their bioactive constituents: effects on serum lipids and other factors that affect disease risk. Am J Clin Nutr 70:504S–511S

Kris-Etherton P, Hecker K, Bonanome A, Coval S, Binkoski A, Helipert K (2002) Bioactive compounds in foods: their role in the prevention of cardiovascular disease and cancer. Am J Med 113:71S–88S

Kuenzig W, Chau J, Norkus E, Holowaschenko H, Newmark H, Mergens W, Conney AH (1984) Caffeic and ferulic acid as blockers of nitrosamine formation. Carcinogenesis 5:309–313

Kunchundy E, Rao MNA (1989) Effect of curcumin on hydroxyl radical generation through Fenton reaction. Int J Pharmacol 57:173–176

Kunchundy E, Rao MNA (1990) Oxygen radical scavenging activity of curcumin. Int J Pharmacol 58:237–240

Kuo H, Kuo W, Lee Y, Lin W, Chou F, Tseng T (2006) Inhibitory effect of caffeic acid phenethyl ester on the growth of C6 glioma cells in vitro and in vivo. Cancer Lett 234:199–208

Kylli P, Nousiainen P, Biely P, Sipila J, Tenkanen M, Heinonen M (2008) Antioxidant potential of hydroxycinnamic acid glycoside esters. J Agric Food Chem 56:4797–4805

Laranjinha JAN, Almeida LM, Madeira VMC (1994) Reactivity of dietary phenolic acids with peroxyl radicals: Antioxidant activity upon low density lipoprotein peroxidation. Biochem Pharmacol 48:487–494

Larsen L, Olsen O, Ploeger A, Sorennson H (1983) Phenolic choline esters in rapeseed; possible factors affecting nutritive value and quality. In proceedings 6th International Rapeseed congress, Paris, pp 1577–1582

Lee Y, Kuo H, Chu C, Wang C, Lin W, Tseng T (2003) Involvement of tumor suppressor protein p53 and p38 MAPK in caffeic acid phenethyl ester-induced apoptosis of C6 glioma cells. Biochem Pharm 66:2281–2289

Li W, Pickard MD, Beta T (2007) Evaluation of antioxidant activity and electronic taste and aroma properties of antho-beers from purple wheat grain. J Agric Food Chem 55:8958–8966

Lin J, Shih C (1994) Inhibitory effect of curcumin on xanthine dehydrogenase/oxidase induced by phorbol-12-myristate-13-acetate in NIH3T3 cells. Carcinogenesis 15:1717–1721

Liu RH (2004) Potential synergy of phytochemicals in cancer prevention: mechanism of action. J Nutr 134:3479S–3485S

Liyana-Pathirana C, Shahidi F (2005) Antioxidant activity of commercial soft and hard wheat (Triticum aestivum L.) as affected by gastric pH conditions. J Agric Food Chem 53:2433–2440

Liyana-Pathirana C, Shahidi F (2006) Importance of insoluble-bound phenolics to antioxidant properties of wheat. J Agric Food Chem 54:1256–1264

Liyana-Pathirana C, Dexter J, Shahidi F (2006) Antioxidant properties of wheat as affected by pearling. J Agric Food Chem 54:6177–6184

Lopez M, Martinez F, Del Valle C, Orte C, Miro M (2001) Analysis of phenolic constituents of biological interest in red wines by high-performance liquid chromatography. J Chromatogr 922:359–363

Lu Y, Foo LY (1999a) The polyphenol constituents of grape pomace. Food Chem 65:1–8

Lu Y, Foo LY (1999b) Rosmarinic acid derivatives from Salvia officinalis. Phytochemistry 51:91–94

Lu Y, Foo LY (2001) Antioxidant activities of polyphenols from sage (Salvia officinalis). Food Chem 75:197–202

Luceri C, Giannini L, Lodovici M, Antonucci E, Abbate R, Masini E, Dolara P (2007) p-Coumaric acid, a common dietary phenol, inhibits platelet activity in vitro and in vivo. Br J Nutr 97:458–463

Luczak S, Swiatek L, Zadernowski R (1989) Phenolic acids in leaves and pericarp of walnut, Juglans regia. Acta Pol Pharm 46:494–499

Luthria DL, Pastor-Corrales MA (2006) Phenolic acids content of fifteen dry edible bean (Phaseolus vulgaris L.) varieties. J Food Comp Anal 19:205–211

Ma Z, Wei X, Fontanilla C, Noelker C, Dodel R, Hampel H, Du Y (2006) Caffeic acid phenethyl ester blocks free radical generation and 6-hydroxydopamine-induced neurotoxicity. Life Sci 79:1307–1311

Madhujith T, Shahidi F (2005) Antioxidant potential of pea beans (Phaseolus vulgaris L.). J Food Sci 70:82–90

Madhujith T, Shahidi F (2006a) Antioxidant properties of pearled barley fractions. J Agric Food Chem 54:3283–3289

Madhujith T, Shahidi F (2006b) Optimization of the extraction of antioxidative constituents of six barley cultivars and their antioxidant properties. J Agric Food Chem 54:8048–8057

Madhujith T, Shahidi F (2007) Antioxidative and proliferative properties of selected barley (Hordium vulgare L.) cultivars and their potential for inhibition of low density lipoprptein (LDL) cholesterol oxidation. J Agric Food Chem 55:5018–5024

Madhujith T, Naczk M, Shahidi F (2004) Antioxidant activity of common beans (Phaseolus vulgaris L.). J Food Lipids 11:220–233

Maeda T, Kakuta H, Sonoda S, Ueno R, Suzuki T, Oosawa K (2005) Antioxidant capacities of extracts from green, purple, and white asparagus spears related to polyphenol concentration. Hort Sci 40:1221–1224

Mahajan A, Tandon VR (2004) Antioxidants and rheumatoid arthritis. J Indian Rheumatol Assoc 12:139–142

Mahmoud NN, Carothers AM, Grunberger D, Billinski RT, Churchill MR, Martucci C, Newmark HL, Bertagnolli MM (2000) Plant phenolics decrease intestinal tumors in an animal model of familial adenomatous polyposis. Carcinogenesis 21:921–927

Mansouri A, Makris DP, Kefalas P (2005) Determination of hydrogen peroxide scavenging activity of cinnamic and benzoic acids employing a highly sensitive peroxyoxalate chemiluminescence-based assay: Structure-activity relationships. J Pharm Biomed Anal 39:22–26

Marinova EM, Toneva A, Yanishlieva N (2009) Comparison of the antioxidative properties of caffeic and chlorogenic acids. Food Chem 114:1498–1502

Martinez-Valverde I, Periago M, Provan G, Chesson A (2002) Phenolic compounds, lycopene and antioxidant activity in commercial varieties of tomato (Lycopersicon esculentum). J Sci Food Agric 82:323–330

Masuda T, Hidaka K, Shinohara A, Maekawa T, Takeda Y, Yamaguchi H (1999) Chemical studies on antioxidant mechanism of curcuminoid: analysis of radical reaction products from curcumin. J Agric Food Chem 47:71–77

Mattila P, Pihlava JM, Hellstrőm J (2005) Contents of phenolic acids, alkyl- and alkenylresorcinols, and avenanthramides in commercial grain products. J Agric Food Chem 53:8290–8295

Meyer AS, Donovan JL, Pearson DA, Waterhouse AL, Frankel EN (1998) Fruit hydroxycinnamic acids inhibit low density lipoprotein oxidation in vitro. J Agric Food Chem 46:1783–1787

Mollaoglu H, Gokcimen A, Ozguner F, Oktem F, Koyu A, Kocak A, Demirin H, Gokalp O, Cicek E (2006) Caffeic acid phenethyl ester prevents cadmium-induced cardiac impairment in rat. Toxicology 227:15–20

Morrow JD, Harris TM, Roberts LJ (1990a) Noncyclooxygenase oxidative formation of a series of novel prostaglandins: analytical ramifications for measurement of eicosanoids. Anal Biochem 14:1–10

Morrow JD, Hill KE, Burke RF, Nammour TM, Badr KF, Roberts LJ (1990b) A series of prostaglandin F2-like compounds are produced in vivo in humans by a noncyclooxygenase, free radical-catalyzed mechanism. Proc Natl Acad Sci USA 87:9383–9387

Mosi R, Seguin B, Cameron B, Amankwa L, Darkes MC, Fricker SP (2002) Mechanistic studies on AMD6221: a ruthenium-based nitric oxide scavenger. Biochem Biophys Res Commun 292:519–529

Naczk M, Wanasundara PD, Shahidi F (1992a) Facile spectroscopic determination of sinapine acid in Brassica seeds. J Agric Food Chem 40:444–448

Naczk M, Shahidi F, Sullivan A (1992b) Recovery of rapeseed tannins by various solvent systems. Food Chem 45:51–54

Naczk M, Amarowicz A, Sullivan A, Shahidi F (1998) Current research developments on polyphenolics of rapeseed/canola: a review. Food Chem 62:489–502

Nakamura Y, Ohto Y, Murakami A, Osawa T, Ohigashi T (1998) Inhibitory effects of curcumin and tetrahydrocurcuminoids on the tumor promoter-induced reactive oxygen species generation in leukocytes in vitro and in vivo. Jpn J Cancer Res 89:361–370

Nakamura MM, Saraiva SA, Coichev N (2000) Mini review: a critical review of the transition metal ions influence on peroxyoxalate chemiluminescence. Anal Lett 33:391–404

Nardini M, Daquino M, Tomassi G, Gentili V, Felice MN, Scaccini C (1995) Inhibition of human low-density lipoprotein oxidation by caffeic acid and other hydroxycinnamic acid derivatives. Free Radic Biol Med 19:541–552

Nardini M, Leonardi F, Scaccini C, Virgili F (2001) Modulation of ceramide-induced NF-kB binding activity and apoptotic response by caffeic acid in U937 cells: comparison with other antioxidants. Free Radic Biol Med 30:722–733

Nazck M, Shahidi F (1992) Phenolic constituents of Rapeseed. In: Hemingway RW, Laks PE (eds) Plant polyphenols: synthesis, properties, significance. Plenum press, New York, pp 895–910

Nazck M, Shahidi F (2006) Phenolics in cereals, fruits and vegetables: occurrence, extraction and analysis. J Pharm Biomed Anal 41:1523–1542

Neudorffer A, Bonnefont-Rrousselot D, Legrand A, Fleury M, Largeron M (2004) 4-Hydroxycinnamic ethyl ester derivatives and related dehydrodimers: Relationship between oxidation potential and protective effects against oxidation of low-density lipoproteins. J Agric Food Chem 52:2084–2091

Nishizawa C, Ohta T, Egashira Y, Sanada H (1998) Ferulic acid contents in typical cereals. Nippon shokuhin Kagaku Kogaku Kashi 45:499–503

Niwa T, Doi U, Kato Y, Osawa T (1999) Inhibitory mechanism of sinapinic acid against peroxynitrite-mediated tyrosine nitration of protein in vitro. FEBS Lett 459:43–46

Nohl H, Gille L, Staniek K (2005) Intracellular generation of reactive oxygen species by mitochondria. Biochem Pharmacol 69:719–723

Nystrom L, Makinen M, Lampi A-M, Piironen V (2005) Antioxidant activity of steryl ferulate extracts from rye and wheat bran. J Agric Food Chem 53:2503–2510

Ogeturk M, Kus I, Colakoglu N, Zararsiz I, Ilhan N, Sarsilmaz M (2005) Caffeic acid phenethyl ester protects kidneys against carbon tetrachloride toxicity in rats. J Ethnopharmacol 97:273–280

Ogiwara T, Satoh K, Kadoma Y, Murakami Y, Unten S, Atsumi T, Sakagami H, Fujisawa S (2002) Radical scavenging activity and cytotoxicity of ferulic acid. Anticancer Res 22:2711–2717

Ohta T, Yamasaki S, Egashira Y, Sanada H (1994) Antioxidative activity of corn bran hemicellulose fragments. J Agric Food Chem 42:653–656

Ohta T, Semboku N, Kuchii A, Egashira Y, Sanada H (1997) Antioxidative activity of corn bran cell-wall fragments in the LDL oxidation system. J Agric Food Chem 45:1644–1648

Osakabe N, Yasuda A, Natsume M, Sanbongi C, Kato Y, Osawa T, Yoshikawa T (2002) Rosmarinic acid, a major polyphenolic component of Perilla frutescens, reduces lipopolysaccharide (lps)-induced liver injury in D-galactosamine (D-galn)-sensitized mice. Free Radic Biol Med 33:798–806

Osawa T, Sugiyama Y, Inayoshi M, Kawakishi S (1995) Antioxidative activity of tetrahydrocurcuminoids. Biosci Biotech Biochem 59:1609–1612

Ou S, Li Y, Gao K (1999) A study on scavenging activity of wheat bran dietary fiber for free radical. Acta Nutr Sin 21:191–194

Ozer MK, Parlakpina H, Acet A (2004) Reduction of ischemia-reperfusion induced myocardial infarct size in rats by caffeic acid phenethyl ester (CAPE). Clin Biochem 37:702–705

Ozeren M, Sucu N, Tamer L, Aytacoglu B, Bayrı O, Dondas A, Ayaz L, Dikmengil M (2005) Caffeic acid phenethyl ester (CAPE) supplemented St. Thomas' hospital cardioplegic solution improves the antioxidant defense system of rat myocardium during ischemia-reperfusion injury. Pharmacol Res 52:258–263

Ozyurt B, Parlakta BS, Ozyurt H, Aslan H, Ekici F, Atis O (2007a) A preliminary study of the levels of testis oxidative stress parameters after MK-801-induced experimental psychosis model: protective effects of CAPE. Toxicology 230:83–89

Ozyurt H, Ozyurt B, Koca K, Ozgocmen S (2007b) Caffeic acid phenethyl ester (CAPE) protects rat skeletal muscle against ischemia-reperfusion-induced oxidative stress. Vasc Pharmacol 47:108–112

Ozyurta H, Sogutb S, Yıldırımc Z, Kartd L, Iraze M, Armutcuf F, Temelg I, Ozenh S, Uzuni A, Akyol O (2004) Inhibitory effect of caffeic acid phenethyl ester on bleomycine-induced lung fibrosis in rats. Clin Chim Acta 339:65–75

Paganga G, Miller N, Rice-Evans CA (1999) The polyphenolic content of fruit and vegetables and their antioxidant activities. What does a serving constitute? Free Radic Res 30:153–160

Pannala A, Razaq R, Halliwell B, Singh S, Rice-Evans C (1998) Iinhibition of peroxynitrite dependent tyrosine nitration by hydroxycinnamates: nitration or electron donation? Free Radic Biol Med 24:594–606

Papadopoulos G, Boscou D (1991) Antioxidant effect of natural phenols in olive oil. J Am Oil Chem Soc 68:669–671

Park SH, Min TS (2006) Caffeic acid phenethyl ester ameliorates changes in IGFs secretion and gene expression in streptozotocin-induced diabetic rats. Life Sci 78:1741–1747

Park JH, Lee JK, Kim HS, Chung ST, Eom JH, Kim KA, Chung SJ, Paik SY, Oh HY (2004) Immunomodulatory effect of caffeic acid phenethyl ester in Balb/c mice. Intern Immuno Pharmacol 4:429–436

Parker ML, Ng A, Waldron KW (2005) The phenolic acid and polysaccharide composition of cell walls of bran layers of mature wheat (Triticum aestivum L. cv. Avalon) grains. J Sci Food Agric 85:2539–2547

Parlakpinar H, Sahna E, Acet A, Mizrakc B, Polat A (2005a) Protective effect of caffeic acid phenethyl ester (CAPE) on myocardial ischemia-reperfusion-induced apoptotic cell death. Toxicology 209:1–14

Parlakpinar H, Tasdemir S, Polat A, Bay-Karabulut A, Vardi N, Ucar M, Acet A (2005b) Protective role of caffeic acid phenethyl ester (cape) on gentamicin-induced acute renal toxicity in rats. Toxicology 207:169–177

Pekkarinen SS, Stöckmann H, Schwarz K, Heinonen IM, Hopia AI (1999) Antioxidant activity and partitioning of phenolic acids in bulk and emulsified methyl linoleate. J Agric Food Chem 47:3036–3043

Perluigi M, Joshi G, Sultana R, Calabrese V, Marco C, Coccia R, Cini C, Butterfield DA (2006) In vivo protective effects of ferulic acid ethyl ester against amyloid-beta peptide 1–42-induced oxidative stress. J Neurosci Res 84:418–426

Peterson M, Simmonds MSJ (2003) Rosmarinic acid. Phytochemistry 62:121–125

Pompermayer K, Amaral FA, Fagundes CT, Vieira AT, Cunha FQ, Teixeira MM, Souza DG (2007) Effects of the treatment with glibenclamide, an ATP-sensitive potassium channel blocker, on intestinal ischaemia and reperfusion injury. Euro J Pharmacol 556:215–222

Ralph J, Quideau S, Grabber JH, Hatüeld RD (1994) Identification and synthesis of new ferulic acid dehydrodimers present in grass cell-walls. J Chem Soc Perkin Trans 1:3485–3498

Ralph J, Bunzel M, Marita JM, Hatfield RD, Lu F, Kim H, Grabber JH, Ralph SA, Jiminez-Monteon G, Steinhart H (2000) Diferulates analysis: new diferulates and disinapates in insoluble cereal fibre. Polyphénols Actualités 19:13–17

Raneva V, Shimasaki H, Ishida Y, Ueta N, Niki E (2001) Antioxidative activity of 3, 4-dihydroxyphenylacetic acid and caffeic acid in rat plasma. Lipids 36:1111–1116

Ranilla LG, Genovese MI, Lajolo FM (2007) Polyphenols and antioxidant capacity of seed coat and cotyledon from Brazilian and Peruvian bean cultivars (Phaseolus vulgaris L.). J Agric Food Chem 55:90–98

Rao CV, Rivenson A, Simi B, Redd BS (1995) Chemoprevention of colon carcinogenesis by dietary curcumin, a naturally occurring plant phenolic compound. Cancer Res 55:259–266

Reiners JJ, Clift R, Mathieu P (1999) Suppression of cell cycle progression by flavonoids; dependence on the aryl hydrocarbon receptor. Carcinogenesis 20:1561–1566

Rice-Evans CA, Miller NJ, Paganga G (1996) Strcture-antioxidant activity relationships of flavonoids and phenolic acids. Free Radic Biol Med 20:933–956

Risch B, Herrmann K (1988) Hydroxycinnamic acid derivatives in citrus fruit. Zeitschrift fur Lebensmitteluntersuchung und - Forschung 187:530–534

Rombouts FM, Thibault JF (1986) Feruloylated pectic substances from sugar beet pulp. Carbohydr Res 154:177–188

Romero-Graillet C, Aberdam E, Clement M, Ortonne JP, Ballotti R (1997) Nitric oxide produced by ultraviolet-irradiated keratinocytes stimulates melanogenesis. J Clin Invest 99:635–642

Ross R (1993) The pathogenesis of atherosclerosis: a perspective for the 1990s. Nature 362:801–809

Saija A, Tomaino A, Lo Cascio R, Trombetta D, Proteggente A, De Pasquale A, Uccella N, Bonina F (1999) Ferulic and caffeic acids as potential protective agents against photooxidative skin damage. J Sci Food Agric 79:476–480

Saija A, Tomaino A, Trombetta D, Pasquale A, Uccella N, Barbuzzi T, Paolino D, Bonina F (2000) In vitro and in vivo evaluation of caffeic and ferulic acids as topical photoprotective agents. Intern J Pharm 199:39–47

Satake T, Kamiya K, Saiki Y, Hama T, Fujimoto Y, Kitanaka S, Kimura Y, Uzawa J, Endang H, Umar M (1999) Studies on the constituents of fruits of Helicteres isora L. Chem Pharm Bull 47:1444–1447

Scapagnini G, Butterfield DA, Colombrita C, Sultana R, Pascale A, Calabrese V (2004) Ethyl ferulate, a lipophilic polyphenol, induces HO-1and protects rat neurons against oxidative stress. Antioxid Redox Signal 6:811–818

Schieber A, Keller P, Carle R (2001) Determinations of phenolic acids and flavonoids of apple and pear by High performance liquid chromatography. J Chromatogr A 910:265–273

Senter SD, Horvat RJ, Forbus WR (1980) Relation between phenolic acid content and stability of pecans in accelerated storage. J Food Sci 45:1380–1382

Seo A, Morr CV (1985) Activated carbon and ion exchange treatments for removing phenolics and phytate from peanut protein products. J Food Sci 50:262–263

Shahidi F (1990) Canola and rapeseed. AVI. Van Nostrand Reinhold, New York, NY

Shahidi F (2002) Phytochemicals in oilseeds. In Phytochemicals in nutrition and health: CRC press, Boca Raton, pp 139–156

Shahidi F (2004) Quality characteristics of edible oils. In Quality of fresh and processed foods: Kluwer Academic/Plenum publishers. New York, NY, pp 239–249

Shahidi F, Naczk M (1992) An overview of the phenolics of canola and rapeseed; chemical, sensory and nutritional implications. J Am Oil Chem Soc 69:917–924

Shahidi F, Naczk M (1995) Food Phenolics, Sources Chemistry Effects Applications. Technomic Publishing Co. Inc., Lancaster, PA

Shahidi F, Nazck M (2004) Phenolics in Food and Nutraceuticals. CRC press LLC, Boca Raton, Florida, pp 1–82

Shahrzad S, Bitsch I (1996) Determination of some pharmacologically active phenolic acids in juices by high-performance liquid chromatography. J Chromatogr A 741:223–231

Silva FAM, Borges F, Guimaraes C, Lima JLFC, Matos C, Reis S (2000) Phenolic acids and derivatives: Studies on the relationship among structure, radical scavenging activity, and physicochemical parameters. J Agric Food Chem 48:2122–2126

Singh RP, Sharad S, Kapur S (2004) Free radicals and oxidative stress in neurodegenerative diseases: relevance of dietary antioxidants. JIACM 4:218–225

Slavin JL (2000) Whole grains, refined grains and fortified refined grains: what is the difference? Asia Pac J Clin Nutr 9:S23–S27

Slavin JL (2003) Why whole grains are protective: biological mechanisms. Proc Nutr Soc 12:9–134

Soobrattee MA, Neergheen VS, Luximon-Ramma A, Aruomab OI, Bahorun T (2005) Phenolics as potential antioxidant therapeutic agents: mechanism and actions. Mutation Res 579:200–213

Sosulski F, Krygier K, Hogge L (1982) Free, esterified and insoluble-bound phenolic acids.3. Composition of phenolic acids in cereal and potato flours. J Agric Food Chem 30:337–340

Sotillo DVR, Hadley M (2002) Chlorogenic acid modifies plasma and liver concentrations of: cholesterol, triacylglycerol, and minerals in (fa/fa) Zucker rats. J Nutr Biochem 13:717–726

Strack D, Vogt T, Schliemann W (2003) Recent advances in betalain research. Phytochemistry 62:247–269

Sudina GF, Mirzoeva OK, Pushkareva MA, Korshunova GA, Sumbatyan NV, Varfolomeev SD (1993) Caffeic acid phenethyl ester as a lipoxygenase inhibitor with antioxidant properties. FEBS Lett 329:21–24

Sugiyama Y, Kawakishi S, Osawa T (1996) Involvement of the β-diketone moiety in the antioxidative mechanism of tetrahydrocurcuminoids. Biochem Pharmacol 52:519–525

Sultana R, Ravagna R, Abdul HM, Calabrese V, Butterfield DA (2005) Ferulic acid ethyl ester protects neurons against amyloid bpeptide (1-42)-induced oxidative stress and neurotoxicity: relationship to antioxidant activity. J Neurochem 92:749–758

Suzuki A, Kagawa D, Fujii A, Ochiai R, Tokimitsu I, Saito I (2002) Short- and long-term effects of ferulic acid on blood pressure in spontaneously hypertensive rats. Am J Hyperten 15:351–357

Takeoka GR, Dao LT (2003) Antioxidant constituents of almond (Prunus dulcis (Mill) D.A. Webb) hulls. J Agric Food Chem 51:496–501

Tanaka T, Morimoto S, Nonaka G, Nishioka I, Yokozawa T, Chung HY, Oura H (1989) Magnesium and ammonium-potassium lithospermates B, the active principles having a uremia-preventive effect from Salvia miltiorrhiza. Chem Pharm Bull 37:340–344

Tanaka T, Kojima T, Kawamori T, Wang A, Suzui M, Okamoto K, Mori H (1993) Inhibition of 4-nitroquinoline 1-oxide-induced rat tongue carcinogenesis by the naturally occurring plant phenolics caffeic, ellagic, chlorogenic and ferulic acids. Carcinogenesis 14:1321–1325

Tapiero H, Tew KD, Nguyen BG, Mathe G (2002) Polyphenols: do they play a role in the prevention of human pathologies? Biomed Pharmaco Ther 56:200–207

Thiyam U, Stöckmann H, Schwarz K (2006) Antioxidant activity of rapeseed phenolics and their interactions with tocopherols during lipid oxidation. J Am Oil Chem Soc 83:523–528

Thiyama U, Heiko Stöckmanna H, Zum T, Schwarza K (2006) Antioxidative effect of the main sinapic acid derivatives from rapeseed and mustard oil by-products. Eur J Lipid Sci Technol 108:239–248

Tian S, Nakamura K, Kayahara H (2004) Analysis of phenolic compounds in white rice, brown rice and germinated brown rice. J Agric Food Chem 52:4808–4813

Tominaga H, Kobayashi Y, Goto T, Kasemura K, Nomura M (2005) DPPH radical-scavenging effect of several phenylpropanoid compounds and their glycoside derivatives. Yakugaku zasshi 125:371–375

Valko M, Leibfritz D, Moncola J, Cronin MD (2007) Free radicals and antioxidants in normal physiological functions and human disease. Review. Int J Biochem Cell Biol 39:44–84

Variyar PS, Ahmad R, Bhat R, Niyas Z, Sharma A (2003) Flavoring components of raw monsooned arabica coffee and their changes during radiation processing. J Agric Food Chem 51:7945–7950

Viña SZ, Chaves AR (2007) Respiratory activity and phenolic compounds in pre-cut celery. Food Chem 100:1654–1660

Von Wettstein D, Nilan RA, Ahrenst-Larsen B, Erdal K, Ingversen J, Jende-Strid B, Kristiansen KN, Larsen J, Outtrup H, Ullrich SE (1985) Proanthocyanidin-free barley for brewing. Master Brew Ass Am Tech Quart 22:41–52

Vuorela S, Meyer AS, Heinonen M (2004) Impact of the isolation method on the antioxidant activity of rapeseed meal phenolics. J Agric Food Chem 52:8202–8207

Wanasundara UN, Amarowicz R, Shahidi F (1994) Isolation and identification of an antioxidative component in canola meal. J Agric Food Chem 42:1285–1290

Wanasundara UN, Amarowicz R, Shahidi F (1995) Partial characterization of natural antioxidants in canola meal. Food Res Intern 28:525–530

Wang W, Goodman MT (1999) Antioxidant property of dietary phenolic agents in a human LDL oxidation ex vivo model: interaction of protein binding activity. Nutr Res 19:191–202

Wang SY, Zheng W, Galletta GJ (2002) Cultural system affects fruit quality and antioxidant capacity in strawberries. J Agric Food Chem 50:6534–6542

Wattenberg LW, Coccia JB, Lam KT (1980) Inhibitory effects of phenolic compounds on benzo[a]pyrene-induced neoplasia. Cancer Res 40:2820–2823

Weidner S, Amarowicz R, Karamac M, Dabrowski G (1999) Phenolic acids of caryopses of two cultivars of wheat, rye and triticale that display different resistance to pre-harvest sprouting. Eur Food Res Technol 210:09–113

Wettasinghe M, Shahidi F, Amarowicz R, Abou-Zaid MM (2001) Phenolic acids in defatted seeds of borage. Food Chem 75:49–56

Wu W, Lu L, Long Y, Wang T, Liu L, Chen Q, Wang R (2007) Free radical scavenging and antioxidative activities of caffeic acid phenethyl ester (CAPE) and its related compounds in solution and membranes: a structure-activity insight. Food Chem 105:107–115

Xu Z, Godber JS (1999) Purification and identification of components of γ-oryzanol in rice bran oil. J Agric Food Chem 47:2724–2728

Xu Z, Hua N, Godber JS (2001) Antioxidative activity of tocopherols, tocotrienols, and γ -oryzanol components from rice bran against cholesterol oxidation accelerated by 2, 2′-azobis(2-methylpropionamidine) dihydrochloride. J Agric Food Chem 49:2077–2081

Yan J, Cho J, Kim H, Kim K, Jung J, Huh S, Suh H, Kim Y, Song D (2001) Protection against β-amyloid peptide toxicity in vivo with long-term administration of ferulic acid. Br J Pharmacol 133:89–96

Yanishlieva N, Raneva V, Blekas G, Boscou D (1998) Antioxidative properties and mechanism of action of 3, 4-dihydroxyphenylacetic acid in lipids. Riv Ital Sostanze Grasse 65:453–456

Yao L, Jiang Y, Datta N, Singanusong R, Liu X, Duan J, Raymont K, Lisle A, Xu Y (2004) HPLC analyses of flavanols and phenolic acids in the fresh young shoots of tea (Camellia sinensis) grown in Australia. Food Chem 84:253–263

Yu H, Hong J, Wu D (1999) Effect of sodium ferulate on proliferation of rabbit aortic smooth muscle cells induced by oxidized LDL. Zhongguo Zhong Yao Za Zhi 24:365–366

Yu J, Vasanthan T, Temelli F (2001) Analysis of phenolic acids in barley by high-performance liquid chromatography. J Agric Food Chem 49:4352–4358

Yuan X, Wang J, Yao H (2005) Antioxidant activity of feruloylated oligosaccharides from wheat bran. Food Chem 90:759–764

Yun K, Koh D, Kim S, Park SJ, Rye JH, Kim D, Lee J, Lee K (2008) Anti-inflammatory effects of sinapic acid through the suppression of inducible nitric oxide synthase, cyclooxygase-2, and proinflammatory cytokines expressions via nuclear factor-kappa b inactivation. J Agric Food Chem 56:10265–10272

Zang L, Cosma G, Gardner H, Shi X, Castranova V, Vallyathan V (2000) Effect of antioxidant protection by p-coumaric acid on oxidation low-density lipoprotein cholesterol. Am J Physiol Cell Physiol 279:C954–C960

Zhou Z, Robards K, Helliwell S, Blanchard C (2004) The distribution of phenolic acids in rice. Food Chem 87:401–406

Zielinski H, Kozłowska H, Lewczuk B (2001) Bioactive compounds in the cereal grains before and after hydrothermal processing. Inn Food Sci Emerg Tech 2:159–169

Zou Y, Kim AR, Kim JE, Choi JS, Chung HY (2002) Peroxynitrite scavenging ability of sinapic acid isolated from Brassica juncea. J Agric Food Chem 50:5884–5890
About this article
Cite this article
Shahidi, F., Chandrasekara, A. Hydroxycinnamates and their in vitro and in vivo antioxidant activities. Phytochem Rev 9, 147–170 (2010). https://doi.org/10.1007/s11101-009-9142-8
Received:

Accepted:

Published:

Issue Date:
Keywords
Caffeic

Ferulic

In vitro antioxidant activity

In vivo studies

Sinapic