Abstract
What are the philosophical views of contemporary professional philosophers? We surveyed many professional philosophers in order to help determine their views on 30 central philosophical issues. This article documents the results. It also reveals correlations among philosophical views and between these views and factors such as age, gender, and nationality. A factor analysis suggests that an individual's views on these issues factor into a few underlying components that predict much of the variation in those views. The results of a metasurvey also suggest that many of the results of the survey are surprising: philosophers as a whole have quite inaccurate beliefs about the distribution of philosophical views in the profession.
This is a preview of subscription content, log in to check access.
Access options
Buy single article
Instant access to the full article PDF.
US$ 39.95
Price includes VAT for USA
Subscribe to journal
Immediate online access to all issues from 2019. Subscription will auto renew annually.
US$ 199
This is the net price. Taxes to be calculated in checkout.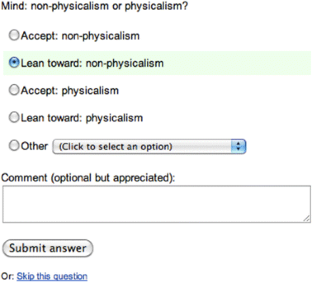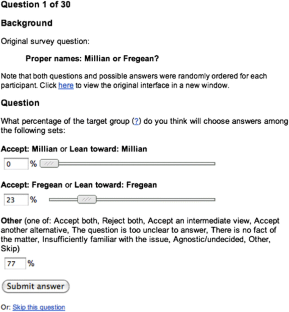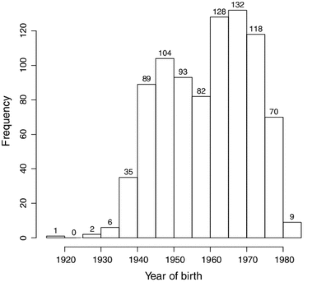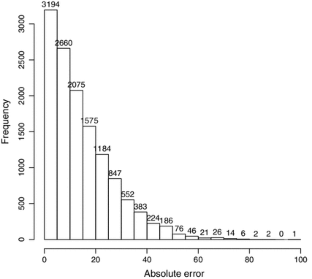 Notes
1.

For non-binary questions, the first two options below are replaced by "Accept more than one, undecided between others" and "Reject all."

2.

3.

We estimated genders based on the frequency of first names for both genders in the 1990 US census. A name is counted as female if it occurs with a frequency of at least 1 out of 1,000 among females and is at least 50 times more common among females than males (the same procedure is applied for males, mutadis mutandis). We chose these thresholds to obtain 100 % matching with the genders specified by respondents. Approximately 60 % of the target faculty population were assigned a gender by this method.

4.

5.

6.

7.

Minimum residuals, weighted least squares, generalized least squares, principal axis factoring, and maximum likelihood.
References
Gorsuch, R. L. (1983). Factor analysis. Hove: Psychology Press.

Horn, J. (1965). A rationale and test for the number of factors in factor analysis. Psychometrika, 30, 179–185.

Jolliffe, I. (2002). Principal component analysis (2nd ed.). New York: Springer.

Pearson, K. (1901). On lines and planes of closest fit to systems of points in space. Philosophical Magazine, 2, 559–572.

Spearman, C. (1904). General intelligence, objectively determined and measured. American Journal of Psychology, 15, 201–293.
Acknowledgments
Thanks to Kelvin McQueen for research assistance. Thanks to many beta testers and other consultants for their help with survey design. For feedback on this paper, thanks to Chris Green, Kieran Healy, Angela Mendelovici, Thomas Sturm, and anonymous reviewers. Finally, thanks to everyone who completed the survey.
Appendices
Appendix 1: Detailed survey results
The following tables show the main answers of the 931 target faculty participants with a 95% confidence interval. We show the aggregate percentage of respondents for each of the main available position, with a breakdown of the specific options. Options that did not reach 2% are omitted.
A priori knowledge: yes or no?
 Yes
71.1 ± 1.7 %
Accept (50.8 %), Lean toward (20.3 %)
 No
18.4 ± 0.9 %
Lean toward (12.1 %), Accept (6.2 %)
 Other
10.5 ± 0.7 %
The question is too unclear to answer (4.6 %)
Abstract objects: Platonism or nominalism?
 Platonism
39.3 ± 1.3 %
Accept (19.8 %), Lean toward (19.5 %)
 Nominalism
37.7 ± 1.3 %
Lean toward (22.6 %), Accept (15.1 %)
 Other
23.0 ± 1.0 %
Agnostic/undecided (5.0 %), Accept another alternative (4.9 %), Reject both (3.7 %), Insufficiently familiar with the issue (2.8 %), Accept an intermediate view (2.3 %), The question is too unclear to answer (2.0 %)
Aesthetic value: objective or subjective?
 Objective
41.0 ± 1.3 %
Lean toward (27.1 %), Accept (14.0 %)
 Subjective
34.5 ± 1.2 %
Lean toward (19.4 %), Accept (15.0 %)
 Other
24.5 ± 1.0 %
Accept an intermediate view (6.6 %), The question is too unclear to answer (4.5 %), Agnostic/undecided (3.2 %), Insufficiently familiar with the issue (3.1 %), Accept another alternative (2.6 %), Accept both (2.6 %)
Analytic–synthetic distinction: yes or no?
 Yes
64.9 ± 1.6 %
Accept (36.8 %), Lean toward (28.0 %)
 No
27.1 ± 1.1 %
Lean toward (14.6 %), Accept (12.5 %)
 Other
8.1 ± 0.6 %
The question is too unclear to answer (2.5 %)
Epistemic justification: internalism or externalism?
 Externalism
42.7 ± 1.3 %
Lean toward (26.7 %), Accept (16.0 %)
 Other
30.8 ± 1.1 %
Accept an intermediate view (6.9 %), Agnostic/undecided (6.0 %), Insufficiently familiar with the issue (4.7 %), Accept both (4.6 %), The question is too unclear to answer (3.0 %), Accept another alternative (2.1 %)
 Internalism
26.4 ± 1.1 %
Lean toward (17.3 %), Accept (9.1 %)
External world: idealism, skepticism, or non-skeptical realism?
 Non-skeptical realism
81.6 ± 1.8 %
Accept (61.4 %), Lean toward (20.2 %)
 Other
9.2 ± 0.6 %
Accept another alternative (2.6 %)
 Skepticism
4.8 ± 0.5 %
Lean toward (3.0 %), Accept (1.8 %)
 Idealism
4.3 ± 0.4 %
Lean toward (2.7 %), Accept (1.6 %)
Free will: compatibilism, libertarianism, or no free will?
 Compatibilism
59.1 ± 1.6 %
Accept (34.8 %), Lean toward (24.3 %)
 Other
14.9 ± 0.8 %
Agnostic/undecided (4.1 %), The question is too unclear to answer (2.8 %)
 Libertarianism
13.7 ± 0.8 %
Accept (7.7 %), Lean toward (6.0 %)
 No free will
12.2 ± 0.7 %
Lean toward (6.6 %), Accept (5.7 %)
God: theism or atheism?
 Atheism
72.8 ± 1.7 %
Accept (61.9 %), Lean toward (11.0 %)
 Theism
14.6 ± 0.8 %
Accept (10.6 %), Lean toward (4.0 %)
 Other
12.6 ± 0.7 %
Agnostic/undecided (5.5 %)
Knowledge claims: contextualism, relativism, or invariantism?
 Contextualism
40.1 ± 1.3 %
Lean toward (28.0 %), Accept (12.0 %)
 Invariantism
31.1 ± 1.2 %
Lean toward (19.7 %), Accept (11.5 %)
 Other
25.9 ± 1.1 %
Insufficiently familiar with the issue (9.0 %), Agnostic/undecided (5.7 %), The question is too unclear to answer (2.5 %)
 Relativism
2.9 ± 0.4 %
Lean toward (1.7 %), Accept (1.2 %)
Knowledge: empiricism or rationalism?
 Other
37.2 ± 1.3 %
Accept an intermediate view (11.4 %), The question is too unclear to answer (9.8 %), Accept both (6.3 %), Reject both (3.5 %), Accept another alternative (2.7 %)
 Empiricism
35.0 ± 1.2 %
Lean toward (21.4 %), Accept (13.6 %)
 Rationalism
27.8 ± 1.1 %
Lean toward (17.2 %), Accept (10.6 %)
Laws of nature: Humean or non-Humean?
 Non-Humean
57.1 ± 1.5 %
Accept (29.2 %), Lean toward (27.9 %)
 Humean
24.7 ± 1.0 %
Lean toward (16.0 %), Accept (8.7 %)
 Other
18.2 ± 0.9 %
Agnostic/undecided (6.4 %), Insufficiently familiar with the issue (5.5 %)
Logic: classical or non-classical?
 Classical
51.6 ± 1.5 %
Accept (27.6 %), Lean toward (24.0 %)
 Other
33.1 ± 1.2 %
Insufficiently familiar with the issue (12.0 %), Agnostic/undecided (5.6 %), Accept both (5.2 %), The question is too unclear to answer (3.4 %), There is no fact of the matter (3.2 %)
 Non-classical
15.4 ± 0.8 %
Lean toward (7.9 %), Accept (7.4 %)
Mental content: internalism or externalism?
 Externalism
51.1 ± 1.5 %
Lean toward (25.7 %), Accept (25.5 %)
 Other
28.9 ± 1.1 %
Insufficiently familiar with the issue (5.7 %), Agnostic/undecided (5.6 %), Accept an intermediate view (4.4 %), Accept both (3.9 %), The question is too unclear to answer (3.0%), Accept another alternative (2.3%)
 Internalism
20.0 ± 0.9 %
Lean toward (12.6%), Accept (7.4%)
Meta-Ethics: moral realism or moral anti-realism?
 Moral realism
56.4 ± 1.5 %
Accept (32.2%), Lean toward (24.2%)
 Moral anti-realism
27.7 ± 1.1 %
Lean toward (14.5%), Accept (13.2%)
 Other
15.9 ± 0.8 %
The question is too unclear to answer (2.9%), Accept another alternative (2.7%), Agnostic/undecided (2.6 %), Accept an intermediate view (2.5 %), Insufficiently familiar with the issue (2.5 %)
Metaphilosophy: naturalism or non-naturalism?
 Naturalism
49.8 ± 1.4 %
Accept (30.5 %), Lean toward (19.3 %)
 Non-naturalism
25.9 ± 1.1 %
Accept (14.8 %), Lean toward (11.1 %)
 Other
24.3 ± 1.0 %
The question is too unclear to answer (9.7 %), Insufficiently familiar with the issue (6.8 %), Agnostic/undecided (2.7 %)
Mind: physicalism or non-physicalism?
 Physicalism
56.5 ± 1.5 %
Accept (34.6 %), Lean toward (21.9 %)
 Non-physicalism
27.1 ± 1.1 %
Accept (14.2 %), Lean toward (12.9 %)
 Other
16.4 ± 0.8 %
The question is too unclear to answer (6.3 %), Agnostic/undecided (2.5 %), Accept an intermediate view (2.4 %)
Moral judgment: cognitivism or non-cognitivism?
 Cognitivism
65.7 ± 1.6 %
Accept (40.5 %), Lean toward (25.2 %)
 Other
17.3 ± 0.9 %
Insufficiently familiar with the issue (4.7 %), Accept an intermediate view (4.0 %), Agnostic/undecided (2.1 %)
 Non-cognitivism
17.0 ± 0.9 %
Lean toward (11.3 %), Accept (5.7 %)
Moral motivation: internalism or externalism?
 Other
35.3 ± 1.2 %
Insufficiently familiar with the issue (14.8 %), Agnostic/undecided (6.0 %), The question is too unclear to answer (4.8 %), Accept an intermediate view (3.5 %), Skip (2.1 %)
 Internalism
34.9 ± 1.2 %
Lean toward (22.0 %), Accept (12.9 %)
 Externalism
29.8 ± 1.1 %
Lean toward (16.5 %), Accept (13.2 %)
Newcomb's problem: one box or two boxes?
 Other
47.4 ± 1.4 %
Insufficiently familiar with the issue (23.5 %), Agnostic/undecided (13.3 %), Skip (4.7 %), The question is too unclear to answer (2.0 %)
 Two boxes
31.4 ± 1.2 %
Accept (20.5 %), Lean toward (10.8 %)
 One box
21.3 ± 1.0 %
Accept (11.7 %), Lean toward (9.6 %)
Normative Ethics: deontology, consequentialism, or virtue ethics?
 Other
32.3 ± 1.2 %
Accept more than one (8.4 %), Agnostic/undecided (5.2 %), Accept an intermediate view (4.0 %), Accept another alternative (3.5 %), Insufficiently familiar with the issue (3.3 %), Reject all (2.7 %)
 Deontology
25.9 ± 1.1 %
Lean toward (16.0 %), Accept (9.9 %)
 Consequentialism
23.6 ± 1.0 %
Lean toward (14.0 %), Accept (9.7 %)
 Virtue ethics
18.2 ± 0.9 %
Lean toward (12.6 %), Accept (5.6 %)
Perceptual experience: disjunctivism, qualia theory, representationalism, or sense-datum theory?
 Other
42.2 ± 1.3 %
Insufficiently familiar with the issue (16.2 %), Agnostic/undecided (8.4 %), Accept another alternative (3.9 %), Reject all (3.3 %), The question is too unclear to answer (2.6 %), Reject one or two, undecided between others (2.3 %), Skip (2.3 %)
 Representationalism
31.5 ± 1.2 %
Lean toward (21.2 %), Accept (10.3 %)
 Qualia theory
12.2 ± 0.7 %
Lean toward (9.0 %), Accept (3.2 %)
 Disjunctivism
11.0 ± 0.7 %
Lean toward (7.4 %), Accept (3.5 %)
 Sense-datum theory
3.1 ± 0.4 %
Lean toward (1.8 %), Accept (1.3 %)
Personal identity: biological view, psychological view, or further-fact view?
 Other
37.3 ± 1.3 %
Agnostic/undecided (8.5 %), Insufficiently familiar with the issue (6.2 %), There is no fact of the matter (4.2 %), Accept more than one (4.0 %), Accept another alternative (3.9 %), The question is too unclear to answer (2.8 %), Accept an intermediate view (2.7 %), Reject all (2.6 %)
 Psychological view
33.6 ± 1.2 %
Lean toward (22.7 %), Accept (11.0 %)
 Biological view
16.9 ± 0.9 %
Lean toward (11.3 %), Accept (5.6 %)
 Further-fact view
12.2 ± 0.7 %
Lean toward (7.8 %), Accept (4.4 %)
Politics: communitarianism, egalitarianism, or libertarianism?
 Other
41.0 ± 1.3 %
Insufficiently familiar with the issue (10.7 %), Agnostic/undecided (5.5 %), The question is too unclear to answer (4.5 %), Accept more than one (4.0 %), Accept another alternative (4.0 %), Accept an intermediate view (3.8 %), Reject all (3.4 %), Skip (2.0 %)
 Egalitarianism
34.8 ± 1.2 %
Lean toward (20.5 %), Accept (14.3 %)
 Communitarianism
14.3 ± 0.8 %
Lean toward (11.6 %), Accept (2.7 %)
 Libertarianism
9.9 ± 0.7 %
Lean toward (7.0 %), Accept (2.9 %)
Proper names: Fregean or Millian?
 Other
36.8 ± 1.3 %
Insufficiently familiar with the issue (13.7 %), Agnostic/undecided (6.3 %), Accept an intermediate view (4.2 %), Accept another alternative (3.4 %), The question is too unclear to answer (2.6 %), Reject both (2.4 %)
 Millian
34.5 ± 1.2 %
Lean toward (18.7 %), Accept (15.8 %)
 Fregean
28.7 ± 1.1 %
Lean toward (18.0 %), Accept (10.6 %)
Science: scientific realism or scientific anti-realism?
 Scientific realism
75.1 ± 1.7 %
Accept (47.0 %), Lean toward (28.0 %)
 Other
13.3 ± 0.8 %
Accept an intermediate view (3.2 %), The question is too unclear to answer (2.5 %), Insufficiently familiar with the issue (2.0 %)
 Scientific anti-realism
11.6 ± 0.7 %
Lean toward (8.3 %), Accept (3.3 %)
Teletransporter: survival or death?
 Survival
36.2 ± 1.2 %
Lean toward (22.7 %), Accept (13.5 %)
 Other
32.7 ± 1.2 %
Insufficiently familiar with the issue (9.2 %), Agnostic/undecided (8.6 %), There is no fact of the matter (6.0 %), The question is too unclear to answer (3.7 %), Skip (2.0 %)
 Death
31.1 ± 1.2 %
Accept (17.4 %), Lean toward (13.7 %)
Time: A- or B-theory?
 Other
58.2 ± 1.6 %
Insufficiently familiar with the issue (30.8 %), Agnostic/undecided (10.5 %), Skip (5.7 %), Accept both (3.1 %), The question is too unclear to answer (2.0 %)
 B-theory
26.3 ± 1.1 %
Accept (15.8 %), Lean toward (10.5 %)
 A-theory
15.5 ± 0.8 %
Lean toward (9.5 %), Accept (6.0 %)
Trolley problem: switch or don't switch?
 Switch
68.2 ± 1.7 %
Accept (45.1 %), Lean toward (23.1 %)
 Other
24.2 ± 1.0 %
Agnostic/undecided (6.4 %), Insufficiently familiar with the issue (4.5 %), There is no fact of the matter (3.7 %), The question is too unclear to answer (2.9 %)
 Don't switch
7.6 ± 0.6 %
Lean toward (4.8 %), Accept (2.8 %)
Truth: correspondence, deflationary, or epistemic?
 Correspondence
50.8 ± 1.5 %
Accept (26.2 %), Lean toward (24.6 %)
 Deflationary
24.8 ± 1.0 %
Lean toward (15.8 %), Accept (9.0 %)
 Other
17.5 ± 0.9 %
Agnostic/undecided (3.4 %), Insufficiently familiar with the issue (3.0 %), Reject all (2.5 %), Accept another alternative (2.1 %)
 Epistemic
6.9 ± 0.5 %
Lean toward (5.0 %), Accept (1.8 %)
Zombies: inconceivable, conceivable but not metaphysically possible, or metaphysically possible?
 Conceivable but not metaphysically possible
35.6 ± 1.2 %
Lean toward (20.5 %), Accept (15.0 %)
 Other
25.1 ± 1.0 %
Insufficiently familiar with the issue (9.0 %), Agnostic/undecided (6.6 %), The question is too unclear to answer (4.3 %)
 Metaphysically possible
23.3 ± 1.0 %
Accept (12.4 %), Lean toward (11.0 %)
 Inconceivable
16.0 ± 0.8 %
Lean toward (8.8 %), Accept (7.2 %)
Appendix 2: details of principal component analysis and factor analysis
About this article
Cite this article
Bourget, D., Chalmers, D.J. What do philosophers believe?. Philos Stud 170, 465–500 (2014). https://doi.org/10.1007/s11098-013-0259-7
Keywords
Metaphilosophy

Disagreement

Survey

Correlations

Philosophy

PhilPapers