Abstract
How can we identify and estimate workers' tacit knowledge? How can we design a personnel mix aimed at improving and speeding up its transfer and development? How is it possible to implement tacit knowledge sustainable projects in remote areas? In order to answer these questions, it is necessary to distinguish between types of tacit knowledge, to establish what they allow for and to consider their sources. It is also essential to find a way of managing the tacit knowledge 'stock' and distribution within the workforce. In short, a conceptual framework is needed to manage tacit knowledge. Based on previous works and 2 years of action research, this paper introduces such a framework and describes its partial application to support the pre-operational training and hiring in a large industrial plant in Brazil. Two contributions emerge from the research. First, the concept of 'levels of similarity' is introduced as a means to qualify the experience of workers and estimate the associated tacit knowledge. Second, the capability of carrying out three types of judgement properly and speedily is put forward as being a core ability of those who possess what has been called 'collective tacit knowledge' (Collins in Organ Stud 28(2):257–262, 2007). In practical terms, the results indicate the opportunity for companies to capitalize on the experience and tacit knowledge of their workers in a systematic way and with due recognition. Ultimately, positive impacts are expected in their absorptive capacity as well as in their management and human resources systems, accident prevention, productivity and the development of sustainable projects in remote areas.
Access options
Buy single article
Instant access to the full article PDF.
US$ 39.95
Tax calculation will be finalised during checkout.
Subscribe to journal
Immediate online access to all issues from 2019. Subscription will auto renew annually.
US$ 79
Tax calculation will be finalised during checkout.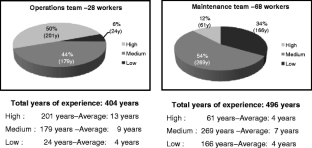 Notes
1.

This does not mean that there are no individual contributions on how to do or explain things better; it just points out that only after it is agreed by a given collectivity that whatever is being proposed is 'better' that it becomes part of what is considered knowledge. In other words, within a sociological approach, there can be no such thing as a private rule, language or discovery. As regards 'private language', see Wittgenstein (1976 [1953], pp. 88–89e and Section 243 in particular), Collins (1992 [1985]) extends the discussion to the impossibility of 'private scientific discoveries'.

2.

For instance, once I had the rare opportunity of enabling students to interview a senior manager in a steel company only for them to come back to me in the next class saying that the meeting went very well indeed, except for the fact that half the group were not allowed into the company as they were wearing casual shorts!

3.

The bibliographic information of this document was not included in the "References" in order to maintain the anonymity of the company.

4.

Data taken from the 'Social Action Plan' (2006) produced by the Company, which in turn bases its analysis on official data obtained from the Brazilian 2000 demographic census and local authorities

5.

To bring experienced people from the other nickel plants of the Brazilian company abroad was not an option systematically pursued during the pre-operational phase of the project.

6.

A few years ago (2004–2006), a mining site from the same company—just 115 miles away—had almost 70% turnover in the first 2 years of operation.

7.

The initial target was to start up nickel production in January 2009. This was then postponed to the beginning of 2010 and, due to the 2009 world economic crisis, to December 2010 (first metal).

8.

The project proposed to the company, based on the researcher's Ph.D., had the general goal of applying concepts from the Sociology of Scientific Knowledge to support and enhance the transfer of tacit knowledge in industry. Since it was the first time the POG was formally established in the company, the person in charge of it was particularly concerned to receive feedback on the implemented practices in order to improve them for the intended project and any future ones. This context enabled the approval and sponsoring of the project by the company to take place more easily. The general goal was then translated into more specific research goals while maintaining its original aim. Although the project was sponsored by the Brazilian company and full support was given to fieldwork trips and safety, no constraints at all were imposed on the researcher's academic freedom (i.e. the definition of the research question and scope, the methods and the writing up of the results).

9.

A typical trip to the location of the fieldwork (i.e. to the industrial plant) requires three commercial flights and two connections within Brazil, taking 11 h from door to door.

10.

Amenability to codification is here understood as amenability to reification: the possibility of creating products that can be used by enculturated actors (e.g. books and standards) or incorporated in technical devices (e.g. gears and software) that can then produce an output that is accepted within a given collectivity.

11.

When this typology was first introduced (Ribeiro 2007a), I used 'transient' instead of 'contingent' tacit knowledge but changed to the latter because it is more self-explanatory. I owe the change of terms to Harry Collins, although the definition was kept the same as 'transient tacit knowledge'. The development of this typology was possible due to more than 30 years of research on this topic by Harry Collins.

12.

The interpretation of Wittgenstein adopted here is based on Winch's (1990 [1958]) work, which is broadly accepted within the field of the Sociology of Scientific Knowledge.

13.

A rhetorical question posed by Wittgenstein highlights that even what is considered 'the same' depends on what is agreed as being 'the same': "But isn't the same at least the same? We seem to have an infallible paradigm … I feel like saying: 'Here at any rate there can't be a variety of interpretations'" (Wittgenstein 1976 [1953], p. 84e). The same line of reasoning applies to the other notions under assessment—i.e. 'relevance', 'opportunity' and 'risk' (with possible exceptions to physical risk). See "The turning point: the operational readiness workshop" and "Making correct judgements and the two approaches to learning and doing" sections for an empirical confirmation of this point. See Dreyfus (1979 [1972], 2009) for a discussion of 'relevance' within expert systems and the Internet and Collins (1992 [1985]) for a discussion of judgements of similarity and difference in the replication of scientific experiments.

14.

When applied to values, the judgement of relevance/irrelevance becomes a 'moral judgement'. Although this type of judgement is central for shaping established values and practices, its discussion is beyond the scope of this paper.

15.

The task of 'filtering the data' (Collins 1989) is an example of 'selective retrieving'. To know what counts and does not count as the right data calls for an understanding of how it is valued within a given area or for ongoing discussion as well as knowing who has produced it.

16.

I do not mind saying that someone 'possess' tacit knowledge when it has the meaning that it is the result of becoming a representative member of a form of life. If the person stops participating in the given form of life, what she or he 'knows' may become obsolete due to changes in the established practices.

17.

This kiln is a huge piece of equipment—in our case, a 6-m-diameter, 135-m-long refractory-lined rotating vessel or rotatory vessel—used for calcining different types of raw material.

18.

The analysis of the pre-operational training of novices with regard to tacit knowledge development can be found in 'Levels of Immersion, Tacit Knowledge and Expertise', an essay of mine under review by Phenomenology and the Cognitive Sciences at the time the present article was accepted.

19.

The data for Fig. 1 refer to the professional experiences the experienced employees had before starting to work on the project and this information was also collected in January 2009.

20.

It may be the case that the 'amount of experience according to similarity' will become a good numerical indicator in the future if this type of analysis becomes a standard, so allowing for a comparison between cases within similar industries or even between different ones. Thus, a database is being built with which we will try (in the long term) to collect data from various start-ups and link them to variables that give an idea of how complex each of the participating projects are. Although this analysis will be pursued, numbers alone are not the main element for managing tacit knowledge.

21.

For instance, although the Operations Team altogether presented 'good numbers', there was one area (Utilities) that did not possess a single person of high similarity in its team at the time the analysis was carried out. This showed that the numerical analysis could lead to better results when the graphs were produced for each of the smallest 'working groups' within the Operation and Maintenance teams.

22.

With hindsight, it is possible to say that the workshop was the moment when the idea of tacit knowledge management became operational within the nickel project.

23.

It was a 'rough evaluation' because the managers did not have the detailed curricula of their subordinates. There were also areas where the manager and the person supporting him were not themselves of high similarity.

24.

Nevertheless, those who are hired in this way must commit themselves to finishing high school within an agreed period.

25.

This strategy has led to a few complaints from other companies which were left with no other option than to promote key people within their workforce so as not to lose them. The selection through the use of personal–professional networks seems to be a way of having very cohesive teams composed of people who are trusted and committed to each other. On the other hand, it creates 'pockets of power' based on loyalty which may or may not be good for the project in the long run depending on how loyalty (or subservience) may overrule the technical aspects at stake in each case. The problem is that 'loyalty' also happens among low-similarity people.

26.

Given that the implementation of the planned mix of similarity was not made compulsory, it was left to the discretion of the managers and supervisors to decide who they would hire—this influencing the extent to which they would follow what had been planned in the workshop. The actual number and amount of experience according to the level of similarity of the workers hired after the workshop is currently being assessed.

27.

This was the strategy of the Operations Team from the beginning. Achieving the same for the Maintenance and Health & Safety Teams came about as a result of the discussion on the mix of similarity and the use of the Operations Training Programme as an example to be followed.

28.

Together, the three process engineers, one technologist and four process operational specialists from this consulting company have 237 years of high-similarity experience (an average of 26.3 years/person). The four process/operational specialists started their professional lives in low ranking positions—each with different jobs (welder, a product dryer operator, kiln operator and control room operator)—and finished as Senior Supervisor, Senior Process Specialist, Operation Advisor and Process Plant Superintendent, respectively. Together, these four people have 158 years of high-similarity experience (an average of 39.5 years/person).

29.

Thus, a common mistake some low-similarity employees committed in the beginning was to pinpoint bad judgements or decisions made by those considered of 'high similarity' as the means to question the concept of levels of similarity. They did not realise that, although the ones pointed at had extended experience in the nickel industry, a close analysis of their working experience would show that they had no experience in the specific area/subject in which they had made the bad judgements or taken the wrong decisions. There was a case, for instance, in which a high-similarity specialist was criticised by decisions he took with regard to the slag dumping area, but this area did not even exist in the plants he had worked before!

30.

The meetings reported below occurred respectively in August and November 2010, and with the exception of the description of the latter, only minor changes were made to the submitted manuscript after September 2010.

31.

Moreover, remarks were made about the reluctance of low-similarity workers leaving their desks and going to the construction site on a daily basis or in order to analyse the circumstances or problems being discussed in loco. In the words of an HSE, one of the final outcomes of the company change of fields is that 'after the ramp-up our [production] cost will be two times the cost of [the name of the other older nickel company in Brazil]'. The position held by HSEs with regard to the future can then be roughly divided in two: There are those who believe that the project will fail to be as profitable as it could be or, given the lower margins in the nickel industry compared to the mining industry, that the project will have to adapt itself to the form of life of producing nickel.

32.

Exchange rate of 10 July 2010. The calculations were made by a specialist engineer, and the final numbers were taken from the report to his manager.

33.

Thus, when there is a failure in a technical device that nobody can understand, stable technology becomes frontier technology until a final verdict on what caused it is agreed. This is illustrated by the many debates on the reasons for the falling of the Air Bus 330-200 airplane that was travelling from Rio to Paris in 2009.

34.

A Brazilian expression—'engineer of a finished construction'—was heard a few times from those in charge of particular tasks as means of defending themselves from the 'wise after the event' approach adopted by others when problems were detected only later on, such as at the end of assembly or beginning of operations.

35.

If the bilingual person had produced sound waves equivalent to the written instruction 'vire primeira à direita, é o segundo prédio à esquerda', you would probably still be trying to find the library!

36.

It goes without saying that full enculturation is not even a guarantee of 'explicitness', as the 'death of the author' discussion illustrates. I thank Francisco Lima for drawing my attention to machines as having 'opportunities for use'; this is where the analogy to books came from.

37.

In addition, it would also be misleading to say that this intervention in the nickel plant will be the reason for a possible successful start-up or, on the contrary, that possible future failures, delays or accidents will be solely due to the fact that the right mix of similarity was not achieved. Given the plant's complexity and history, there are other parties (e.g. plant designers, vendors, builders) and factors (e.g. the market, changes made in the project, budget cuts, interests, climate) impacting on what will or will not happen during and after the start-up.
References
Blackler, F. (1995). Knowledge, knowledge working and organizations: An overview and interpretation. Organization Studies, 16(6), 1021–1046.

Bloor, D. (2002 [1997]). Wittgenstein, rules and institutions. London: Routledge.

Collins, H. (1989). Computers and the sociology of scientific knowledge. Social Studies of Science, 19, 613–624.

Collins, H. (1992 [1985]). Changing order. Chicago: The University of Chicago Press.

Collins, H. (2001). Tacit knowledge, trust and the Q of sapphire. Social Studies of Science, 31(1), 71–85.

Collins, H. (2007). Bicycling on the moon: Collective tacit knowledge and somatic-limit tacit knowledge. Organization Studies, 28(2), 257–262.

Collins, H. (2010). Tacit and explicit knowledge. Chicago: The University of Chicago Press.

Collins, H., & Pinch, T. (1998). The Golem at large. Cambridge: Cambridge University Press.

Cook, S. D. N., & Brown, J. S. (1999). Bridging epistemologies: The generative dance between organizational knowledge and organizational knowing. Organization Science, 10(4), 381–400.

Dreyfus, H. (2009) On the internet. (2nd Ed.) London: Routledge.

Dreyfus, H. L. (1979 [1972]). What computers can't do: The limits of artificial intelligence. New York: Harper and Row.

Dreyfus, H. L., & Dreyfus, S. E. (1988). Mind over machine—the power of human intuition and expertise in the era of the computer. New York: Free.

Gherardi, S. (2000). Practice-based theorizing on learning and knowing in organizations. Organization, 7(2), 211–223.

Gorman, M. E. (2002). Types of knowledge and their roles in technology transfer. The Journal of Technology Transfer, 27, 219–231.

Kuhn, T. S. (1996 [1962]). The structure of scientific revolutions. Chicago: University of Chicago Press.

Lave, J., & Wenger, E. (1991). Situated learning: Legitimate peripheral participation. New York: Cambridge University Press.

Leith, P. (1986). Fundamental errors in legal logic programming. The Computer Journal, 29(6), 545–552.

Nonaka, I., & Takeuchi, H. (1995). The knowledge-creating company. Oxford: Oxford University Press.

Nonaka, I., & Von Krogh, G. (2009). Tacit knowledge and knowledge conversion: controversy and advancement in organizational knowledge creation theory. Organization Science, 20(3), 635–652.

Polanyi, M. (1969). The logic of tacit inference. In M. Grene (Ed.), Knowing and Being: Essays by Michael Polanyi (pp. 140– 44. Chicago: University of Chicago Press.

Polanyi, M. (1983 [1966]). The tacit dimension. London: Routledge & Kegan Paul.

Ribeiro, R. (2007a). Knowledge transfer. Unpublished doctoral dissertation, Cardiff University, School of Social Sciences, Cardiff, UK.

Ribeiro, R. (2007b) The language barrier as an aid to communication. Social Studies of Science, 37/4, 561–584.

Ribeiro, R., & Collins, H. (2007) The Bread-making machine: Tacit knowledge and two types of action. Organization Studies, 28/9, 1417–1433.

Tsoukas, H. (2005) Complex knowledge. Oxford: Oxford University Press.

Winch, P. (1990 [1958]). The idea of a social science and its relation to philosophy. London: Routledge.

Wittgenstein, L. (1976 [1953]). Philosophical investigations. Oxford: Blackwell.
Acknowledgments
This paper would not have been possible without the full support of the Brazilian company where the fieldwork took place as well as the support of its employees; I am enormously grateful to them for allowing me to share their professional experiences and donating much more of their time than would normally be expected. I am also indebted to Fernando Campos Guimarães, the person who first believed in the research and has been fully supportive throughout – in addition to Thiago Souza Magalhães who first introduced us. My very special thanks also go to João Gilberto Queiroz, who has been an outstanding research gate keeper and has also helped to make concrete the idea of tacit knowledge management inside the nickel project – it was his idea and initiative to hold the Operational Readiness Workshop. I am further indebted to Guilherme Matosinhos, a Production Engineering undergraduate student who acted as my research assistant for 18 months and to two other students, Virgínia Giani Casagrande and Bárbara Feitosa, who voluntarily helped with specific tasks. My thanks also go to Raoni Rajão and Ödül Bozkurt, to Harry Collins and Rob Evans, and to Evan Selinger, David Stone and Greg Feist who have all invited me to present seminars about the ongoing research. These were held at the Department of Organisation for the Work Seminar Series 2009/2010 at Lancaster University, the III Workshop on Studies of Expertise and Experience (Cardiff University, November 2009) and at the National Science Foundation Workshop 'Acquiring and Using Interactional Expertise' held in Berkeley, USA, August 2010. The comments, criticisms and suggestions coming from these audiences were of great value as well as those from people who read previous drafts of this paper, namely, Raoni Rajão, Francisco Lima, Stuart Dreyfus, and Laura Cançado Ribeiro – to whom I am also grateful. Finally, a special thanks to Kay Shipton for her outstanding proofreading work.
Additional information
The methodology described in this paper was protected by the Universidade Federal de Minas Gerais (UFMG) through a Patent Application.
About this article
Cite this article
Ribeiro, R. Tacit knowledge management. Phenom Cogn Sci 12, 337–366 (2013). https://doi.org/10.1007/s11097-011-9251-x
Keywords
Tacit knowledge management

Knowledge transfer

Learning

Practice

Sustainable development