Abstract
Background To overcome resource limitations, Ascension hospitals have implemented a virtual pharmacy technician program to facilitate the completion of medication histories in select emergency departments. Objective This multicenter retrospective study aimed to assess the impact of taking a medication history virtually by pharmacy technicians on medication reconciliation accuracy in comparison to other clinicians. Setting Ascension Seton hospitals in Austin, Texas, United States. Method A retrospective chart review including patients above the age of 18, who were directly admitted from the emergency department between January 1, 2019 and August 31, 2019. Study investigators identified, quantified and categorized unintentional discrepancies by comparing medication histories to reconciled medication orders at admission. Descriptive analysis was applied to patient demographics. Mann–Whitney U and chi-square tests were applied to continuous and categorical outcomes, respectively. Main outcome measure The type and number of unintentional discrepancies at admission. Results In 208 patients, a total of 190 unintentional discrepancies were identified. The rate of unintentional discrepancies per medication was significantly lower for virtual pharmacy technicians than other clinicians (8.6% vs. 14.8% respectively, p < 0.0001). The most common type of unintentional discrepancies was omission in both groups. Length of stay, readmissions, and emergency department visits were similar in both groups. The rate of incomplete medication histories was significantly lower for virtual pharmacy technicians than other clinicians (6.7% vs. 62.5% respectively, p < 0.0001). Conclusion Implementing a virtual medication history technician program in the emergency department can revolutionize the medication history completion process and lower unintentional medication discrepancy rates.
Access options
Buy single article
Instant access to the full article PDF.
USD 39.95
Price excludes VAT (USA)
Tax calculation will be finalised during checkout.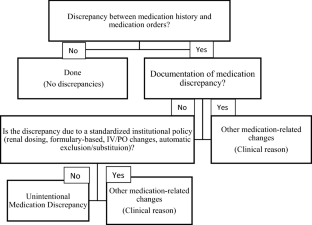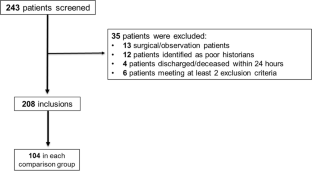 Data availability
The datasets generated and analyzed during the current study are available from the corresponding author on reasonable request.
References
Philip Aspden, Julie Wolcott, Lyle Bootman J, Linda R, Cronenwett, Committee on Identifying and Preventing Medication Errors, editors. Board on Health Care Services; Institute of Medicine. Washington, DC: National Academies Press; 2007. ISBN 978–0–309–13373–9.

Tam VC, Knowles SR, Cornish PL, Fine N, Marchesano R, Etchells EE. Frequency, type and clinical importance of medication history errors at admission to hospital: a systematic review. CMAJ. 2005;173:510–5.

Dobrzanski S, Hammond I, Khan G, Holdsworth H. The nature of hospital prescribing errors. Br J Clin Govern. 2002;7:187–93.

Gleason KM, McDaniel MR, Feinglass J, Baker DW, Lindquist L, Liss D, et al. Results of the medications at transitions and clinical handoffs (MATCH) study: an analysis of medication reconciliation errors and risk factors at hospital admission. J Gen Intern Med. 2010;25:441–7.

Schnipper JL, Mixon A, Stein J, Wetterneck TB, Kaboli PJ, Mueller S, et al. Effects of a multifaceted medication reconciliation quality improvement intervention on patient safety: final results of the MARQUIS study. BMJ Qual Saf. 2018;27:954–64.

Sproul A, Goodine C, Moore D, McLeod A, Gordon J, Digby J, et al. Quality of best possible medication history upon admission to hospital: comparison of nurses and pharmacy students and consideration of national quality indicators. Can J Hosp Pharm. 2018;71:128–34.

Medication reconciliation review. http://www.ihi.org/knowledge/Pages/Tools/MedicationReconciliationReview.aspx. Accessed 2 Apr 2021.

Pevnick JM, Shane R, Schnipper JL. The problem with medication reconciliation. BMJ Qual Saf. 2016;25:726–30.

Meguerditchian AN, Krotneva S, Reidel K, Huang A, Tamblyn R. Medication reconciliation at admission and discharge: a time and motion study. BMC Health Serv Res. 2013;13:485.

Al-Hashar A, Al-Zakwani I, Eriksson T, Al Zaabi M. Whose responsibility is medication reconciliation: physicians, pharmacists, or nurses? A survey in an academic tertiary care hospital. Saudi Pharm J. 2017;25:52–8.

Barnsteiner JH. Medication Reconciliation. In: Hughes RG, editor. Patient Safety and Quality: An Evidence-Based Handbook for Nurses. Rockville (MD): Agency for Healthcare Research and Quality (US); 2008. https://www.ncbi.nlm.nih.gov/books/NBK2648/. Accessed 2 Apr 2021.

Coffey M, Cornish P, Koonthanam T, Etchells E, Matlow A. Implementation of admission medication reconciliation at two academic health sciences centres: challenges and success factors. Healthc Q. 2009;12:102–9.

World Health Organization: The High 5s Project. https://www.who.int/patientsafety/implementation/solutions/high5s/High5_InterimReport.pdf?ua=1. Accessed 2 Apr 2021.

Patel E, Pevnick JM, Kennelty KA. Pharmacists and medication reconciliation: a review of recent literature. Integr Pharm Res Pract. 2019;8:39–45.

Johnston R, Saulnier L, Gould O. Best possible medication history in the emergency department: comparing pharmacy technicians and pharmacists. Can J Hosp Pharm. 2010;63:359–65.

Hart C, Price C, Graziose G, Grey J. A program using pharmacy technicians to collect medication histories in the emergency department. P T. 2015;40:56–61.

Markovic M, Mathis AS, Ghin HL, Gardiner M, Fahim G. A comparison of medication histories obtained by a pharmacy technician versus nurses in the Emergency department. P T. 2017;42:41–6.

McGinnis B, Padilla E, Garret P, Aziz S. Using pharmacy technicians and telepharmacy to obtain medication histories in the emergency department. J Am Pharm Assoc. 2019. https://doi.org/10.1016/j.japh.2019.01.019.

Elixhauser A, Steiner C, Harris DR, Coffey RM. Comorbidity measures for use with administrative data. Med Care. 1998;36:8–27.

World Health Organization website. The Anatomical Therapeutic Chemical Classification System with Defined Daily Doses (ATC/DDD). 2003. http://www.who.int/classifications/atcddd/en/. Accessed 2 Apr 2021.

Brownlie K, Schneider C, Culliford R, Fox C, Boukouvalas A, Willan C, et al. Medication reconciliation by a pharmacy technician in a mental health assessment unit. Int J Clin Pharm. 2014;36:303–9.

van den Bemt PM, van der Schrieck-de Loos EM, van der Linden C, Theeuwes AM, Pol AG. Effect of medication reconciliation on unintentional medication discrepancies in acute hospital admissions of elderly adults: a multicenter study. J Am Geriatr Soc. 2013;61:1262–8.

Baldoni S, Amenta F, Ricci G. Telepharmacy services: present status and future perspectives: a review. Medicina (Kaunas). 2019;55:327.

Dersch-Mills D, Hugel K, Nystrom M. Completeness of information sources used to prepare best possible medication histories for pediatric patients. Can J Hosp Pharm. 2011;64:10–5.

Hellström LM, Bondesson Å, Höglund P, Eriksson T. Errors in medication history at hospital admission: prevalence and predicting factors. BMC Clin Pharmacol. 2012;23:9.

Vira T, Colquhoun M, Etchells E. Reconcilable differences: correcting medication errors at hospital admission and discharge. BMJ Qual Saf. 2006;15:122–6.

Assiri T, Khurshid F, Almutairi M, Alhusayyen M, Alkharji F, Alsultan M. Impact of pharmacist intervention in patient counseling at point of hospital discharge in a specialized cardiac center in Saudi Arabia. Trop J Pharm Res. 2017;16:1187–93.

Cornish PL, Knowles SR, Marchesano R, Tam V, Shadowitz S, Juurlink DN, et al. Unintended medication discrepancies at the time of hospital admission. Arch Intern Med. 2005;165:424–9.

Zarif-Yeganeh M, Rastegarpanah M, Garmaroudi G, Hadjibabaie M, Sheikh Motahar Vahedi H. Incidence of medication discrepancies and its predicting factors in emergency department. Iran J Public Health. 2017;46:1086–94.

Unroe KT, Pfeiffenberger T, Riegelhaupt S, Jastrzembski J, Lokhnygina Y, Colón-Emeric C. Inpatient medication reconciliation at admission and discharge: a retrospective cohort study of age and other risk factors for medication discrepancies. Am J Geriatr Pharmacother. 2010;8:115–26.
Acknowledgements
The authors thank Eimeira Padilla and Mitchell Daley for their help in designing the statistical model of this study.
Funding
No funding was received for conducting this study.
Ethics declarations
Conflicts of interest
The authors have no conflicts of interest to disclose.
Additional information
Publisher's Note
Springer Nature remains neutral with regard to jurisdictional claims in published maps and institutional affiliations.
About this article
Cite this article
Gadallah, A., McGinnis, B., Nguyen, B. et al. Assessing the impact of virtual medication history technicians on medication reconciliation discrepancies. Int J Clin Pharm 43, 1404–1411 (2021). https://doi.org/10.1007/s11096-021-01267-6
Received:

Accepted:

Published:

Issue Date:

DOI: https://doi.org/10.1007/s11096-021-01267-6
Keywords
Medication discrepancies

Medication history

Medication reconciliation

Technicians

Telepharmacy