Abstract
Background Arthritis is a common chronic joint disease. It progressively causes joint pain, stiffness, and disability. Glucosamine sulfate has been shown to be an effective symptom-relieving biological agent. Pharmaceutical care, including patient counseling, is very important to overcome inconsistencies in compliance and adherence. Objective The aim of this study is to evaluate the impact of pharmaceutical care on the efficacy and safety of transdermal glucosamine sulfate and capsaicin (TGC-Plus cream) in the management of chronic joint pain. Settings A rheumatology outpatient clinic, Jordan University Hospital, Amman, Jordan. Methods A cross sectional study with a single treatment group was conducted. One hundred (100) patients diagnosed with either osteoarthritis, rheumatoid arthritis or chronic joint pains were recruited. Patients started on TGC-Plus cream applied twice daily for duration of 12 weeks. Patients received pharmaceutical care services during the study duration. Main outcome measure Efficacy and safety of TGC-Plus cream in pain relief and joint function improvement (alleviating joint stiffness) the need of alternative analgesics and number of doctor's visits. Results There was a significant reduction of numerical pain score (7 ± 1.40 vs. 3.53 ± 2.13, p < 0.05), with significant reduction in the limitation of joint movement (6.18 ± 2.14 vs. 3.47 ± 2.23, p < 0.05) after 12 weeks. In addition, the need for analgesics and the number of doctor's visits were significantly reduced (1.99 ± 2.77 vs. 0.71 ± 1.90, p < 0.05), (1.11 ± 1.28 vs. 0.06 ± 0.293, p < 0.05) respectively. Conclusion Pharmacist supervised treatment with the TGC-Plus cream significantly reduces pain and enhances locomotor function in patients with chronic pain who failed to achieve adequate prior pain relief.
Access options
Buy single article
Instant access to the full article PDF.
USD 39.95
Price excludes VAT (USA)
Tax calculation will be finalised during checkout.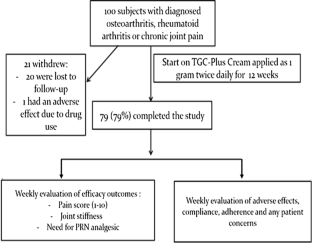 References
Wolfram W, Christian H, Christopher C, Malte S, Michael H. Effect of glucosamine sulfate on osteoarthritis in the cruciate-deficient canine model of osteoarthritis. Cartilage. 2016;8:173–9.

Simon LS. Nonsteroidal anti-inflammatory drugs and their risk: a story still in development. Arthritis Res Ther. 2013;15:S1.

Chatterjee S, Dureja GP, Kadhe G, Mane A, Phansalkar AA, Sawant S, et al. Cross-sectional study for prevalence of non-steroidal anti-inflammatory drug-induced gastrointestinal, cardiac and renal complications in india: interim report. Gastroenterol Res. 2015;8:216–21.

Rozendaal RM, Koes BW, Weinans H, Uitterlinden EJ, van Osch GJ, Ginai AZ, et al. The effect of glucosamine sulphate on osteoarthritis: design of a long-term randomised clinical trial [ISRCTN54513166]. BMC Musculoskelet Disord. 2005;6:20.

Towheed T ML, Anastassiades TP, Shea B, Houpt JB, Welch V, Hochberg MC, Wells GA. Glucosamine therapy for treating osteoarthritis. Cochrane Database of Systematic Reviews. The Cochrane database of systematic reviews 2005.

Vasiliadis HS, Tsikopoulos K. Glucosamine and chondroitin for the treatment of osteoarthritis. World J Orthop. 2017;8:1–11.

Reginster JY, Neuprez A, Lecart MP, Sarlet N, Bruyere O. Role of glucosamine in the treatment for osteoarthritis. Rheumatol Int. 2012;32:2959–67.

Fenton JI, Chlebek-Brown KA, Peters TL, Caron JP, Orth MW. Glucosamine HCl reduces equine articular cartilage degradation in explant culture. Osteoarthr Cartil. 2000;8:258–65.

Imagawa K, de Andres MC, Hashimoto K, Pitt D, Itoi E, Goldring MB, et al. The epigenetic effect of glucosamine and a nuclear factor-kappa B (NF-kB) inhibitor on primary human chondrocytes–implications for osteoarthritis. Biochem Biophys Res Commun. 2011;405:362–7.

Largo R, Alvarez-Soria MA, Diez-Ortego I, Calvo E, Sanchez-Pernaute O, Egido J, et al. Glucosamine inhibits IL-1beta-induced NFkappaB activation in human osteoarthritic chondrocytes. Osteoarthr Cartil. 2003;11:290–8.

Takeuchi T, Sugimoto A, Imazato N, Tamura M, Nakatani S, Kobata K, et al. Glucosamine Suppresses Osteoclast Differentiation through the Modulation of Glycosylation Including O-GlcNAcylation. Biol Pharm Bull. 2017;40:352–6.

Wandel S, Juni P, Tendal B, Nuesch E, Villiger PM, Welton NJ, et al. Effects of glucosamine, chondroitin, or placebo in patients with osteoarthritis of hip or knee: network meta-analysis. BMJ Clin Res Ed. 2010;341:c4675.

Zeng C, Wei J, Li H, Wang YL, Xie DX, Yang T, et al. Effectiveness and safety of glucosamine, chondroitin, the two in combination, or celecoxib in the treatment of osteoarthritis of the knee. Sci Rep. 2015;5:16827.

Nakamura H, Masuko K, Yudoh K, Kato T, Kamada T, Kawahara T. Effects of glucosamine administration on patients with rheumatoid arthritis. Rheumatol Int. 2007;27:213–8.

Mlym NGH, Obaje J. Transdermal glucosamine formulation improves osteoarthritic symptoms in an open clinical survey. Int J Pharm Pharm Sci. 2011;3(Suppl):3.
Funding
No external funding was needed to conduct and complete the study.
Ethics declarations
Conflicts of interest
All authors stated that there was no conflict of interest regarding the study design and publication of the manuscript.
Additional information
Publisher's Note
Springer Nature remains neutral with regard to jurisdictional claims in published maps and institutional affiliations.
About this article
Cite this article
Issa, A.Y., ALSalamat, H.A., Awad, W.B. et al. The impact of pharmaceutical care on the efficacy and safety of transdermal glucosamine sulfate and capsaicin for joint pain. Int J Clin Pharm 43, 101–106 (2021). https://doi.org/10.1007/s11096-020-01113-1
Received:

Accepted:

Published:

Issue Date:

DOI: https://doi.org/10.1007/s11096-020-01113-1
Keywords