Abstract
Background Hospitalized neonates receive the highest number of drugs compared to all other age groups, but consumption rates vary between studies depending on patient characteristics and local practices. There are no large-scale international studies on drug use in neonatal units. Objective We aimed to describe drug use in European neonatal units and characterize its associations with geographic region and gestational age. Setting A one-day point prevalence study was performed as part of the European Study of Neonatal Exposure to Excipients from January to June 2012. Method All neonatal prescriptions and demographic data were registered in a web-based database. The impact of gestational age and region on prescription rate were analysed with logistic regression. Main outcome measure The number and variety of drugs prescribed to hospitalized neonates in different gestational age groups and geographic regions. Results In total, 21 European countries with 89 neonatal units participated. Altogether 2173 prescriptions given to 726 neonates were registered. The 10 drugs with the highest prescription rate were multivitamins, vitamin D, caffeine, gentamicin, amino acids for parenteral nutrition, phytomenadione, ampicillin, benzylpenicillin, fat emulsion for parenteral nutrition and probiotics. The six most commonly prescribed ATC groups (alimentary tract and metabolism, blood and blood-forming organs, systemic anti-infectives, nervous, respiratory and cardiovascular system) covered 98% of prescriptions. Gestational age significantly affected the use of all commonly used drug groups. Geographic region influenced the use of alimentary tract and metabolism, blood and blood-forming organs, systemic anti-infectives, nervous and respiratory system drugs. Conclusion While gestational age-dependent differences in neonatal drug use were expected, regional variations (except for systemic anti-infectives) indicate a need for cooperation in developing harmonized evidence-based guidelines and suggest priorities for collaborative work.
This is a preview of subscription content,
to check access.
Access this article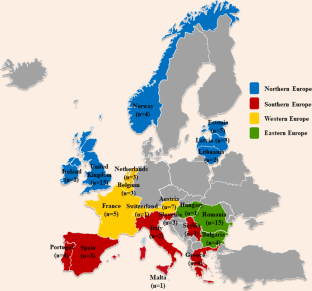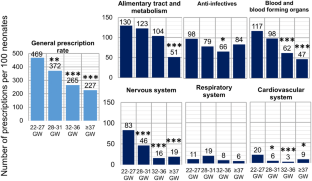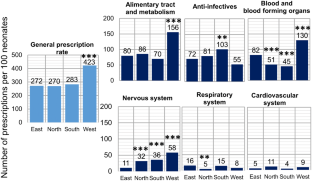 References
Krzyżaniak N, Pawłowska I, Bajorek B. Review of drug utilization patterns in NICUs worldwide. J Clin Pharm Ther. 2016;41:612–20.

Nellis G, Metsvaht T, Varendi H, Toompere K, Lass J, Mesek I, et al. Potentially harmful excipients in neonatal medicines: a pan-European observational study. Arch Dis Child. 2015;100:694–9.

Davis JM, Connor EM, Wood AJJ. The need for rigorous evidence on medication use in preterm infants. JAMA. 2012;308:1435–6.

Kumar P, Walker JK, Hurt KM, Bennett KM, Grosshans N, Fotis MA. Medication use in the neonatal intensive care unit: current patterns and off-label use of parenteral medications. J Pediatr. 2008;152:412–5.

Clark RH, Bloom BT, Spitzer AR, Gerstmann DR. Reported medication use in the neonatal intensive care unit: data from a large national data set. Pediatrics. 2006;117:1979–87.

Hsieh EM, Hornik CP, Clark RH, Laughon MM, Benjamin DK, Smith PB. Medication use in the neonatal intensive care unit. Am J Perinatol. 2014;31:811–21.

Lass J, Käär R, Jõgi K, Varendi H, Metsvaht T, Lutsar I. Drug utilisation pattern and off-label use of medicines in Estonian neonatal units. Eur J Clin Pharmacol. 2011;67:1263–71.

Flint RB, van Beek F, Andriessen P, Zimmermann LJ, Liem KD, Reiss IKM, et al. Large differences in neonatal drug use between NICUs are common practice: time for consensus? Br J Clin Pharmacol. 2018;84:1313–23.

Metsvaht T, Nellis G, Varendi H, Nunn AJ, Graham S, Rieutord A, et al. High variability in the dosing of commonly used antibiotics revealed by a Europe-wide point prevalence study: implications for research and dissemination. BMC Pediatr. 2015;15:41.

Rashed AN, Wong ICK, Wilton L, Tomlin S, Neubert A. Drug utilisation patterns in children admitted to a paediatric general medical ward in five countries. Drugs - Real World Outcomes. 2015;2:397–410.

Nellis G, Lutsar I, Varendi H, Toompere K, Turner MA, Duncan J, et al. Comparison of two alternative study designs in assessment of medicines utilisation in neonates. BMC Med Res Methodol. 2014;14:89.

United Nations Statistics Division. Standard country or area codes for statistical use (M49). http://unstats.un.org/unsd/methods/m49/m49regin.htm#europe. Accessed 25 Sept 2018.

Stark AR. American academy of pediatrics committee on fetus. Levels of neonatal care. Pediatrics. 2004;114:1341–7.

World Health Organization. Preterm birth. http://www.who.int/mediacentre/factsheets/fs363/en/. Accessed 25 June 2016.

WHO Collaborating Centre for Drug Statistics Methodology. ATC/DDD index 2016. http://www.whocc.no/atc_ddd_index/. Accessed 25 June 2016.

European Centre for Disease Prevention and Control. https://ecdc.europa.eu/en/home. Accessed 22 Dec 2017.

Schindler T, Koller-Smith L, Lui K, Bajuk B, Bolisetty S. Causes of death in very preterm infants cared for in neonatal intensive care units: a population-based retrospective cohort study. BMC Pediatr. 2017;17:59.

Radbone L. Clinical guideline: enteral feeding—vitamin supplementation. http://www.nnuh.nhs.uk/publication/download/vitamin-supplementation. Published 2014. Accessed 30 Dec 2017.

Jarvis C. Nottingham neonatal service: clinical guideline. Vitamin supplementation in pre-term infants. https://www.nuh.nhs.uk/download.cfm?doc=docm93jijm4n960.pdf&ver=5070. Published 2016. Accessed 30 Sept 2018.

Cuzzolin L, Agostino R. Off-label and unlicensed drug treatments in neonatal intensive care units: an Italian multicentre study. Eur J Clin Pharmacol. 2016;72:117–23.

European Medicines Agency. Guideline on the investigation of medicinal products in the term and preterm neonate. http://www.ema.europa.eu/docs/en_GB/document_library/Scientific_guideline/2009/09/WC500003754.pdf. Published 2009. Accessed 30 Dec 2017.

Rosli R, Dali AF, Abd Aziz N, Abdullah AH, Ming LC, Manan MM. Drug utilization on neonatal wards: a systematic review of observational studies. Front Pharmacol. 2017;8:27.

Silva J, Flor-de-Lima F, Soares H, Guimarães H. Off-label and unlicensed drug use in neonatology: reality in a Portuguese University Hospital. Acta Med Port. 2015;28:297.

Riou S, Plaisant F, Maucort Boulch D, Kassai B, Claris O, Nguyen K-A. Unlicensed and off-label drug use: a prospective study in French NICU. Acta Paediatr. 2015;104:228–31.

Agostoni C, Buonocore G, Carnielli VP, De Curtis M, Darmaun D, Decsi T, et al. Enteral nutrient supply for preterm infants: commentary from the European Society of Paediatric Gastroenterology, Hepatology and Nutrition Committee on Nutrition. J Pediatr Gastroenterol Nutr. 2010;50:85–91.

Braegger C, Decsi T, Dias JA, Hartman C, Kolacek S, Koletzko B, et al. Practical approach to paediatric enteral nutrition: a comment by the ESPGHAN committee on nutrition. J Pediatr Gastroenterol Nutr. 2010;51:110–22.

Bell BG, Schellevis F, Stobberingh E, Goossens H, Pringle M. A systematic review and meta-analysis of the effects of antibiotic consumption on antibiotic resistance. BMC Infect Dis. 2014;14:13.

Versporten A, Bielicki J, Drapier N, Sharland M, Goossens H, Calle GM, et al. The worldwide antibiotic resistance and prescribing in european children (ARPEC) point prevalence survey: developing hospital-quality indicators of antibiotic prescribing for children. J Antimicrob Chemother. 2016;71:1106–17.

Kaguelidou F, Pandolfini C, Manzoni P, Choonara I, Bonati M, Jacqz-Aigrain E. European survey on the use of prophylactic fluconazole in neonatal intensive care units. Eur J Pediatr. 2012;171:439–45.

Schmidt B, Roberts RS, Davis P, Doyle LW, Barrington KJ, Ohlsson A, et al. Caffeine therapy for apnea of prematurity. N Engl J Med. 2006;354:2112–21.

Ng G, da Silva O, Ohlsson A. Bronchodilators for the prevention and treatment of chronic lung disease in preterm infants. Cochrane Database Syst Rev. 2016;12:CD003214.

Kocek M, Wilcox R, Crank C, Patra K. Evaluation of the relationship between opioid exposure in extremely low birth weight infants in the neonatal intensive care unit and neurodevelopmental outcome at 2years. Early Hum Dev. 2016;92:29–32.

Lammers EM, Johnson PN, Ernst KD, Hagemann TM, Lawrence SM, Williams PK, et al. Association of fentanyl with neurodevelopmental outcomes in very-low-birth-weight infants. Ann Pharmacother. 2014;48:335–42.
Acknowledgements
ESNEE consortium: Susan Graham (UK), Utpal Shah (UK), Hussain Mulla (UK), Hitesh Pandya (UK), James McElnay (UK), Jeff Millership (UK), Shirish Yakkundi (UK), Andre Rieutord (France), Thomas Storme (France), Pascal Vaconsin (France). All members of ESNEE designed the study and monitored data collection. We thank all national contact persons who provided lists of neonatal units and helped run the study in their own country: Bernhard Resch (Austria), Pieter De Cock (Belgium), Nelly Jekova (Bulgaria), Elisabeth Iyore (Denmark), Pascal Vaconsin (France), Kosmas Sarafidis (Greece), Aranka Vegso (Hungary), Noreen O'Callaghan (Ireland), Rocco Agostino (Italy), Daiga Kviluna (Latvia), Rasa Tameliene (Lithuania), Rene F. Kornelisse (Netherlands), Dag Bratlid (Norway), Almerinda Pereira (Portugal), Maria Livia Ognean (Romania), Milica Bajcetic (Serbia), Darja Paro (Slovenia), Elizabeth Valls (Spain), Per Nydert (Sweden), Hans Ulrich Bucher (Switzerland), Maria Cordina (Malta). We also thank local pharmacists for providing data on excipient content: Caroline Fonzo-Christe (Switzerland), Domenico Tarantino (Italy), Velina Grigorova (Bulgaria), Milica Baj-cetic (Serbia), Elizabeth Valss (Spain), Claudine Milstein (France), Jennifer Duncan (England), Sabina Zalar (Slovenia), Per Gustaf Hartvig Honoré (Denmark). We would like to express our gratitude to Hiie Soeorg for valuable statistical advice.
Funding
ESNEE was funded through ERA-NET PRIOMEDCHILD by the following national agencies: Medical Research Council from the UK, Estonian Research Council (IUT 34-24) from Estonia, Agence Nationale de la Recherche from France. The funders of the study had no role in study design, data collection, data analysis, data interpretation, writing of the report, or in the decision to submit the paper for publication.
Conflicts of interest
The authors declare that they have no conflicts of interest.
Additional information
Publisher's Note
Springer Nature remains neutral with regard to jurisdictional claims in published maps and institutional affiliations.
Appendix
Appendix
Ethics committees that approved the European Study of Neonatal Exposure to Excipients point prevalence study
Universitair Ziekenhuis Gent, Comissie voor Mediche Ethiek, Belgium.
Scientific Committee of each participating hospital in Greece.
Research Ethics Committee of the University of Tartu, Estonia.
Ethics Committee of the Semmelweis University Clinic, Hungary.
Ethics Committee of the National Maternity Hospital, Dublin Ireland.
Comitato di Bioetica della Provincia Romana del FBF, Italy.
Kauno Regioninis Biomedicininiu Tyrimu Etikos Komitetas, Lithuania.
University of Malta Research Ethics Committee—UREC, Malta.
Institutional Review Board of the Erasmus MC, the Netherlands.
Komisija Republike Slovenije Medicinsko Etiko, Slovenia.
Comite Etico de Investigacion Clinica de EUSCADI (CEIC-E), Spain.
Kantonale Ethikkomission Zürich, Switzerland.
NRES Committee East of England—Cambridge Central, National Ethics Service, UK; NHS/HSC.
Ethics Committee approval was not required in Austria, France, Portugal, Latvia, Serbia and Bulgaria.
About this article
Cite this article
Mesek, I., Nellis, G., Lass, J. et al. Medicines prescription patterns in European neonatal units. Int J Clin Pharm 41, 1578–1591 (2019). https://doi.org/10.1007/s11096-019-00923-2
Received:

Accepted:

Published:

Issue Date:

DOI: https://doi.org/10.1007/s11096-019-00923-2
Keywords