Abstract
Background Colorectal cancer is the third most common cancer worldwide. Screening with several methods can accurately detect early-stage cancer and polyps and reduce colorectal cancer mortality in adults aged 50 to 75 years. Objective Test the feasibility, interest and potential impact of a colorectal cancer screening in Swiss community pharmacies. Setting 771 community pharmacies of Switzerland participated in a 6-week campaign. Method The pharmacists evaluated the risk factors through a questionnaire among individuals aged between 50 to 75 years old who did not have had a colonoscopy over the previous 10 years. Pharmacists delivered a Faecal Immunochemical Test (FIT) to those without risk. Patients with identified risk factors or with a positive result were referred to a physician. Patients with a negative result were given lifestyle advice and invited for a new screening in two years. Main outcome measure The impact was measured through the number of persons screened, of tests delivered and of referrals to a physician performed. Results Within 6 weeks, 23,024 persons were screened in pharmacies. In total, 760 patients (3%) had risk factors and were directly referred to physicians. The remaining 22,264 received a FIT, and 97% of these individuals performed and sent the FIT to the laboratory. Of the 21,701 tests analysed, 93% were negative. All individuals with positive results (7%) were referred to a physician. Conclusion Having the opportunity to take colorectal cancer prevention measures with a low threshold, like in a community pharmacy encourages the population to perform the screening.
Access options
Buy single article
Instant access to the full article PDF.
USD 39.95
Price excludes VAT (USA)
Tax calculation will be finalised during checkout.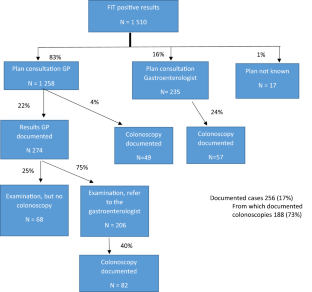 References
Ferlay J, Soerjomataram I, Ervik M, Dikshit R, Eser S, Mathers C, et al. GLOBOCAN 2012v1.0 Cancer Incidence and Mortality Worldwide: IARC Cancerbase No 11. International Agency for Research on Cancer; 2013 [cited 01 March 2019].

NICER (National Institute for Cancer Epidemiology and Registration) and Federal office of statistics. Schweizerischer Krebsbericht, 2015 Stand und Entwicklung [Swiss cancer report, 2015: state and development]. Zurich: National Institute for Cancer Epidemiology and Registration (CH); 2016 [cited 01 March 2019].

Bacchus CM, Dunfield L, Gorber SC, Holmes NM, Birtwhistle R, Dickinson JA, et al. Canadian task force on preventive health care. Recommendations on screening for colorectal cancer in primary care. CMAJ. 2016;188:340–8.

Holme Ø, Bretthauer M, Fretheim A, Odgaard-Jense J, Hoff G. Flexible sigmoidoscopy versus faecal occult blood testing for colorectal cancer screening in asymptomatic individuals. Cochrane Database Syst Rev. 2013;9:CD009259.

Quintero E, Castells A, Bujanda L, Cubiella J, Salas D, Lanas Á, González-Navarro A. Colonoscopy versus fecal immunochemical testing in colorectal-cancer screening. N Engl J Med. 2012;366(8):697–706.

Lin J, Piper M, Perdue L, Rutter C, Webber E, O'Connor E, et al. Screening for colorectal cancer: a systematic review for the U.S. preventive services task force. Evidence Synthesis No. 135. AHRQ Publication No. 14-05203-EF-1. Rockville, MD: Agency for Healthcare Research and Quality; 2016.

Labianca R, Nordlinger B, Beretta GD, Mosconi S, Mandalà M, Cervantes A, Arnold D, ESMO Guidelines Working Group. Early colon cancer: ESMO Clinical Practice Guidelines for diagnosis, treatment and follow-up. Ann Oncol. 2013;24(Suppl 6):vi64–vi72.

Bibbins-Domingo K. US Preventive Services Task Force. Screening for colorectal cancer: US Preventive Services Task Force recommendation statement. JAMA. 2016;315:2564–75. https://doi.org/10.1001/jama.2016.5989.

Kramis K, Ruckstuhl B, Wyler M. Nationale Strategie gegen Krebs 2014–2017 [National strategy against cancer report]; Bern: Federal Office of Public Health FOPH (CH); 2013 [cited 01 March 2019].

Federal Department of Home Affairs FDHA. Verordnung des EDI über Leistungen in der obligatorischen Krankenpflegeversicherung [Implementation regulation on mandatory health insurance services, Federal Office of Health]. Bern: Federal Council (CH); [cited 01 March 2019].

Fedewa S, Cullati S, Bouchardy C, Welle I, Burton-Jeangros C, Manor O, Guessous I. Colorectal cancer screening in Switzerland: cross-sectional trends (2007–2012) in socioeconomic disparities. PLoS ONE. 2015;10(7):e0131205–e01312050131205.

Federal Council of Switzerland. Bericht des Bundesrates in Erfüllung des Postulats Humbel (Nr. 12.3864) vom 27. September 2012: Positionierung der Apotheken in der Grundversorgung [Swiss Federal's Council's report in response to the postulate Humbel (12.3864) dated 27 September 2012; Positioning of pharmacies in primary care]. Bern: Federal Council (CH); 2016 [cited 01 March 2019].

Hol L, Wilschut JA, van Ballegooijen M, van Vuuren AJ, van der Valk H, Reijerink J, van der Togt ACM, Kuipers EJ, Habbema JDF, van Leerdam ME. Screening for colorectal cancer: random comparison of guaiac and immunochemical faecal occult blood testing at different cut-off levels. Br J Cancer. 2009;100(7):1103–10.

Marbet U, Bauerfeind P, Brunner J, Dorta G, Valloton J, Delcò F. Colonoscopy is the preferred colorectal cancer screening method in a population-based program. Endoscopy. 2008;40(08):650–5.

Denters MJ, Deutekom M, Bossuyt PM, Stroobants AK, Fockens P, Dekker E. Lower risk of advanced neoplasia among patients with a previous negative result from a fecal test for colorectal cancer. Gastroenterology. 2012;142(3):497–504.

Selby K, Baumgartner C, Levin TR, Doueni CA, Zauber AG, Scottinger J, Jensen CD, Lee JK, Corley A. Interventions to improve follow-up of positive results on fecal blood tests a systematic review. Ann Intern Med. 2017;167:565–75.

von Karsa L, Patnick J, Segnan N, Atkin W, Halloran S, Lansdorp-Vogelaar I, et al. European guidelines for quality assurance in colorectal cancer screening and diagnosis: overview and introduction to the full supplement publication. Endoscopy. 2013;45(1):51–9.

Inadomi JM. Screening for colorectal neoplasia. N Engl J Med. 2017;376:149–56.
Acknowledgements
We would like to thank the many pharmacists and patients of Switzerland who took part in the screening programme, as well as CSS which covered the testing for some of their insured. We also would like to thank the members of the scientific board of the campaign. Thank you to Samuel Allemann and Luc Besançon for their review of the manuscript.
Funding
This study was partly funded through the "Qualitäts-und Forschungsfonds LOA IV", a fund managed jointly by the two umbrella organisations for Swiss health insurance (santesuisse and Curafutura) and the Swiss association of pharmacists (pharmaSuisse).
Ethics declarations
Conflicts of interest
All the authors declare that they have no conflict of interest.
Additional information
Publisher's Note
Springer Nature remains neutral with regard to jurisdictional claims in published maps and institutional affiliations.
About this article
Cite this article
Ruggli, M., Stebler, D., Gasteiger, M. et al. Experience with a colorectal cancer campaign in Swiss pharmacies. Int J Clin Pharm 41, 1359–1364 (2019). https://doi.org/10.1007/s11096-019-00899-z
Received:

Accepted:

Published:

Issue Date:

DOI: https://doi.org/10.1007/s11096-019-00899-z
Keywords