Abstract
Background Little is known about patients' Perceived Sensitivity to Medicines (PSM), "the belief that one is especially sensitive to the actions and side effects of medicines". Objective (i) To explore the extent of and factors associated with high Perceived Sensitivity to Medicines in a Norwegian population of chronic medicine users; (ii) to assess the psychometric characteristics of the tool to measure PSM. Setting Community pharmacies in the Oslo area, Norway. Method A cross-sectional, questionnaire-based study was conducted between October 2015 and January 2016. Patients filling prescriptions for chronic disorders were recruited. Main outcome measure Perceived sensitivity to medicines. Results The study population included 214 patients (response rate 36.7%). In total 20.1% of the patients reported low, 61.7% moderate and 18.2% high perceived sensitivity to medicines. Factors positively associated with high perceived sensitivity were female gender (Adjusted Odds Ratio (aOR) 5.33, 95% CI 1.52 to 18.72, p < 0.001) and having a non-native language (aOR 4.76, 95% CI 1.48 to 15.30, p < 0.001); lower educational level (aOR 0.43, 95% CI 0.17 to 1.07, p < 0.001) and using generic medicines (aOR 0.12, 95% CI 0.03 to 0.57, p < 0.001) were negatively associated with high perceived sensitivity to medicines. There was no association between the perceived sensitivity and the number of prescription medicines taken. The Norwegian version of the Perceived Sensitivity to Medicines tool demonstrated good psychometric characteristics. Conclusion Almost one out of five patients in this study reported high sensitivity to medicines. Female gender, having a non-native language, lower educational level and using generic medicines were important factors related to the perceived sensitivity. Health care providers should be aware of the impact negative expectations about medicines can have on health behaviors and treatment outcomes, and seek to elicit and address patients' beliefs about their personal sensitivity to medicines.
This is a preview of subscription content, log in to check access.
Access options
Buy single article
Instant access to the full article PDF.
US$ 39.95
Price includes VAT for USA
Subscribe to journal
Immediate online access to all issues from 2019. Subscription will auto renew annually.
US$ 99
This is the net price. Taxes to be calculated in checkout.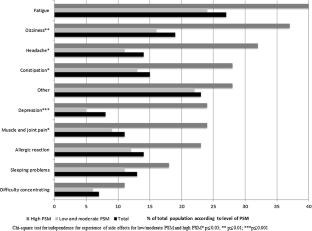 References
1.

Nestoriuc Y, Orav EJ, Liang MH, Horne R, Barsky AJ. Prediction of nonspecific side effects in rheumatoid arthritis patients by beliefs about medicines. Arthritis Care Res (Hoboken). 2010;62(6):791–9.

2.

Horne R, Faasse K, Cooper V, Diefenbach MA, Leventhal H, Leventhal E, et al. The perceived sensitivity to medicines (PSM) scale: an evaluation of validity and reliability. Br J Health Psychol. 2013;18(1):18–30.

3.

Espay AJ, Norris MM, Eliassen JC, Dwivedi A, Smith MS, Banks C, et al. Placebo effect of medication cost in Parkinson disease: a randomized double-blind study. Neurology. 2015;84(8):794–802.

4.

Andersson Sundell K, Jonsson AK. Beliefs about medicines are strongly associated with medicine-use patterns among the general population. Int J Clin Pract. 2016;70(3):277–85.

5.

Faasse K, Grey A, Horne R, Petrie KJ. High perceived sensitivity to medicines is associated with higher medical care utilisation, increased symptom reporting and greater information-seeking about medication. Pharmacoepidemiol Drug Saf. 2015;24(6):592–9.

6.

Faasse K, Petrie KJ. The nocebo effect: patient expectations and medication side effects. Postgrad Med J. 2013;89(1055):540–6.

7.

Stewart-Williams S, Podd J. The placebo effect: dissolving the expectancy versus conditioning debate. Psychol Bull. 2004;130(2):324–40.

8.

Colagiuri B, Zachariae R. Patient expectancy and post-chemotherapy nausea: a meta-analysis. Ann Behav Med. 2010;40(1):3–14.

9.

Nestoriuc Y, von Blanckenburg P, Schuricht F, Barsky AJ, Hadji P, Albert US, et al. Is it best to expect the worst? Influence of patients' side-effect expectations on endocrine treatment outcome in a 2-year prospective clinical cohort study. Ann Oncol. 2016;27(10):1909–15.

10.

Horne R, Weinman J, Hankins M. The beliefs about medicines questionnaire: the development and evaluation of a new method for assessing the cognitive representation of medication. Psychol Health. 1999;14(1):1–24.

11.

Wei L, Champman S, Li X, Li X, Li S, Chen R, et al. Beliefs about medicines and non-adherence in patients with stroke, diabetes mellitus and rheumatoid arthritis: a cross-sectional study in China. BMJ Open. 2017;7(10):e017293.

12.

Jonsdottir H, Friis S, Horne R, Pettersen KI, Reikvam A, Andreassen OA. Beliefs about medications: measurement and relationship to adherence in patients with severe mental disorders. Acta Psychiatr Scand. 2009;119(1):78–84.

13.

The Norwegian Medicines Agency (NoMA). NoMA medicine database («legemiddelsøk»). 2016. https://www.legemiddelsok.no/sider/Default.aspx?pane=2&f=Han%3bVir%3bRef%3bMar%3bAvr%3bpar%3bgen. Accessed 30 March 2016.

14.

WHO Collaborating Centre for Drugs Statistics Methodology. ATC/DDD index 2012. http://www.whocc.no/atc_ddd_index/. Accessed 17 March 2016.

15.

Tan K, Petrie KJ, Faasse K, Bolland MJ, Grey A. Unhelpful information about adverse drug reactions. BMJ. 2014;349:g5019.

16.

Kirkwood BR, Sterne JAC. Essential medical statistics. 2nd ed. Malden: Blackwell; 2003.

17.

Hosmer DW, Lemeshow S, Sturdivant RX. Applied logistic regression. 3rd ed. Hoboken: Wiley; 2013.

18.

Chapman SCE, Horne R, Chater A, Hukins D, Smithson WH. Patients' perspectives on antiepileptic medication: relationships between beliefs about medicines and adherence among patients with epilepsy in UK primary care. Epilepsy Behav. 2014;31:312–20.

19.

Laferton JA, Kube T, Salzmann S, Auer CJ, Shedden-Mora MC. Patients' expectations regarding medical treatment: a critical review of concepts and their assessment. Front Psychol. 2017;8:233.

20.

Gupta A, Thompson D, Whitehouse A, Collier T, Dahlof B, Poulter N, et al. Adverse events associated with unblinded, but not with blinded, statin therapy in the anglo-scandinavian cardiac outcomes trial—lipid-lowering arm (ASCOT–LLA): a randomised double-blind placebo-controlled trial and its non-randomised non-blind extension phase. Lancet. 2017;389(10088):2473–81.

21.

Preston RA, Materson BJ, Reda DJ, Williams DW. Placebo-associated blood pressure response and adverse effects in the treatment of hypertension: observations from a department of veterans affairs cooperative study. Arch Intern Med. 2000;160(10):1449–54.

22.

Heller MK, Chapman SCE, Horne R. No blank slates: pre-existing schemas about pharmaceuticals predict memory for side effects. Psychol Health. 2017;32(4):402–21.

23.

Horne R. Treatment perceptions and self-regulation. In: Leventhal H, Cameron LD, editors. The self-regulation of health and illness behaviour. London: Routledge; 2003.

24.

Kjoenniksen I, Lindbaek M, Granas AG. Patients' attitudes towards and experiences of generic drug substitution in Norway. Pharm World Sci. 2006;28(5):284–9.

25.

Chandler J, Owen M. Pharmaceuticals: the new brand arena. Int J Market Res. 2002;44(4):385–404.

26.

Dunne SS, Dunne CP. What do people really think of generic medicines? A systematic review and critical appraisal of literature on stakeholder perceptions of generic drugs. BMC Med. 2015;13:173.

27.

Gandhi M, Aweeka F, Greenblatt RM, Blaschke TF. Sex differences in pharmacokinetics and pharmacodynamics. Annu Rev Pharmacol Toxicol. 2004;44:499–523.

28.

Schwartz JB. The current state of knowledge on age, sex, and their interactions on clinical pharmacology. Clin Pharmacol Ther. 2007;82(1):87–96.

29.

Petrie KJ, Faasse K, Crichton F, Grey A. How common are symptoms? Evidence from a New Zealand national telephone survey. BMJ Open. 2014;4(6):e005374.

30.

Nolke L, Mensing M, Kramer A, Hornberg C. Sociodemographic and health-(care-)related characteristics of online health information seekers: a cross-sectional German study. BMC Public Health. 2015;15:31.

31.

Manierre MJ. Gaps in knowledge: tracking and explaining gender differences in health information seeking. Soc Sci Med. 2015;128:151–8.

32.

Hallyburton A, Evarts LA. Gender and online health information seeking: a five survey meta-analysis. J Consum Health Internet. 2014;18(2):128–42.

33.

Swedish Medical Product Agency. Årsrapporter, biverkningsarbetet. Årsrapprt for biverkningar 2016. https://lakemedelsverket.se/biverkningsrapporter. Accessed 21 Oct 2017.

34.

Richardson A, Allen JA, Xiao H, Vallone D. Effects of race/ethnicity and socioeconomic status on health information-seeking, confidence, and trust. J Health Care Poor Underserved. 2012;23(4):1477–93.

35.

Street LR, Gordon SH, Ward MM, Krupat LE, Kravitz LR. Patient participation in medical consultations: why some patients are more involved than others. Med Care. 2005;43(10):960–9.

36.

Brewer NT, Fazekas KI. Predictors of HPV vaccine acceptability: a theory-informed, systematic review. Prev Med. 2007;45(2–3):107–14.
Acknowledgements
The authors would like to express our gratitude to all patients participating in the study and to the three pharmacies for their invaluable help in data collection.
Funding
This research did not receive any specific grant from funding agencies in the public, commercial, or not-for-profit sectors.
Conflicts of interest
No conflict of interest.
Additional information
Publisher's Note
Springer Nature remains neutral with regard to jurisdictional claims in published maps and institutional affiliations.
Electronic supplementary material
Below is the link to the electronic supplementary material.
About this article
Cite this article
Svensberg, K., Nordeng, H., Gaffari, S. et al. Perceived sensitivity to medicines: a study among chronic medicine users in Norway. Int J Clin Pharm 41, 804–812 (2019). https://doi.org/10.1007/s11096-019-00826-2
Received:

Accepted:

Published:

Issue Date:
Keywords
Beliefs about medicines

Generic substitution

Nocebo

Norway

Perceived sensitivity to medicines

Side effects