Abstract
Background Adverse drug events from preventable medication errors can result in patient morbidity and mortality, and in cost to the healthcare system. Medication reconciliation can improve communication and reduce medication errors at transitions in care. Objective Evaluate the impact of medication reconciliation and counselling intervention delivered by a pharmacist for medical patients on clinical outcomes 30 days after discharge. Setting Sultan Qaboos University Hospital, Muscat, Oman. Methods A randomized controlled study comparing standard care with an intervention delivered by a pharmacist and comprising medication reconciliation on admission and discharge, a medication review, a bedside medication counselling, and a take-home medication list. Medication discrepancies during hospitalization were identified and reconciled. Clinical outcomes were evaluated by reviewing electronic health records and telephone interviews. Main outcome measures Rates of preventable adverse drug events as primary outcome and healthcare resource utilization as secondary outcome at 30 days post discharge. Results A total of 587 patients were recruited (56 ± 17 years, 57% female); 286 randomized to intervention; 301 in the standard care group. In intervention arm, 74 (26%) patients had at least one discrepancy on admission and 100 (35%) on discharge. Rates of preventable adverse drug events were significantly lower in intervention arm compared to standard care arm (9.1 vs. 16%, p = 0.009). No significant difference was found in healthcare resource use. Conclusion The implementation of an intervention comprising medication reconciliation and counselling by a pharmacist has significantly reduced the rate of preventable ADEs 30 days post discharge, compared to the standard care. The effect of the intervention on healthcare resource use was insignificant. Pharmacists should be included in decentralized, patient-centred roles. The findings should be interpreted in the context of the study's limitations.
Access options
Buy single article
Instant access to the full article PDF.
USD 39.95
Price excludes VAT (USA)
Tax calculation will be finalised during checkout.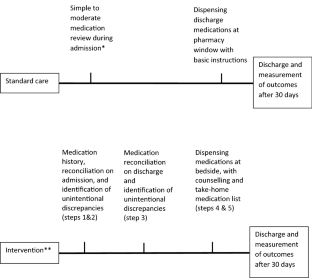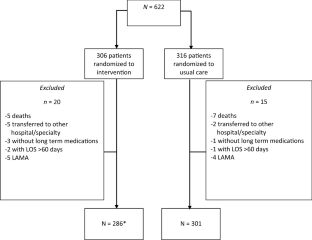 References
Bates DW, Cullen DJ, Laird N, Petersen LA, Small SD, Servi D, et al. Incidence of adverse drug events and potential adverse drug events. Implications for prevention. ADE Prevention Study Group. JAMA. 1995;274(1):29–34.

Pintor-Marmol A, Baena MI, Fajardo PC, Sabater-Hernandez D, Saez-Benito L, Garcia-Cardenas MV, et al. Terms used in patient safety related to medication: a literature review. Pharmacoepidemiol Drug Saf. 2012;21(8):799–809.

Forster AJ, Murff HJ, Peterson JF, Gandhi TK, Bates DW. The incidence and severity of adverse events affecting patients after discharge from the hospital. Ann Intern Med. 2003;138(3):161–7.

Schnipper JL, Kirwin JL, Cotugno MC, Wahlstrom SA, Brown BA, Tarvin E, et al. Role of pharmacist counseling in preventing adverse drug events after hospitalization. Arch Intern Med. 2006;166(5):565–71.

Rozich JD, Resar RK. Medication safety: one organization's approach to the challenge. J Clin Outcomes Manag. 2001;8(10):27–34.

Commission TJ. Hospital national patient safety goals. 2006. https://www.jointcommission.org/assets/1/6/2017_NPSG_HAP_ER.pdf. Accessed 5 Nov 2015.

(IHI) IfHI. Medication Reconciliation 2011. http://www.ihi.org/knowledge/Pages/Tools/MedicationReconciliationReview.aspx. Accessed 22 Mar 2016.

Coleman EA, Parry C, Chalmers S, Min SJ. The care transitions intervention: results of a randomized controlled trial. Arch Intern Med. 2006;166(17):1822–8.

Koehler BE, Richter KM, Youngblood L, Cohen BA, Prengler ID, Cheng D, et al. Reduction of 30-day postdischarge hospital readmission or emergency department (ED) visit rates in high-risk elderly medical patients through delivery of a targeted care bundle. J Hosp Med. 2009;4(4):211–8.

Hellstrom LM, Bondesson A, Hoglund P, Midlov P, Holmdahl L, Rickhag E, et al. Impact of the Lund Integrated Medicines Management (LIMM) model on medication appropriateness and drug-related hospital revisits. Eur J Clin Pharmacol. 2011;67(7):741–52.

Lehnbom EC, Stewart MJ, Manias E, Westbrook JI. The impact of medication reconciliation and review on clinical outcomes. Ann Pharmacother. 2014;48(10):1298–312.

Kripalani S, Roumie CL, Dalal AK, Cawthon C, Businger A, Eden SK, et al. Effect of a pharmacist intervention on clinically important medication errors after hospital discharge: a randomized trial. Ann Intern Med. 2012;157(1):1–10.

Harris CM, Sridharan A, Landis R, Howell E, Wright S. What happens to the medication regimens of older adults during and after an acute hospitalization? J Patient Saf. 2013;9(3):150–3.

Kuo GM, Touchette DR, Marinac JS. Drug errors and related interventions reported by United States clinical pharmacists: the American College of Clinical Pharmacy practice-based research network medication error detection, amelioration and prevention study. Pharmacotherapy. 2013;33(3):253–65.

Chan FW, Wong FY, So WY, Kung K, Wong CK. How much do elders with chronic conditions know about their medications? BMC Geriatr. 2013;13:59.

Leguelinel-Blache G, Dubois F, Bouvet S, Roux-Marson C, Arnaud F, Castelli C, et al. Improving patient's primary medication adherence: the value of pharmaceutical counseling. Medicine. 2015;94(41):e1805.

Farley TM, Shelsky C, Powell S, Farris KB, Carter BL. Effect of clinical pharmacist intervention on medication discrepancies following hospital discharge. Int J Clin Pharm. 2014;36(2):430–7.

Haynes KT, Oberne A, Cawthon C, Kripalani S. Pharmacists' recommendations to improve care transitions. Ann Pharmacother. 2012;46(9):1152–9.

Axtell S, Haines S, Fairclough J. Effectiveness of various methods of teaching proper inhaler technique: the importance of pharmacist counseling. J Pharm Pract. 2016;30(2):195–201.

Ghimirey A, Sapkota B, Shrestha S, Basnet N, Shankar PR, Sapkota S. Evaluation of pharmacist counseling in improving knowledge, attitude, and practice in chronic kidney disease patients. SAGE Open Med. 2013;1:2050312113516111.

Bell SP, Schnipper JL, Goggins K, Bian A, Shintani A, Roumie CL, et al. Effect of pharmacist counseling intervention on health care utilization following hospital discharge: a randomized control trial. J Gen Intern Med. 2016;31(5):470–7.

Morisky DE, Green LW, Levine DM. Concurrent and predictive validity of a self-reported measure of medication adherence. Med Care. 1986;24(1):67–74.

Morisky DE, Ang A, Krousel-Wood M, Ward HJ. Predictive validity of a medication adherence measure in an outpatient setting. J Clin Hypertens (Greenwich). 2008;10(5):348–54.

Europe PCN. PCNE Statement on medication review 2013. http://www.pcne.org/upload/files/150_20160504_PCNE_MedRevtypes.pdf (2013). Accessed 20 Aug 2017.

Gleason KM, Groszek JM, Sullivan C, Rooney D, Barnard C, Noskin GA. Reconciliation of discrepancies in medication histories and admission orders of newly hospitalized patients. Am J Health Syst Pharm. 2004;61(16):1689–95.

Coleman EA, Smith JD, Raha D, Min SJ. Posthospital medication discrepancies: prevalence and contributing factors. Arch Intern Med. 2005;165(16):1842–7.

Cornish PL, Knowles SR, Marchesano R, Tam V, Shadowitz S, Juurlink DN, et al. Unintended medication discrepancies at the time of hospital admission. Arch Intern Med. 2005;165(4):424–9.

ISMP. ISMP list of high-alert medications in community/ambulatory healthcare. https://www.ismp.org/communityRx/tools/ambulatoryhighalert.asp (2011). Accessed 13 Mar 2016.

ISMP. ISMP list of high-alert medications in acute care settings. https://www.ismp.org/tools/institutionalhighAlert.asp (2014). Accessed 13 Mar 2016.

Al-Ghamdi SA, Mahmoud MA, Alammari MA, Al Bekairy AM, Alwhaibi M, Mayet AY, et al. The outcome of pharmacist counseling at the time of hospital discharge: an observational nonrandomized study. Ann Saudi Med. 2012;32(5):492–7.

Winterstein AG, Hatton RC, Gonzalez-Rothi R, Johns TE, Segal R. Identifying clinically significant preventable adverse drug events through a hospital's database of adverse drug reaction reports. Am J Health Syst Pharm. 2002;59(18):1742–9.

Buckley MS, Harinstein LM, Clark KB, Smithburger PL, Eckhardt DJ, Alexander E, et al. Impact of a clinical pharmacy admission medication reconciliation program on medication errors in "high-risk" patients. Ann Pharmacother. 2013;47(12):1599–610.

Unroe KT, Pfeiffenberger T, Riegelhaupt S, Jastrzembski J, Lokhnygina Y, Colon-Emeric C. Inpatient medication reconciliation at admission and discharge: a retrospective cohort study of age and other risk factors for medication discrepancies. Am J Geriatr Pharmacother. 2010;8(2):115–26.

Cornu P, Steurbaut S, Leysen T, De Baere E, Ligneel C, Mets T, et al. Effect of medication reconciliation at hospital admission on medication discrepancies during hospitalization and at discharge for geriatric patients. Ann Pharmacother. 2012;46(4):484–94.

Armor BL, Wight AJ, Carter SM. Evaluation of adverse drug events and medication discrepancies in transitions of care between hospital discharge and primary care follow-up. J Pharm Pract. 2016;29(2):132–7.

Gurwitz JH, Field TS, Harrold LR, Rothschild J, Debellis K, Seger AC, et al. Incidence and preventability of adverse drug events among older persons in the ambulatory setting. JAMA. 2003;289(9):1107–16.

Gillespie U, Alassaad A, Henrohn D, Garmo H, Hammarlund-Udenaes M, Toss H, et al. A comprehensive pharmacist intervention to reduce morbidity in patients 80 years or older: a randomized controlled trial. Arch Intern Med. 2009;169(9):894–900.

Forster AJ, Murff HJ, Peterson JF, Gandhi TK, Bates DW. Adverse drug events occurring following hospital discharge. J Gen Intern Med. 2005;20(4):317–23.

Haynes RB, Ackloo E, Sahota N, McDonald HP, Yao X. Interventions for enhancing medication adherence. Cochrane Database Syst Rev. 2008;16(2):CD000011.

Topinkova E, Baeyens JP, Michel JP, Lang PO. Evidence-based strategies for the optimization of pharmacotherapy in older people. Drugs Aging. 2012;29(6):477–94.

Hellstrom LM, Hoglund P, Bondesson A, Petersson G, Eriksson T. Clinical implementation of systematic medication reconciliation and review as part of the Lund Integrated Medicines Management model—impact on all-cause emergency department revisits. J Clin Pharm Ther. 2012;37(6):686–92.

Walker PC, Bernstein SJ, Jones JN, Piersma J, Kim HW, Regal RE, et al. Impact of a pharmacist-facilitated hospital discharge program: a quasi-experimental study. Arch Intern Med. [Comment Research Support, Non-U.S. Gov't]. 2009;169(21):2003–10.
Funding
The work was funded by a doctoral grant provided by Sultan Qaboos University's College of Medicine.
Ethics declarations
Conflicts of interest
The authors declare that they have no conflicts of interest.
About this article
Cite this article
Al-Hashar, A., Al-Zakwani, I., Eriksson, T. et al. Impact of medication reconciliation and review and counselling, on adverse drug events and healthcare resource use. Int J Clin Pharm 40, 1154–1164 (2018). https://doi.org/10.1007/s11096-018-0650-8
Received:

Accepted:

Published:

Issue Date:

DOI: https://doi.org/10.1007/s11096-018-0650-8
Keywords
Adverse drug events

Healthcare resource use

Medication counselling

Medication reconciliation

Oman

Pharmacist