Abstract
Background Although defined daily doses (DDD) for antiepileptic drugs (AED) have been assigned only in combination therapy, based on the literature, most patients take them in monotherapy. Furthermore, discrepancies between DDD and prescribed daily dose (PDD) were observed. Objective First, to determine PDDs of AEDs and to reveal PDD/DDD ratio among seizure free versus not seizure free patients in everyday clinical practice. Second, to test the applicability of 75% cut-off of DDD to achieve seizure freedom. Furthermore, to find out what factors might influence PDD. Setting Outpatient data files at a Hungarian university hospital were studied. Methods A retrospective, 20-year cross-sectional database was compiled from 1282 epileptic outpatients' files. Main outcome measure Seizure freedom and PDD were used as outcome measures. Results The mean DDD% of all prescribed AEDs increased steadily from monotherapy, through bitherapy towards polytherapy (p < 0.0001). Most seizure free patients took AEDs in doses in the range of ≤75% of DDDs in monotherapy and bitherapy. Older AEDs (carbamazepine and valproate) were given in a significantly higher mean dose in bitherapy in the seizure free group. Among the newer types, only levetiracetam and lamotrigine had a significantly higher DDD% in mono-, bi-, and polytherapy. Confirmed by logistic regression analysis, gender, age, type of epilepsy, and number of AEDs had a significant impact on the value of 75% DDD. Conclusion No significant unfavourable impact of the lower ratio of PDD/DDD on the outcome of achieving seizure freedom has been confirmed. As a measure of seizure freedom, 75% of DDD may be used, although individual therapy must be emphasised. Precisely quantified DDD would provide a more accurate calculation of other derived values.
This is a preview of subscription content, log in to check access.
Access options
Buy single article
Instant access to the full article PDF.
US$ 39.95
Price includes VAT for USA
Subscribe to journal
Immediate online access to all issues from 2019. Subscription will auto renew annually.
US$ 99
This is the net price. Taxes to be calculated in checkout.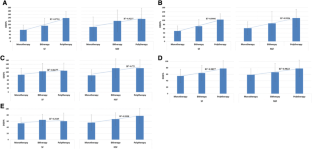 References
1.

Chadwick D. Epilepsy. J Neurol Neurosurg Psychiatry. 1994;57(3):264–77.

2.

Grimmsmann T, Himmel W. Discrepancies between prescribed and defined daily doses: a matter of patients or drug classes? Eur J Clin Pharmacol. 2011;67(8):847–54.

3.

World Health Organization. History of DDD methodology. http://www.whocc.no/atc_ddd_methodology/history/. Accessed 10 Jun 2015.

4.

World Health Organization. Guidelines for ATC classification and DDD assignment 2013. http://www.whocc.no/filearchive/publications/1_2013guidelines.pdf. Accessed 14 Dec 2015.

5.

Muller A, Monnet DL, Talon D, Henon T, Bertrand X. Discrepancies between prescribed daily doses and WHO defined daily doses of antibacterials at a university hospital. Br J Clin Pharmacol. 2006;61(5):585–91.

6.

Hsieh LP, Huang CY. Antiepileptic drug utilization in Taiwan: analysis of prescription using National Health Insurance database. Epilepsy Res. 2009;84(1):21–7.

7.

Kořístková B, Grundmann M, Brozmanova H. Differences between prescribed daily doses and defined daily doses of antiepileptics–therapeutic drug monitoring as a marker of the quality of the treatment. Int J Clin Pharmacol Ther. 2006;44(9):438–42.

8.

Kořístková B, Sjoqvist F, Grundmann M, Bergman U. The use of TDM data to assess the validity of defined daily doses of antiepileptics: a comparison between a Czech and Swedish University Hospital. Ther Drug Monit. 2006;28(5):589–93.

9.

Brodie MJ, Barry SJ, Bamagous GA, Norrie JD, Kwan P. Patterns of treatment response in newly diagnosed epilepsy. Neurology. 2012;78(20):1548–54.

10.

Rochat P, Hallas J, Gaist D, Friis ML. Antiepileptic drug utilization: a Danish prescription database analysis. Acta Neurol Scand. 2001;104(1):6–11.

11.

Khong TP, de Vries F, Goldenberg JS, Klungel OH, Robinson NJ, Ibanez L, Petri H. Potential impact of benzodiazepine use on the rate of hip fractures in five large European countries and the United States. Calcif Tissue Int. 2012;91(1):24–31.

12.

van den Brand MW, Pouwels S, Samson MM, van Staa TP, Thio B, Cooper C, et al. Use of anti-depressants and the risk of fracture of the hip or femur. Osteoporos Int. 2009;20(10):1705–13.

13.

Monnet DL, Molstad S, Cars O. Defined daily doses of antimicrobials reflect antimicrobial prescriptions in ambulatory care. J Antimicrob Chemother. 2004;53(6):1109–11.

14.

Kwan P, Brodie MJ. Definition of refractory epilepsy: Defining the indefinable? Lancet Neurol. 2010;9(1):27–9.

15.

Brodie MJ, Barry SJ, Bamagous GA, Kwan P. Effect of dosage failed of first antiepileptic drug on subsequent outcome. Epilepsia. 2013;54(1):194–8.

16.

Horváth L, Fekete K, Márton S, Fekete I. Outcome of antiepileptic drug treatment of 1282 patients with epilepsy, their pharmacovigilance reports and concomitant medication on CNS in an East-Hungarian adult database. JNS. 2016;. doi:10.1016/j.jns.2016.08.039.

17.

World Health Organization. International Classification of Diseases (ICD), 1994. http://www.who.int/classifications/icd/en/. Accessed 10 June 2015.

18.

Kwan P, Arzimanoglou A, Berg AT, Brodie MJ, Allen Hauser W, Mathern G, et al. Definition of drug resistant epilepsy: consensus proposal by the ad hoc Task Force of the ILAE Commission on Therapeutic Strategies. Epilepsia. 2010;51(6):1069–77.

19.

Brodie MJ, Kwan P. Staged approach to epilepsy management. Neurology. 2002;58(8):S2–8.

20.

National Institute for Clinical Excellence. Newer drugs for epilepsy. London: NICE London, 2004. www.nice.org.uk/TA076guidance. (Technology Appraisal 76.) Accessed 4 May 2004.

21.

Glauser T, Ben-Menachem E, Bourgeois B, Cnaan A, Chadwick D, Guerreiro C, et al. ILAE treatment guidelines: evidence-based analysis of antiepileptic drug efficacy and effectiveness as initial monotherapy for epileptic seizures and syndromes. Epilepsia. 2006;47(7):1094–120.

22.

Kwan P, Brodie MJ. Combination therapy in epilepsy: when and what to use. Drugs. 2006;66(14):1817–29.

23.

French JA, Pedley TA. Clinical practice. initial management of epilepsy. N Engl J Med. 2008;359(2):166–76.

24.

Patsalos PN, Berry DJ, Bourgeois BF, Cloyd JC, Glauser TA, Johannessen SI, et al. Antiepileptic drugs–best practice guidelines for therapeutic drug monitoring: a position paper by the subcommission on therapeutic drug monitoring, ILAE Commission on Therapeutic Strategies. Epilepsia. 2008;49(7):1239–76.

25.

Lammers MW, Hekster YA, Keyser A, van Lier H, Meinardi H, Renier WO. Neither dosage nor serum levels of antiepileptic drugs are predictive for efficacy and adverse effects. Pharm World Sci. 1995;17(6):201–6.

26.

Guelen PJM, van der Kleijn F, Woudstra U. Statistical analysis of pharmacokinetic parameters in epileptic patients chronically treated with antiepileptic drugs. In: Schneider H, Janz D, Gardner-Thorpe C, Meinardi H, Sherwin AL, editors. Clinical pharmacology of antiepileptic drugs. Berlin: Springer; 1975. p. 2–10. ISBN 9780387069876.

27.

Lammers MW, Hekster YA, Keyser A, Meinardi H, Renier WO, Herings RM. Use of antiepileptic drugs in a community-dwelling Dutch population. Neurology. 1996;46(1):62–7.
Acknowledgements
The authors thank the medical staff for active participation in the treatment.
Funding
This study was supported by the following grants: Grant of the Hungarian Ministry of Health (No. ETT 238/2006) and Research Fellowship of the Faculty of Medicine, University of Debrecen, 2012–2016 (OSTRAT/436/2012).
Ethics declarations
Conflicts of interest
The authors declare that they have no conflict of interest.
About this article
Cite this article
Horváth, L., Fekete, K., Márton, S. et al. Correlation between prescribed daily dose, seizure freedom and defined daily dose in antiepileptic drug treatment. Int J Clin Pharm 39, 459–467 (2017). https://doi.org/10.1007/s11096-017-0447-1
Received:

Accepted:

Published:

Issue Date:
Keywords
DDD

Drug utilization review

Epilepsy

Hungary

PDD