Abstract
Background The Ghent Older People's Prescriptions community Pharmacy Screening (GheOP³S-)tool was recently developed to screen for potentially inappropriate prescribing (PIP). Objective We aimed (1) to determine PIP prevalence in older nursing home (NH) residents with polypharmacy using the GheOP³S-tool and (2) to identify those PIPs that are most frequently detected. Method A cross-sectional study was carried out between February and June 2014 in 10 NHs in Belgium, supplied by a community pharmacy chain. For each NH, 40 residents (≥70 years, using ≥5 chronic drugs) were included. PIP prevalence was determined using the GheOP³S-tool. Results 400 NH residents were included [mean age (±SD) 86.2 (±6.3) years; median number of drugs (±IQR) 10 (7–12)]. A total of 1728 PIPs were detected in 387 (97 %) participants (Median 4; IQR 2–6). The most prevalent items can be assigned to three categories: long-term use of central nervous system drugs (i.e. benzodiazepines, antidepressants and antipsychotics), use of anticholinergic drugs (mutual combinations and with underlying constipation/dementia) and underuse of osteoporosis prophylaxis. Conclusion Screening for PIP by means of the GheOP³S-tool revealed a high prevalence of PIP among older NH residents with polypharmacy. This finding urges for initiatives on the patient-level, but also on a broader, institutional level.
This is a preview of subscription content, log in to check access.
Access options
Buy single article
Instant access to the full article PDF.
US$ 39.95
Price includes VAT for USA
Subscribe to journal
Immediate online access to all issues from 2019. Subscription will auto renew annually.
US$ 99
This is the net price. Taxes to be calculated in checkout.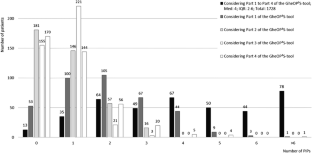 References
1.

Loganathan M, Singh S, Franklin BD, Bottle A, Majeed A. Interventions to optimise prescribing in care homes: systematic review. Age Ageing. 2011;40(2):150–62.

2.

Haasum Y, Fastbom J, Johnell K. Institutionalization as a risk factor for inappropriate drug use in the elderly: a Swedish nationwide register-based study. Ann Pharmacother. 2012;46(3):339–46.

3.

O'Sullivan DP, O'Mahony D, Parsons C, Hughes C, Murphy K, Patterson S, et al. A prevalence study of potentially inappropriate prescribing in Irish long-term care residents. Drugs Aging. 2013;30(1):39–49.

4.

Perri M 3rd, Menon AM, Deshpande AD, Shinde SB, Jiang R, Cooper JW, et al. Adverse outcomes associated with inappropriate drug use in nursing homes. Ann Pharmacother. 2005;39(3):405–11.

5.

Verrue C, Mehuys E, Boussery K, Adriaens E, Remon JP, Petrovic M. A pharmacist-conducted medication review in nursing home residents: impact on the appropriateness of prescribing. Acta Clin Belg. 2012;67(6):423–9.

6.

Verrue CL, Petrovic M, Mehuys E, Remon JP, Vander Stichele R. Pharmacists' interventions for optimization of medication use in nursing homes: a systematic review. Drugs Aging. 2009;26(1):37–49.

7.

Wallerstedt SM, Kindblom JM, Nylen K, Samuelsson O, Strandell A. Medication reviews for nursing home residents to reduce mortality and hospitalization: systematic review and meta-analysis. Br J Clin Pharmacol. 2014;78(3):488–97.

8.

Mestres C, Agusti A, Puerta L, Barba M. Prescription of potentially inappropriate drugs for geriatric patients in long-term care: improvement through pharmacist's intervention. Eur J Hosp Pharm Sci Pract. 2015;22(4):198–201.

9.

Tommelein E, Petrovic M, Somers A, Mehuys E, van der Cammen T, Boussery K. Older patients' prescriptions screening in the community pharmacy: development of the Ghent Older People's Prescriptions community Pharmacy Screening (GheOP(3)S) tool. J Public Health. 2016;38(2):e158–70. doi:10.1093/pubmed/fdv090.

10.

Tommelein EM, Van Tongelen I, Petrovic M, Somers A, Colin P, Demarche S, Van Hees T, Christiaens T, Boussery K. Community pharmacists' evaluation of potentially inappropriate prescribing in older community-dwelling patients with polypharmacy: observational research based on the GheOP3S-tool. (2016, submitted).

11.

Belgian Center for Pharmacotherapeutic Information B. Commented drug repertory 2016 [cited 2016 March 25]. http://www.bcfi.be/.

12.

WHO Collaborating Centre for Drug Statistics Methodology—Norwegian Institute of Public Health. ATC/DDD Index 2016 [cited 2016 March 26]. http://www.whocc.no/atc_ddd_index/.

13.

von Elm E, Altman DG, Egger M, Pocock SJ, Gotzsche PC, Vandenbroucke JP. Strengthening the Reporting of Observational Studies in Epidemiology (STROBE) statement: guidelines for reporting observational studies. BMJ (Clin Res ed). 2007;335(7624):806–8.

14.

Elseviers MM, Vander Stichele RR, Van Bortel L. Quality of prescribing in Belgian nursing homes: an electronic assessment of the medication chart. Int J Qual Health Care. 2014;26(1):93–9.

15.

Bergman Å, Olsson J, Carlsten A, Waern M, Fastbom J. Evaluation of the quality of drug therapy among elderly patients in nursing homes: a computerized pharmacy register analysis. Scand J Prim Health Care. 2007;25(1):9–14.

16.

Shah SM, Carey IM, Harris T, DeWilde S, Cook DG. Quality of prescribing in care homes and the community in England and Wales. Br J Gen Pract. 2012;62(598):e329–36.

17.

Kolzsch M, Kopke K, Fischer T, Hofmann W, Kuhnert R, Bolbrinker J, et al. Prescribing of inappropriate medication in nursing home residents in Germany according to a French consensus list: a cross-sectional cohort study. Pharmacoepidemiol Drug Saf. 2011;20(1):12–9.

18.

Tommelein E, Mehuys E, Petrovic M, Somers A, Colin P, Boussery K. Potentially inappropriate prescribing in community-dwelling older people across Europe: a systematic literature review. Eur J Clin Pharmacol. 2015;71(12):1415–27.

19.

Ryan C, O'Mahony D, Kennedy J, Weedle P, Cottrell E, Heffernan M, et al. Potentially inappropriate prescribing in older residents in Irish nursing homes. Age Ageing. 2013;42(1):116–20.

20.

Bourgeois J, Elseviers MM, Van Bortel L, Petrovic M, Vander Stichele RH. Feasibility of discontinuing chronic benzodiazepine use in nursing home residents: a pilot study. Eur J Clin Pharmacol. 2014;70(10):1251–60.

21.

Kersten H, Molden E, Tolo IK, Skovlund E, Engedal K, Wyller TB. Cognitive effects of reducing anticholinergic drug burden in a frail elderly population: a randomized controlled trial. J Gerontol Ser A Biol Sci Med Sci. 2013;68(3):271–8.

22.

World Health Organization Collaborating Centre for Metabolic Bone Diseases. Fracture risk assessment tool United Kingdom: University of Sheffield [cited 2016 March 25]. https://www.shef.ac.uk/FRAX/tool.jsp.
Acknowledgments
We would like to thank the community pharmacy chain for providing us with the dataset and assistance when case clarification was needed.
Funding
No financial remuneration was received for the study.
Ethics declarations
Conflicts of interest
All authors completed the ICMJE-form. No competing interests were declared.
Electronic supplementary material
Below is the link to the electronic supplementary material.
About this article
Cite this article
Tommelein, E., Mehuys, E., Petrovic, M. et al. Potentially inappropriate prescribing in nursing home residents detected with the community pharmacist specific GheOP3S-tool. Int J Clin Pharm 38, 1063–1068 (2016). https://doi.org/10.1007/s11096-016-0366-6
Received:

Accepted:

Published:

Issue Date:
Keywords
Aged

Belgium

GheOP³S

Inappropriate prescribing

Nursing homes

PIP