Abstract
Background Obstructive sleep apnea (OSA) is a chronic sleep disorder associated with a varying degree of upper airway collapse during sleep. Left untreated, OSA can lead to the development of cardiovascular disease including risk of stroke and increased mortality. Pharmacists are the most accessible and underutilized healthcare resource in the community and can have a significant role in screening patients for OSA. The result may include an expedited referral to the patient's general practitioners or sleep disorder specialists for further diagnostic assessment and therapeutic intervention. Aim of the review The primary aim of this review was to identify the current published evidence of pharmacists providing OSA screening services in a community pharmacy setting. Methods A literature search was conducted to identify evidence of pharmacists providing OSA screening services. The literature search including five databases [PubMed, (1946-January 2015), Cumulative Index of Nursing and Allied Health Literature, International Pharmaceutical Abstracts (1970 to January 2015), Cochrane Database of Systematic Reviews and Google Scholar] with search terms of ("pharmacist or pharmacy") AND ("obstructive sleep apnea") AND ("sleep disorders") AND ("continuous positive airway pressure—CPAP") were used. Articles were limited to English and reported in humans. Results A total of seven publications (four Australia, two Switzerland and one France) were selected and evaluated. Pharmacists utilized validated screening tools in 6/7 (86 %) of clinical studies to assist in the identification of patients with sleep disorders in community pharmacies. A total of 1701 pharmacies encompassing 9177 patients were screened in the clinical studies. Pharmacists were able to identify between 21.4 and 67 % of patients that were at risk for developing OSA or required a referral to a general practitioner or sleep disorder specialist for further diagnostic testing. Conclusion Studies assessing the role of pharmacists performing OSA screening services remains limited due to the small number of studies available and differences in methodological assessment. More qualitative studies including randomized controlled trials are needed to better identify the value of pharmacists providing this novel service.
Access options
Buy single article
Instant access to the full article PDF.
US$ 39.95
Tax calculation will be finalised during checkout.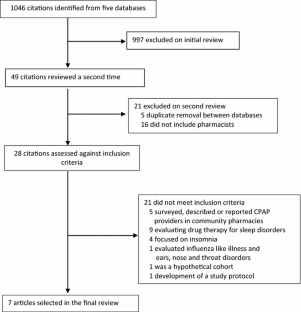 References
1.

McKenney JM, Slining JM, Henderson HR, Devins D, Barr M. The effect of clinical pharmacy services on patients with essential hypertension. Circulation. 1973;48:1104–11.

2.

Doucette WR, Kreling DH, Schommer JC, Gaither CA, Mott DA, Pedersen CA. Evaluation of community pharmacy service mix: evidence from the 2004 National Pharmacist Workforce Study. J Am Pharm Assoc. 2006;46:348–55.

3.

Giberson S, Yoder S, Lee MP. Improving patient and health systems outcomes through advanced pharmacy practice: a report to the U.S. Surgeon General. Office of the Chief Pharmacist. U.S. Public Health Service. 2011.

4.

Punjabi NM. The epidemiology of adult obstructive sleep apnea. Proc Am Thorac Soc. 2008;5(2):136–43.

5.

Yaggi HK, Concato J, Kernan WN, Lichtman JH, Brass LM, Mohsenin V. Obstructive sleep apnea as a risk factor for stroke and death. N Engl J Med. 2005;353:2034–41.

6.

Young T, Skatrud J, Peppard PE. Risk factors for sleep apnea in adults. JAMA. 2004;291:2013–6.

7.

Epstein LJ, Kristo D, Strollo PJ, Friedman N, Malhotra A, Patil SP, et al. Clinical guidelines for the evaluation, management and long-term care of obstructive sleep apnea in adults. J Clin Sleep Med. 2009;5:263–76.

8.

Fleetham J, Ayas N, Bradley D, Fitzpatrick M, Oliver TK, Morrison D, et al. Canadian thoracic society 2011 guideline update: diagnosis and treatment of sleep disordered breathing. Can Respir J. 2011;18(1):387–92.

9.

Lloberes P, Duran-Cantolla J, Martinez-Garcia MA, Maria-Marin J, Ferrer A, Corral J, et al. Diagnosis and treatment of sleep apnea-hypopnea syndrome. Arch Bronconeumol. 2011;47(3):143–56.

10.

McMillan SS, Wheeler AJ, Sav A, King MA, Whitty JA, Kendall E, et al. Community pharmacy in Australia: a health hub destination of the future. Res Soc Adm Pharm. 2013;9:863–75.

11.

Abrishami A, Khajehdehl A, Chung F. A systemic review of screening questionnaires for obstructive sleep apnea. Can J Anesth. 2010;57:423–38.

12.

El-Sayed IH. Comparison of four sleep questionnaires for screening obstructive sleep apnea. Egypt J Chest Dis Tuberc. 2012;61:433–41.

13.

Pang KP, Terris DJ. Screening for obstructive sleep apnea: an evidence-based analysis. Am J Otolaryngol Head Neck Med Surg. 2006;27:112–8.

14.

American Thoracic Society. Executive summary on the systematic review and practice parameters for portable monitoring in the investigation of suspected sleep apnea in adults. Am J Respir Crit Care Med. 2004;169:1160–3.

15.

AIM Specialty Health. Polysomnography and home sleep testing. Chicago, IL: AIM Specialty Health; 2014. https://www.guideline.gov/content.aspx?id=47916. Accessed 12 March 2016.

16.

Collop NA, Anderson WM, Boehlecke B, Claman D, Goldberg R, Gottlieb D, et al. Portable Monitoring Task Force of the American Academy of Sleep Medicine. Clinical guidelines for the use of unattended portable monitors in the diagnosis of obstructive sleep apnea in adult patients. J Clin Sleep Med. 2007;3(7):737–47.

17.

Stardust II Sleep Recorder. Philips Respironics. http://www.healthcare.philips.com/main/homehealth/sleep/stardust/default.wpd. Accessed 23 Feb 2016.

18.

Series F, Marc I, Cormier Y, La Forge J. Utility of nocturnal oximetry for case finding in patients with suspected sleep apnea hypopnea syndrome. Ann Intern Med. 1993;119(6):449–53.

19.

Chiner E, Signes-Costa J, Arriero JM, Marco J, Fuentes I, Sergado A. Nocturnal oximetry for the diagnosis of the sleep apnoea hypopnea syndrome: a method to reduce the number of polysomnographies? Thorax. 1999;54:968–71.

20.

Levy P, Pepin JL, Deschaux-Blanc C, Paramelle B, Brambilla C. Accuracy of oximetry for detection of respiratory disturbances in sleep apnea syndrome. Chest. 1996;109:395–9.

21.

Sharwood LN, Elkington J, Stevenson M, Grunstein RR, Meuleners L, Ivers RQ, et al. Assessing sleepiness and sleep disorders in Australian long-distance commercial vehicle drivers: self-report versus an "at home" monitoring device. Sleep. 2012;35:469–75.

22.

Rofail LM, Wong KKH, Unger G, Marks GB, Grunstein RR. The utility of single nasal airflow pressure transducer in the diagnosis of OSA at home. Sleep. 2009;33:1097–105.

23.

Ebell MH, Siwek J, Weiss BD, Woolf SH, Susman J, Ewigman B, et al. Strength of recommendation taxonomy (SORT): a patient-centered approach to grading evidence in the medical literature. Am Fam Physicians. 2004;69:548–56.

24.

Tze-Min Ang K, Saini B, Wong K. Sleep health awareness in pharmacy undergraduates and practising community pharmacists. J Clin Pharm Ther. 2008;33:641–52.

25.

Hanes CA, Wong KKH, Saini B. Consolidating innovative practice models: the case for obstructive sleep apnea services in Australian pharmacies. Res Soc Adm Pharm. 2015;11:412–27.

26.

Hanes CA, Wong KKH, Saini B. Clinical services for obstructive sleep apnea patients in pharmacies: the Australian experience. Int J Clin Pharm. 2014;36:460–8.

27.

Hanes CA, Wong KKH, Saini B. Diagnostic pathways for obstructive sleep apnoea in the Australian community: observations from pharmacy-based CPAP providers. Sleep Breath. 2015;. doi:10.1007/s11325-015-1151-9.

28.

Hanes CA, Wong KKH, Saini B. An overview of service quality of continuous positive airway pressure services in Australian pharmacies. Respirology. 2014;19:85–91.

29.

Fuller JM, Wong KW, Grunstein R, Krass I, Patel J, Saini B. A comparison of screening methods for sleep disorders in Australian community pharmacies: a randomized controlled trial. PLoS ONE. 2014;9(6):e101003. doi:10.1371/journal.pone.0101003.

30.

Tran A, Fuller JM, Wong KK, Krass I, Grunstein R, Saini B. The development of a sleep disorder screening program in Australian community pharmacies. Pharm World Sci. 2009;31:473–80.

31.

Perraudin C, Fleury B, Pelletier-Fleury N. Effectiveness of intervention led by a community pharmacist for improving recognition of sleep apnea in primary care—a cohort study. J Sleep Res. 2015;24:167–73.

32.

Hersberger KE, Renggli VP, Nirkko AC, Mathis J, Schwegler K, Bloch KE. Screening for sleep disorders in community pharmacies—evaluation of a campaign in Switzerland. J Clin Pharm Ther. 2006;31:35–41.

33.

Fuller JM, Wong KK, Krass I, Grunstein R, Saini B. Sleep disorders screening, sleep health awareness, and patient follow-up by community pharmacists in Australia. Patient Educ Couns. 2011;83:325–35.

34.

Shoukry G, Wong K, Bartlett D, Saini B. Treatment experience of people with obstructive sleep apnoea seeking continuous positive airway pressure device provision through community pharmacies-a role for pharmacists? Int J Pharm Pract. 2011;19:318–27.

35.

Schwegler K, Klaghofer R, Nirkko AC, Mathis J, Hersberger KE, Bloch KE. Sleep and wakefulness disturbances in Swiss pharmacy customers. Swiss Med Wkly. 2006;136:149–54.

36.

Lam JC, Sharma SK, Lam B. Obstructive sleep apnoea: definitions, epidemiology and natural history. Indian J Med Res. 2010;131:165–70.

37.

American Academy of Sleep Medicine. Rising prevalence of sleep apnea in U.S. threatens public health. http://www.aasmnet.org/articles.aspx?id=5043. Accessed 23 Feb 2016.

38.

Peppard PE, Young T, Barnet JH, Palta M, Hagen EW, Hla KM. Increased prevalence of sleep disorder breathing in adults. Am J Epidemiol. 2013;177(9):1006–14.

39.

American Sleep Apnea Association. http://www.sleepapnea.org/i-am-a-health-care-professional.html. Accessed 11 March 2016.

40.

Finkel KJ, Searleman AC, Tymkew H, Tanaka CY, Saager L, Safer-Zadeh E, et al. Prevalence of undiagnosed obstructive sleep apnea among adult surgical patients in an academic medical center. Sleep Med. 2009;10(7):753–8.

41.

Chung FC, Yegneswaran B, Liao P, Chung SA, Vairavanathan S, Islam S, et al. STOP questionnaire. Anesthesiology. 2008;108:812–21.

42.

Chung FC, Yegneswaran B, Liao P, Chung SA, Vairavanathan S, Islam S, et al. Validation of the Berlin questionnaire and American society of anesthesiologists checklist as screening tolls for obstructive sleep apnea in surgical patients. Anesthesiology. 2008;108:822–30.

43.

Netzer NC, Stoohs RA, Netzer CM, Clark K, Strohl KP. Using the Berlin questionnaire to identify patients at risk for the sleep apnea syndrome. Ann Intern Med. 1999;131:485–91.

44.

Ahmadi N, Chung SA, Gibbs A, Shapiro CM. The Berlin questionnaire for sleep apnea in a sleep clinic population: relationship to polysomnographic measurement of respiratory disturbances. Sleep Breath. 2008;12:39–45.

45.

Houle SKD, Grindrod KA, Chatterley T, Tsuyuki RT. Paying pharmacists for patient care. A systematic review of remunerated pharmacy clinical services. Can Pharm J. 2014;147(4):209–32.

46.

Khan K, Kunz R, Kleijnen J, Antes G. Systematic reviews to support evidence based medicine. 2nd ed. United Kingdom: Hodder Arnold; 2011. p. 34–5.
Ethics declarations
Conflicts of interest
None.
About this article
Cite this article
Cawley, M.J., Warning, W.J. A systematic review of pharmacists performing obstructive sleep apnea screening services. Int J Clin Pharm 38, 752–760 (2016). https://doi.org/10.1007/s11096-016-0319-0
Received:

Accepted:

Published:

Issue Date:
Keywords
Airway pressure

Obstructive sleep apnea

Pharmacist

Review

Screening services

Sleep disorders