Abstract
Background Twenty-three years after Hepler and Strand published their well-known definition of Pharmaceutical Care (PhC), confusion remains about what the term includes and how to differentiate it from other terms. The board of the Pharmaceutical Care Network Europe (PCNE) felt the need to redefine PhC and to answer the question: "What is Pharmaceutical Care in 2013". Objective The aims of this paper were to review existing definitions of PhC and to describe the process of developing a redefined definition. Methods A literature search was conducted in the MEDLINE database (1964–January 2013). Keywords included "Pharmaceutical Care", "Medication (Therapy) Management", "Medicine Management", and "Pharmacist Care" in the title or abstract together with the term "defin*". To ease comparison between definitions, we developed a standardised syntax to paraphrase the definitions. During a dedicated meeting, a moderated discussion about the definition of PhC was organised. Results The initial literature search produced 186 hits, with eight unique PhC definitions. Hand searching identified a further 11 unique definitions. These 19 definitions were paraphrased using the standardised syntax (provider, recipient, subject, outcome, activities). Fourteen members of PCNE and 10 additional experts attended the moderated discussion. Working groups of increasing size developed intermediate definitions, which had similarities and differences to those retrieved in the literature search. At the end of the session, participants reached a consensus on a "PCNE definition of Pharmaceutical Care" reading: "Pharmaceutical Care is the pharmacist's contribution to the care of individuals in order to optimize medicines use and improve health outcomes". Conclusions It was possible to paraphrase definitions of PhC using a standardised syntax focusing on the provider, recipient, subject, outcomes, and activities included in PhC practice. During a one-day workshop, experts in PhC research agreed on a definition, intended to be applicable for the present time, representative for various work settings, and valid for countries inside and outside of Europe.
This is a preview of subscription content, log in to check access.
Access options
Buy single article
Instant access to the full article PDF.
US$ 39.95
Price includes VAT for USA
Subscribe to journal
Immediate online access to all issues from 2019. Subscription will auto renew annually.
US$ 99
This is the net price. Taxes to be calculated in checkout.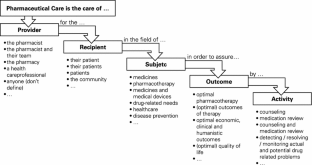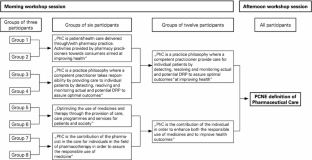 References
1.

Hepler CD, Strand LM. Opportunities and responsibilities in pharmaceutical care. Am J Hosp Pharm. 1990;47(3):533–43 (Epub 1990/03/01).

2.

Strand LM. Remington Lecture. Re-visioning the profession. J Am Pharm Assoc.(Wash). 1997;NS37(4):474–8 (Epub 1997/07/01).

3.

Chapman S. (1998) Medicines management. Wiley.

4.

Lee AJ, Borham A, Korman NE, Keeney BE, Mock ED. Staff development in pharmacist-conducted patient education and counselling. Am J Health Syst Pharm. 1998;55(17):1792–8.

5.

American Pharmacists Association. National Association of Chain Drug Stores Foundation. Medication therapy management in pharmacy practice: core elements of an MTM service model (version 2.0). J Am Pharm Assoc. 2008;48(3):341–53 (Epub 2008/07/04).

6.

McGivney MS, Meyer SM, Duncan-Hewitt W, Hall DL, Goode J, Smith RB. Medication therapy management: its relationship to patient counseling, disease management, and pharmaceutical care. JAPHA-WASHINGTON. 2007;47(5):620.

7.

van Mil JW, Fernandez-Llimos F. What is 'pharmaceutical care' in 2013? Int J Clin Pharm. 2013. (Epub 2013/01/09).

8.

Hartnett T. Consensus-oriented decision-making: the codm model for facilitating groups to widespread agreement: new society publishers. 2013.

9.

Mikeal RL, Brown TR, Lazarus HL, Vinson MC. Quality of pharmaceutical care in hospitals. Am J Hosp Pharm. 1975;32(6):567–74 (Epub 1975/06/01).

10.

Brodie DC, Parish PA, Poston JW. Societal needs for drugs and drug-related services. Am J Pharm Educ. 1980;44(3):276–8 (Epub 1980/07/10).

11.

Hepler CD. The third wave in pharmaceutical education: the clinical movement. Am J Pharm Educ. 1987;51(4):369–85 (Epub 1987/12/06).

12.

Strand LM. Pharmaceutical care: an introduction. Kalamazoo: Upjohn; 1992.

13.

American Society of Hospital Pharmacists. ASHP statement on pharmaceutical care. Am J Hosp Pharm. 1993.

14.

van Mil J, Tromp T. De Jong-van den Berg L. 'Pharmaceutical Care', De Zorg Van De Apotheker. Pharmaceutisch weekblad. 1993;128(43):1243–7.

15.

Hepler CD. Pharmaceutical care. Pharm World Sci. 1996;18(6):233–5 (Epub 1996/12/01).

16.

Munroe W, Dalmady-Israel C. The community pharmacist's role in disease management and managed care. Int Pharm J. 1998;12.

17.

FIP Statement of professional standards: Pharmaceutical Care. FIP, The Hague, The Netherlands; 1998. Available from http://www.fip.org/uploads/database_file.php?id=269&table_id=. Accessed 15 March 2014.

18.

Cipolle RJ, Strand LM, Morley PC. Pharmaceutical Care Practice. New York: McGraw-Hill, Health Professions Division; 1998.

19.

Consensus panel ad hoc. Consensus of Granada on drug-related problems. Pharm Care Esp. 1999;1(2):107–12.

20.

van Mil JW, Schulz M, Tromp TF. Pharmaceutical care, European developments in concepts, implementation, teaching, and research: a review. Pharm World Sci. 2004;26(6):303–11 (Epub 2005/02/03).

21.

Berenguer B, La Casa C, de la Matta MJ, Martin-Calero MJ. Pharmaceutical care: past, present and future. Curr Pharm Des. 2004;10(31):3931–46 (Epub 2004/12/08).

22.

Franklin BD, van Mil JW. Defining clinical pharmacy and pharmaceutical care. Pharm World Sci. 2005;27(3):137. (Epub 2005/08/13).

23.

Sanchez AM. Teaching patient-centered care to pharmacy students. Int J Clin Pharm. 2011;33(1):55–7 (Epub 2011/03/03).

24.

Blackburn DF, Yakiwchuk EM, Jorgenson DJ, Mansell KD. Proposing a redefinition of pharmaceutical care. Ann Pharmacother. 2012;46(3):447–9 (Epub 2012/03/08).

25.

Carollo A, Rieutord A, Launay-Vacher V. European Society of Clinical Pharmacy (ESCP) glossary of scientific terms: a tool for standardizing scientific jargon. Int J Clin Pharm. 2012;34(2):263–8 (Epub 2012/03/03).

26.

World Health Organization. The pursuit of responsible use of medicines: sharing and learning from country experiences. Geneva: World Health Organisation; 2012. Available from: http://www.who.int/medicines/publications/responsible_use/en/index.html Accessed 28 Nov 2013..

27.

van Mil J, Mcelnay J, Tromp F. The challenges of defining pharmaceutical care on an international level. Int J Pharm Pract. 1999;7(4):202–8.

28.

The Board of PCNE 2013: Hersberger KE, Griese N, Cordina M, Tully MP, Foulon V, Rossing C, van Mil JW. Position paper on the PCNE definition of Pharmaceutical Care 2013. Pharmaceutical Care Network Europe; 2013. Available from: http://pcne.org/docs/PCNE%20Definition%20Position%20Paper%20final.pdf. Accessed 5 Mar 2014.
Acknowledgments
The authors would like to acknowledge the contributions of participants of this invitational conference: Cecilia Bernsten* (Sweden), Lawrence Brown (USA), Olivier Bugnon* (Switzerland), Tim Chen (Australia), Maria Cordina* (Malta), Tobias Dreischulte* (Germany), Fernando Fernandez-Llimos (Portugal), Veerle Foulon (Belgium), Richard Price (Belgium), Martin Henman* (Ireland), Hanne Herborg* (Denmark), Charlotte Kloft (Germany), Juliane Kresser (Germany), Tajda Miharija-Gala (Slovenia), Sirpa Peura* (Finland), Allison Roberts (Australia), Charlotte Rossing* (Denmark), Marion Schaefer* (Germany), Martin Schulz* (Germany), Dick Tromp* (The Netherlands), Tommy Westerlund* (Sweden). Furthermore, we are grateful to Mary Tully* for editing the final draft. *PCNE members.
Funding
None.
Conflicts of interest
The authors report no conflicts of interest.
About this article
Cite this article
Allemann, S.S., van Mil, J.W.F., Botermann, L. et al. Pharmaceutical Care: the PCNE definition 2013. Int J Clin Pharm 36, 544–555 (2014). https://doi.org/10.1007/s11096-014-9933-x
Received:

Accepted:

Published:

Issue Date:
Keywords
Definition

Drug-related problems

Europe

Medication safety

Pharmaceutical care

Pharmacist