Abstract
Background The Aston Medication Adherence Study was designed to examine non-adherence to prescribed medicines within an inner-city population using general practice (GP) prescribing data. Objective To examine non-adherence patterns to prescribed oral medications within three chronic disease states and to compare differences in adherence levels between various patient groups to assist the routine identification of low adherence amongst patients within the Heart of Birmingham teaching Primary Care Trust (HoBtPCT). Setting Patients within the area covered by HoBtPCT (England) prescribed medication for dyslipidaemia, type-2 diabetes and hypothyroidism, between 2000 and 2010 inclusively. HoBtPCT's population was disproportionately young, with seventy per cent of residents from Black and Minority Ethnic groups. Method Systematic computational analysis of all medication issue data from 76 GP surgeries dichotomised patients into two groups (adherent and non-adherent) for each pharmacotherapeutic agent within the treatment groups. Dichotomised groupings were further analysed by recorded patient demographics to identify predictors of lower adherence levels. Results were compared to an analysis of a self-report measure of adherence [using the Modified Morisky Scale© (MMAS-8)] and clinical value data (cholesterol values) from GP surgery records. Main outcome Adherence levels for different patient demographics, for patients within specific longterm treatment groups. Results Analysis within all three groups showed that for patients with the following characteristics, adherence levels were statistically lower than for others; patients: younger than 60 years of age; whose religion is coded as "Islam"; whose ethnicity is coded as one of the Asian groupings or as "Caribbean", "Other Black" and "African"; whose primary language is coded as "Urdu" or "Bengali"; and whose postcodes indicate that they live within the most socioeconomically deprived areas of HoBtPCT. Statistically significant correlations between adherence status and results from the selfreport measure of adherence and of clinical value data analysis were found. Conclusion Using data from GP prescribing systems, a computerised tool to calculate individual adherence levels for oral pharmacotherapy for the treatment of diabetes, dyslipidaemia and hypothyroidism has been developed. The tool has been used to establish nonadherence levels within the three treatment groups and the demographic characteristics indicative of lower adherence levels, which in turn will enable the targeting of interventional support within HoBtPCT.
Access options
Buy single article
Instant access to the full article PDF.
USD 39.95
Price excludes VAT (USA)
Tax calculation will be finalised during checkout.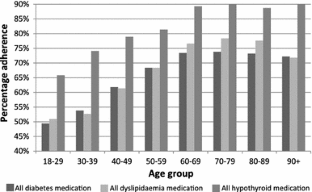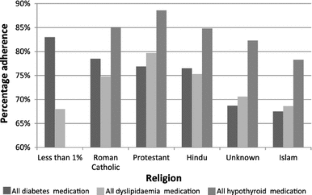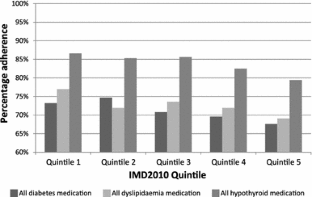 References
Nunes V, Neilson J, O'Flynn N, Calvert N, Kuntze S, Smithson H, et al. Clinical guidelines and evidence review for medicines adherence: involving patients in decisions about prescribed medicines and supporting adherence. London: National Collaborating Centre for Primary Care and Royal College of General Practitioners; 2009.

Horne R, Weinman J, Barber N, Elliot R, Morgan M. Concordance, adherence and compliance in medicine-taking. Report for the National Co-ordinating Centre for NHS Service Delivery and Organisation R&D; 2005. http://www.nets.nihr.ac.uk/__data/assets/pdf_file/0009/64494/FR-08-1412-076.pdf

Cramer JA, Mattson RH. Monitoring compliance with antiepileptic drug therapy. In Cramer JA, Spilker B, editors. Patient compliance in medical practice and clinical trials. New York: Raven Press; 1991. ISBN: 978-0-88167-735-5.

Spector SL, Kinsman R, Mawhinney H, Siegel SC, Rachelefsky GS, Katz RM, et al. Compliance of patients with asthma with an experimental aerosolized medication: implications for controlled clinical trials. J Allergy Clin Immunol. 1986;77:65–70.

Straka RJ, Fish JT, Benson SR, Suh JT. Patient self-reporting of compliance does not correspond with electronic monitoring: an evaluation using isosorbide dinitrate as a model drug. Pharmacotherapy. 1997;17:126–32.

Zeller A, Ramseier E, Teagtmeyer A, Battegay E. Patients' self-reported adherence to cardiovascular medication using electronic monitors as comparators. Hypertens Res. 2008;31:2037–43.

Andrade SE, Kahler KH, Frech F, Chan KA. Methods for evaluation of medication adherence and persistence using automated databases. Pharmacoepidemiol Drug Saf. 2006;15(8):565–74.

Copher R, Buzinec P, Zarotsky V, Kazis L, Iqbal SU, Macarios D. Physician perception of patient adherence compared to patient adherence of osteoporosis medications from pharmacy claims. Curr Med Res Opin. 2010;26:777–85.

Vermeire E, Hearnshaw H, Van Royen P, Denekens J. Patient adherence to treatment: three decades of research. A comprehensive review. J Clin Pharm Ther. 2001;26:331–42.

Mabotuwana T, Warren J, Harrison J, Kenealy T. What can primary care prescribing data tell us about individual adherence to long-term medication? Comparison to pharmacy dispensing data. Pharmacoepidemiol Drug Saf. 2009;18:956–64.

Farley J, Hines S, Musk A, Ferrus S, Tepper V. Assessment of adherence to antiviral therapy in HIV-infected children using the medication event monitoring system, pharmacy refill, provider assessment, caregiver self-report, and appointment keeping. J Acquir Immune Defic Syndr. 2003;33:211–8.

Haynes RB, Ackloo E, Sahota N, McDonald HP, Yao X. Interventions for enhancing medication adherence. Cochrane Database Syst Rev. 2008;2(2):000011.

World Health Organisation. Adherence to long-term therapies: evidence for action. Geneva: World Health Organisation; 2003.

Heart of Birmingham teaching Primary Care Trust. Annual report 2009–2010. Birmingham: Heart of Birmingham teaching Primary Care Trust; 2010.

Heart of Birmingham teaching Primary Care Trust. Public health report 2009–2010. Birmingham: Heart of Birmingham teaching Primary Care Trust; 2010.

Office for National Statistics. 2001 census: census area statistics: religion: heart of Birmingham (Primary Care Organisation). Available from http://www.neighbourhood.statistics.gov.uk/dissemination/LeadTableView.do?a=7&b=6059385&c=Heart+of+Birmingham&d=20&e=16&g=370417&i=1001x1003x1004&m=0&r=1&s=1337349979522&enc=1&dsFamilyId=95 (2012). Accessed 3 June 2013.

Health Protection Agency. HPA profile—heart of Birmingham teaching. Available from http://www.hpa.org.uk/web/HPAweb&Page&HPAwebAutoListDate/Page/1278943964293 (2012). Accessed 18 Apr 2012.

Krousel-Wood M, Islam T, Webber L, Re R, Morisky D, Muntner P. New medication adherence scale versus pharmacy fill rates in seniors with hypertension. Am J Manag Care. 2009;15:59–66.

Langley C, Bush J, Harvey J, Patel A, Marriott J. Establishing the extent of patient non-adherence to prescribed medication in the Heart of Birmingham teaching Primary Care Trust (HoBtPCT). The Aston Medication Adherence Study (AMAS). Report commissioned by the Heart of Birmingham teaching Primary Care Trust; 2012.

Burkhart P, Dunbar-Jacob J. Adherence research in the pediatric and adolescent populations: a decade in review. In Hayman L, Mahom M, Turner R, editors. Chronic illness in children: an evidence-based approach. New York: Springer; 2002. ISBN: 978-0-82613-856-9.

Fotheringham MJ, Sawyer MG. Adherence to recommended medical regimens in childhood and adolescence. J Paediatr Child Health. 1995;31:72–8.

Morris AB, Li J, Kroenke K, Bruner-England TE, Young JM, Murray MD. Factors associated with drug adherence and blood pressure control in patients with hypertension. Pharmacotherapy. 2006;26:483–92.

Shaya FT, Du D, Gbarayor CM, Frech-Tamas F, Lau H, Weir MR. Predictors of compliance with antihypertensive therapy in a high-risk medicaid population. J Natl Med Assoc. 2009;101:34–9.

Walker EA, Molitch M, Kramer MK, Kahn S, Ma Y, Edelstein S, Smith K, et al. Adherence to preventive medications: predictors and outcomes in the Diabetes Prevention Program. Diabetes Care. 2006;29:1997–2002.

Charles H, Good CB, Hanusa BH, Chang CC, Whittle J. Racial differences in adherence to cardiac medications. J Natl Med Assoc. 2003;95:17–27.

Briesacher BA, Andrade SE, Fouayzi H, Chan KA. Comparison of drug adherence rates among patients with seven different medical conditions. Pharmacotherapy. 2008;28:437–43.

Natarajan N, Putnam RW, Yip AM, Frail D. Family practice patients' adherence to statin medications. Can Fam Physician. 2007;53:2144–5.

Rozenfeld Y, Hunt JS, Plauschinat C, Wong KS. Oral antidiabetic medication adherence and glycemic control in managed care. Am J Manag Care. 2008;14:71–5.

Bashir A, Asif M, Lacey FM, Langley CA, Marriott JF, Wilson KA. Concordance in muslim patients in primary care. Int J Pharm Pract. 2001;9:R78.

Nichol MB, Knight TK, Wu J, Tang SS, Cherry SB, Benner JS, Hussein M. Transition probabilities and predictors of adherence in a California medicaid population using antihypertensive and lipid-lowering medications. Value Health. 2009;12(4):544–50.

Schectman JM, Bovbjerg VE, Voss JD. Predictors of medication-refill adherence in an indigent rural population. Med Care. 2002;40:1294–300.

Wu JR, Moser DK, Chung ML, Lennie TA. Predictors of medication adherence using a multidimensional adherence model in patients with heart failure. J Card Fail. 2008;14:603–14.

Lawton J, Ahmad N, Hallowell N, Hanna L, Douglas M. Perceptions and experiences of taking oral hypoglycaemic agents among people of Pakistani and Indian origin: qualitative study. BMJ. 2005;330:1247.

Shenolikar RA, Balkrishnan R, Camacho FT, Whitmire JT, Anderson RT. Race and medication adherence in medicaid enrollees with type-2 diabetes. J Natl Med Assoc. 2006;98:1071–7.

Trinacty CM, Adams AS, Soumerai SB, Zhang F, Meigs JB, Piette JD, et al. Racial differences in long-term adherence to oral antidiabetic drug therapy: a longitudinal cohort study. BMC Health Serv Res. 2009;9:24.

Adams AS, Trinacty CM, Zhang F, Kleinman K, Grant RW, Meigs JB, et al. Medication adherence and racial differences in A1C control. Diabetes Care. 2008;31:916–21.

Benner JS, Glynn RJ, Mogun H, Neumann PJ, Weinstein MC, Avorn J. Long-term persistence in use of statin therapy in elderly patients. JAMA. 2002;288:455–61.
Acknowledgments
The authors are grateful to a range of individuals and organisations that made the project possible. In particular, the authors would like to highlight Jane E Harvey (Research Pharmacist), Alpa Patel (Research Administrator) and John Williams (Database analyst). In addition, the authors are grateful to members for the Project Steering Group. Thanks are offered to Professor Donald Morisky for permitting the use of the Modified Morisky Scale (MMAS-8) and the information provided regarding translation of this questionnaire. Further details on the individuals and organisations that helped with the study can be found within the project report [19].
Funding
Funding This study was funded by the Heart of Birmingham teaching Primary Care Trust R&D Programme (which is now part of NHS Birmingham and Solihull).
Conflicts of interest
The authors have no conflicts of interest to declare.
About this article
Cite this article
Langley, C.A., Bush, J. The Aston Medication Adherence Study: mapping the adherence patterns of an inner-city population. Int J Clin Pharm 36, 202–211 (2014). https://doi.org/10.1007/s11096-013-9896-3
Received:

Accepted:

Published:

Issue Date:

DOI: https://doi.org/10.1007/s11096-013-9896-3
Keywords