Abstract
Background Vancomycin resistant enterococcal bloodstream infections are an important cause of morbidity and mortality in hospitalized patients. Aim of the Review A search of the literature was undertaken to determine the optimal antimicrobial therapy for the management of vancomycin resistant enterococcal bloodstream infections. Method MEDLINE, EMBASE, and the Cochrane Library (unrestricted to time or language) were searched for studies of vancomycin resistant enterococcal bloodstream infections in adults reporting outcomes of direct comparisons of linezolid versus daptomycin on November 26, 2012. Studies of basic science, reviews, commentaries, pharmacologic, epidemiologic, or pediatric studies, and those studies examining conditions other than enterococcal bacteremia, a single antimicrobial agent or other antimicrobials were excluded. Results 226 studies were screened for eligibility and yielded eight studies evaluating a total of 807 patients. Inter-rater agreement was 100 %. Qualitative evaluation of the studies was performed using the Newcastle–Ottawa scale. No randomized controlled trials were identified. All studies were retrospective cohorts and non-randomized. 458 (57 %) patients treated with linezolid and 349 (43 %) with daptomycin were analyzed. Variable comorbidities and severity of illness were described in the included studies and reported here for comparison. Conclusion The optimal treatment of vancomycin resistant enterococcal bloodstream infections is yet to be determined. Well-designed prospective studies are needed to lend more convincing evidence regarding choice of antimicrobial therapy for this important multidrug resistant organism.
This is a preview of subscription content, log in to check access.
Access options
Buy single article
Instant access to the full article PDF.
US$ 39.95
Price includes VAT for USA
Subscribe to journal
Immediate online access to all issues from 2019. Subscription will auto renew annually.
US$ 99
This is the net price. Taxes to be calculated in checkout.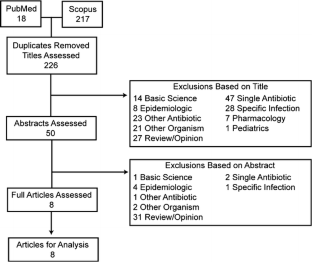 References
1.

Society for Healthcare Epidemiology of America, Infectious Diseases Society of America, Pediatric Infectious Diseases Society. Policy statement on antimicrobial stewardship by the society for healthcare epidemiology of America (SHEA), the infectious diseases society of America (IDSA), and the pediatric infectious diseases society (PIDS). Infect Control Hosp Epidemiol. 2012;33(4):322–327.

2.

Uttley AHC, Collins CH, Naidoo J, George RC. Vancomycin-resistant enterococci. Lancet. 1988;1(8575–8576):57–8.

3.

Zhao C, Sun H, Wang H, Liu Y, Hu B, Yu Y, et al. Antimicrobial resistance trends among 5608 clinical gram-positive isolates in China: results from the gram-positive cocci resistance surveillance program (2005–2010). Diagn Microbiol Infect Dis. 2012;73(2):174–81.

4.

Adam HJ, DeCorby M, Rennie R, Karlowsky JA, Hoban DJ, Zhanel GG, Canadian Antimicrobial Resistance Alliance (CARA). Prevalence of antimicrobial resistant pathogens from blood cultures from Canadian hospitals: results of the CANWARD 2007–2009 study. Diagn Microbiol Infect Dis. 2011;69(3):307–13.

5.

Biedenbach DJ, Bell JM, Sader HS, Fritsche TR, Jones RN, Turnidge JD. Antimicrobial susceptibility of gram-positive bacterial isolates from the Asia-Pacific region and an in vitro evaluation of the bactericidal activity of daptomycin, vancomycin, and teicoplanin: a SENTRY program report (2003–2004). Int J Antimicrob Agents. 2007;30(2):143–9.

6.

Gales AC, Sader HS, Ribeiro J, Zoccoli C, Barth A, Pignatari AC. Antimicrobial susceptibility of gram-positive bacteria isolated in Brazilian hospitals participating in the SENTRY program (2005–2008). Braz J Infect Dis. 2009;13(2):90–8.

7.

Cattoir V, Leclercq R. Twenty-five years of shared life with vancomycin-resistant enterococi: is it time to divorce? J Antimicrob Chemother. 2013;68(4):731–42.

8.

Deshpande LM, Fritsche TR, Moet GJ, Biedenbach DJ, Jones RN. Antimicrobial resistance and molecular epidemiology of vancomycin-resistant enterococci from North America and Europe: a report from the SENTRY antimicrobial surveillance program. Diagn Microbiol Infect Dis. 2007;58(2):163–70.

9.

Arias CA, Murray BE. The rise of the enterococcus: beyond vancomycin resistance. Nat Rev Microbiol. 2012;10(4):266–78.

10.

Murray BE. Vancomycin-resistant enterococcal infections. N Engl J Med. 2000;342(10):710–21.

11.

Salgado CD, Farr BM. Outcomes associated with vancomycin-resistant enterococci: a meta-analysis. Infect Control Hosp Epidemiol. 2003;24(9):690–8.

12.

DiazGranados CA, Zimmer SM, Klein M, Jernigan JA. Comparison of mortality associated with vancomycin-resistant and vancomycin-susceptible enterococcal bloodstream infections: a meta-analysis. Clin Infect Dis. 2005;41(3):327–33.

13.

Courvalin P. Vancomycin resistance in gram-positive cocci. Clin Infect Dis. 2006;42(SUPPL. 1):S25–34.

14.

Nailor MD, Sobel JD. Antibiotics for gram-positive bacterial infections: vancomycin, teicoplanin, Quinupristin/Dalfopristin, oxazolidinones, daptomycin, dalbavancin, and telavancin. Infect Dis Clin North Am. 2009;23(4):965–82.

15.

Pogliano J, Pogliano N, Silverman JA. Daptomycin-mediated reorganization of membrane architecture causes mislocalization of essential cell division proteins. J Bacteriol. 2012;194(17):4494–504.

16.

Diekema DI, Jones RN. Oxazolidinones: a review. Drugs. 2000;59(1):7–16.

17.

Cantón R, Ruiz-Garbajosa P, Chaves RL, Johnson AP. A potential role for daptomycin in enterococcal infections: what is the evidence? J Antimicrob Chemother. 2010;65(6):1126–36.

18.

DeRyke CA, Sutherland C, Zhang B, Nicolau DP, Kuti JL. Serum bactericidal activities of high-dose daptomycin with and without coadministration of gentamicin against isolates of staphylococcus aureus and enterococcus species. Antimicrob Agents Chemother. 2006;50(11):3529–34.

19.

Mohr JF, Friedrich LV, Yankelev S, Lamp KC. Daptomycin for the treatment of enterococcal bacteraemia: results from the cubicin outcomes registry and experience (CORE). Int J Antimicrob Agents. 2009;33(6):543–8.

20.

Dibo I, Pillai SK, Gold HS, Baer MR, Wetzler M, Slack JL, et al. Linezolid-resistant enterococcus faecalis isolated from a cord blood transplant recipient. J Clin Microbiol. 2004;42(4):1843–5.

21.

Gonzales RD, Schreckenberger PC, Graham MB, Kelkar S, DenBesten K, Quinn JP. Infections due to vancomycin-resistant enterococcus faecium resistant to linezolid. Lancet. 2001;357(9263):1179.

22.

Kelesidis T, Humphries R, Uslan DZ, Pegues DA. Daptomycin nonsusceptible enterococci: an emerging challenge for clinicians. Clin Infect Dis. 2011;52(2):228–34.

23.

Bio LL, Perez ME, MacDougall C, Gallagher JC. Comparison of linezolid and daptomycin in the treatment of vancomycin-resistant enterococcal bacteremia. Infect Dis Clin Pract. 2011;19(5):343–7.

24.

Crank CW, Scheetz MH, Brielmaier B, Rose WE, Patel GP, Ritchie DJ, et al. Comparison of outcomes from daptomycin or linezolid treatment for vancomycin-resistant enterococcal bloodstream infection: a retrospective, multicenter, cohort study. Clin Ther. 2010;32(10):1713–9.

25.

Kraft S, Mackler E, Schlickman P, Welch K, DePestel DD. Outcomes of therapy vancomycin-resistant enterococcal bacteremia in hematology and bone marrow transplant patients. Support Care Cancer. 2012;20(9):1935–6.

26.

Mave V, Garcia-Diaz J, Islam T, Hasbun R. Vancomycin-resistant enterococcal bacteraemia: is daptomycin as effective as linezolid? J Antimicrob Chemother. 2009;64(1):175–80.

27.

McKinnell JA, Patel M, Shirley RM, Kunz DF, Moser SA, Baddley JW. Observational study of the epidemiology and outcomes of vancomycin-resistant enterococcus bacteraemia treated with newer antimicrobial agents. Epidemiol Infect. 2011;139(9):1342–50.

28.

Chou CH, Lee NY, Lee HC, Chang CM, Lee CC, Ko WC. Emergence of vancomycin-resistant enterococcus bloodstream infections in Southern Taiwan. J Microbiol Immunol Infect. 2012;45(3):221–7.

29.

Weinstock DM, Conlon M, Iovino C, Aubrey T, Gudiol C, Riedel E, et al. Colonization, bloodstream infection, and mortality caused by vancomycin-resistant enterococcus early after allogeneic hematopoietic stem cell transplant. Biol Blood Marrow Transpl. 2007;13(5):615–21.

30.

Twilla JD, Finch CK, Usery JB, Gelfand MS, Hudson JQ, Broyles JE. Vancomycin-resistant enterococcus bacteremia: an evaluation of treatment with linezolid or daptomycin. J Hosp Med. 2012;7(3):243–8.

31.

Stang A. Critical evaluation of the newcastle-ottawa scale for the assessment of the quality of nonrandomized studies in meta-analyses. Eur J Epidemiol. 2010;25(9):603–5.

32.

Charlson ME, Pompei P, Ales KL, MacKenzie CR. A new method of classifying prognostic comorbidity in longitudinal studies: development and validation. J Chronic Dis. 1987;40(5):373–83.

33.

Knaus WA, Draper EA, Wagner DP, Zimmerman JE. APACHE II: a severity of disease classification system. Crit Care Med. 1985;13(10):818–29.
Acknowledgments
The authors would like to thank Dr. Leonardo Tamariz for guidance in data abstraction and preliminary analysis.
Funding
None.
Conflicts of interest
None declared.
About this article
Cite this article
Shukla, B.S., Gauthier, T.P., Correa, R. et al. Treatment considerations in vancomycin-resistant enterococcal bacteremia: daptomycin or linezolid? A review. Int J Clin Pharm 35, 697–703 (2013). https://doi.org/10.1007/s11096-013-9825-5
Received:

Accepted:

Published:

Issue Date:
Keywords
Bloodstream infections

Daptomycin

Linezolid

Mortality

Outcomes

Vancomycin-resistant enterococci