Abstract
Background When patients are admitted to, and discharged from hospital there is a high chance of discrepancies and errors occurring during the transfer of patients' medication information. This often causes drug related problems. Correct and fast communication of patients' medication information between community pharmacy and hospital is necessary. Objective To investigate the number, type, and origin of discrepancies within discharge documents and between discharge documents and information in the pharmacy computer system, concerning the medication of patients living independently when they are discharged from hospital. Second, to test which variables have an impact on the number of discrepancies found and to study the time spent on the medication reconciliation process. Setting One quality-certified community pharmacy in the Netherlands. Methods Pharmacists reviewed discharge documents of patients discharged over one year. This information was compared to information available in the pharmacy computer system. Discrepancies were discussed with medical specialists and/or general practitioners. Type and origin of discrepancies were classified. Differences in variables between hospitals were tested using Independent-Samples Mann–Whitney U Test and Pearson Chi Square test. Poisson regression analysis was performed to test the impact of variables on the number of discrepancies found. Main outcome measure Number, type and origin of discrepancies for all independently living patients discharged from the hospital. Results During the study period, 100 discharges took place and were analyzed. No differences were found between the two main hospitals, a university hospital and a teaching hospital. In total, 223 discrepancies were documented. Sixty-nine discharges (69.0 %) required consultation with a patients' medical specialist. A majority of the discrepancies (73.1 %) have their origin in hospital information. The number of discrepancies found increased with the number of medicines prescribed at discharge. The community pharmacist spent, on average, 45 min on the medication review after discharge. This included 11 min for counseling the patient. Conclusion Many discrepancies were found between different information sources at patient discharge from hospital. A majority of the discrepancies had their origin in hospital information. The number of medicines after discharge was related to the number of discrepancies found. The medication reconciliation process took an average of 45 minutes per patient.
This is a preview of subscription content, log in to check access.
Access options
Buy single article
Instant access to the full article PDF.
US$ 39.95
Price includes VAT for USA
Subscribe to journal
Immediate online access to all issues from 2019. Subscription will auto renew annually.
US$ 99
This is the net price. Taxes to be calculated in checkout.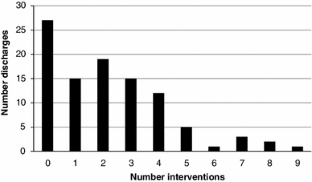 References
1.

Cornish PL, Knowles SR, Marchesano R, Tam V, Shadowitz S, Juurlink DN, et al. Unintended medication discrepancies at the time of hospital admission. Arch Intern Med. 2005;165(4):424–9.

2.

Lau HS, Florax C, Porsius AJ, De Boer A. The completeness of medication histories in hospital medical records of patients admitted to general internal medicine wards. Br J Clin Pharmacol. 2000;49(6):597–603.

3.

Kwan Y, Fernandes OA, Nagge JJ, Wong GG, Huh JH, Hurn DA, et al. Pharmacist medication assessments in a surgical preadmission clinic. Arch Intern Med. 2007;167(10):1034–40.

4.

Coleman EA, Smith JD, Raha D, Min SJ. Posthospital medication discrepancies: prevalence and contributing factors. Arch Intern Med. 2005;165(16):1842–7.

5.

Herrero–Herrero JI, Garcia-Aparicio J. Medication discrepancies at discharge from an internal medicine service. Eur J Intern Med. 2011;22(1):43–8.

6.

Wong JD, Bajcar JM, Wong GG, Alibhai SMH, Huh JH, Cesta A, et al. Medication reconciliation at hospital discharge: evaluating discrepancies. Ann Pharmacother. 2008;42(10):1373–9.

7.

Forster AJ, Murff HJ, Peterson JF, Gandhi TK, Bates DW. The incidence and severity of adverse events affecting patients after discharge from the hospital. Ann Intern Med. 2003;138(3):161–7.

8.

Forster AJ, Clark HD, Menard A, Dupuis N, Chernish R, Chandok N, et al. Adverse events among medical patients after discharge from hospital. CMAJ. 2004;170(3):345–9.

9.

Zhang M, Holman CDJ, Preen DB, Brameld K. Repeat adverse drug reactions causing hospitalization in older Australians: a population-based longitudinal study 1980–2003. Br J Clin Pharmacol. 2007;63(2):163–70.

10.

Van den Bemt PMLA, Egberts ACG. LTW de Jong-van den Berg, JRBJ Brouwers. Drug-related problems in hospitalized patients. Drug Saf. 2000;22(4):321–33.

11.

Karapinar F, van den Bemt PMLA, Zoer J, Nijpels G, Borgsteede SD. Informational needs of general practitioners regarding discharge medication: content, timing and pharmacotherapeutic advices. Pharm World Sci. 2010;32(1573–739):172–8.

12.

Buurma H, Bouvy ML, De Smet PAGM, Floor-Schreudering A, Leufkens HGM, Egberts ACG. Prevalence and determinants of pharmacy shopping behaviour. J Clin Pharm Ther. 2008;33(1):17–23.

13.

van Mil JWF. Pharmaceutical care in community pharmacy: practice and research in the Netherlands. Ann Pharmacother. 2005;39(10):1720–5.

14.

Guideline 'Transfer of Medication Data' [internet] 25 April 2008. Available from: www.medicatieoverdracht.nl (in Dutch) (last accessed 22 Mar 2013).

15.

Cipolle RJ, Strand LM, Morley PC. Pharmaceutical Care Practice. United States of America: the McGraw-Hill Companies, Inc.; 1998, ISBN 0-07-012046-3:p. 77.

16.

van der Linden CMJ, Kerskes MCH, Bijl AMH, Maas HAAM, Egberts ACG, Jansen PAF. Represcription after adverse drug reaction in the elderly: a descriptive study. Arch Intern Med. 2006;166(15):1666–7.

17.

van der Linden CMJ, Jansen PAF, van Geerenstein EV, van Marum RJ, Grouls RJE, Egberts ACG, et al. Reasons for discontinuation of medication during hospitalization and documentation thereof: a descriptive study of 400 geriatric and internal medicine patients. Arch Intern Med. 2010;170(12):1085–7.

18.

Paulino EI, Bouvy ML, Gastelurrutia MA, Guerreiro M, Buurma H. ESCP-SIR Rejkjavik community pharmacy research group. Drug related problems identified by European community pharmacists in patients discharged from hospital. Pharm World Sci. 2004;26(6):353–60.

19.

Climente-Marti M, Garcia-Manon ER, Artero-Mora A, Jimenez-Torres NV. Potential risk of medication discrepancies and reconciliation errors at admission and discharge from an inpatient medical service. Ann Pharmacother. 2010;44(11):1747–54.

20.

Leendertse AJ, Egberts ACG, Stoker LJ, van den Bemt PMLA. HARM study group. Frequency of and risk factors for preventable medication-related hospital admissions in the Netherlands. Arch Intern Med. 2008;168(17):1890–6.

21.

Karapinar-Carkit F, Borgsteede SD, Zoer J, Smit HJ, Egberts ACG, van den Bemt PMLA. Effect of medication reconciliation with and without patient counseling on the number of pharmaceutical interventions among patients discharged from the hospital. Ann Pharmacother. 2009;43(6):1001–10.

22.

Kessels RPC. Patients' memory for medical information. J R Soc Med. 2003;96(5):219–22.

23.

Warlé-van Herwaarden MF, Kramers C, Sturkenboom MC, van den Bemt PMLA, de Smet PAGM. Targeting outpatient drug safety: recommendations of the Dutch HARM-Wrestling Task Force. Drug Saf. 2012;35(3):245–59.
Acknowledgments
We thank Annelies Kassies for her help with the data collection and analysis. We thank Roy Stewart (Research Institute SHARE, Groningen, The Netherlands) for his help with the statistical analysis. We thank Timothy Broesamle (University of Groningen, The Netherlands) and Martin Henman (Trinity College Dublin, Ireland) for editing this article.
Funding
No funding was received for this study.
Conflicts of interest
There are no conflicts of interest.
About this article
Cite this article
Geurts, M.M.E., van der Flier, M., de Vries-Bots, A.M.B. et al. Medication reconciliation to solve discrepancies in discharge documents after discharge from the hospital. Int J Clin Pharm 35, 600–607 (2013). https://doi.org/10.1007/s11096-013-9776-x
Received:

Accepted:

Published:

Issue Date:
Keywords
Hospital discharge

Medication errors

Medication reconciliation

Netherlands

Patient discharge

Pharmaceutical services

Pharmacists