Abstract
Background Ocular allergies frequently present in pharmacy practices. However, research into the actual management of ocular allergy in pharmacies is lacking. Objective To determine and quantify history and symptom questioning of a patient with presumed allergic conjunctivitis and management strategies employed by pharmacy staff in the UK. Method A mystery shopper technique was used to simulate an episode of allergic conjunctivitis in 100 community pharmacies across the UK. Results The mean number of questions asked by pharmacy staff to the patient was 3.5 ± 2.6, with a range of 0–10. The most common question was whether the patient had a history of allergies (45 %).Ninety-one percent advised on treatment, with the remaining 9 % directly referring to the patient's general practitioner (n = 4) or pharmacist(n = 4), but only two to their optometrist. The most common treatment suggested was sodium cromoglycate 2 % (50 %). However, many pharmacies advising treatment did not ask the patient's age (37 %), if they wore contact lenses (43 %), or gave dosage advice (43 %). Only 5 % of pharmacies advised follow up and 14 % suggested visiting a general practitioner and 1 % an optometrist if symptoms did not resolve with treatment. Conclusion There is a need for improved ophthalmological training for pharmacy staff with respect to the management of allergic conjunctivitis.
Access options
Buy single article
Instant access to the full article PDF.
US$ 39.95
Tax calculation will be finalised during checkout.
Subscribe to journal
Immediate online access to all issues from 2019. Subscription will auto renew annually.
US$ 79
Tax calculation will be finalised during checkout.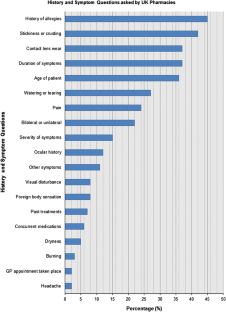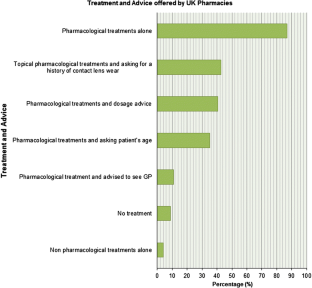 References
1.

Abelson MB, Leonardi A, Smith L. The mechanisms, diagnosis and treatment of allergy. Rev Ophthalmol. 2002;9(4):74–84.

2.

Bielory L. Ocular allergy overview. Immunol Allergy Clin North Am. 2008;28(1):1–23.

3.

Wolffsohn JS. The development of specialist ocular allergy services in UK optometric practice. MBA dissertation, Aston University. 2009.

4.

Bilkhu PS, Wolffsohn JS, Naroo SA. A review of non-pharmacological and pharmacological management of seasonal and perennial allergic conjunctivitis. Contact Lens Ant Eye. 2012;35:9–16.

5.

Shing MNK, Spence LJ. Investigating the limits of competitive intelligence gathering: is mystery shopping unethical? Bus Ethics. 2002;11(4):343–53.

6.

Moriarty H, McLeod D, Dowell A. Mystery shopping in health service evaluation. Br J Gen Prac. 2003;53(497):942–6.

7.

Walker T, George S. Mystery shopping in psychiatric service evaluation. Psychiatrist. 2010;34:121–2.

8.

Bielory L. Ocular allergy treatment. Immunol Allergy Clin North Am. 2008;28(1):189–224.

9.

Fahy GT, Easty DL, Collum LM, Benedict-Smith A, Hillery M, Parsons DG. Randomised double masked trial of lodoxamide and sodium cromoglycate in allergic eye disease. Eur J Ophthalmol. 1992;2:144.

10.

Miller J, Wolf EH. Antazoline phosphate and naphazoline hydrochloride, singly and in combination for the treatment of allergic conjunctivitis—a controlled, double blind clinical trial. Ann Allergy. 1975;35(2):81–6.

11.

Trew DR, Wright LA, Smith SE. Otrivine-antistin—pupil, corneal and conjunctival responses to topical administration. Eye. 1989;3:294–7.
Acknowledgments
None.
Funding
None.
Conflict of interest
The authors have no financial or commercial conflicts of interest relating to this study.
About this article
Cite this article
Bilkhu, P., Wolffsohn, J.S., Taylor, D. et al. The management of ocular allergy in community pharmacies in the United Kingdom. Int J Clin Pharm 35, 190–194 (2013). https://doi.org/10.1007/s11096-012-9742-z
Received:

Accepted:

Published:

Issue Date:
Keywords
Allergic conjunctivitis

Community pharmacy

Counselling

Mystery shopper

Ocular allergy

United Kingdom