Abstract
Objective
To study the medicine users' sources of medicine information and the perceived reliability of these sources in different age groups.
Setting
A computer-aided telephone interview (CATI) to Finnish consumers (n = 1,004). Those respondents (n = 714) who reported using any prescription or self-medication medicines more than once a month were included in the study.
Method
The respondents were interviewed about their use of sources of medicine information during the previous 6 months. The reliability of sources in different age groups was estimated using a 4-point scale: very reliable, somewhat reliable, somewhat unreliable and very unreliable. The respondents also had the option of being unable to make an appraisal.
Main outcome measure
A proportion of respondents reporting using the source, number of mentioned sources and their reliability evaluated by respondents.
Results
About half of the respondents in each age group mentioned two to four sources. The most common sources of information were Patient Information Leaflets (PILs) (74%), doctors (68%) and pharmacists (60%). Next came television (40%), newspapers and magazines (40%), drug advertisements (32%), nurses (28%), drug information leaflets (27%), relatives and friends (24%), medicine guides and books (22%) and the Internet (20%). There was a significant difference between age groups in reporting the Internet as a source of medicine information (15–34-year-old respondents reported the greatest Internet use). The three most reliable sources in every age group were reported to be PILs, doctors and pharmacists. Nurses, drug regulatory authorities, drug information leaflets and medicine guides and books were considered next most reliable. Relatives and friends, television, newspapers and magazines were considered the least reliable. The respondents were most uncertain about the reliability of the Internet, patient organisations and telephone services. There was a significant difference between age groups in evaluating the reliability of telephone services (15–34-year-olds found them more reliable).
Conclusion
Medicine users reported receiving medicine information from many sources. The most commonly used sources were perceived as the most reliable, but their reliability did not seem to depend on age. The counsellors should take into account that patients have many sources of medicine information, with varying validity.
This is a preview of subscription content, log in to check access.
Access options
Buy single article
Instant access to the full article PDF.
US$ 39.95
Price includes VAT for USA
Subscribe to journal
Immediate online access to all issues from 2019. Subscription will auto renew annually.
US$ 99
This is the net price. Taxes to be calculated in checkout.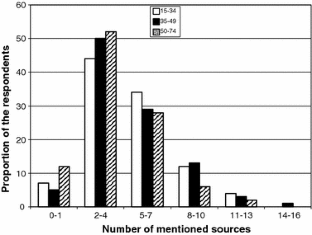 References
1.

Coulter A. Paternalism or partnership? Patients have grown up—and there's no going back. BMJ 1999;319:719–20.

2.

Närhi U. Drug information for consumers and patients—a review of the research. Publications of National Agency for Medicines 1/2006, Helsinki, ISBN number 952-5099-91-1. http://www.nam.fi/english/whats_new/news/drug_information.html (6 Feb. 2007).

3.

Koo MM, Krass I, Aslani P. Factors influencing consumer use of written drug information. Ann Pharmacother 2003;37:259–67.

4.

Melnyk PS, Shevchuk YM, Remillard AJ. Impact of the dial access drug information service on patient outcome. Ann Pharmacother 2000;34:585–92.

5.

Vainio K, Airaksinen M, Väisänen T, Enlund H. Assessing the importance of community pharmacists as providers of drug information. J Appl Ther Res 2004;5:24–9.

6.

Newby DA, Hill SR, Barker BJ, Drew AK, Henry DA. Drug information for consumers: should it be disease or medication specific? Results of a community survey. Aust N Z J Public Health 2001;25:564–70.

7.

Hicks KE, Wogalter MS, Vigilante WJ. Placement of benefits and risks in prescription drug manufacturers' websites and information source expectations. Drug Inf J 2005;39:267–78.

8.

Internet Usage in Europe. Internet World Stats Usage and Population Statistics. Internet user statistics and population for 52 European countries and regions, 11 Jan. 2007 http://www.internetworldstats.com/stats4.htm (6 Feb. 2007).

9.

Coulter A, Entwistle V, Gilbert D. Sharing decisions with patients: is the information good enough? BMJ 1999;318:318–22.

10.

Fukuyama F. Trust. The social virtues and the creation of prosperity. New York: Simon & Schuster, Free press paperbacks; 1996.

11.

Russell MAH, Wilson C, Taylor C, Baker CD. Effect of general practitioners' advice against smoking. BMJ 1979;2:231–5.

12.

Trachtenberg F, Dugan E. How patients' trust relates to their involvement in medical care. J Fam Pract 2005;54(4) http://www.jfponline.com/Pages.asp?AID=1918 (6 Feb. 2007).

13.

Närhi U, Airaksinen M, Tanskanen P, Enlund H. The effects of a pharmacy-based intervention on the knowledge and attitudes of asthma patients. Pat Educ Couns 2001;43:171–7.

14.

Worsley A. Perceived reliability of sources of health information. Health Educ Res 1989;4:367–76.

15.

de Almeida MDV, Graca P, Lappalainen R, Giachetti I, Kafatos A, Remaut de Winter AM, Kearney JM. Sources used and trusted by nationally-representative adults in the European Union for information on healthy eating. Eur J Clin Nutr 1997;51:S16–22.

16.

Hesse BW, Nelson DE, Kreps GL, Croyle RT, Arora NK, Rimer BK, Viswanath K. Trust and sources of health information: the impact of the Internet and its implications for health care providers: findings from the first Health Information National Trends Survey. Arch Intern Med 2005;165:2618–24.

17.

Airaksinen M. Customer feedback as a tool for improving pharmacy services in Finland [Dissertation]. Kuopio University Publications A. Pharmaceutical Sciences 25, Kuopio University Printing Office, Kuopio, 1996.

18.

Ministry of Social Affairs and Health. Medicines Act and Decree 395/1987.

19.

National Agency for Medicines. Medicinal product information, NamWeb search. http://namweb.nam.fi/namweb/do/haku/view?locale=en (6 Feb. 2007).

20.

Raynor DK, Britten N. Medicine information leaflets fail concordance test. BMJ 2001;322:1541.

21.

Raynor DK, Knapp O, Moody A, Young R. Patient information leaflets—impact of European regulations on safe and effective use of medicines. Pharm J 2005;275:609–11.

22.

Dickinson D, Raynor DK, Duman M. Patient information leaflets for medicines: using consumer testing to determine the most effective design. Patient Educ Couns 2001;43:147–59.

23.

Molnar FJ, Man-Son-Hing M, Dalziel WB, Mitchell SL, Power BE, Byszewski AM, St John P. Assessing the quality of newspaper medical advice columns for elderly readers. CMAJ 1999;161:393–5.

24.

Cassels A, Hughes MA, Cole C, Mintzes B, Lexchin J, McCormack JP. Drugs in news: an analysis of Canadian newspaper coverage of new prescription drugs. CMAJ 2003;168:1133–9.

25.

Johnson TJ, Kaye BK. Cruising is believing? Comparing Internet and traditional sources on media credibility measures. J&MC Quaterly 1998;75:325–40.

26.

Gray NJ, Klein JD, Noyce PR, Sesselberg TS, Cantrill JA. Health information-seeking behaviour in adolescences: the place of the internet. Soc Sci Med 2005;60:1467–78.

27.

Shepperd S, Charnock D, Gann B. Helping patients access high quality health information. BMJ 1999;319:764–6.

28.

Närhi U. Drug information from the drug regulatory authorities to the general public. Pharm Policy Law 2005, 2006;8:31–6.
Acknowledgements
The author most wishes to thank Anna Karjalainen, M.A., Dr. Anna Koski-Pirilä and Vesa Kiviniemi, Ph.Lic. for their valuable and helpful comments on this article.
Funding. This study was funded by the National Agency for Medicines in Finland.
Conflicts of interest. The Author is working as a Senior Researcher in the National Agency for Medicines, but there are no conflicts of interest.
About this article
Cite this article
Närhi, U. Sources of medicine information and their reliability evaluated by medicine users. Pharm World Sci 29, 688–694 (2007). https://doi.org/10.1007/s11096-007-9131-1
Received:

Accepted:

Published:

Issue Date:
Keywords
Age groups

Consumers

Drug Information

Finland

Health professionals

Internet

Medicines

Patients

Reliability

Trust