Abstract
Objective
To validate an instrument for documentation of clinical pharmacy interventions in French speaking hospitals in France and outside of France.
Method
A panel of 12 French speaking clinical pharmacists (six from France; six from French speaking countries) was asked to analyse a set of 60 pharmacist's interventions on drug prescription. They used a form including (1) the identification of the drug related problems (DRPs) (10 items), (2) the pharmacist's intervention (7 items). We assessed the level of agreement between the 12 pharmacists on the test DRPs and on the interventions.
Main outcome measures
Kappa coefficient of concordance was used to assess the level of agreement between experts for DRPs and interventions. We also assessed the userfriendliness of the instrument using Likert scales.
Results
The level of concordance observed in the validation was 0.76 for DRPs and 0.89 for the type of intervention. Eleven experts out of 12 were "very satisfied" or "satisfied" and one "not satisfied" with the tool. Ten out of the 12 experts were ready to use it in daily practise.
Conclusion
The present instrument proposed by the French Society of Clinical Pharmacy (SFPC) is the first coding system for pharmacist's interventions with a French interface. The validation process using a standard statistical methodology helps support the external validity of our tool. The level of concordance between users can be considered as satisfactory, allowing the use of the tool in daily clinical pharmacy practise. To enhance the diffusion of the instrument and of the general process of routine documentation of interventions, a spreadsheet is provided on the French Society of Clinical Pharmacy website.
Access options
Buy single article
Instant access to the full article PDF.
US$ 39.95
Tax calculation will be finalised during checkout.
Subscribe to journal
Immediate online access to all issues from 2019. Subscription will auto renew annually.
US$ 79
Tax calculation will be finalised during checkout.
References
1.

Bond CA, Raehl CL, Franke T. Clinical pharmacy services, pharmacy staffing and the total cost of care in United States hospitals. Pharmacotherapy 2000;20:609–21.

2.

Schumock GT, Butler MG, Meek PD, Vermeulen LC, Arondekar BV, Beuman JL. Evidence of the economic benefit of clinical pharmacy services: 1996–2000. Pharmacotherapy 2003;23:113–32.

3.

Child C, Cantrill J, Cooke J. The effectiveness of hospital pharmacy in the UK: methodology for finding the evidence. Pharm World Sci 2004;26:44–51.

4.

Bright JM, Tenni PC. The clinical services documentation (CSD) system for documenting clinical pharmacists' services. Aust J Hosp Pharm 2000;30:10–5.

5.

Strand LM, Morley PC, Cipolle RJ, Ramsey, Lamsam GD. Drug-related problems: their structure and function. Drug Intell Clin Pharm 1990;24:1093–97.

6.

Mutnick AH, Sterba KJ, Peroutka JA, Sloan NE, Beltz EA, Sorenson MK. Cost savings and avoidance from clinical␣interventions. Am J Health-Syst Pharm 1997; 54:392–6.

7.

Weidle P, Bradley L, Gallina J, Mullins CD, Thorn D, Seigel LP. Pharmaceutical care intervention documentation program and related cost savings at a university hospital. Hosp Pharm 1999;34:43–52.

8.

Conort O, Bedouch P, Juste M, Augereau L, Charpiat B, Roubille R, Allenet B. Validation of an instrument for the codification of clinical pharmacy interventions. J Pharm Clin 2004;23:141–7.

9.

Kramer HC, Bloch DA. Kappa coefficients in epidemiology: an appraisal of a reappraisal. J Clin epidemiol 1988;41:959–68.

10.

Schaeffer M. Discussing basic principles for coding system of drug-related problems: the case of PI-Doc®. Pharm World Sci 2002;24:120–7.

11.

Pharmaceutical Care Network Europe. DRP-classification V5.0. http://www.pcne.org/dokumenter/PCNE%20classification%20V5.00.pdf (24 feb. 2006).

12.

Van Mil JWF, Westerlund LO, Hersberger KE, Schaefer M. Drug-related problem classification system. Ann Pharmacother 2004;38: 859–67.

13.

French Agency for health products' medical safety. Thesaurus of drug–drug interactions. http://www.agmed.sante.gouv.fr/htm/10/iam/triam.pdf (24 feb. 2006).

14.

French Society of Clinical Pharmacy. Website. http://www.adiph.org/sfpc/actepharmaceutique.html (24 feb. 2006).
Acknowledgments
Pharmacists having participated in the validation process: H Bontemps (Centre Hospitalier de Villefranche sur Saône), C Leroux (Centre Hospitalier de Pithiviers), J Lobréaux and E Branger (Centre Hospitalier de Ploermel), E Pont (Centre Hospitalier de Bourgoin-Jallieu), F Serratrice (Centre Hospitalier d'Aix les Bains), P Tilleul (Hôpital St Antoine, Paris), J Beney (Institut Central des Hôpitaux Valaisans, Sion, Suisse), J-F Bussières (Centre Hospitalier Universitaire mère-enfant Sainte-Justine, Montréal, Canada), L Mallet (Hôpital Royal Victoria et Université de Montréal, Canada), S Quennery (Cliniques Universitaires Saint-Luc, Bruxelles, Belgique), A Spinewine (Hôpital Universitaire de Mont-Godinne (UCL), Louvain, Belgique), P Voirol (Centre Hospitalier Universitaire Vaudois, Lausanne, Suisse).
C Soquet, hospital pharmacy student, for her assistance with data processing.
Pierre-Emmanuel Colle, Head of the Language Department, Grenoble Medical School and Grenoble School of Pharmacy, France, for copy-editing the article.
Additional information
The authors represent the working group ``Standardisation and demonstrating the value of clinical pharmacy activities' of the French Society for Clinical Pharmacy''.
Appendices
Appendix 1: Description of drug related problems
⇒ Identification of DRP is based on the analysis of a drug prescription taking into account the available clinical and paraclinical data on the patient.
⇒ Only one problem intervention per form: If the patient's drug regimen analysis reveals several problems, fill out as many intervention forms as there are problems.
⇒ Question(s)—Is this patient developing or is he susceptible to develop a symptom linked to a specific drug or is there a drug related problem requiring an intervention to avoid the unnecessary mobilization of resources?
Appendix 2: Description of the pharmacist's interventions
Only one choice per chart
Appendix 3: Experts' characteristics
Appendix 4: The Pharmacist intervention form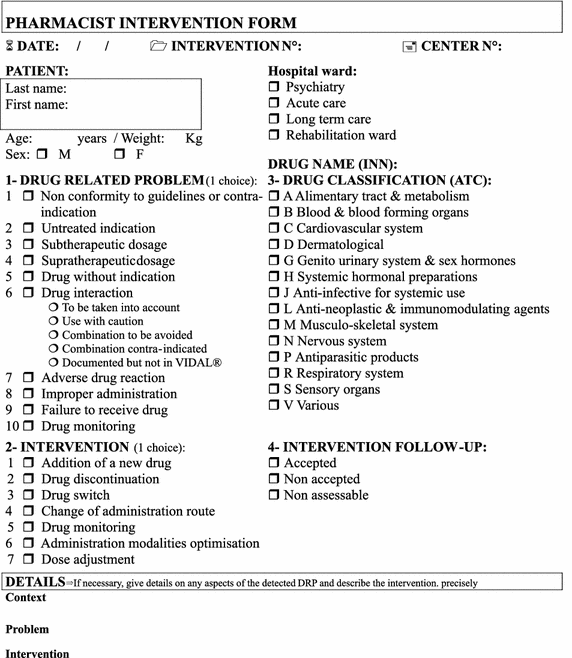 About this article
Cite this article
Allenet, B., Bedouch, P., Rose, FX. et al. Validation of an instrument for the documentation of clinical pharmacists' interventions. Pharm World Sci 28, 181–188 (2006). https://doi.org/10.1007/s11096-006-9027-5
Received:

Accepted:

Published:

Issue Date:
Keywords
Clinical pharmacist

Clinical pharmacy

Documentation

France

Intervention