Abstract
Purpose
To explore the feasibility of spray dried smectite clay particles fabricated from montmorillonite or laponite materials for adsorbing dietary lipids and reducing rodent weight gain in vivo.
Methods
Spray dried montmorillonite (SD-MMT) and spray dried laponite (SD-LAP) particles were prepared via spray drying. Particle morphology, surface area and redispersion/aggregation properties in aqueous media were characterized. The ability of SD-MMT and SD-LAP particles to inhibit lipid digestion kinetics and adsorb lipid species from solution was assessed during in vitro lipolysis using proton nuclear magnetic resonance analysis. SD-MMT and SD-LAP particles were dosed to rodents fed a high-fat diet and their effect on body weight gain was evaluated.
Results
Both SD-MMT and SD-LAP particles adsorbed significant quantities of medium chain triglycerides and lipolytic products from solution during in vitro lipolysis. At a concentration of 50% w/w relative to lipid content, SD-MMT and SD-LAP particles adsorbed 42% and 94% of all lipid species, respectively. SD-MMT and SD-LAP particles also reduced the extent of rodent weight gain relative to the negative control treatment group and performed similarly to orlistat via an alternate mechanism of action.
Conclusions
Spray dried smectite clay particles (SD-MMT and SD-LAP) with significant adsorptive capacities for dietary lipids and digestion products were successfully fabricated. These particles may be developed as novel anti-obesity treatments with fewer adverse effects than currently marketed treatment options.
Access options
Buy single article
Instant access to the full article PDF.
US$ 39.95
Tax calculation will be finalised during checkout.
Subscribe to journal
Immediate online access to all issues from 2019. Subscription will auto renew annually.
US$ 119
Tax calculation will be finalised during checkout.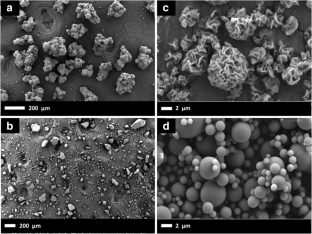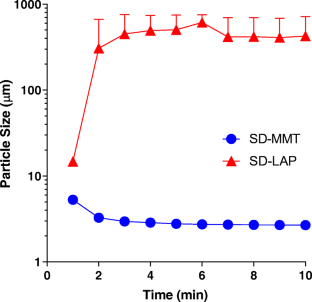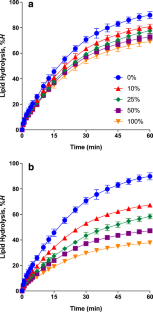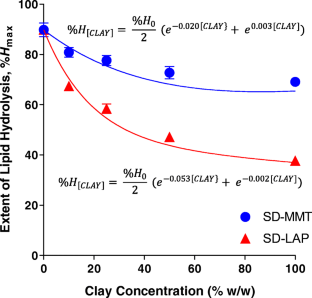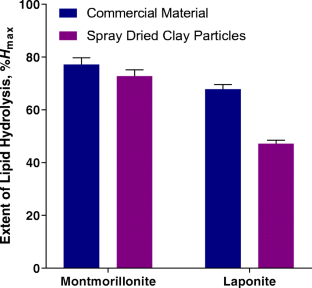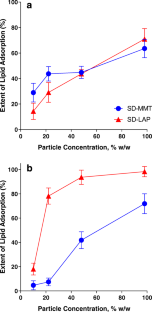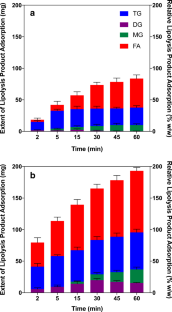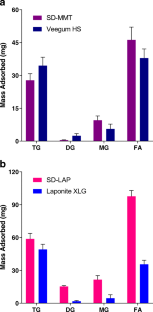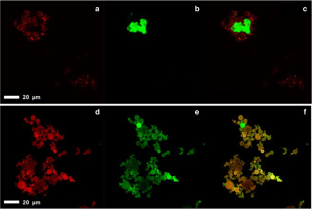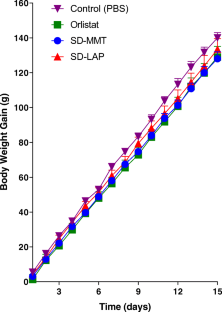 Abbreviations
1H NMR:

Proton nuclear magnetic resonance

AUC:

Area under the curve

CEC:

Cation exchange capacity

D(v,0.5):

Cumulative undersized volume fraction equal to 50%

DG:

Diglyceride

FA:

Fatty acid

H max :

Maximum extent of lipid hydrolysis

MCT:

Medium chain triglyceride

MG:

Monoglyceride

PBS:

Phosphate buffered saline

SD-LAP:

Spray dried laponite

SD-MMT:

Spray dried montmorillonite

SEM:

Scanning electron microscopy

SSA:

Specific surface area

TG:

Triglyceride
References
1.

Srivastava G, Apovian CM. Current pharmacotherapy for obesity. Nat Rev Endocrinol. 2017;14:12–24.

2.

Hossain P, Kawar B, El Nahas M. Obesity and diabetes in the developing world — a growing challenge. N Engl J Med. 2007;356(3):213–5.

3.

Withrow D, Alter DA. The economic burden of obesity worldwide: a systematic review of the direct costs of obesity. Obes Rev. 2011;12(2):131–41.

4.

Jensen MD, Ryan DH, Apovian CM, Ard JD, Comuzzie AG, Donato KA, et al. 2013 AHA/ACC/TOS guideline for the Management of Overweight and Obesity in adults: a report of the American College of Cardiology/American Heart Association task force on practice guidelines and the Obesity Society. J Am Coll Cardiol. 2014;63(25, part B):2985-3023.

5.

Onakpoya IJ, Heneghan CJ, Aronson JK. Post-marketing withdrawal of anti-obesity medicinal products because of adverse drug reactions: a systematic review. BMC Med. 2016;14(1):191.

6.

Drewnowski A, Specter SE. Poverty and obesity: the role of energy density and energy costs. Am J Clin Nutr. 2004;79(1):6–16.

7.

Bray GA, Popkin BM. Dietary fat intake does affect obesity! Am J Clin Nutr. 1998;68(6):1157–73.

8.

Hill JO, Hauptman J, Anderson JW, Fujioka K, O'Neil PM, Smith DK, et al. Orlistat, a lipase inhibitor, for weight maintenance after conventional dieting: a 1-y study. Am J Clin Nutr. 1999;69(6):1108–16.

9.

Yamamoto H, Takemoto K, Tamura I, Shin-oka N, Nakano T, Nishida M, et al. Contribution of inorganic and organic components to sorption of neutral and ionizable pharmaceuticals by sediment/soil. Environ Sci Pollut Res. 2018;25(8):7250–61.

10.

Aguzzi C, Cerezo P, Viseras C, Caramella C. Use of clays as drug delivery systems: possibilities and limitations. Appl Clay Sci. 2007;36(1–3):22–36.

11.

Carmo AM, Hundal LS, Thompson ML. Sorption of hydrophobic organic compounds by soil materials: application of unit equivalent Freundlich coefficients. Environ Sci Technol. 2000;34(20):4363–9.

12.

Hundal LS, Thompson ML, Laird DA, Carmo AM. Sorption of Phenanthrene by reference Smectites. Environ Sci Technol. 2001;35(17):3456–61.

13.

Xu P, Dai S, Wang J, Zhang J, Liu J, Wang F, et al. Preventive obesity agent montmorillonite adsorbs dietary lipids and enhances lipid excretion from the digestive tract. Sci Rep. 2016;6:19659.

14.

Gershkovich P, Darlington J, Sivak O, Constantinides PP, Wasan KM. Inhibition of intestinal absorption of cholesterol by surface-modified nanostructured Aluminosilicate compounds. J Pharm Sci. 2009;98(7):2390–400.

15.

Dening TJ, Joyce P, Rao S, Thomas N, Prestidge CA. Nanostructured montmorillonite clay for controlling the lipase-mediated digestion of medium chain triglycerides. ACS Appl Mater Interfaces. 2016;8(48):32732–42.

16.

Dening TJ, Rao S, Thomas N, Prestidge CA. Montmorillonite-lipid hybrid carriers for ionizable and neutral poorly water-soluble drugs: formulation, characterization and in vitro lipolysis studies. Int J Pharm. 2017;526(1–2):95–105.

17.

Dening TJ, Joyce P, Webber JL, Beattie DA, Prestidge CA. Inorganic surface chemistry and nanostructure controls lipolytic product speciation and partitioning during the digestion of inorganic-lipid hybrid particles. J Colloid Interface Sci. 2018;532:666–79.

18.

Sek L, Porter CJH, Kaukonen AM, Charman WN. Evaluation of the in-vitro digestion profiles of long and medium chain glycerides and the phase behaviour of their lipolytic products. J Pharm Pharmacol. 2002;54(1):29–41.

19.

Joyce P, Barnes T, Boyd BJ, Prestidge CA. Porous nanostructure controls kinetics, disposition and self-assembly structure of lipid digestion products. RSC Adv. 2016;6:78385–95.

20.

Huang L, Chen J, Cao P, Pan H, Ding C, Xiao T, et al. Anti-obese effect of glucosamine and chitosan oligosaccharide in high-fat diet-induced obese rats. Marine Drugs. 2015;13(5):2732–56.

21.

Schoonheydt RA, Johnston CT. Chapter 5 - Surface and Interface Chemistry of Clay Minerals. In: Faïza B, Gerhard L, editors. Developments in Clay Science. Volume 5: Elsevier; 2013. p. 139–172.

22.

Thompson DW, Butterworth JT. The nature of laponite and its aqueous dispersions. J Colloid Interface Sci. 1992;151(1):236–43.

23.

Pecini EM, Avena MJ. Measuring the isoelectric point of the edges of clay mineral particles: the case of montmorillonite. Langmuir. 2013;29(48):14926–34.

24.

Jatav S, Joshi YM. Chemical stability of Laponite in aqueous media. Appl Clay Sci. 2014;97–98:72–7.

25.

Ganley WJ, van Duijneveldt JS. Controlling clusters of colloidal platelets: effects of edge and face surface chemistries on the behavior of montmorillonite suspensions. Langmuir. 2015;31(15):4377–85.

26.

Tawari SL, Koch DL, Cohen C. Electrical double-layer effects on the Brownian diffusivity and aggregation rate of Laponite clay particles. J Colloid Interface Sci. 2001;240(1):54–66.

27.

Shahin A, Joshi YM. Irreversible aging dynamics and generic phase behavior of aqueous suspensions of Laponite. Langmuir. 2010;26(6):4219–25.

28.

Delgado A, González-Caballero F, Bruque JM. On the zeta potential and surface charge density of montmorillonite in aqueous electrolyte solutions. J Colloid Interface Sci. 1986;113(1):203–11.

29.

Tucci SA, Boyland EJ, Halford JCG. The role of lipid and carbohydrate digestive enzyme inhibitors in the management of obesity: a review of current and emerging therapeutic agents. Diabetes Metab Syndr Obes. 2010;3:125–43.

30.

Whitby CP, Fornasiero D, Ralston J. Effect of oil soluble surfactant in emulsions stabilised by clay particles. J Colloid Interface Sci. 2008;323(2):410–9.

31.

Ganley WJ, van Duijneveldt JS. Controlling the rheology of montmorillonite stabilized oil-in-water emulsions. Langmuir. 2017;33(7):1679–86.

32.

Saunders JM, Goodwin JW, Richardson RM, Vincent B. A small-angle X-ray scattering study of the structure of aqueous Laponite dispersions. J Phys Chem B. 1999;103(43):9211–8.

33.

Abend S, Bonnke N, Gutschner U, Lagaly G. Stabilization of emulsions by Heterocoagulation of clay minerals and layered double hydroxides. Colloid Polym Sci. 1998;276(8):730–7.

34.

Ishiguro M, Koopal LK. Surfactant adsorption to soil components and soils. Adv Colloid Interf Sci. 2016;231:59–102.

35.

Jaynes W, Boyd S. Hydrophobicity of siloxane surfaces in smectites as revealed by aromatic hydrocarbon adsorption from water. Clay Clay Miner. 1991;39(4):428–36.

36.

van Olphen H. Internal mutual flocculation in clay suspensions. J Colloid Sci. 1964;19(4):313–22.

37.

Tan A, Martin A, Nguyen T-H, Boyd BJ, Prestidge CA. Hybrid nanomaterials that mimic the food effect: controlling enzymatic digestion for enhanced Oral drug absorption. Angew Chem. 2012;124(22):5571–5.

38.

González R. Medina FSd, Martínez-Augustin O, Nieto a, Gálvez J, Risco S, et al. anti-inflammatory effect of diosmectite in hapten-induced colitis in the rat. Br J Pharmacol. 2004;141(6):951–60.

39.

Khediri F, Mrad AI, Azzouz M, Doughi H, Najjar T, Mathiex-Fortunet H, et al. Efficacy of diosmectite (smecta) in the treatment of acute watery diarrhoea in adults: a multicentre, randomized, double-blind, placebo-controlled, parallel group study. Gastroenterol Research Pract. 2011;2011:783196.

40.

Roche. Xenical Product Information 2015 [Available from: http://www.guildlink.com.au/gc/ws/ro/pi.cfm?product=ropxencp11214.

41.

Castela-Papin N, Cai S, Vatier J, Keller F, Souleau CH, Farinotti R. Drug interactions with diosmectite: a study using the artificial stomach–duodenum model. Int J Pharm. 1999;182(1):111–9.

42.

Dening TJ, Thomas N, Rao S, van Looveren C, Cuyckens F, Holm R, et al. Montmorillonite and Laponite clay materials for the solidification of lipid-based formulations for the basic drug Blonanserin: in vitro and in vivo investigations. Mol Pharm. 2018;15:4148–60.

43.

McGinity JW, Lach JL. In vitro adsorption of various pharmaceuticals to montmorillonite. J Pharm Sci. 1976;65(6):896–902.

44.

Hunninghake DB, Hibbard DM. Influence of time intervals for cholestyramine dosing on the absorption of hydrochlorothiazide. Clin Pharmacol Ther. 1986;39(3):329–34.
Acknowledgments and Disclosures
The Australian Research Council Centre of Excellence in Convergent Bio-Nano Science and Technology (ARC CE140100036) is gratefully acknowledged for research funding and support. The Australian Government Research Training Program is acknowledged for the PhD Scholarship of Tahnee J. Dening; the ÅForsk Foundation (16–463) and Wenner-Gren Foundation are acknowledged for the postdoctoral fellowship support and funding of Paul Joyce and Hanna Gustafsson; and, the Academy of Finland (#287625) is acknowledged for funding for the postdoctoral fellowship of Miia Kovalainen. This work was performed (in part) at the South Australian node of the Australian National Fabrication Facility under the National Collaborative Research Infrastructure Strategy.
Additional information
Publisher's Note
Springer Nature remains neutral with regard to jurisdictional claims in published maps and institutional affiliations.
About this article
Cite this article
Dening, T.J., Joyce, P., Kovalainen, M. et al. Spray Dried Smectite Clay Particles as a Novel Treatment against Obesity. Pharm Res 36, 21 (2019). https://doi.org/10.1007/s11095-018-2552-9
Received:

Accepted:

Published:
Key Words
digestion

laponite

lipid

montmorillonite

obesity