Abstract
Purpose
Quinolones, and the fluoroquinolones subgroup, are a class of antibiotics commonly used for the treatment of a wide variety of infections. However, their safety profile in pregnant women is controversial. The association between fluoroquinolones and arthropathy was primarily described in immature animals, and only rarely in humans, yet it has led to the restricted use of quinolones during pregnancy. We aimed to assess their safety during pregnancy.
Methods
A systematic review and meta-analysis assessing the safety of quinolone exposure during any time of pregnancy, and during first trimester alone, was performed. The systematic review was performed using MEDLINE and EMBASE, and followed the PRISMA guidelines. Pooled effect sizes with corresponding 95% confidence intervals (CI) were calculated using random effects models, comparing fetal outcomes of quinolone exposed and non-exposed pregnancies. Only cohort and case control studies were included in the meta-analysis.
Result
Twelve studies met the inclusion criteria. Exposure to quinolones during first trimester was not associated with an increased risk for birth defects (pooled odds ratio (OR) = 0.89, 95% CI 0.72–1.09, I2 = 0%), stillbirth (OR = 1.32, 95% CI 0.33–5.34, I2 = 16%), preterm birth (OR = 1.10, 95% CI 0.83–1.48, I2 = 41%) and low birth weight (OR = 1.29, 95% CI 0.54–3.12, I2 = 67%).
Conclusion
The use of quinolones during the first-trimester of pregnancy was not associated with an increased risk of birth defects, stillbirths, preterm births or low birth weight.
Study Registry
PROSPERO CRD42017060573.
Access options
Buy single article
Instant access to the full article PDF.
US$ 39.95
Tax calculation will be finalised during checkout.
Subscribe to journal
Immediate online access to all issues from 2019. Subscription will auto renew annually.
US$ 119
Tax calculation will be finalised during checkout.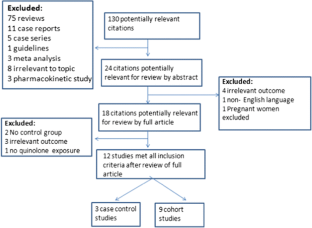 References
1.

Phillips I, King A, Shannon K. The Quinolones. The Quinolones, Elsevier; 2000. Available from: http://www.sciencedirect.com/science/article/pii/B9780120595174500040. cited 2016 Feb 19.

2.

Oliphant CM, Quinolones GGM. A comprehensive review. Am Fam Physician. 2002;65:455–64.

3.

Melhus Å, Apelqvist J, Larsson J, Eneroth M. Levofloxacin-associated Achilles tendon rupture and tendinopathy. Scand J Infect Dis. 2003;35:768–70.

4.

Alfaham M, Holt ME, Googchild MC. Arthropathy in a patient with cystic fibrosis taking ciprofloxacin. Br Med J. 1986;295:699.

5.

Samuelson WM, Roy A, Pleasants MSW. Arthropathy secondary to ciprofloxacin in an adult cystic fibrosis patient. Ann Pharmacother. 1993;27(3):302–3.

6.

Choi SH, Kim EY, Kim YJ. Systemic use of fluoroquinolone in children. Korean J Pediatr. 2013;56:196–201.

7.

Adefurin A, Sammons H, Jacqz-Aigrain E, Choonara I. Ciprofloxacin safety in paediatrics: a systematic review. Arch Dis Child. 2011;96:874–80.

8.

Schaad UB, Wedgwood J. Lack of quinolone-induced arthropathy in children. J Antimicrob Chemother. 1992;30:414–6.

9.

Kaguelidou F, Turner MA, Choonara I, Jacqz-Aigrain E. Ciprofloxacin Use in Neonates. Pediatr Infect Dis J. 2011;30:e29–37. Available from: http://content.wkhealth.com/linkback/openurl?sid=WKPTLP:landingpage&an=00006454-201102000-00032. cited 2018 Jan 10.

10.

Research C for DE and. Bioterrorism and Drug Preparedness - CIPRO (Ciprofloxacin) Use by Pregnant and Lactating Women. Center for Drug Evaluation and Research; Available from: https://www.fda.gov/drugs/emergencypreparedness/bioterrorismanddrugpreparedness/ucm130712.htm. cited 2017 Jul 19.

11.

Padberg S, Wacker E, Meister R, Panse M, Weber-schoendorfer C, Oppermann M. Observational cohort study of pregnancy outcome after first- trimester exposure to fluoroquinolones. Antimicrob Agents Chemother. 2014;58(8):4392–8.

12.

Loebstein R, Addis A, Ho E, Andreou R, Sage S, Donnenfeld AE, et al. Pregnancy Outcome Following Gestational Exposure to Fluoroquinolones: a Multicenter Prospective Controlled Study. 1998;42:1336–9.

13.

Pundir J, Coomarasamy A. Infections in pregnancy. In obstetrics: evidence-based algorithms. Cambridge: Cambridge University Press; 2016.

14.

Oral Health Care During Pregnancy Expert Workgroup. Oral Health Care During Pregnancy: A national consensus statement.Washington, DC: National Maternal and Child Oral Health Resource Center. 2012.

15.

Adam HJ, Hoban DJ, Gin AS, Zhanel GG. Association between fluoroquinolone usage and a dramatic rise in ciprofloxacin-resistant Streptococcus pneumoniae in Canada, 1997-2006. Int J Antimicrob Agents. 2009;34:82–5.

16.

Linder JA, Huang ES, Steinman MA, Gonzales R, Stafford RS. Fluoroquinolone prescribing in the United States: 1995 to 2002. Am J Med. 2005;118:259–68.

17.

Research C for DE and. Drug Safety and Availability - FDA Drug Safety Communication: FDA updates warnings for oral and injectable fluoroquinolone antibiotics due to disabling side effects. Center for Drug Evaluation and Research; Available from: https://www.fda.gov/Drugs/DrugSafety/ucm511530.htm. cited 2018 Jan 26.

18.

Rauch F, Schoenau E. Skeletal development in premature infants: a review of bone physiology beyond nutritional aspects. Arch Dis Child Fetal Neonatal Ed. 2002;86:F82–5.

19.

Moniz MH, Gavin LE, Dalton VK. Performance measures for contraceptive care. Obstet Gynecol. 2017;130:1. Available from: http://insights.ovid.com/crossref?an=00006250-900000000-98278

20.

Moher D, Liberati A, Tetzlaff J, Altman DG, Altman D, Antes G, et al. Preferred reporting items for systematic reviews and meta-analyses: the PRISMA statement. PLoS Med. 2009;6(7):e1000097. https://doi.org/10.1371/journal.pmed.1000097

21.

Wells GA, Shea B, O'Connell D, et al. The Newcastle-Ottawa scale (NOS) for assessing the quality of nonrandomized studies in meta-analyses. Ottawa Hosp Res Inst. http://www.ohri.ca/programs/clinical_epidemiology/nosgen.pdf. cited 2017 Mar 10.

22.

Higgins JPT, Thompson SG. Quantifying heterogeneity in a meta-analysis. Stat Med. 2002;21:1539–58.

23.

Dudás I, Puhó E, Czeizel AE. Population-based case-control study of oxoline acid use during pregnancy for birth outcomes. Congenit Anom (Kyoto). 2006;46:39–42.

24.

Crider K, Cleves M, Reefhuis J, Berry R, Hobbs C, Hu D. Antibacterial medication use during pregnancy and risk of birth defects. Arch Pediatr Adolesc Med. 2009;163:978–85.

25.

Matok I, Koren G, Gorodischer R, Levy A. Exposure to Quinolones during Pregnancy: Lack of Association with an Increased Risk for Birth Defects and Other Adverse Pregnancy Outcomes. Pharmacoepidemiol Drug Saf. 2010;19:S245. Available from: https://insights.ovid.com/pharmacoepidemiology-drug-safety/pads/2010/08/001/578-exposure-quinolones-during-pregnancy-lack/578/01445491. cited 2017 Jul 19.

26.

Watanabe O, Nakajima K, Ishii M, Yakuwa N, Murashima A. Pregnancy outcome after first trimester exposure to quinolones. Birth Defects Res Part A - Clin Mol Teratol. 2013;97(5):367. Available from: http://ovidsp.ovid.com/ovidweb.cgi?T=JS&CSC=Y&NEWS=N&PAGE=fulltext&D=emed15&AN=71430619

27.

Larsen H, Nielsen GL, Schønheyder HC, Olesen C, Sørensen HT. Birth outcome following maternal use of fluoroquinolones. Int J Antimicrob Agents. 2001;18:259–262.

28.

Wogelius P, Nørgaard M, Gislum M, Pedersen L, Schønheyder HC, Toft H. Further analysis of the risk of adverse birth outcome after maternal use of fluoroquinolones. 2005;26:323–326.

29.

Wilton LV, Pearce GL, Mann RD. A comparison of ciprofloxacin, norfloxacin, ofloxacin, azithromycin and cefixime examined by observational cohort studies. Br J Clin Pharmacol Pharmacol. 1996;41:277–284.

30.

Cooper WO, Hernandez-diaz S, Arbogast PG, Dudley JA, Dyer SM, Gideon PS, et al. Antibiotics potentially used in response to bioterrorism and the risk of major congenital malformations. Paediatr Perinat Epidemiol. 2008;23(1):18–28.

31.

Berkovitch M, Pastuszak A, Gazarian M, Lewis M. Koren G. Safety of the new quinolones in pregnancy. 1994;84:535. Available from: http://search.ebscohost.com/login.aspx?direct=true&site=eds-live&db=cin20&AN=107299379

32.

Muanda FT, Sheehy O, Bérard A. Use of antibiotics during pregnancy and risk of spontaneous abortion. Can Med Assoc J. 2017;189:E625–33. Available from: http://www.ncbi.nlm.nih.gov/pubmed/28461374. cited 2017 Jul 19.

33.

Regan L, Rai R. Epidemiology and the medical causes of miscarriage. Bailliere's Best Pract Res Clin Obstet Gynaecol. 2000;14:839–54.

34.

Nahum GG, Uhl K, Kennedy DL. Antibiotic use in pregnancy and lactation: what is and is not known about teratogenic and toxic risks. Obstet Gynecol. 2006;107:1120–38. Available from: http://www.ncbi.nlm.nih.gov/pubmed/16648419

35.

Wood AJJ, Koren G, Pastuszak A, Ito S. Drugs in Pregnancy. N Engl J Med. Massachusetts Medical Society; 1998;338:1128–37. Available from: http://www.nejm.org, doi: https://doi.org/10.1056/NEJM199804163381607. cited 2017 Jul 19.

36.

Sendzik J, Lode H, Stahlmann R. Quinolone-induced arthropathy: an update focusing on new mechanistic and clinical data. Int J Antimicrob Agents. 2009;33:194–200.

37.

Ingham B, Brentnall DW, Dale A, Mcfadzean JA. Arthropathy induced by antibacterial fused N-alkyl-4-pyridone-3-carboxylic acids. Toxiciology Lett. 1977;1:21–6.

38.

Schluter G. Ciprofloxacin: Toxicologic evaluation of additional safety data. Am J Med. 1989;87:S37–9.

39.

Ozyuncu O, Nemutlu E, Katlan D, Kir S, Beksac MS. International journal of antimicrobial agents maternal and fetal blood levels of moxifloxacin, levofloxacin, cefepime and cefoperazone. Int J Antimicrob Agents Elsevier BV 2010;36:175–178. Available from: https:doi.org/https://doi.org/10.1016/j.ijantimicag.2010.03.011

40.

Giamarellou[RM1] H, Kolokmhas E. Pharmacokinetics of three newer quinolones in pregnant and lactating women. Am J Med. 1989;87:49–51.

41.

Polachek H, Holcberg G, Sapir G, Tsadkin-tamir M. Transfer of ciprofloxacin, ofloxacin and levofloxacin across the perfused human placenta in vitro. Eur J Obstet Gynecol Reprod Biol. 2005;122:61–5.

42.

Bar-Oz B, Moretti ME, Boskovic R, O'Brien L, Koren G. The safety of quinolones-a meta-analysis of pregnancy outcomes. Eur J Obstet Gynecol Reprod Biol. 2009;143:75–8.

43.

Yefet E, Salim R, Chazan B, Akel H, Romano S, Nachum Z. The Safety of Quinolones in Pregnancy. Obstet Gynecol Surv. 2014;69:681–94. Available from: http://www.ncbi.nlm.nih.gov/pubmed/25409160. cited 2017 Jul 19.

44.

Mazor-Dray E, Levy A, Schlaeffer F, Sheiner E. Maternal urinary tract infection: is it independently associated with adverse pregnancy outcome? J Matern Neonatal Med. Taylor & Francis; 2009;22:124–8. Available from: http://www.tandfonline.com, doi: https://doi.org/10.1080/14767050802488246. cited 2017 Nov 30.
Electronic supplementary material
About this article
Cite this article
Ziv, A., Masarwa, R., Perlman, A. et al. Pregnancy Outcomes Following Exposure to Quinolone Antibiotics – a Systematic-Review and Meta-Analysis. Pharm Res 35, 109 (2018). https://doi.org/10.1007/s11095-018-2383-8
Received:

Accepted:

Published:
Key Words
birth defects

congenital abnormalities

congenital malformations

fluoroquinolones

pregnancy outcomes

pregnancy