Novel Gemcitabine Conjugated Albumin Nanoparticles: a Potential Strategy to Enhance Drug Efficacy in Pancreatic Cancer Treatment
Abstract
Purpose
The present study reports a novel conjugate of gemcitabine (GEM) with bovine serum albumin (BSA) and thereof nanoparticles (GEM-BSA NPs) to potentiate the therapeutic efficacy by altering physicochemical properties, improving cellular uptake and stability of GEM.
Methods
The synthesized GEM-BSA conjugate was extensively characterized by NMR, FTIR, MALDI-TOF and elemental analysis. Conjugation mediated changes in structural conformation and physicochemical properties were analysed by fluorescence, Raman and CD spectroscopy, DSC and contact angle analysis. Further, BSA nanoparticles were developed from BSA-GEM conjugate and extensively evaluated against in-vitro pancreatic cancer cell lines to explore cellular uptake pathways and therapeutic efficacy.
Results
Various characterization techniques confirmed covalent conjugation of GEM with BSA. GEM-BSA conjugate was then transformed into NPs via high pressure homogenization technique with particle size 147.2 ± 7.3, PDI 0.16 ± 0.06 and ZP -19.2 ± 1.4. The morphological analysis by SEM and AFM revealed the formation of smooth surface spherical nanoparticles. Cellular uptake studies in MIA PaCa-2 (GEM sensitive) and PANC-1 (GEM resistant) pancreatic cell lines confirmed energy dependent clathrin internalization/endocytosis as a primary mechanism of NPs uptake. In-vitro cytotoxicity studies confirmed the hNTs independent transport of GEM in MIA PaCa-2 and PANC-1 cells. Moreover, DNA damage and annexin-V assay revealed significantly higher apoptosis level in case of cells treated with GEM-BSA NPs as compared to free GEM.
Conclusions
GEM-BSA NPs were found to potentiate the therapeutic efficacy by altering physicochemical properties, improving cellular uptake and stability of GEM and thus demonstrated promising therapeutic potential over free drug.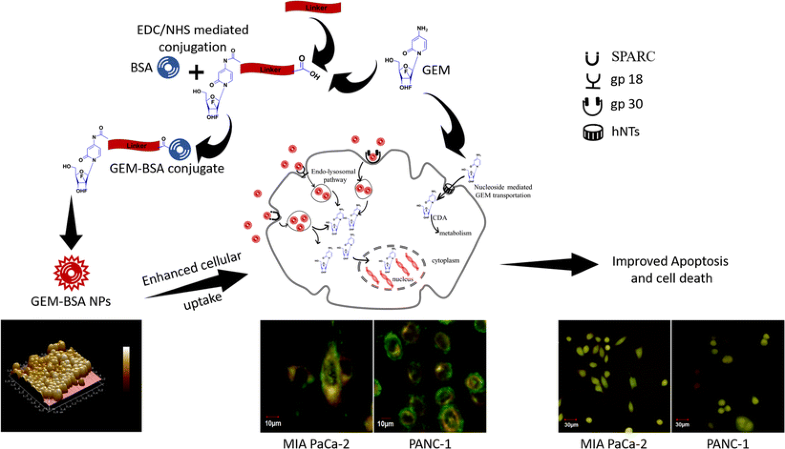 KEY WORDS
BSA nanoparticles 
conjugate 
gemcitabine 
MIA PaCa-2 
PANC-1 
ABBREVIATIONS
6-CFDA

6-carboxyfluorescein diacetate

8-OHdG

8-hydroxyguanosine

AFM

Atomic force microscopy

AnnCy3

Annexin V-Cy3.18 conjugate

BSA

Bovine serum albumin

C-6

Coumain-6

CD

Circular dichroism

CDA

Cytidine deaminase

CLSM

Confocal laser microscope

CNTs

Human concentrative nucleoside transporters

dFdU

2′,2′-difluorodeoxyuridine

DMEM

Dulbecco's Modified Eagle Medium

DMSO

Dimethyl sulfoxide

DSC

Differential scanning calorimetry

EDC

1-Ethyl-3-(3-dimethylaminopropyl) carbodiimide

EDTA

Ethylene diamine tetra acetic acid

ENTs

Human equilibrative nucleoside transporters

FBS

Fetal bovine serum

FTIR

Fourier transform infrared

GEM

Gemcitabine

GEM-BSA NPs

Gemcitabine-Bovine serum albumin nanoparticles

HBSS

Hank's Buffered Salt Solution

hNTs

human nucleoside transporters NMR: Nuclear magnetic resonance

MALDI-TOF

matrix assisted laser desorption ionization time of flight

MTT

3-(4,5-dimethylthiazol-2-yl)-2,5-diphenyltetrazoliumbromide

NHS

N-Hydroxysuccinimide

PDI

Polydispersity index

PXRD

Powder X-ray diffraction analysis

SDS-PAGE

Sodium dodecyl sulfate polyacrylamide gel electrophoresis

SEM

Scanning electron microsc opy

SPARC

Secreted protein acid rich in cysteine

TGA

Thermogravimetric analysis

TNBS

2,4,6-trinitrobenzenesulfonic acid
Notes
ACKNOWLEDGMENTS AND DISCLOSURES
The authors are thankful to the Director NIPER, James Graham Brown Cancer Center (University of Louisville, KY, USA) and Strathclyde Institute of Pharmacy & Biomedical Sciences (University of Strathclyde, Glasgow, U.K.) for necessary infrastructure and facilities. Varun Kushwah is also grateful to the Council of Scientific and Industrial Research (CSIR), GOI, New Delhi, United States-India Educational Foundation, New Delhi and Commonwealth commission in the UK for providing research funding and fellowships. He was the 2016–17 Fulbright-Nehru Doctoral and 2015–16 Commonwealth Split-site PhD research fellow at University of Louisville, Louisville, KY and University of Strathclyde, Glasgow, U.K., respectively.
Copyright information
© Springer Science+Business Media, LLC 2017