Therapeutic Effects of AICAR and DOX Conjugated Multifunctional Nanoparticles in Sensitization and Elimination of Cancer Cells via Survivin Targeting
Abstract
Purpose
Resistance to chemotherapy is one of the major problems facing current cancer research. Enhancing tumor cell response to anticancer agents increases chemotherapeutic effectiveness. We have recently addressed this issue and reported on producing multifunctional nanoparticles (Fe3O4@SiO2(FITC)-FA/AICAR/DOX) aiming to overcome chemoresistance with synergetic effect of AICAR and DOX. In the present study, we demonstrated that these nanoparticles not only show enhanced cellular uptake and cytotoxic effect but can also show enhanced pro-apoptotic and anti-proliferative effects in five different tumor-derived cell lines (A549, HCT-116, HeLa, Jurkat and MIA PaCa-2).
Methods
The nanoparticles were examined by using flow cytometric analyses of apoptosis and cell cycle. In addition, we performed caspase-3 activity assay, which supported our flow cytometric data. Furthermore, we demonstrated the applicability of this approach in a variety of cancer types confirming the potential widespread utility of this approach.
Results
With the concept of co-delivery of AICAR and DOX in the nanoparticle formulation, the use of AICAR against survivin (BIRC5) sensitized cancer cells to DOX chemotherapy which resulted in effective cancer cell elimination. These result showed that combination therapy involving both a molecularly targeted therapy and chemotherapeutic agent has the ability to retain and enhance therapeutic efficacy.
Conclusion
Fe3O4@SiO2(FITC)-FA/AICAR/DOX nanoparticles is superior to monotherapy via the synergetic effect of AICAR and DOX and also the nanoparticle formulation could overcome issues of toxicity with targeted therapy while maintaining the potent anticancer effects of AICAR and DOX.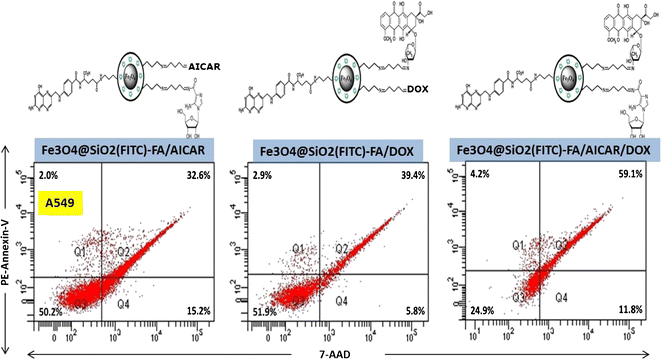 KEY WORDS
AICAR 
chemoresistance 
DOX 
multifunctional nanoparticles 
survivin 
ABBREVIATIONS
7-ADD

7-aminoactinomycin

AICAR

5-aminoimidazole-4-carboxamide-1-β-D-ribofuranoside

APTES

3-aminopropyltriethoxysilane

DMEM

Dulbecco's modified Eagle medium

DOX

Doxorubicin

FA

Folic acid

FACS

Fluorescence-activated cell sorting

FBS

Fetal bovine serum

FITC

Fluorescein isothiocyanate

Hsp90

Heat shock protein 90

IAPs

Inhibitors of apoptosis proteins

PBS

Phosphate buffered saline

PE-annexin-V

Phycoerythrin-annexin-V

PI

Propidium iodide

RPMI-1640

Roswell Park Memorial Institute-1640 medium
Notes
ACKNOWLEDGMENTS AND DISCLOSURES
The authors would like to thank Professor Anne Frary at the Izmir Institute of Technology for proofreading of the manuscript and Özgür Yılmazer from Biotechnology and Bioengineering Center of Izmir Institute of Technology for technical assistance during flow cytometry reading.
Copyright information
© Springer Science+Business Media New York 2016