Abstract
Starting biotech or pharmaceutical companies is traditionally thought to be based around a scientist, their technology platform or a clinical candidate spun out from another company. Between us we have taken a different approach and formed two small early stage companies after initially leveraging the perspective of a parent with a child with a life-threatening rare disease. Phoenix Nest (http://www.phoenixnestbiotech.com/) was co-founded to work on treatments for Sanfilippo syndrome a devastating neurodegenerative lysosomal storage disorder. In the space of just over 3 years we have built up collaborations with leading scientists in academia and industry and been awarded multiple NIH small business grants. The second company, Collaborations Pharmaceuticals Inc. (http://www.collaborationspharma.com/) was founded to address some of the other 7000 or so rare diseases as well as neglected infectious diseases. The Rare Pediatric Disease Priority Review Voucher is likely the most important incentive for companies working on rare diseases with very small populations. This may also be partially responsible for the recent acquisitions of rare disease companies with late stage candidates. Lessons learned in the process of starting our companies are that rare disease parents or patients can readily partner with a scientist and fund research through NIH grants rather than venture capital or angel investors initially. This process may be slow so patience and perseverance is key. We would encourage other pharmaceutical scientists to meet rare disease parents, patients or advocates and work with them to further the science on their diseases and create a source of future drugs.
Access options
Buy single article
Instant access to the full article PDF.
US$ 39.95
Tax calculation will be finalised during checkout.
Subscribe to journal
Immediate online access to all issues from 2019. Subscription will auto renew annually.
US$ 119
Tax calculation will be finalised during checkout.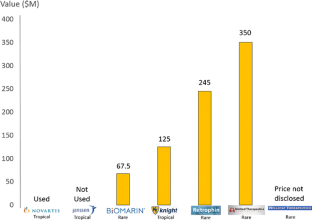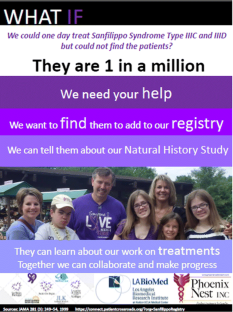 Abbreviations
eRA:

Electronic research administration

FDASIA:

Food and drug administration safety and innovation act

IND:

Investigational new drug application

MPS:

Mucopolysaccharidosis

NDA:

New drug application

NIH:

National institutes of health

NME:

New molecular entities

SBIR:

Small business innovation research

STTR:

Small business technology transfer

VC:

Venture capital
References
1.

Swinney DC, Xia S. The discovery of medicines for rare diseases. Future Med Chem. 2014;6(9):987–1002.

2.

Wood J, Sames L, Moore A, Ekins S. Multifaceted roles of ultra-rare and rare disease patients/parents in drug discovery. Drug Discov Today. 2013;18:1043–51.

3.

Beaulieu CL, Samuels ME, Ekins S, McMaster CR, Edwards AM, Krainer AR, et al. A generalizable pre-clinical research approach for orphan disease therapy. Orphanet J Rare Dis. 2012;7:39.

4.

Litterman NK, Rhee M, Swinney DC, Ekins S. Collaboration for rare disease drug discovery research. F1000Research. 2014;3:261.

5.

Ekins S, Litterman NK, Arnold RJ, Burgess RW, Freundlich JS, Gray SJ, et al. A brief review of recent Charcot-Marie-Tooth research and priorities. F1000Research. 2015;4:53.

6.

Sames L, Moore A, Arnold R, Ekins S. Recommendations to enable drug development for inherited neuropathies: Charcot-Marie-Tooth and Giant Axonal Neuropathy. F1000Research. 2014;3:83.

7.

Miyamoto BE, Kakkis ED. The potential investment impact of improved access to accelerated approval on the development of treatments for low prevalence rare diseases. Orphanet J Rare Dis. 2011;6:49.

8.

Kesselheim AS, Maggs LR, Sarpatwari A. Experience with the priority review voucher program for drug development. JAMA. 2015;314(16):1687–8.

9.

Sachs-Barrable K, Conway J, Gershkovich P, Ibrahim F, Wasan KM. The use of the United States FDA programs as a strategy to advance the development of drug products for neglected tropical diseases. Drug Dev Ind Pharm. 2014;40(11):1429–34.

10.

Anon. Rare pediatric disease priority review voucher program. Available from: http://www.fda.gov/Drugs/DevelopmentApprovalProcess/DevelopmentResources/ucm375479.htm.

11.

21st century cures act wins in US house. Nat Biotechnol. 2015;33(9):891.

12.

Kwok AK, Koenigbauer FM. Incentives to repurpose existing drugs for orphan indications. ACS Med Chem Lett. 2015;6(8):828–30.

13.

Anon. Wellstat therapeutics announces FDA Approval of XURIDEN™ to treat rare pediatric disorder Hereditary Orotic Aciduria (HOA). Available from: http://www.wellstattherapeutics.com/therapeutics/XUT.pdf.

14.

Valstar MJ, Ruijter GJ, van Diggelen OP, Poorthuis BJ, Wijburg FA. Sanfilippo syndrome: a mini-review. J Inherit Metab Dis. 2008;31:240–52.

15.

Anon. Lysogene. Available from: http://www.lysogene.com/.

16.

Tardieu M, Zerah M, Husson B, de Bournonville S, Deiva K, Adamsbaum C, et al. Intracerebral administration of adeno-associated viral vector serotype rh.10 carrying human SGSH and SUMF1 cDNAs in children with mucopolysaccharidosis type IIIA disease: results of a phase I/II trial. Hum Gene Ther. 2014;25(6):506–16.

17.

Anon. Phoenix Nest, Inc. Available from: http://www.phoenixnestbiotech.com/.

18.

Anon. NINDS CREATE Bio Discovery Track: optimization in preparation for development of biotechnology products and biologics (U44). Available from: http://grants.nih.gov/grants/guide/pa-files/PAR-14-287.html.

19.

Anon. SBIR/STTR Commercialization Readiness Pilot (CRP) program: technical assistance and Late Stage Development (SB1) Available from: http://grants.nih.gov/grants/guide/pa-files/PAR-16-027.html.

20.

Talele SS, Xu K, Pariser AR, Braun MM, Farag-El-Massah S, Phillips MI, et al. Therapies for inborn errors of metabolism: what has the orphan drug act delivered? Pediatrics. 2010;126(1):101–6.

21.

Anon. Collaborations Pharmaceuticals, Inc. Available from: http://www.collaborationspharma.com/.

22.

Ekins S. Advice for starting a rare disease company. Available from: http://www.raredr.com/contributor/sean-ekins/2014/11/advice-for-starting-a-rare-disease-company.

23.

Patridge EV, Gareiss PC, Kinch MS, Hoyer DW. An analysis of original research contributions toward FDA-approved drugs. Drug Discov Today. 2015;20(10):1182–7.

24.

Anon. Sanfilippo Registry. Available from: https://connect.patientcrossroads.org/?org=SanfilippoRegistry.

25.

Anon. Jonah's Just Begun. Available from: http://jonahsjustbegun.org/natural-history-study-patient-registry/.
ACKNOWLEDGMENTS AND DISCLOSURE
Much of what we have described would not have been possible without the generosity, collaboration and support of many colleagues globally who have played a major role from the beginning including: Dr. Alexey Pshezhetsky, Dr. Brian Bigger, Dr. Patti Dickson, Dr. Xiaoyi Zhang, Dr. Tsui-Fen Chou, Mr. Derek Moen, Dr. Steven Le, Dr. Shih-hsin Kan, Dr. Matthew Ellinwood, Dr. Alex Clark, Dr. Joel Freundlich, Dr. Ruben Flores, Susan Rubin, Allison Weber, Calvin Chen, Mary F. Ognibene, Allison Moore, Lori Sames, Rare Genomics Inst., Assay Depot, Taconic, Jonah's Just Begun, JLK-Sanfilippo Research Foundation, Sanfilippo Sud, Sanfilippo Barcelona, Sanfilippo Portugal, National MPS Society, The Lukondi family, our scientific advisory board members, boards of directors and all the families with Sanfilippo Syndrome. Michele Rhee is kindly acknowledged for creating Fig. 2 and her support. SE and JW are co-founders of Phoenix Nest, Inc. SE is a founder of Collaborations Pharmaceuticals, Inc.
Ethics declarations
Funding
NIH NINDS 1R41NS089061-01
About this article
Cite this article
Ekins, S., Wood, J. Incentives for Starting Small Companies Focused on Rare and Neglected Diseases. Pharm Res 33, 809–815 (2016). https://doi.org/10.1007/s11095-015-1841-9
Received:

Accepted:

Published:

Issue Date:
KEY WORDS
entrepreneurship

neglected diseases

rare diseases

Sanfilippo syndrome

Small companies