Predicting Mouse Liver Microsomal Stability with "Pruned" Machine Learning Models and Public Data
ABSTRACT
Purpose
Mouse efficacy studies are a critical hurdle to advance translational research of potential therapeutic compounds for many diseases. Although mouse liver microsomal (MLM) stability studies are not a perfect surrogate for in vivo studies of metabolic clearance, they are the initial model system used to assess metabolic stability. Consequently, we explored the development of machine learning models that can enhance the probability of identifying compounds possessing MLM stability.
Methods
Published assays on MLM half-life values were identified in PubChem, reformatted, and curated to create a training set with 894 unique small molecules. These data were used to construct machine learning models assessed with internal cross-validation, external tests with a published set of antitubercular compounds, and independent validation with an additional diverse set of 571 compounds (PubChem data on percent metabolism).
Results
"Pruning" out the moderately unstable / moderately stable compounds from the training set produced models with superior predictive power. Bayesian models displayed the best predictive power for identifying compounds with a half-life ≥1 h.
Conclusions
Our results suggest the pruning strategy may be of general benefit to improve test set enrichment and provide machine learning models with enhanced predictive value for the MLM stability of small organic molecules. This study represents the most exhaustive study to date of using machine learning approaches with MLM data from public sources.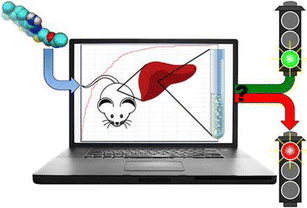 Key Words
Bayesian model 
machine learning 
metabolic stability 
mouse liver microsomal stability 
translational research 
ABBREVIATIONS
ADME/Tox

Absorption metabolism, distribution, excretion and toxicity

CDD

Collaborative Drug Discovery

FCFP_6

Molecular function class fingerprints of maximum diameter 6

HLM

Human liver microsomal stability

HTS

High Throughput Screens

Mtb

Mycobacterium tuberculosis

PPV

positive predictive value

QSAR

Quantitative Structure-Activity Relationships

ROC

Receiver-operator characteristic

SAR

Structure Activity Relationship

SVM

Support Vector Machine
Notes
ACKNOWLEDGMENTS AND DISCLOSURES
J.S.F., S.E., and A.L.P. were supported by Award Number 1U19AI109713 NIH/NIAID for the "Center to develop therapeutic countermeasures to high-threat bacterial agents," from the National Institutes of Health: Centers of Excellence for Translational Research (CETR). S.E. and J.S.F. were also supported in part by Award Number 9R44TR000942-02 "Biocomputation across distributed private datasets to enhance drug discovery" from the National Center for Advancing Translational Sciences. We thank Dr. John Piwinski for suggesting that an MLM t1/2 of ≥60 min was ideal, but a t1/2 of ≥30 min was not significantly unfavorable. S.E. kindly acknowledges Alex Clark, Molecular Materials Informatics, Inc. and Krishna Dole and colleagues at Collaborative Drug Discovery, Inc., for their development of CDD Models. We thank Thomas Mayo at BIOVIA (formerly known as Accelrys, Inc.) for providing S.E. and J.S.F with Discovery Studio and Pipeline Pilot. We also thank Jodi Shaulsky at BIOVIA and Katalin Nadassy for assistance with setting up and maintaining the license server and Pipeline Pilot server. S.E. is a consultant for Collaborative Drug Discovery Inc.
Copyright information
© Springer Science+Business Media New York 2015