Abstract
Purpose
Despite the promising applications of PLGA based particles, studies examining the fate and consequences of these particles after intra-articular administration in the joint are scanty. This study was carried out to evaluate the neutrality of the unloaded delivery system on different articular cell types. To facilitate tracking, we have thus developed a fluorescent core of particles, combined to a hyaluronate shell for cell recognition.
Methods
Fluorescence pictures were taken at time intervals to assess the internalization and the corresponding inflammatory response was monitored by RT-qPCR and biochemical measurements. After NPs pre-treatment, mesenchymal stem cells (MSCs) were cultured into chondrogenic, adipogenic or osteogenic differentiation media, to investigate if NPs exposure interferes with differentiation ability. Finally, intra-articular injections were performed in healthy rat knees and joint's structure analysed by histological studies.
Results
Particles were detected in cytoplasm 8 h after exposure. Internalization led to a slight and reversible increase of inflammatory markers, but lower than in inflammatory conditions. We have confirmed particles exposure minimal neutrality on MSCs pluripotency. Histological exams of joint after intra-articular injections do not demonstrate any side effects of NPs.
Conclusions
Our findings suggest that such a delivery platform is well tolerated locally and could be used to deliver active molecules to the joint.
Access options
Buy single article
Instant access to the full article PDF.
US$ 39.95
Tax calculation will be finalised during checkout.
Subscribe to journal
Immediate online access to all issues from 2019. Subscription will auto renew annually.
US$ 119
Tax calculation will be finalised during checkout.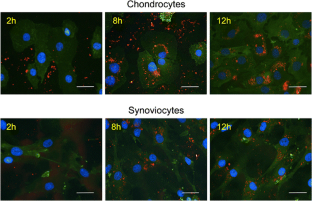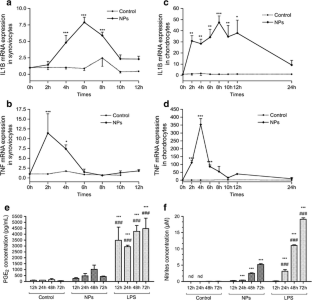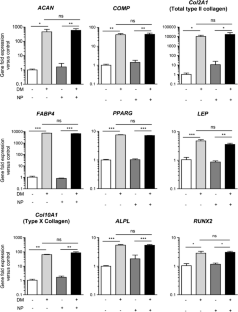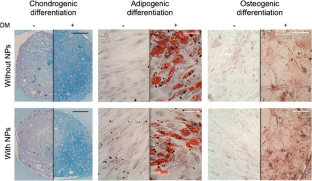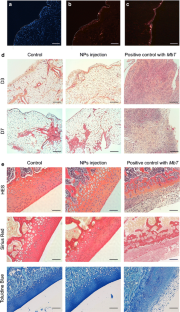 Abbreviations
BSA:

Bovine seric albumin

Cy3:

Cyanine 3

DAPI:

4′,6-diamidino-2-phenylindole

DM:

Differentiation medium

FITC:

Fluorescein isothiocyanate

HA:

Hyaluronic acid

HES:

Haematoxylin Eosin Saffron

IA:

Intra-articular

LDH:

Lactate deshydrogenase

LPS:

Lipopolysaccharide

MbT :

Mycobacterium tuberculosis

MSCs:

Mesenchymal stem cells

MTT:

3-(4,5-dimethylthiazol-2-yl)-2,5-diphenyltetrazolium bromide

NO:

Nitric oxide

NPs:

Nanoparticles

NSAIDs:

Non steroidal anti-inflammatory drugs

OA:

Osteoarthritis

PBS:

Phosphate Buffer Saline

PFA:

Paraformaldehyde

PGE2 :

Prostaglandins E2

PLGA:

Poly (lactic-co-glycolic) acid

rAAV:

Recombinant adeno-associated virus
References
1.

Mundargi RC, Babu VR, Rangaswamy V, Patel P, Aminabhavi TM. Nano/micro technologies for delivering macromolecular therapeutics using poly(D, L-lactide-co-glycolide) and its derivatives. J Control Release. 2008;125:193–209.

2.

Jorgensen C. Mesenchymal stem cells: uses in osteoarthritis. J Bone Spine Rev Rhum. 2013;80:565–7.

3.

Sah H, Thoma LA, Desu HR, Sah E, Wood GC. Concepts and practices used to develop functional PLGA-based nanoparticulate systems. Int J Nanomedicine. 2013;8:747–65.

4.

Danhier F, Ansorena E, Silva JM, Coco R, Le Breton A, Préat V. PLGA-based nanoparticles: an overview of biomedical applications. J Control Release. 2012;161:505–22.

5.

Benfer M, Kissel T. Cellular uptake mechanism and knockdown activity of siRNA-loaded biodegradable DEAPA-PVA-g-PLGA nanoparticles. Eur J Pharm Biopharm. 2012;80:247–56.

6.

Zhang X, Sun M, Zheng A, Cao D, Bi Y, Sun J. Preparation and characterization of insulin-loaded bioadhesive PLGA nanoparticles for oral administration. Eur J Pharm Sci. 2012;45:632–8.

7.

Reix N, Parat A, Seyfritz E, Van der Werf R, Epure V, Ebel N, et al. In vitro uptake evaluation in Caco-2 cells and in vivo results in diabetic rats of insulin-loaded PLGA nanoparticles. Int J Pharm. 2012;437:213–20.

8.

Lotz S, Goderie S, Tokas N, Hirsch SE, Ahmad F, Corneo B, et al. Sustained levels of FGF2 maintain undifferentiated stem cell cultures with Biweekly feeding. Pereira LV, editor. PLoS ONE. 2013;8, e56289.

9.

Pamujula S, Hazari S, Bolden G, Graves RA, Chinta DD, Dash S. Cellular delivery of PEGylated PLGA nanoparticles. J Pharm Pharmacol. 2012;64:61–7.

10.

Ding H, Yong K-T, Roy I, Hu R, Wu F, Zhao L, et al. Bioconjugated PLGA-4-arm-PEG branched polymeric nanoparticles as novel tumor targeting carriers. Nanotechnology. 2011;22:165101.

11.

Obermajer N, Kocbek P, Repnik U, Kuznik A, Cegnar M, Kristl J, et al. Immunonanoparticles--an effective tool to impair harmful proteolysis in invasive breast tumor cells. FEBS J. 2007;274:4416–27.

12.

Arpicco S, De Rosa G, Fattal E. Lipid-based nanovectors for targeting of CD44-overexpressing tumor cells. J Drug Deliv. 2013;2013:860780.

13.

Platt VM, Szoka Jr FC. Anticancer therapeutics: targeting macromolecules and nanocarriers to hyaluronan or CD44, a hyaluronan receptor. Mol Pharm. 2008;5:474–86.

14.

Campo GM, Avenoso A, Campo S, D'Ascola A, Nastasi G, Calatroni A. Small hyaluronan oligosaccharides induce inflammation by engaging both toll-like-4 and CD44 receptors in human chondrocytes. Biochem Pharmacol. 2010;80:480–90.

15.

Wu S-C, Chen C-H, Chang J-K, Fu Y-C, Wang C-K, Eswaramoorthy R, et al. Hyaluronan initiates chondrogenesis mainly via CD44 in human adipose-derived stem cells. J Appl Physiol. 2013;114:1610–8.

16.

Knudson W, Chow G, Knudson CB. CD44-mediated uptake and degradation of hyaluronan. Matrix Biol J Int Soc Matrix Biol. 2002;21:15–23.

17.

Chen Z, Chen J, Wu L, Li W, Chen J, Cheng H, et al. Hyaluronic acid-coated bovine serum albumin nanoparticles loaded with brucine as selective nanovectors for intra-articular injection. Int J Nanomedicine. 2013;8:3843–53.

18.

Nam JL, Ramiro S, Gaujoux-Viala C, Takase K, Leon-Garcia M, Emery P, et al. Efficacy of biological disease-modifying antirheumatic drugs: a systematic literature review informing the 2013 update of the EULAR recommendations for the management of rheumatoid arthritis. Ann Rheum Dis. 2014;73:516–28.

19.

Holland C, Jaeger L, Smentkowski U, Weber B, Otto C. Septic and aseptic complications of corticosteroid injections: an assessment of 278 cases reviewed by expert commissions and mediation boards from 2005 to 2009. Dtsch Ärztebl Int. 2012;109:425–30.

20.

Laroui H, Grossin L, Léonard M, Stoltz J-F, Gillet P, Netter P, et al. Hyaluronate-covered nanoparticles for the therapeutic targeting of cartilage. Biomacromolecules. 2007;8:3879–85.

21.

Zille H, Paquet J, Henrionnet C, Scala-Bertola J, Leonard M, Six JL, et al. Evaluation of intra-articular delivery of hyaluronic acid functionalized biopolymeric nanoparticles in healthy rat knees. Biomed Mater Eng. 2010;20:235–42.

22.

Kapoor M, Martel-Pelletier J, Lajeunesse D, Pelletier J-P, Fahmi H. Role of proinflammatory cytokines in the pathophysiology of osteoarthritis. Nat Rev Rheumatol. 2011;7:33–42.

23.

Green LC, Wagner DA, Glogowski J, Skipper PL, Wishnok JS, Tannenbaum SR. Analysis of nitrate, nitrite, and [15 N]nitrate in biological fluids. Anal Biochem. 1982;126:131–8.

24.

Roeder E, Henrionnet C, Goebel JC, Gambier N, Beuf O, Grenier D, et al. Dose–response of superparamagnetic iron oxide labeling on mesenchymal stem cells chondrogenic differentiation: a multi-scale in vitro study. PLoS One. 2014;9, e98451.

25.

Zhang J, Pan T, Im H-J, Fu FH, Wang JHC. Differential properties of human ACL and MCL stem cells may be responsible for their differential healing capacity. BMC Med. 2011;9:68.

26.

Demoor M, Ollitrault D, Gomez-Leduc T, Bouyoucef M, Hervieu M, Fabre H, et al. Cartilage tissue engineering: molecular control of chondrocyte differentiation for proper cartilage matrix reconstruction. Biochim Biophys Acta. 1840;2014:2414–40.

27.

Paquet J, Henrionnet C, Pinzano A, Vincourt J-B, Gillet P, Netter P, et al. Alternative for anti-TNF antibodies for arthritis treatment. Mol Ther. 2011;19:1887–95.

28.

Méndez-Ferrer S, Michurina TV, Ferraro F, Mazloom AR, MacArthur BD, Lira SA, et al. Mesenchymal and haematopoietic stem cells form a unique bone marrow niche. Nature. 2010;466:829–34.

29.

Ronzière MC, Perrier E, Mallein-Gerin F, Freyria A-M. Chondrogenic potential of bone marrow- and adipose tissue-derived adult human mesenchymal stem cells. Biomed Mater Eng. 2010;20:145–58.

30.

Panyam J, Zhou W-Z, Prabha S, Sahoo SK, Labhasetwar V. Rapid endo-lysosomal escape of poly(DL-lactide-co-glycolide) nanoparticles: implications for drug and gene delivery. FASEB J. 2002;16:1217–26.

31.

Nicolete R, dos Santos DF, Faccioli LH. The uptake of PLGA micro or nanoparticles by macrophages provokes distinct in vitro inflammatory response. Int Immunopharmacol. 2011;11:1557–63.

32.

Sekiya I, Ojima M, Suzuki S, Yamaga M, Horie M, Koga H, et al. Human mesenchymal stem cells in synovial fluid increase in the knee with degenerated cartilage and osteoarthritis. J Orthop Res. 2012;30:943–9.

33.

Toupet K, Maumus M, Luz-Crawford P, Lombardo E, Lopez-Belmonte J, van Lent P, et al. Survival and biodistribution of xenogenic adipose mesenchymal stem cells is not affected by the degree of inflammation in arthritis. PLoS One. 2015;10, e0114962.

34.

Rey-Rico A, Frisch J, Venkatesan JK, Schmitt G, Madry H, Cucchiarini M. Determination of effective rAAV-mediated gene transfer conditions to support chondrogenic differentiation processes in human primary bone marrow aspirates. Gene Ther. 2015;22:50–7.

35.

Vinatier C, Mrugala D, Jorgensen C, Guicheux J, Noël D. Cartilage engineering: a crucial combination of cells, biomaterials and biofactors. Trends Biotechnol. 2009;27:307–14.

36.

Butoescu N, Seemayer CA, Foti M, Jordan O, Doelker E. Dexamethasone-containing PLGA superparamagnetic microparticles as carriers for the local treatment of arthritis. Biomaterials. 2009;30:1772–80.

37.

Rothenfluh DA, Bermudez H, O'Neil CP, Hubbell JA. Biofunctional polymer nanoparticles for intra-articular targeting and retention in cartilage. Nat Mater. 2008;7:248–54.

38.

Choy EHS, Panayi GS. Cytokine pathways and joint inflammation in rheumatoid arthritis. N Engl J Med. 2001;344:907–16.

39.

Evans CH, Ghivizzani SC, Robbins PD. Arthritis gene therapy and its tortuous path into the clinic. Transl Res J Lab Clin Med. 2013;161:205–16.
Acknowledgments and Disclosures
We thank David Moulin and Jean-Baptiste Vincourt for their critical reading of the manuscript, Michel Thiery for his good care of the animals and Naranayan Venkatesan for English editing.
The authors declare they have no conflict of interest.
Funding
This work was supported by grants from Agence Nationale de la Recherche – programme ANR Blanc 2007: Nanostructured polymers as drug carriers for cartilage repair and engineering (PARTICART, ANR-07-1_1831-56) and grants from the Région Lorraine Communauté Urbaine du Grand Nancy, and Conseil Général de Meurthe et Moselle.
The funding agency had no role in study design, data collection and analysis, decision to publish, or preparation of the manuscript.
Ethical Approval
All procedures performed in studies involving animals were in accordance with the ethical standards of the institution or practice at which the studies were conducted.
Electronic supplementary material
Below is the link to the electronic supplementary material.
About this article
Cite this article
Riffault, M., Six, JL., Netter, P. et al. PLGA-Based Nanoparticles: a Safe and Suitable Delivery Platform for Osteoarticular Pathologies. Pharm Res 32, 3886–3898 (2015). https://doi.org/10.1007/s11095-015-1748-5
Received:

Accepted:

Published:

Issue Date:
KEY WORDS
hyaluronate

nanoparticles

osteoarticular

PLGA

vectorization