ABSTRACT
Purpose
To investigate the effects of three natural product compounds, carapin, santonin and isokobusone, on the activity of pregnane X receptor (PXR) and constitutive androstane receptor (CAR) in induction of drug-metabolizing enzymes and inhibition of inflammation.
Methods
The monkey kidney-derived fibroblast (CV-1) cells and human embryonic kidney HEK293 cells were used for transient transfection and luciferase reporter gene assays. Human primary hepatocytes and primary hepatocytes from wild type, PXR−/−, and hPXR transgenic mice were used to study the induction of drug-metabolizing enzymes and the implication of these compounds in inflammation.
Results
Carapin, santonin and isokobusone activated both PXR and CAR in transient transfection and luciferase reporter gene assays. Mutagenesis studies showed that two amino acid residues, Phe305 of the rodent PXR and Leu308 of the human PXR, are critical for the recognition of these compounds by PXR. Importantly, the activation of PXR and CAR by these compounds induced the expression of drug-metabolizing enzymes in primary human and mouse hepatocytes. Furthermore, activation of PXR by these compounds inhibited the expression of inflammatory mediators in response to lipopolysaccharide (LPS). The effects of these natural compounds on drug metabolism and inflammation were abolished in PXR−/− hepatocytes.
Conclusions
Our results show that carapin, santonin and isokobusone activate PXR and CAR and induce drug-metabolizing enzymes. In addition, these compounds inhibited the expression of inflammatory mediators in response to LPS through the activation of PXR.
This is a preview of subscription content, log in to check access.
Access options
Buy single article
Instant access to the full article PDF.
US$ 39.95
Price includes VAT for USA
Subscribe to journal
Immediate online access to all issues from 2019. Subscription will auto renew annually.
US$ 199
This is the net price. Taxes to be calculated in checkout.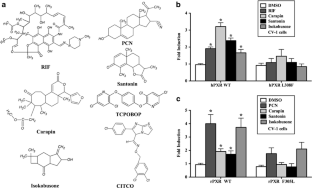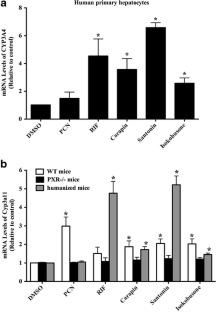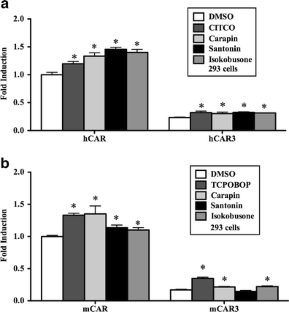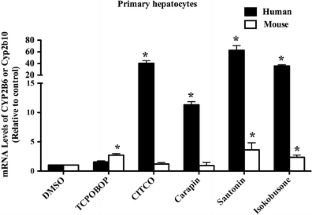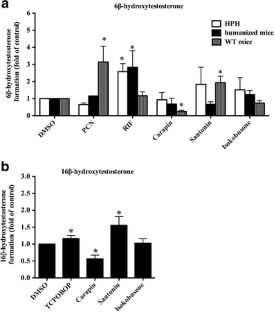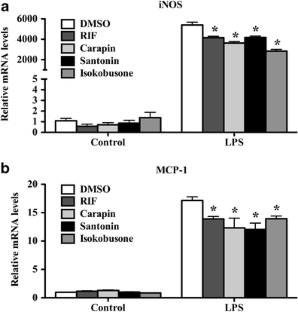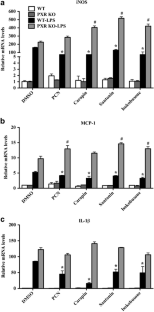 Abbreviations
CAR:

Constitutive androstane receptor

IBD:

Inflammatory bowel disease

LPS:

Lipopolysacharide

PCN:

Pregnenolone-16α-carbonitrile

PXR:

Pregnane X receptor

RIF:

Rifampicin

TCPOBOP:

1,4-bis [2-(3,5-Dichloropyridyloxy)] benzene
REFERENCES
1.

Blumberg B, Sabbagh Jr W, Juguilon H, Bolado Jr J, van Meter CM, Ong ES, et al. SXR, a novel steroid and xenobiotic-sensing nuclear receptor. Genes Dev. 1998;12(20):3195–205.

2.

Kliewer SA, Moore JT, Wade L, Staudinger JL, Watson MA, Jones SA, et al. An orphan nuclear receptor activated by pregnanes defines a novel steroid signaling pathway. Cell. 1998;92(1):73–82.

3.

Honkakoski P, Zelko I, Sueyoshi T, Negishi M. The nuclear orphan receptor CAR-retinoid X receptor heterodimer activates the phenobarbital-responsive enhancer module of the CYP2B gene. Mol Cell Biol. 1998;18(10):5652–8.

4.

Wei P, Zhang J, Egan-Hafley M, Liang S, Moore DD. The nuclear receptor CAR mediates specific xenobiotic induction of drug metabolism. Nature. 2000;407(6806):920–3.

5.

Goodwin B, Hodgson E, Liddle C. The orphan human pregnane X receptor mediates the transcriptional activation of CYP3A4 by rifampicin through a distal enhancer module. Mol Pharmacol. 1999;56(6):1329–39.

6.

Moreau A, Vilarem MJ, Maurel P, Pascussi JM. Xenoreceptors CAR and PXR activation and consequences on lipid metabolism, glucose homeostasis, and inflammatory response. Mol Pharm. 2008;5(1):35–41.

7.

Saini SP, Mu Y, Gong H, Toma D, Uppal H, Ren S, et al. Dual role of orphan nuclear receptor pregnane X receptor in bilirubin detoxification in mice. Hepatology. 2005;41(3):497–505.

8.

Lee JH, Zhou J, Xie W. PXR and LXR in hepatic steatosis: a new dog and an old dog with new tricks. Mol Pharm. 2008;5(1):60–6.

9.

Dring MM, Goulding CA, Trimble VI, Keegan D, Ryan AW, Brophy KM, et al. The pregnane X receptor locus is associated with susceptibility to inflammatory bowel disease. Gastroenterology. 2006;130(2):341–8. quiz 592.

10.

Zhou C, Tabb MM, Nelson EL, Grun F, Verma S, Sadatrafiei A, et al. Mutual repression between steroid and xenobiotic receptor and NF-kappaB signaling pathways links xenobiotic metabolism and inflammation. J Clin Invest. 2006;116(8):2280–9.

11.

Fisher CD, Augustine LM, Maher JM, Nelson DM, Slitt AL, Klaassen CD, et al. Induction of drug-metabolizing enzymes by garlic and allyl sulfide compounds via activation of constitutive androstane receptor and nuclear factor E2-related factor 2. Drug Metab Dispos. 2007;35(6):995–1000.

12.

Huang W, Zhang J, Moore DD. A traditional herbal medicine enhances bilirubin clearance by activating the nuclear receptor CAR. J Clin Invest. 2004;113(1):137–43.

13.

Mu Y, Zhang J, Zhang S, Zhou HH, Toma D, Ren S, et al. Traditional Chinese medicines Wu Wei Zi (Schisandra chinensis Baill) and Gan Cao (Glycyrrhiza uralensis Fisch) activate pregnane X receptor and increase warfarin clearance in rats. J Pharmacol Exp Ther. 2006;316(3):1369–77.

14.

Moore LB, Goodwin B, Jones SA, Wisely GB, Serabjit-Singh CJ, Willson TM, et al. St. John's wort induces hepatic drug metabolism through activation of the pregnane X receptor. Proc Natl Acad Sci U S A. 2000;97(13):7500–2.

15.

Chang TK, Waxman DJ. Synthetic drugs and natural products as modulators of constitutive androstane receptor (CAR) and pregnane X receptor (PXR). Drug Metab Rev. 2006;38(1–2):51–73.

16.

Chang TK. Activation of pregnane X receptor (PXR) and constitutive androstane receptor (CAR) by herbal medicines. AAPS J. 2009;11(3):590–601.

17.

Nayak BS, Kanhai J, Milne DM, Swanston WH, Mayers S, Eversley M, et al. Investigation of the wound healing activity of Carapa guianensis L. (Meliaceae) bark extract in rats using excision, incision, and dead space wound models. J Med Food. 2010;13(5):1141–6.

18.

Miranda Junior RN, Dolabela MF, da Silva MN, Povoa MM, Maia JG. Antiplasmodial activity of the andiroba (Carapa guianensis Aubl., Meliaceae) oil and its limonoid-rich fraction. J Ethnopharmacol. 2012;142(3):679–83.

19.

Perez-Souto N, Lynch RJ, Measures G, Hann JT. Use of high-performance liquid chromatographic peak deconvolution and peak labelling to identify antiparasitic components in plant extracts. J Chromatogr. 1992;593(1–2):209–15.

20.

Tariq M, Mossa JS, Al-Yahya MA, Parmar NS, Ageel AM. Evaluation of Artemisia inculta for anti-inflammatory activity in rats. Am J Chin Med. 1987;15(3–4):127–32.

21.

al-Harbi MM, Qureshi S, Ahmed MM, Raza M, Miana GA, Shah AH. Studies on the antiinflammatory, antipyretic and analgesic activities of santonin. Jpn J Pharmacol. 1994;64(3):135–9.

22.

Dang GK, Parekar RR, Kamat SK, Scindia AM, Rege NN. Antiinflammatory activity of Phyllanthus emblica, Plumbago zeylanica and Cyperus rotundus in acute models of inflammation. Phytother Res. 2011;25(6):904–8.

23.

Daswani PG, Brijesh S, Tetali P, Birdi TJ. Studies on the activity of Cyperus rotundus Linn. tubers against infectious diarrhea. Indian J Pharmacol. 2011;43(3):340–4.

24.

Xie W, Barwick JL, Simon CM, Pierce AM, Safe S, Blumberg B, et al. Reciprocal activation of xenobiotic response genes by nuclear receptors SXR/PXR and CAR. Genes Dev. 2000;14(23):3014–23.

25.

Honkakoski P, Moore R, Gynther J, Negishi M. Characterization of phenobarbital-inducible mouse Cyp2b10 gene transcription in primary hepatocytes. J Biol Chem. 1996;271(16):9746–53.

26.

Tirona RG, Leake BF, Podust LM, Kim RB. Identification of amino acids in rat pregnane X receptor that determine species-specific activation. Mol Pharmacol. 2004;65(1):36–44.

27.

Strom SC, Pisarov LA, Dorko K, Thompson MT, Schuetz JD, Schuetz EG. Use of human hepatocytes to study P450 gene induction. Methods Enzymol. 1996;272:388–401.

28.

Xie W, Barwick JL, Downes M, Blumberg B, Simon CM, Nelson MC, et al. Humanized xenobiotic response in mice expressing nuclear receptor SXR. Nature. 2000;406(6794):435–9.

29.

Zhou J, Zhai Y, Mu Y, Gong H, Uppal H, Toma D, et al. A novel pregnane X receptor-mediated and sterol regulatory element-binding protein-independent lipogenic pathway. J Biol Chem. 2006;281(21):15013–20.

30.

Crespi CL, Penman BW. Use of cDNA-expressed human cytochrome P450 enzymes to study potential drug-drug interactions. Adv Pharmacol. 1997;43:171–88.

31.

Waxman DJ, Ko A, Walsh C. Regioselectivity and stereoselectivity of androgen hydroxylations catalyzed by cytochrome P-450 isozymes purified from phenobarbital-induced rat liver. J Biol Chem. 1983;258(19):11937–47.

32.

Auerbach SS, Ramsden R, Stoner MA, Verlinde C, Hassett C, Omiecinski CJ. Alternatively spliced isoforms of the human constitutive androstane receptor. Nucleic Acids Res. 2003;31(12):3194–207.

33.

Mencarelli A, Migliorati M, Barbanti M, Cipriani S, Palladino G, Distrutti E, et al. Pregnane-X-receptor mediates the anti-inflammatory activities of rifaximin on detoxification pathways in intestinal epithelial cells. Biochem Pharmacol. 2010;80(11):1700–7.

34.

Ahlin G, Hilgendorf C, Karlsson J, Szigyarto CA, Uhlen M, Artursson P. Endogenous gene and protein expression of drug-transporting proteins in cell lines routinely used in drug discovery programs. Drug Metab Dispos. 2009;37(12):2275–83.

35.

Fahmi OA, Kish M, Boldt S, Obach RS. Cytochrome P450 3A4 mRNA is a more reliable marker than CYP3A4 activity for detecting pregnane X receptor-activated induction of drug-metabolizing enzymes. Drug Metab Dispos. 2010;38(9):1605–11.

36.

Lau AJ, Yang G, Rajaraman G, Baucom CC, Chang TK. Differential effect of meclizine on the activity of human pregnane X receptor and constitutive androstane receptor. J Pharmacol Exp Ther. 2011;336(3):816–26.

37.

Cheng J, Shah YM, Ma X, Pang X, Tanaka T, Kodama T, et al. Therapeutic role of rifaximin in inflammatory bowel disease: clinical implication of human pregnane X receptor activation. J Pharmacol Exp Ther. 2010;335(1):32–41.
ACKNOWLEDGMENTS AND DISCLOSURES
We thank Yanhong Shi for her assistance in the initial library screen. We also thank Lushan Yu for his assistance in the P450 enzymatic assay. Wen Xie is the Joseph Koslow Endowed Chair in Pharmaceutical Sciences at the University of Pittsburgh School of Pharmacy.
This work was supported in part by an NIH grants ES019629, DK083952 and HD073070 (to W.X.), ES010337 and CA014195 (to R.M.E.), the Leona M. and Harry B. Helmsley Charitable Trust, the Glenn Foundation for Medical Research, and the Thailand Research Fund through the Royal Golden Jubilee Ph.D. Program (Grant PHD/0204/2549 to S.K.). R.M.E. is an investigator of the Howard Hughes Medical Institute and March of Dimes Chair in Molecular and Developmental Biology at the Salk Institute. Normal human hepatocytes were obtained through the Liver Tissue Procurement and Distribution System, Pittsburgh, Pennsylvania, which was funded by NIH Contract [N01-DK-7-0004/HHSN267200700004C].
About this article
Cite this article
Kittayaruksakul, S., Zhao, W., Xu, M. et al. Identification of Three Novel Natural Product Compounds that Activate PXR and CAR and Inhibit Inflammation. Pharm Res 30, 2199–2208 (2013). https://doi.org/10.1007/s11095-013-1101-9
Received:

Accepted:

Published:

Issue Date:
KEY WORDS
drug metabolism

gene regulation

natural products

nuclear receptor