ABSTRACT
Purpose
To determine distribution and deposition of Technosphere® Insulin (TI) inhalation powder and the rate of clearance of fumaryl diketopiperazine (FDKP; major component of Technosphere particles) and insulin from the lungs.
Methods
Deposition and distribution of 99mpertechnetate adsorbed onto TI immediately after administration using the MedTone® inhaler was quantified by gamma-scintigraphy. Clearance from the lungs was studied in a second experiment by serial bronchoalveolar lavage (BAL) after administration of TI inhalation powder and assay of the recovered fluid for FDKP and insulin.
Results
Following inhalation, ~60% of radioactivity (adsorbed on TI) emitted from the inhaler was delivered to the lungs; the remainder of the emitted dose was swallowed. Clearance from the lung epithelial lining fluid (ELF) of FDKP and insulin have a half-life of ~1 hour.
Conclusion
TI inhalation powder administered via the MedTone inhaler was uniformly distributed throughout the lungs; ~40% of the initial cartridge load reached the lungs. Insulin and FDKP are quickly cleared from the lungs, mainly by absorption into the systemic circulation. The terminal clearance half-life from the lung ELF, estimated from sequential BAL fluid measurements for both components, was ~1 hour. Since there is an overnight washout period, the potential for accumulation on chronic administration is minimal.
Access options
Buy single article
Instant access to the full article PDF.
USD 39.95
Price includes VAT (USA)
Tax calculation will be finalised during checkout.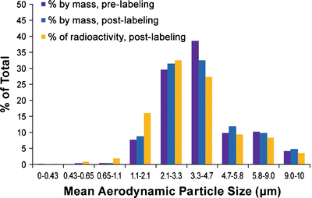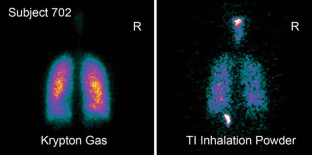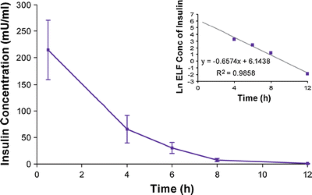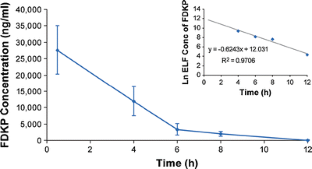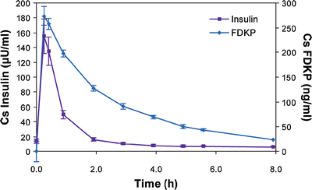 Abbreviations
Tc:

99mTechnetium

AUC0–t :

area under the insulin concentration-time curve from 0 to time t

BAL:

bronchoalveolar lavage

ELF:

epithelial lining fluid of the lungs

FDKP:

fumaryl diketopiperazine

FEV1 :

forced expiratory volume in 1 s

IVC:

inspiratory vital capacity

MEF25%FVC :

mid-expiratory flow at 25% of forced vital capacity

MEF50%FVC :

mid-expiratory flow at 50% of forced vital capacity

MEF75%FVC :

mid-expiratory flow at 75% of forced vital capacity

PFT:

pulmonary function testing

sRAW :

specific airway resistance

T:

total amount of radioactivity in the cartridge

TI:

Technosphere Insulin

tmax :

time to maximum observed drug concentration

Tndel :

total amount of 99mTc-TI inhalation powder that is not delivered to the body
REFERENCES
1.

Leone-Bay A, Grant M. Technosphere technology: a platform for inhaled protein therapeutics. ONdrugDelivery. 2006:11–18. Available from: www.Ondrugdelivery.com.

2.

Richardson PC, Boss AH. Technosphere® Insulin technology. Diab Technol Ther. 2007;9 Suppl 1:S65–72.

3.

United States Pharmacopeia–National Formulary (USP–NF). Aerosols, Nasal Sprays, Metered-Dose Inhalers, and Dry Powder Inhalers <601>. The United States Pharmacopeia USP 29; The National Formulary NF 24 through First Supplement. Rockville, MD: U.S.P.C. Inc.

4.

Dunbar C, Scheuch G, Sommerer K, DeLong M, Verma A, Batycky R. In vitro and in vivo dose delivery characteristics of large porous particles for inhalation. Int J Pharm. 2002;245(1–2):179–89.

5.

American Thoracic Society. Standardization of spirometry, 1994 update. Am J Respir Crit Care Med. 1995;152:1107–36.

6.

Rennard S, Basset G, Lecossier D, O'Donnell K, Pinkston P, Martin P, et al. Estimation of volume of epithelial lining fluid recovered by lavage using urea as marker of dilution. J Appl Physiol. 1986;60(2):532–8.

7.

Gotfried M, Danzinger L, Rodvold K. Steady-state plasma and intrapulmonary concentrations of leofloxin and ciprofloxin in healthy human subjects. Chest. 2001;119(4):1114–22.

8.

Pfützner A, Sommerer K, Meyer T, Haussermann S, Flacke F, Steiner S, et al. Lung distribution of radiolabeled Technosphere/Insulin. Diabetes. 2003;52 Suppl 1:A107 [abstract 459-P].

9.

Cassidy J, Marino M, Amin N, Gotfried M, Baughman R, Gray M, et al. Lung deposition and absorption of AFRESA (Technosphere Insulin) [abstract 433-P]. Diabetes. 2009;58 Suppl 1:A115.

10.

Gotfried M, Cassidy J, Marino M, Amin N, Baughman R, Gray M, et al. Lung deposition and absorption of insulin from Technosphere insulin [abstract 955]. Diabetologia. 2009;52 Suppl 1:S375.

11.

Potocka E, Cassidy J, Haworth P, Heuman D, van Marle S, Baughman R. Pharmacokinetic characterization of the novel pulmonary delivery excipient fumaryl diketopiperazine. J Diab Sci Technol. 2010;4(5):1164–73.

12.

Okamoto H, Todo H, Iida K, Danjo K. Dry powders for pulmonary delivery of peptides and proteins. Inhaled Insulin: Lung Deposition and Clearance. 2002;20:71–82.

13.

Smutney CC, Friedman EM, Polidoro JM, Amin N. Inspiratory efforts achieved in use of the Technosphere® Insulin inhalation system. J Diab Sci Technol. 2009;3(5):1–8.

14.

Rave K, Potocka E, Boss AH, Marino M, Costello D, Chen R. Pharmacokinetics and linear exposure of AFRESA™ compared with the subcutaneous injection of regular human insulin. Diab Obes Metab. 2009;11(7):715–20.

15.

Muchmore D, Silverman B, de la Pena A, Tobin J. The AIR® inhaled insulin system: system components and pharmacokinetics/glucodynamic data. Diab Technol Ther. 2007;9 Suppl 1:S41–7.

16.

Rave K, Bott S, Heineman L, Sha S, Becker R, Willaviza S, et al. Time action profile of inhaled insulin in comparison with subcutaneously injected insulin lispro and regular human insulin. Diabetes Care. 2005;28(5):1077–82.

17.

Brain J, Finch G, Riese R, Schwartz P, Teeter J. Trough insulin levels in bronchoalveolar lavage following inhalation of human insulin (Exubera®) in patients with diabetes mellitus [abstract A53]. Am J Resp Crit Care Med. 2008;177:A616.

18.

Lombry C, Edwards D, Preat V, Vanbever R. Alveolar macrophages are a primary barrier to pulmonary absorption of macromolecules. Am J Physiol Lung Cell Mol Physiol. 2004;286(5):L1002–8.
ACKNOWLEDGMENTS
The authors extend their appreciation to Dr. Andreas Pfützner, University of Applied Sciences, Bingen, Germany, the principal investigator, and the staff at Inamed, Gauting, Germany, for the excellent conduct of the radiolabeled study; the research coordinators at Pulmonary Associates, Phoenix, AZ, USA, and the Endoscopy Department of John C. Lincoln North Mountain Hospital, Phoenix, AZ, USA, for conducting a quality bronchoscopy study; and the staffs at BARC, Lake Success, NY, USA (serum insulin), and QPS, Newark, DE, USA (serum and BAL FDKP and BAL insulin), for their excellent bioanalytical analysis of the samples; and Sungita Patel, who excelled as the clinical monitor for the BAL study.
About this article
Cite this article
Cassidy, J.P., Amin, N., Marino, M. et al. Insulin Lung Deposition and Clearance Following Technosphere® Insulin Inhalation Powder Administration. Pharm Res 28, 2157–2164 (2011). https://doi.org/10.1007/s11095-011-0443-4
Received:

Accepted:

Published:

Issue Date:
KEY WORDS
Afrezza®

fumaryl diketopiperazine

inhalation powder

insulin clearance

insulin lung disposition

Technosphere Insulin inhalation powder