ABSTRACT
Purpose
The present study compared the ability of different berry types to prevent chemically-induced tumorigenesis in the rat esophagus. We also determined if berries influence the levels of inflammatory cytokines in the serum of carcinogen-treated rats.
Methods
Rats were treated with the carcinogen N-nitrosomethylbenzylamine (NMBA) for 5 weeks, then placed on diets containing 5% of either black or red raspberries, strawberries, blueberries, noni, açaí or wolfberry until the end of the study. The effects of the berries on tumor incidence, multiplicity and size were determined, as well as their effects on the levels of selected inflammatory cytokines in serum.
Results
All berry types were about equally effective in inhibiting NMBA-induced tumorigenesis in the rat esophagus. They also reduced the levels of the serum cytokines, interleukin 5 (IL-5) and GRO/KC, the rat homologue for human interleukin-8 (IL-8), and this was associated with increased serum antioxidant capacity.
Conclusions
Seven berry types were about equally capable of inhibiting tumor progression in the rat esophagus in spite of known differences in levels of anthocyanins and ellagitannins. Serum levels of IL-5 and GRO/KC (IL-8) may be predictive of the inhibitory effect of chemopreventive agents on rat esophageal carcinogenesis.
Access options
Buy single article
Instant access to the full article PDF.
US$ 39.95
Tax calculation will be finalised during checkout.
Subscribe to journal
Immediate online access to all issues from 2019. Subscription will auto renew annually.
US$ 119
Tax calculation will be finalised during checkout.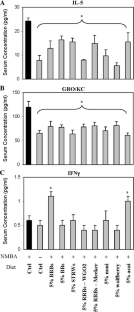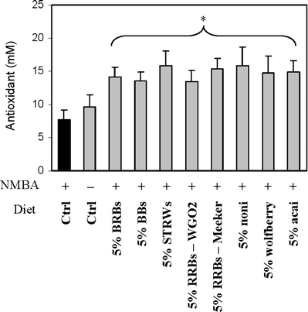 Abbreviations
AP-1:

Activator protein-1

AIN-76A:

American Institute of Nutrition-76A

BRBs:

black raspberries

BBs:

blueberries

DMSO:

dimethylsulfoxide

EGF:

epidermal growth factor

IL-8:

GRO/KC

IFNγ:

interferon-gamma

IL:

interleukin

NMBA:

N-nitrosomethylbenzylamine

RRBs:

red raspberries

STRWs:

strawberries

TPA:

12-O-tetradecanolyphorbol-13-acetate

TNF-α:

tumor necrosis factor-alpha
REFERENCES
1.

Seeram NP. Berry fruits: Compositional elements, biochemical activities, and the impact of their intake on human health, performance, and disease. J Agric Food Chem. 2008;56:627–9.

2.

Seeram NP. Recent trends and advances in berry health benefits research. J Agric Food Chem; 2009.

3.

Cerda B, Tomas-Barberan FA, Espin JC. Metabolism of antioxidant and chemopreventive ellagitannins from strawberries, raspberries, walnuts, and oak-aged wine in humans: identification of biomarkers and individual variability. J Agric Food Chem. 2004;53:227–35.

4.

Wang L-S, Hecht SS, Carmella SG, Yu N, Larue B, Henry C et al. Anthocyanins in black raspberries prevent esophageal tumors in rats. Cancer Prev Res. 2009;2:84–93.

5.

Stoner GD, Wang L-S, Casto BC. Laboratory and clinical studies of cancer chemoprevention by antioxidants in berries. Carcinogenesis. 2008;29:1665–74.

6.

Kresty LA, Morse MA, Morgan C, Carlton PS, Lu J, Gupta A et al. Chemoprevention of esophageal tumorigenesis by dietary administration of lyophilized black raspberries. Cancer Res. 2001;61:6112–9.

7.

Harris GK, Gupta A, Nines RG, Kresty LA, Habib SG, Frankel WL et al. Effects of lyophilized black raspberries on azoxymethane-induced colon cancer and 8-hydroxy-2′-deoxyguanosine levels in the Fischer 344 rat. Nutr Cancer. 2001;40:125–33.

8.

Casto BC, Kresty LA, Kraly CL, Pearl DK, Knobloch TJ, Schut HA et al. Chemoprevention of oral cancer by black raspberries. Anticancer Res. 2002;22:4005–15.

9.

Aiyer HS, Srinivasan C, Gupta RC. Dietary berries and ellagic acid diminish estrogen-mediated mammary tumorigenesis in ACI rats. Nutr Cancer. 2008;60:227–34.

10.

Duncan FJ, Martin JR, Wulff BC, Stoner GD, Tober KL, Oberyszyn TM et al. Topical treatment with black raspberry extract reduces cutaneous UVB-induced carcinogenesis and inflammation. Cancer Prev Res. 2009;2:665–72.

11.

Stoner GD, Wang L-S, Zikri N, Chen T, Hecht SS, Huang C et al. Cancer prevention with freeze-dried berries and berry components. Sem Cancer Biol. 2007;17:403–10.

12.

Stoner GD, Dombkowski AA, Reen RK, Cukovic D, Salagrama S, Wang L-S et al. Carcinogen-altered genes in rat esophagus positively modulated to normal levels of expression by both black raspberries and phenethyl isothiocyanate. Cancer Res. 2008;68:6460–7.

13.

Carlton PS, Kresty LA, Siglin JC, Morse MA, Lu J, Morgan C et al. Inhibition of N-nitrosomethylbenzylamine-induced tumorigenesis in the rat esophagus by dietary freeze-dried strawberries. Carcinogenesis. 2001;22:441–6.

14.

Stoner GD, Chen T, Kresty LA, Aziz R, Reinemann MT, Nines R. Protection against esophageal cancer in rodents with lyophilized berries: potential mechanisms. Nutr Cancer. 2006;54:33–46.

15.

Wang L-S, Stoner GD. Anthocyanins and their role in cancer prevention. Cancer Lett. 2008;269:281–90.

16.

Su B-N, Pawlus AD, Jung HD, Keller WJ, McLaughlin J-L, Kinghorn AD. Chemical constitutents of the fruits of Morinda citrifolia (Noni) and their antioxidant activity. J Nat Prod. 2005;68:592–5.

17.

Pawlus AD, Su B-N, Keller WJ, Kinghorn AD. An anthraquinone with potent quinine reductase –inducing activity and other constituents of the fruits of Morinda citrifolia. J Nat Prod. 2005;68:1720–2.

18.

Liu G, Bode A, Ma W-Y, Sang S, Ho C-T, Dong Z. Two novel glycosides from the fruits of Morinda Citrifolia (Noni) inhibit AP-1 transactivation and cell transformation in the mouse epidermal JB6 cell line. Cancer Res. 2001;61:5749–56.

19.

Chin Y-W, Chai H-B, Keller WJ, Kinghorn AD. Lignans and other constituents of the fruits of Euterpe oleracea (Acai) with antioxidant and cytoprotective activities. J Agric Food Chem. 2008;56:7759–64.

20.

Del Pozo-Insfran D, Percival SS, Talcott ST. Acai (Euterpe oleracea Mart.) Polyphenolics in their glycoside and aglycone forms induce apoptosis of HL-60 leukemia cells. J Agric Food Chem. 2006;54:1222–9.

21.

Gan L, Hua Zhang S, Liang Yang X, Bi Xu H. Immunomodulation and antitumor activity by a polysaccharide-protein complex from Lycium barbarum. Int Immunopharmacol. 2004;4:563–9.

22.

Stoner GD, Gupta A. Etiology and chemoprevention of esophageal squamous cell carcinoma. Carcinogenesis. 2001;22:1737–46.

23.

Mandal S, Stoner GD. Inhibition of N-nitrosobenzylmethylamine induced esophageal tumorigenesis in rats by ellagic acid. Carcinogenesis. 1990;11:55–61.

24.

Wang SY, Lin H-S. Antioxidant activity in fruits and leaves of blackberry, raspberry, and strawberry varies with cultivar and developmental stage. J Agric Food Chem. 2000;48:140–6.

25.

Wada L, Ou B. Antioxidant activity and phenolic content of Oregon caneberries. J Agric Food Chem. 2002;50:3495–500.

26.

Ehlenfeldt MK, Prior RL. Oxygen radical absorbance capacity (ORAC) and phenolic and anthocyanin concentrations in fruit and leaf tissues of highbush blueberry. J Agric Food Chem. 2001;49:2222–7.

27.

Moyer RA, Hummer KE, Finn CE, Frei B, Wrolstad RE. Anthocyanins, phenolics, and antioxidant capacity in diverse small fruits: vaccinium, rubus, and ribes. J Agric Food Chem. 2002;50:519–25.

28.

Wang SY, Chen C-T, Sciarappa W, Wang CY, Camp MJ. Fruit quality, antioxidant capacity, and flavonoid content of organically and conventionally grown blueberries. J Agric Food Chem. 2008;56:5788–94.

29.

Asami DK, Hong Y-J, Barrett DM, Mitchell AE. Comparison of the total phenolic and ascorbic acid content of freeze-dried and air-dried marionberry, strawberry, and corn grown using conventional, organic, and sustainable agricultural practices. J Agric Food Chem. 2003;51:1237–41.

30.

Chen-Blanco Y, Vaillant F, Perez AM, Reynes M, Brillouet J-M, Brat P. The noni fruit (Morinda citrifolia L.): a review of agricultural research, nutritional and therapeutic properties. J Food Comp Anal. 2006;19:645–54.

31.

Gross PM, Zhang X, Zhang R. Wolfberry: nature's bounty of nutrition and health, BookSurge Publishing, http://www.wolfberry.org, 2006.

32.

Schauss AG, Wu X, Prior RL, Ou B, Patel D, Huang D et al. Phytochemical and nutrient composition of the freeze-dried Amazonian palm berry, Euterpe oleraceae Mart. (Acai). J Agric Food Chem. 2006;54:8598–603.

33.

Pacheco-Palencia LA, Mertens-Talcott S, Talcott ST. Chemical composition, antioxidant properties, and thermal stability of a phytochemical enriched oil from Acai (Euterpe oleracea Mart.). J Agric Food Chem. 2008;56:4631–6.

34.

He J, Magnuson BA, Guisti MM. Analysis of anthocyanins in rat intestinal contents-impact of anthocyanin chemical structure on fecal excretion. J Agric Food Chem. 2005;53:2859–66.

35.

Stoner GD, Sardo C, Apseloff G, Mullet D, Wargo W, Pound V et al. Pharmacokinetics of anthocyanins and ellagic acid in healthy volunteers fed freeze-dried black raspberries daily for 7 days. J Clin Pharmacol. 2005;45:1153–64.

36.

Stoner GD. Foodstuffs for preventing cancer: the preclinical and clinical development of berries. Cancer Prev Res. 2009;2:187–94.

37.

Cheng CY, Chung WY, Szeto YT, Benzie IFF. Fasting plasma zeaxanthin response to Fructus barbarum L. (wolfberry; Kei Tze) in a food-based human supplementation trial. Br J Nutr. 2005;93:123–30.

38.

Tian M, Wang M. Studies on extraction, isolation and composition of Lycium barbarum polysaccharides. Zhongguo Zhong Yao Za Zhi. 2006;31:1063–7.

39.

Taşkin EI, Akgün-Dar K, Kapucu A, Osanç E, Doğruman H, Eraltan H et al. Apoptosis-inducing effects of Morinda citrifolia L. and doxorubicin on the Ehrlich ascites tumor in Balb-c mice. Cell Biochem Funct. 2009;27:542–6.

40.

Lichtenthäler R, Rodrigues R, Maia J, Papagiannopoulos M, Fabricius H, Marx F. Total oxidant scavenging capacities of Euterpe oleracea Mart. (Acaí) fruits. Int J Food Sci Nutr. 2005;56:53–64.

41.

Tsujiuchi T, Sasaki Y, Tsutsumi M, Konishi Y. Elevated expression of interleukins in lung adenocarcinomas induced by N-Nitrosobis(2-hydroxypropyl)amine in rats. Jpn J Cancer Res. 2000;91:955–9.

42.

Koch A, Polverini P, Kunkel S, Harlow L, DiPietro L, Elner V et al. Interleukin-8 as a macrophage-derived mediator of angiogenesis. Science. 1992;258:1798–801.

43.

Chen G, Chu Y, Chak E, Leung B, Poon W. Induction of apoptosis in glioma cells by molecules released from activated macrophages. J Neurooncol. 2002;57:179–86.
ACKNOWLEDGEMENTS
We thank Mr. Dale Stokes of the Stokes Raspberry Farm, Wilmington, OH for provision of the Jewel variety of black raspberries and WGO2 variety of red raspberries; Erin Theony and the Washington State Raspberry Commission for provision of the Meeker variety of red raspberries; Watershed Foods, Gridley, IL for provision of the Reveille variety of blueberries; Driscoll Farms of Watsonville, CA for provision of the Commander variety of strawberries; and Dr. William J. Keller of Nature's Sunshine, Inc., Spanish Fork, UT 84660 for the supply of noni, açaí and wolfberries. This study was supported by NCI R01 grant CA103180 and U.S.D.A. grant 38903-19245 through the Ohio Agricultural Research and Development Center.
About this article
Cite this article
Stoner, G.D., Wang, LS., Seguin, C. et al. Multiple Berry Types Prevent N-nitrosomethylbenzylamine-Induced Esophageal Cancer in Rats. Pharm Res 27, 1138–1145 (2010). https://doi.org/10.1007/s11095-010-0102-1
Received:

Accepted:

Published:

Issue Date:
KEY WORDS
berries

chemoprevention

esophagus

rat