ABSTRACT
The incidence of cancer is increasing worldwide, in spite of substantial progress in the development of anti-cancer therapies. One approach to control cancer could be its prevention by diet, which inhibits one or more neoplastic events and reduces cancer risk. Dietary compounds offer great potential in the fight against cancer by inhibiting the carcinogenesis process through the regulation of cell homeostasis and cell-death machineries. For centuries, Ayurveda (Indian traditional medicine) has recommended the use of bitter melon (Momordica charantia) as a functional food to prevent and treat diabetes and associated complications. It is noteworthy to mention that bitter melon extract has no-to-low side effects in animals as well as in humans. The anti-tumor activity of bitter melon has recently begun to emerge. This review focuses on recent advancements in cancer chemopreventive and anti-cancer efficacy of bitter melon and its active constituents. Several groups of investigators have reported that treatment of bitter-melon-related products in a number of cancer cell lines induces cell cycle arrest and apoptosis without affecting normal cell growth. Therefore, the effect of bitter melon should be beneficial for health, and use of the non-modified dietary product is cost effective.
Access options
Buy single article
Instant access to the full article PDF.
USD 39.95
Price excludes VAT (USA)
Tax calculation will be finalised during checkout.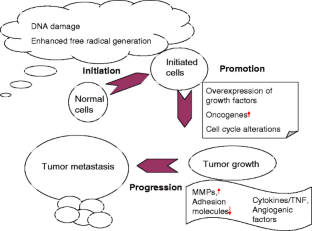 REFERENCES
Surh YJ. Cancer chemoprevention with dietary phytochemicals. Nat Rev Cancer. 2003;3:768–80.

Ramos S. Cancer chemoprevention and chemotherapy: dietary polyphenols and signalling pathways. Mol Nutr Food Res. 2008;52:507–26.

Kaur M, Agarwal C, Agarwal R. Anticancer and cancer chemopreventive potential of grape seed extract and other grape-based products. J Nutr. 2009;139:1806S–12S.

Kushi LH, Byers T, Doyle C, Bandera EV, McCullough M, Gansler T, et al. Guidelines on nutrition and physical activity for cancer prevention: reducing the risk of cancer with healthy food choices and physical activity. CA Cancer J Clin. 2006;56:254–81.

Nerurkar PV, Lee YK, Linden EH, Lim S, Pearson L, Frank J, et al. Lipid lowering effects of Momordica charantia (Bitter Melon) in HIV-1-protease inhibitor-treated human hepatoma cells, HepG2. Br J Pharmacol. 2006;148:1156–64.

Nerurkar PV, Lee YK, Motosue M, Adeli K, Nerurkar VR. Momordica charantia (bitter melon) reduces plasma apolipoprotein B-100 and increases hepatic insulin receptor substrate and phosphoinositide-3 kinase interactions. Br J Nutr. 2008;100:751–9.

Ahmed I, Adeghate E, Sharma AK, Pallot DJ, Singh J. Effects of Momordica charantia fruit juice on islet morphology in the pancreas of the streptozotocin-diabetic rat. Diabetes Res Clin Pract. 1998;40:145–51.

Hanahan D, Weinberg RA. The hallmarks of cancer. Cell 2000;100:57–70.

Jilka C, Strifler B, Fortner GW, Hays EF, Takemoto DJ. In vivo antitumor activity of the bitter melon (Momordica charantia). Cancer Res. 1983;43:5151–5.

Ray R, Raychoudhuri A, Steele R, Nerurkar P. Bitter melon (Momordica charantia) extract inhibits breast cancer cell proliferation by modulating cell cycle regulatory genes and promotes apoptosis. Cancer Res. 2010;70:1925–31.

Grover JK, Yadav SP. Pharmacological actions and potential uses of Momordica charantia: a review. J Ethnopharmacol. 2004;93:123–32.

Nakamura S, Murukami T, Nakamura J, Kobayashi H, Matsuda H, Yoshikawa M. Structures of new cucurbitane-type triterpenes and glycosides, karavilagenins and karavilosides, from the dried fruit of momordica charantia L. in Sri Lanka. Chem Pharm Bull. 2006;54:1545–50.

Lee-Huang S, Huang PL, Sun Y, Chen HC, Kung HF, Huang PL, et al. Inhibition of MDA-MB-231 human breast tumor xenografts and HER2 expression by anti-tumor agents GAP31 and MAP30. Anticancer Res. 2000;20:653–9.

Xiong SD, Yu K, Liu XH, et al. Ribosome-inactivating proteins isolated from dietary bitter melon induce apoptosis and inhibit histone deacetylase-1 selectively in premalignant and malignant prostate cancer cells. Int J Cancer. 2009;125:774–82.

Li M, Chen Y, Liu Z, Shen F, Bian X, Meng Y. Anti-tumor activity and immunological modification of ribosome-inactivating protein (RIP) from Momordica charantia by covalent attachment of polyethylene glycol. Acta Biochim Biophys Sin (Shanghai). 2009;41:792–9.

Kohno H, Suzuki R, Noguchi R, Hosokawa M, Miyashita K, Tanaka T. Dietary conjugated linolenic acid inhibits azoxymethane-induced colonic aberrant crypt foci in rats. Jpn J Cancer Res. 2002;93:133–42.

Nagasawa H, Watanabe K, Inatomi H. Effects of bitter melon (Momordica charantia l.) or ginger rhizome (Zingiber offifinale rosc) on spontaneous mammary tumorigenesis in SHN mice. Am J Chin Med. 2002;30:195–205.

Akihisa T, Higo N, Tokuda H, Ukiya M, Akazawa H, Tochigi Y, et al. Cucurbitane-type triterpenoids from the fruits of Momordica charantia and their cancer chemopreventive effects. J Nat Prod. 2007;70:1233–9.

Tsuzuki T, Tokuyama Y, Igarashi M, Miyazawa T. Tumor growth suppression by α-eleostearic acid, a linolenic acid isomer with a conjugated triene system, via lipid peroxidation. Carcinogenesis 2004;25:1417–25.

Kobori M, Ohnishi-Kameyama M, Akimoto Y, Yukizaki C, Yoshida M. Alpha-eleostearic acid and its dihydroxy derivative are major apoptosis-inducing components of bitter gourd. J Agric Food Chem. 2008;56:10515–20.

Grossmann ME, Mizuno NK, Dammen ML, Schuster T, Ray A, Cleary MP. Eleostearic acid inhibits breast cancer proliferation by means of an oxidation-dependent mechanism. Cancer Prev Res. 2009;2:879–86.
ACKNOWLEDGEMENTS
This work was supported by Doisy research fund from Saint Louis University. We thank the members of the Ray laboratory for critical reading of the manuscript.
About this article
Cite this article
Nerurkar, P., Ray, R.B. Bitter Melon: Antagonist to Cancer. Pharm Res 27, 1049–1053 (2010). https://doi.org/10.1007/s11095-010-0057-2
Received:

Accepted:

Published:

Issue Date:

DOI: https://doi.org/10.1007/s11095-010-0057-2
KEY WORDS