Purpose
This study was conducted to develop and evaluate the physicochemical and aerodynamic characteristics of lipid-coated dry powder formulations presenting particularly high lung deposition.
Methods
Lipid-coated particles were prepared by spray-drying suspensions with different concentrations of tobramycin and lipids. The solid-state properties of the formulations, including particle size and morphology, were assessed by scanning electron microscopy and laser diffraction. Aerosol performance was studied by dispersing the powders into a Multistage Liquid Impinger and determining drug deposition by high-performance liquid chromatography.
Results
Particle size distributions of the formulations were unimodal, narrow with more than 90% of the particles having a diameter of less than 2.8 μm. All powder formulations exhibited mass median diameters of less than 1.3 and 3.2 μm, as determined by two different laser diffraction methods, the Malvern's Mastersizer® and Spraytec®, respectively. The fine particle fraction varied within a range of 50.5 and 68.3%.
Conclusions
Lipid coating of tobramycin formulations resulted in a reduced agglomeration tendency and in high fine particle fraction values, thus improving drug deposition. The very low excipients content (about 5% m/m) of these formulations offers the benefit of delivering particularly huge concentrations of antibiotic directly to the site of infection, while minimizing systemic exposure, and may provide a valuable alternative treatment of cystic fibrosis.
This is a preview of subscription content, log in to check access.
Access options
Buy single article
Instant access to the full article PDF.
US$ 39.95
Tax calculation will be finalised during checkout.
Subscribe to journal
Immediate online access to all issues from 2019. Subscription will auto renew annually.
US$ 119
Tax calculation will be finalised during checkout.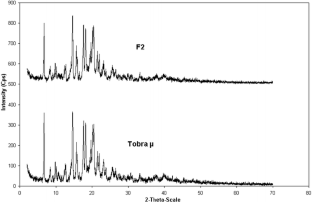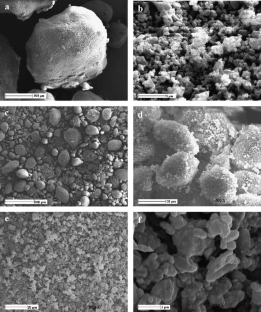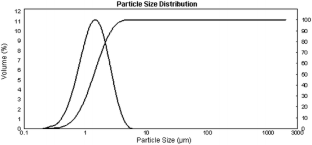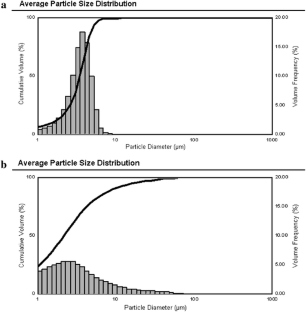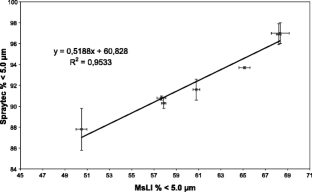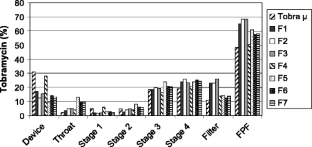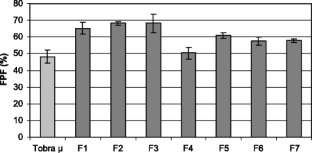 References
1.

R. Moss (2002) ArticleTitleLong-term benefits of inhaled tobramycin in adolescent patients with cystic fibrosis Chest 121 55–63 Occurrence Handle11796432 Occurrence Handle1:CAS:528:DC%2BD38Xht1yltbs%3D Occurrence Handle10.1378/chest.121.1.55

2.

F. S. Collins (1992) ArticleTitleCystic fibrosis: molecular biology and therapeutic implications Science 256 774–779 Occurrence Handle1375392 Occurrence Handle1:CAS:528:DyaK38XktVGit7c%3D

3.

R. Moss (1995) ArticleTitleCystic fibrosis: pathogenesis, pulmonary infection, and treatment Clin. Infect. Dis. 21 839–849 Occurrence Handle8645828 Occurrence Handle1:CAS:528:DyaK2MXpsl2jt78%3D

4.

M. E. Hodson C. G. Gallagher J. R. W. Govan (2002) ArticleTitleA randomised clinical trial of nebulised tobramycin or colistin in cystic fibrosis Eur. Respir. J. 20 658–664 Occurrence Handle12358344 Occurrence Handle1:CAS:528:DC%2BD38Xotl2is7c%3D Occurrence Handle10.1183/09031936.02.00248102

5.

C. Koch N. Hoiby (1993) ArticleTitlePathogenesis of cystic fibrosis Lancet 341 1065–1069 Occurrence Handle7682274 Occurrence Handle1:STN:280:ByyB38rnt1U%3D Occurrence Handle10.1016/0140-6736(93)92422-P

6.

D. E. Geller W. H. Pitlick P. A. Nardella W. G. Tracewell B. W. Ramsey (2002) ArticleTitlePharmacokinetics and bioavailability of aerolized tobramycin in cystic fibrosis Chest 122 219–226 Occurrence Handle12114362 Occurrence Handle1:CAS:528:DC%2BD38XmtF2is7s%3D Occurrence Handle10.1378/chest.122.1.219

7.

P. M. Mendelman A. L. Smith J. Levy A. Weber B. Ramsey R. L. Davis (1985) ArticleTitleAminoglycoside penetration, inactivation, an efficacy in cystic fibrosis sputum Am. Rev. Respir. Dis. 132 761–765 Occurrence Handle3931522 Occurrence Handle1:CAS:528:DyaL2MXmtVGks78%3D

8.

L. Saiman (1998) ArticleTitleUse of aerolized antibiotics in patients with cystic fibrosis Pediatr. Infect. Dis. J. 17 158–159 Occurrence Handle9493815 Occurrence Handle1:STN:280:DyaK1c7lt1yjuw%3D%3D Occurrence Handle10.1097/00006454-199802000-00016

9.

C. H. Feng S. J. Lin H. L. Wu S. H. Chen (2002) ArticleTitleTrace analysis of tobramycin in human plasma by derivatization and high-performance liquid chromatography with ultraviolet detection J. Chromatogr. B. 780 349–354 Occurrence Handle1:CAS:528:DC%2BD38Xptlans7o%3D Occurrence Handle10.1016/S1570-0232(02)00544-5

10.

J. Sham Y. Zhang W. Finlay W. Roa R. Löbenberg (2004) ArticleTitleFormulation and characterization of spray-dried powders containing nanoparticles for aerosol delivery to the lung Int. J. Pharm. 269 457–467 Occurrence Handle14706257 Occurrence Handle1:CAS:528:DC%2BD3sXhtVWjsrzJ Occurrence Handle10.1016/j.ijpharm.2003.09.041

11.

M. Newhouse P. Hirst S. Duddu Y. Walter T. Tarara A. Clark J. Weers (2003) ArticleTitleInhalation of a dry powder tobramycin pulmosphere formulation in healthy volunteers Chest 124 360–366 Occurrence Handle12853545 Occurrence Handle1:CAS:528:DC%2BD3sXmsFClt7s%3D Occurrence Handle10.1378/chest.124.1.360

12.

H. Steckel H. Brandes (2004) ArticleTitleA novel spray-drying technique to produce low density particles for pulmonary delivery Int. J. Pharm. 278 187–195 Occurrence Handle15158961 Occurrence Handle1:CAS:528:DC%2BD2cXktFOiu7o%3D Occurrence Handle10.1016/j.ijpharm.2004.03.010

13.

M. Irngartinger V. Camuglia M. Damn J. Goede H. W. Frijlink (2004) ArticleTitlePulmonary delivery of therapeutic peptides via dry powder inhalation: effects of micronisation and manufacturing Eur. J. Pharm. Biopharm. 58 7–14 Occurrence Handle15207532 Occurrence Handle1:CAS:528:DC%2BD2cXltVGht7Y%3D Occurrence Handle10.1016/j.ejpb.2004.03.016

14.

R. J. Malcomson J. K. Embleton (1998) ArticleTitleDry powder formulations for pulmonary delivery Pharm. Sci. Tech. Today 1 394–398 Occurrence Handle10.1016/S1461-5347(98)00099-6

15.

J. G. Weers (2000) ArticleTitleDispersible powders for inhalation applications Innov. Pharm. Technol. 1 111–116 Occurrence Handle1:CAS:528:DC%2BD3MXktlemt70%3D

16.

J. C. Feeley P. York B. S. Sumby H. Dicks (1998) ArticleTitleDetermination of surface properties and flow characteristics of salbutamol sulphate, before and after micronisation Int. J. Pharm. 172 89–96 Occurrence Handle1:CAS:528:DyaK1cXls1equrc%3D Occurrence Handle10.1016/S0378-5173(98)00179-3

17.

A. Chawla K. M. G. Taylor J. M. Newton M. C. R. Johnson (1994) ArticleTitleProduction of spray-dried salbutamol sulphate for use in dry powder aerosol formulations Int. J. Pharm. 108 233–240 Occurrence Handle1:CAS:528:DyaK2cXkvFWlsb8%3D Occurrence Handle10.1016/0378-5173(94)90132-5

18.

L. A. Dellamary T. E. Tarara C. H. Woelk A. Adractas M. L. Costello H. Gill J. G. Weers (2000) ArticleTitleHollow porous particles in metered dose inhalers Pharm. Res. 17 168–174 Occurrence Handle10751031 Occurrence Handle1:CAS:528:DC%2BD3cXitVOqur4%3D Occurrence Handle10.1023/A:1007513213292

19.

A. J. Hickey T. B. Martonen Y. Yang (1996) ArticleTitleTheoretical relationship of lung deposition to the fine particle fraction of inhalation aerosols Pharm. Acta Helv. 71 185–190 Occurrence Handle8818308 Occurrence Handle1:CAS:528:DyaK28XlvFOmsLo%3D Occurrence Handle10.1016/0031-6865(96)00014-3

20.

J. Elversson A. Millqvist-Fureby G. Alderborn U. Elofsson (2003) ArticleTitleDroplet and particle size relationship and shell thickness of inhalable lactose particles during spray-drying J. Pharm. Sci. 92 900–910 Occurrence Handle12661075 Occurrence Handle1:CAS:528:DC%2BD3sXislOgsLs%3D Occurrence Handle10.1002/jps.10352

21.

C. Bosquillon P. Rouxhet F. Ahimou D. Simon C. Culot V. Préat R. Vanbever (2004) ArticleTitleAerosolization properties, surface composition and physical state of spray-dried protein powders J.Control. Release 99 357–367 Occurrence Handle15451594 Occurrence Handle1:CAS:528:DC%2BD2cXnvVCjs78%3D Occurrence Handle10.1016/j.jconrel.2004.07.022

22.

J. Heyder J. Gebhart G. Rudolf C. F. Schiller W. Stahlhofen (1986) ArticleTitleDeposition of particles in the human respiratory tract in the size range 0.005–15 μm J. Aerosol Sci. 17 811–825 Occurrence Handle10.1016/0021-8502(86)90035-2

23.

Th. Sebti K. Amighi (1993) ArticleTitleSolid lipid particles as pharmaceutically acceptable fillers or carriers for inhalation, abstract in Pharmaceutical Sciences Fair & Exhibition, June 12–17 2005 Nice, France Exp. Lung Res. 19 1–19

24.

M. A. Myers D. A. Thomas L. Straub W. Soucy R. W. Niven M. Kaltenbach C. I. Hood H. Schreir R. J. Gonzalez-Rothi (1993) ArticleTitlePulmonary effects of chronic exposure to liposome aerosols in mice Exp. Lung Res. 19 1–19 Occurrence Handle8440200 Occurrence Handle1:STN:280:ByyC2sfjslI%3D

25.

T. R. Desai J. P. Wong R. E. W. Hancock W. H. Finlay (2001) ArticleTitleA novel approach to the pulmonary delivery of liposomes in dry powder form to eliminate the deleterious effects of milling J. Pharm. Sci. 91 IssueID2 482–491 Occurrence Handle10.1002/jps.10021

26.

A. Haynes M. S. Shaik H. Krapup M. Singh (2004) ArticleTitleEvaluation of the Malvern Spraytec® with inhalation cell for the measurement of particle size distribution from metered dose inhalers J. Pharm. Sci. 93 IssueID2 349–363 Occurrence Handle14705192 Occurrence Handle1:CAS:528:DC%2BD2cXhsFagu7Y%3D Occurrence Handle10.1002/jps.10558

27.

T. A. Standaert D. Vandevanter B. W. Ramsey M. Vasiljev P. Nardella D. Gmur C. Bredl A. Murphy A. B. Montgomery (2000) ArticleTitleThe choice of compressor effects the aerosol parameters and the delivery of tobramycin from a single model nebulizer J. Aerosol Med. 13 IssueID2 147–153 Occurrence Handle11010595 Occurrence Handle1:STN:280:DC%2BD3M%2Fgs1eksw%3D%3D Occurrence Handle10.1089/089426800418677
About this article
Cite this article
Pilcer, G., Sebti, T. & Amighi, K. Formulation and Characterization of Lipid-Coated Tobramycin Particles for Dry Powder Inhalation. Pharm Res 23, 931–940 (2006). https://doi.org/10.1007/s11095-006-9789-4
Received:

Accepted:

Published:

Issue Date:
Key Words
dry powder inhaler (DPI)

lipid-coated particles

pulmonary delivery

spray drying

tobramycin