Purpose
Protein aggregation is a major stability problem of therapeutic proteins. We investigated whether a novel stabilizing peptide [acidic tail of synuclein (ATS) peptide] could be generally used to make a more stable and soluble form of therapeutic proteins, particularly those having solubility or aggregation problems.
Methods
We produced ATS fusion proteins by fusing the stabilizing peptide to three representative therapeutic proteins, and then compared the stress-induced aggregation profiles, thermostability, and solubility of them. We also compared the in vivo stability of these ATS fusion proteins by studying their pharmacokinetics in rats.
Results
The human growth hormone–ATS (hGH–ATS) and granulocyte colony-stimulating factor–ATS (G-CSF–ATS) fusion proteins were fully functional as determined by cell proliferation assay, and the ATS fusion proteins seemed to be very resistant to agitation, freeze/thaw, and heat stresses. The introduction of the ATS peptide significantly increased the storage and thermal stabilities of hGH and G-CSF. The human leptin–ATS fusion protein also seemed to be very resistant to aggregation induced by agitation, freeze/thaw, and heat stresses. Furthermore, the ATS peptide greatly increased the solubility of the fusion proteins. Finally, pharmacokinetic studies in rats revealed that the ATS fusion proteins are also more stable in vivo.
Conclusion
Our data demonstrate that a more stable and soluble form of therapeutic proteins can be produced by fusing the ATS peptide.
Access options
Buy single article
Instant access to the full article PDF.
US$ 39.95
Tax calculation will be finalised during checkout.
Subscribe to journal
Immediate online access to all issues from 2019. Subscription will auto renew annually.
US$ 119
Tax calculation will be finalised during checkout.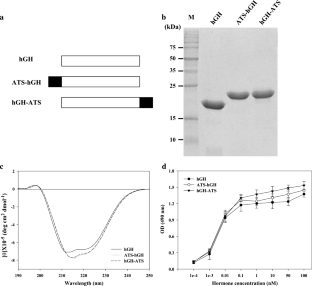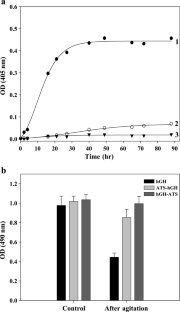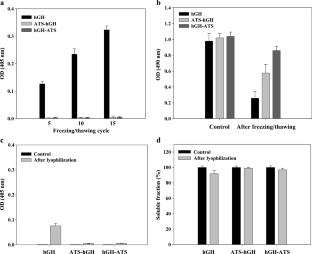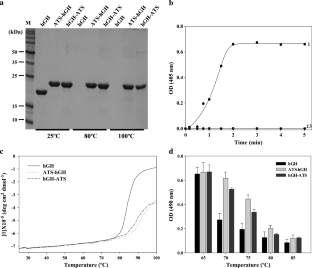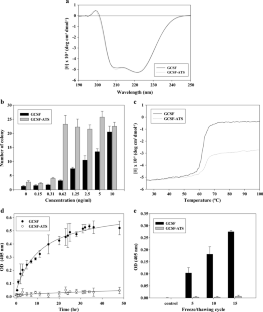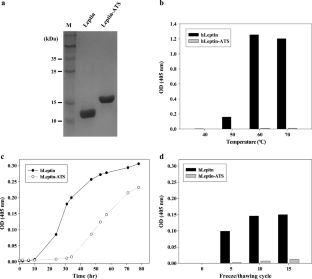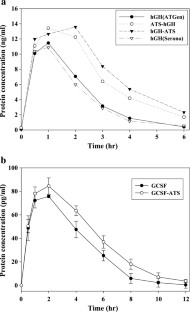 Abbreviations
ATS:

acidic tail of synuclein

CD:

circular dichroism

G-CSF:

granulocyte colony-stimulating factor

GST:

glutathione S-transferase

hGH:

human growth hormone

Tm:

melting temperature

Tu:

temperature for the onset of unfolding
References
1.

J. F. Carpenter B. S. Kendrick B. S. Chang M. C. Manning T. W. Randolph (1999) ArticleTitleInhibition of stress-induced aggregation of protein therapeutics Methods Enzymol. 309 237–255

2.

J. L. Cleland M. F. Powell S. J. Shire (1993) ArticleTitleThe development of stable protein formulations: a close look at protein aggregation, deamidation, and oxidation Crit. Rev. Ther. Drug Carr. Syst. 10 307–377

3.

M. C. Manning K. Patel R. T. Borchardt (1989) ArticleTitleStability of protein pharmaceuticals Pharm. Res. 6 903–918 Occurrence Handle10.1023/A:1015929109894 Occurrence Handle2687836

4.

A. Braun L. Kwee M. A. Labow J. Alsenz (1997) ArticleTitleProtein aggregates seem to play a key role among the parameters influencing the antigenicity of interferon alpha (IFN-α) in normal and transgenic mice Pharm. Res. 14 1472–1478 Occurrence Handle10.1023/A:1012193326789 Occurrence Handle9358564

5.

W. V. Moore P. Leppert (1980) ArticleTitleRole of aggregated human growth hormone (hGH) in development of antibodies to hGH J. Clin. Endocrinol. Metab. 51 691–697 Occurrence Handle7419661

6.

C. A. Thornton M. Ballow (1993) ArticleTitleSafety of intravenous immunoglobulin Arch. Neurol. 50 135–136 Occurrence Handle8431130

7.

R. E. Ratner T. M. Phillips M. Steiner (1990) ArticleTitlePersistent cutaneous insulin allergy resulting from high-molecular-weight insulin aggregates Diabetes 39 728–733 Occurrence Handle2189764

8.

D. C. Robbins S. M. Cooper S. E. Fineberg P. M. Mead (1987) ArticleTitleAntibodies to covalent aggregates of insulin in blood of insulin-using diabetic patients Diabetes 36 838–841 Occurrence Handle2438179

9.

P. Talaga (2001) ArticleTitleBeta-amyloid aggregation inhibitors for the treatment of Alzheimer's disease: dream or reality? Mini Rev. Med. Chem. 1 175–186 Occurrence Handle10.2174/1389557013407098 Occurrence Handle12369982

10.

C. Schlieker B. Bukau A. Mogk (2002) ArticleTitlePrevention and reversion of protein aggregation by molecular chaperones in the E. coli cytosol: implications for their applicability in biotechnology J. Biotechnol. 96 13–21 Occurrence Handle10.1016/S0168-1656(02)00033-0 Occurrence Handle12142139

11.

M. Katakam A. K. Banga (1997) ArticleTitleUse of poloxamer polymers to stabilize recombinant human growth hormone against various processing stresses Pharm. Dev. Technol. 2 143–149 Occurrence Handle9552440

12.

M. Katakam L. N. Bell A. K. Banga (1995) ArticleTitleEffect of surfactants on the physical stability of recombinant human growth hormone J. Pharm. Sci. 84 713–716 Occurrence Handle7562409

13.

M. E. Brewster M. S. Hora J. W. Simpkins N. Bodor (1991) ArticleTitleUse of 2-hydroxypropyl-b-cyclodextrin as a solubilizing and stabilizing excipient for protein drugs Pharm. Res. 8 792–795 Occurrence Handle10.1023/A:1015870521744 Occurrence Handle2062811

14.

D. E. Otzen B. R. Knudsen F. Aachmann K. L. Larsen R. Wimmer (2002) ArticleTitleStructural basis of cyclodextrins' suppression of human growth hormone aggregation Protein Sci. 11 1779–1787 Occurrence Handle10.1110/ps.0202702 Occurrence Handle12070330

15.

L. Bam J. L. Cleland J. Yang M. C. Manning J. F. Carpenter R. F. Kelly T. W. Randolph (1998) ArticleTitleTween protects recombinant human growth hormone against agitation-induced damage via hydrophobic interactions J. Pharm. Sci. 87 1554–1559 Occurrence Handle10.1021/js980175v Occurrence Handle10189266

16.

A. V. Filikov R. J. Hayes P. Luo D. M. Stark C. Chan A. Kundu B. I. Dahiyat (2002) ArticleTitleComputational stabilization of human growth hormone Protein Sci. 11 1452–1461 Occurrence Handle10.1110/ps.3500102 Occurrence Handle12021444

17.

A. A. Schulga A. A. Markarov I. V. Levichkin L. Y. Belousova V. M. Labachov I. I. Protasevich C. N. Pace M. P. Kiroichnikov (2002) ArticleTitleIncreased stability of human growth hormone with reduced lactogenic potency FEBS Lett. 528 257–260 Occurrence Handle10.1016/S0014-5793(02)03325-2 Occurrence Handle12297316

18.

S. M. Park H. Y. Jung K. C. Chung H. Rhim J. H. Park J. Kim (2002) ArticleTitleStress-induced aggregation profiles of GST-α-synuclein fusion proteins: role of the C-terminal acidic tail of α-synuclein in protein thermosolubility and stability Biochemistry 41 4137–4146 Occurrence Handle10.1021/bi015961k Occurrence Handle11900557

19.

S. M. Park K. J. Ahn H. Y. Jung J. H. Park J. Kim (2004) ArticleTitleEffects of novel peptides derived from the acidic tail of synuclein (ATS) on the aggregation and stability of fusion proteins Protein Eng. Des. Sel. 17 251–260 Occurrence Handle10.1093/protein/gzh029 Occurrence Handle15067107

20.

J. Kim Y. J. Chwae M. Y. Kim I. H. Choi J. H. Park S. J. Kim (1997) ArticleTitleMolecular basis of HLA-C recognition by p58 natural killer cell inhibitory receptors J. Immunol. 159 3875–3882 Occurrence Handle9378975

21.

A. K. Patra R. Mukhopadhyay R. Mukhija A. Krishnan L. C. Garg A. K. Panda (2000) ArticleTitleOptimization of inclusion body solubilization and renaturation of recombinant human growth hormone from Escherichia coli Protein Expr. Purif. 18 182–192 Occurrence Handle10.1006/prep.1999.1179 Occurrence Handle10686149

22.

D. V. Goeddel H. L. Heynecker T. Hozumi R. Arentzen K. Itakura D. G. Yansura M. J. Ross G. Miozzari R. Crea P. H. Seeburg (1979) ArticleTitleDirect expression in Escherichia coli of a DNA sequence coding for human growth hormone Nature 281 544–548 Occurrence Handle10.1038/281544a0 Occurrence Handle386136

23.

M. H. Ultsch W. Somers A. A. Kossiakoff A. M. Vos ParticleDe (1994) ArticleTitleThe crystal structure of affinity-matured human growth hormone at 2 A resolution J. Mol. Biol. 236 286–299 Occurrence Handle10.1006/jmbi.1994.1135 Occurrence Handle8107110

24.

E. A. Zhukovsky M. G. Mulkerrin L. G. Presta (1994) ArticleTitleContribution to global protein stabilization of the N-capping box in human growth hormone Biochemistry 33 9856–9864 Occurrence Handle10.1021/bi00199a006 Occurrence Handle8060992

25.

F. C. Peterson C. L. Brooks (1997) ArticleTitleIdentification of a motif associated with the lactogenic actions of human growth hormone J. Biol. Chem. 272 21444–21448 Occurrence Handle10.1074/jbc.272.34.21444 Occurrence Handle9261160

26.

T. Tanaka R. P. Shiu P. W. Gout C. T. Beer R. L. Noble H. G. Friesen (1980) ArticleTitleA new sensitive and specific bioassay for lactogenic hormones: measurement of prolactin and growth hormone in human serum J. Clin. Endocrinol. Metab. 51 1058–1063 Occurrence Handle7419681

27.

M. T. Dattani P. C. Hindmarsh C. G. D. Brook I. C. Robinson J. J. Kopchick N. J. Marshall (1995) ArticleTitleG120R, a human growth hormone antagonist, shows zinc-dependent agonist and antagonist activity on Nb2 cells J. Biol. Chem. 270 9222–9226 Occurrence Handle10.1074/jbc.270.16.9222 Occurrence Handle7721840

28.

Y. F. Maa C. C. Hsu (1997) ArticleTitleProtein denaturation by combined effect of shear and air–liquid interface Biotechnol. Bioeng. 54 503–512 Occurrence Handle10.1002/(SICI)1097-0290(19970620)54:6<503::AID-BIT1>3.0.CO;2-N

29.

B. M. Eckhardt J. Q. Oeswein T. A. Bewley (1991) ArticleTitleEffect of freezing on aggregation of human growth hormone Pharm. Res. 8 1360–1364 Occurrence Handle10.1023/A:1015888704365 Occurrence Handle1798670

30.

S. A. Charman M. L. Mason W. N. Charman (1993) ArticleTitleTechniques for assessing the effects of pharmaceutical excipients on the aggregation of porcine growth hormone Pharm. Res. 10 954–962 Occurrence Handle10.1023/A:1018994102218 Occurrence Handle8378257

31.

P. Luo R. J. Hayes C. Chan D. M. Stark M. Y. Hwang J. M. Jacinto P. Juvvadi H. S. Chung A. Keundu M. L. Ary B. I. Dahiyat (2002) ArticleTitleDevelopment of a cytokine analog with enhanced stability using computational ultrahigh throughput screening Protein Sci. 11 1218–1226 Occurrence Handle10.1110/ps.4580102 Occurrence Handle11967378

32.

B. Bishop D. C. Koay A. C. Sartorelli L. Regan (2001) ArticleTitleReengineering granulocyte colony-stimulating factor for enhanced stability J. Biol. Chem. 276 33465–33470 Occurrence Handle10.1074/jbc.M104494200 Occurrence Handle11406632

33.

M. J. Treuheit A. A. Kosky D. N. Brems (2002) ArticleTitleInverse relationship of protein concentration and aggregation Pharm. Res. 19 511–516 Occurrence Handle10.1023/A:1015108115452 Occurrence Handle12033388

34.

F. Zhang M. B. Basinski J. M. Beals S. L. Briggs L. M. Churgay D. K. Clawson R. D. DiMarchi T. C. Furman J. E. Hale H. M. Hsiung B. E. Schoner D. P. Smith X. Y. Zhang J. P. Wery R. W. Schevitz (1997) ArticleTitleCrystal structure of the obese protein leptin-E100 Nature 387 206–209 Occurrence Handle10.1038/387206a0 Occurrence Handle9144295

35.

C. Tanford (1961) Physical Chemistry of Macromolecules John Wiley and Sons, Inc. New York

36.

S. J. Shire Z. Shahrokh J. Liu (2004) ArticleTitleChallenges in the development of high protein concentration formulations J. Pharm. Sci. 93 1390–1402 Occurrence Handle10.1002/jps.20079 Occurrence Handle15124199

37.

C. B. Lucking A. Brice (2000) ArticleTitleα-Synuclein and Parkinson's disease Cell. Mol. Life Sci. 57 1894–1908 Occurrence Handle11215516

38.

S. M. Park H. Y. Jung T. D. Kim J. H. Park C. H. Yang J. Kim (2002) ArticleTitleDistinct roles of the N-terminal-binding domain and the C-terminal-solubilizing domain of α-synuclein, a molecular chaperone J. Biol. Chem. 277 28512–28520 Occurrence Handle10.1074/jbc.M111971200 Occurrence Handle12032141

39.

W. Wang (2000) ArticleTitleLyophilization and development of solid protein pharmaceuticals Int. J. Pharm. 203 1–60 Occurrence Handle10.1016/S0378-5173(00)00423-3 Occurrence Handle10967427

40.

W. Wang (1999) ArticleTitleInstability, stabilization, and formation of liquid protein pharmaceuticals Int. J. Pharm. 185 129–188 Occurrence Handle10.1016/S0378-5173(99)00152-0 Occurrence Handle10460913

41.

H. S. Lu C. L. Clogston L. O. Narhi L. A. Merewether W. R. Pearl T. C. Boone (1992) ArticleTitleFolding and oxidation of recombinant human granulocyte colony stimulating factor produced in Escherichia coli: Characterization of the disulfide-reduced intermediates and cysteine-serine analogs J. Biol. Chem. 267 8770–8777 Occurrence Handle1374379

42.

K. J. Jeong S. Y. Lee (1999) ArticleTitleHigh-level production of human leptin by fed-batch cultivation of recombinant Escherichia coli and its purification Appl. Environ. Microbiol. 65 3027–3032 Occurrence Handle10388699

43.

T. D. Kim H. J. Ryu H. I. Cho C. H. Yang J. Kim (2000) ArticleTitleThermal behavior of proteins: heat-resistant proteins and their heat-induced secondary structural changes Biochemistry 39 14839–14846 Occurrence Handle10.1021/bi001441y Occurrence Handle11101300

44.

M. M. Bradford (1976) ArticleTitleA rapid and sensitive method for the quantitation of microgram quantities of protein utilizing the principle of protein-dye binding Anal. Biochem. 72 248–254 Occurrence Handle942051

45.

M. Okabe M. Asano Y. Komatsu M. Yamasaki Y. Yokoo S. Itoh M. Morimoto T. Oka (1990) ArticleTitleIn vitro and in vivo hematopoietic effect of mutant human granulocyte colony-stimulating factor Blood 75 1788–1793 Occurrence Handle1691933

46.

B. L. Osborn L. Sekut M. Corcoran C. Poortman B. Sturm G. Chen D. Mather H. L. Lin T. J. Parry (2002) ArticleTitleAlbutropin: a growth hormone-albumin fusion with improved pharmacokinetics and pharmacodynamics in rats and monkeys Eur. J. Pharmacol. 456 149–158 Occurrence Handle10.1016/S0014-2999(02)02644-4 Occurrence Handle12450581
Acknowledgments
We thank Dr. S.M. Park and K.J. Ahn for their technical assistance. This work was supported in part by a grant (R13-2002-054-02002-0) from the basic research program of the KOSEF.
Additional information
E. N. Lee and Y. M. Kim equally contributed to this work.
About this article
Cite this article
Lee, E.N., Kim, Y.M., Lee, H.J. et al. Stabilizing Peptide Fusion for Solving the Stability and Solubility Problems of Therapeutic Proteins. Pharm Res 22, 1735–1746 (2005). https://doi.org/10.1007/s11095-005-6489-4
Received:

Accepted:

Published:

Issue Date:
Key Words
protein aggregation

protein solubility

protein stability

stabilizing peptide

therapeutic proteins