Comparative analysis of the primary structure of recombinant human follicle-stimulating hormone (r-hFSH) in samples of follitropin alpha biosimilar (FAB) preparation and the reference drug Gonal-F showed they were identical while spectral analysis of their secondary and tertiary structures indicated they were bioequivalent. Analytical results for N-glycans and sialic acids revealed that the main glycan structures were similar and the distributions of the main forms of sialic acids in the compared samples differed insignificantly. Results of in vitro and in vivo biological activity testing confirmed that FAB and Gonal-F were equivalent with respect to WHO standards. Comparative testing of the acute and subacute toxicity did not reveal significant differences between the two drugs and also confirmed they were identical. Thus, the investigation proved that FAB and the reference drug were equivalent with respect to the main physicochemical, pharmacodynamic, and toxicological characteristics.
This is a preview of subscription content, log in to check access.
Access options
Buy single article
Instant access to the full article PDF.
US$ 39.95
Price includes VAT for USA
Subscribe to journal
Immediate online access to all issues from 2019. Subscription will auto renew annually.
US$ 199
This is the net price. Taxes to be calculated in checkout.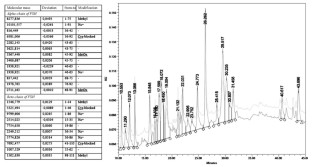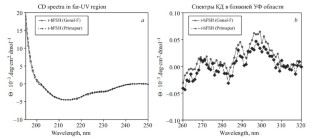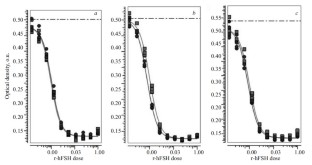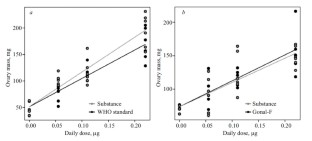 References
1.

E. McVeigh, R. Homburg, and J. Guillebaud, "Ovulation Induction," in: Oxford Handbook of Reproductive Medicine and Family Planning, Oxford Univ. Press (2008), pp. 173 – 190.

2.

M. van Wely, I. Kwan, A. L. Burt, et al., Cochrane Database Syst Rev., DOI: 10.1002/14651858.CD005354.pub2 (2011).

3.

M. Dhont, Int. Congr. Ser., 1279, 3 – 9 (2005).

4.

I. I. Vorob'ev, N. A. Orlova, S. V. Kovnir, and Yu. A. Khodak, RU Pat. No. 2,560,596, Mar. 27, 2015.

5.

I. I. Vorob'ev, S. V. Kovnir, N. A. Orlova, et al., Razrab. Regist. Lek. Sredstv, 4(13), 48 – 52 (2015).

6.

Committee for Medicinal Products for Human Use. Guideline on non-clinical and clinical development of similar biological medicinal products containing recombinant human follicle stimulating hormone (r-hFSH), EMA / 597110 / 2012 (2013).

7.

Guide to Drug Review [in Russian], Vol. I, Grif i K, Moscow (2014).

8.

Guide to Drug Review [in Russian], Vol. IV, Poligraf-Polyus, Moscow (2014).

9.

Guide to Preclinical Drug Trials [in Russian], Part 1, Grif i K, Moscow (2013).

10.

Preclinical and Clinical Studies of Biosimilar Preparations: Methodical Recommendations of NTsESMP of the Russian Ministry of Health No. 02-01 / 01-02 / 09-2013, Moscow (2013).

11.

12.

E. N. Baryshnikova, B. S. Melnik, A. V. Finkelstein, et al., Protein Sci., 10, 2658 – 2667 (2005).

13.

J. Rohde, C. D. Demmler, F. Mueller, et al., ALTEX Proc., 1/12, 89 – 99 (2012).

14.

Guide for the Care and Use of Laboratory Animals, 8th Ed., National Academies Press, Washington, DC, USA (2011).

15.

S. L. Steelman and F. M. Pohley, Endocrinology, 53(6), 604 – 616 (1953).

16.

Guidance for Industry Estimating the Maximum Safe Starting Dose in Initial Clinical Trials for Therapeutics in Adult Health Volunteers, Food and Drug Administration Center for Drug Evaluation and Research, Center for Drug Evaluation and Research (CDER), FDA, July 2005, Pharmacology and Toxicology.

17.

Ya. Buresh, O. Bureshova, P. Dzhozef, et al., Methods and Basic Experiments for Studying Brain and Behavior [in Russian], Moscow (1991), pp. 119 – 122.

18.

V. V. Semchenko, S. A. Barashkova, V. N. Nozdrin, and V. N. Artem'ev, Histological Techniques: Student Aide [in Russian], Omskaya Oblastnaya Tipografiya, Omsk-Orel (2006).

22.

Recombinant Human FSH Product Development Group. Recombinant follicle stimulating hormone: development of the first biotechnology product for the treatment of infertility, Hum. Reprod. Update, 4(6), 862 – 881 (1998).

23.

K. L. Goa and A. J. Wagstaff, BioDrugs, 9(3), 235 – 260 (1998).

24.

A. D. McNaught, Adv. Carbohydr. Chem. Biochem., 52, 43 – 177 (1997).

25.

A. Varki, Glycobiology, 2(1), 25 – 40 (1992).

26.

D. Ghaderi, M. Zhang, N. Hurtado-Ziola, and A. Varki, Biotechnol. Genet. Eng. Rev., 28, 147 – 175 (2012).

27.

P. D. Chamberlain, Biosimilars, 4, 23 – 43 (2014).

28.

S. M. Downs and A. M. Mastropolo, Dev. Biol., 162, 154 – 168 (1994).

29.

R. B. Oonk, J. A. Grootegoed, and H. J. van der Molen, Mol. Cell. Endocrinol., 42(1), 39 – 48 (1985).
Additional information
Translated from Khimiko-Farmatsevticheskii Zhurnal, Vol. 50, No. 11, pp. 35 – 42, November, 2016.
About this article
Cite this article
Vorob'ev, I.I., Proskurina, O.V., Khodak, Y.A. et al. Physicochemical Properties, Toxicity, and Specific Activity of a Follitropin Alpha Biosimilar. Pharm Chem J 50, 753–760 (2017). https://doi.org/10.1007/s11094-017-1525-3
Received:

Published:

Issue Date:
Keywords
recombinant human follicle-stimulating hormone (r-hFSH)

preclinical investigation

Gonal-F