We report here the first identification and assay of several phenolic compounds in the dwarf Labrador tea growing in various areas of the Yamalo-Nenets Autonomous District, using HPLC. Nine phenolic compounds were identified, these being flavonoids, phenolcarbonic acids, catechols, and tannins: tannin, epicatechin, gallic, chlorogenic, and caffeic acids, and the flavonoids vitexin, rutin, dihydroquercetin, and luteolin-7-glycoside. Investigations of the dwarf Labrador tea may be of interest for its further study with the aim of broadening the native raw materials base for this medicinal material. The presence of tannin, gallic acid, and vitexin in significant quantities in this material suggests that dwarf Labrador tea shoots may have a wide spectrum of pharmacological activity.
Access options
Buy single article
Instant access to the full article PDF.
USD 39.95
Price includes VAT (USA)
Tax calculation will be finalised during checkout.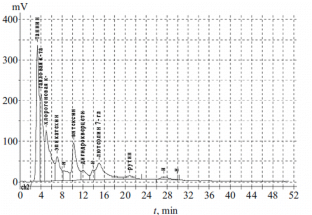 References
1.

Yu. E. Alekseev, S. A. Balandin, and M. G. Vakhrameeva, Plants of the Tundra [in Russian], Klassik Stil', Moscow (2003).

2.

M. M. Ganina, Vest. Nevrol. Psikh. Neirokhirurg., No. 5, 67 – 70 (2010).

3.

M. M. Ganina, Vest. Nevrol. Psikh. Neirokhirurg., No. 5, 71 – 72 (2010).

4.

E. A. Gubanova and O. I. Popova, Vopr. Biol. Med. Farm. Khimii, No. 3, 42 – 44 (2010).

5.

O. I. Popova, V. V. Chumakova, A. S. Nikitina, et al., Vopr. Biol. Med. Farm. Khimii, No. 9, 11 – 17 (2010).

6.

USSR State Pharmacopeia, Part 2, Meditsina, Moscow, 11th edition (1989).

7.

R. A. Bubenchikov and N. F. Goncharova, Khim-Farm. Zh., 39(3), 31 – 32 (2005); Pharm. Chem. J., 39(3), 143 – 144 (2005).
Additional information
Translated from Khimiko-Farmatsevticheskii Zhurnal, Vol. 49, No. 7, pp. 33 – 35, July, 2015.
About this article
Cite this article
Ganina, M.M., Popova, O.I. Contents of Phenolic Compounds in Ledum Procumbens (Ledum Decumbens Lodd. Ex Steud) Shoots Growing on the Territory of the Yamalo-Nenets Autonomous Region. Pharm Chem J 49, 467–469 (2015). https://doi.org/10.1007/s11094-015-1306-9
Received:

Published:

Issue Date:
Keywords
dwarf Labrador tea

raw material

phenolic compounds

vitexin

gallic acid