Novel acridines (4a – 4l) were synthesized by reaction of tetraketones (3a, 3b) and aromatic amines. The structures of compounds were characterized by FT-IR, 1H NMR, mass spectroscopy, and elemental analysis. Furthermore, all the synthesized compounds were tested in vitro for their antimicrobial and antifungal activity. The results were compared with conventional reference antibiotics. Many of the acridine compounds considerably reacted against Esherichia coli, Pseudomonas aeruginosa, Salmonella enteritidis, and Staphylococcus aureus. Particularly, compound 4k showed more pronounced activity than reference antibiotics against Salmonella enteritidis. All the compounds showed moderate activities against Candida albicans and Candida glabrata.
Access options
Buy single article
Instant access to the full article PDF.
USD 39.95
Price excludes VAT (USA)
Tax calculation will be finalised during checkout.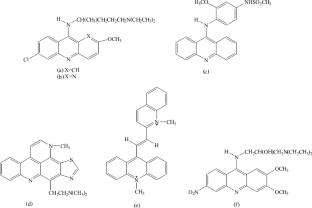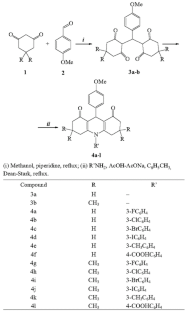 References
(a) P. Murugan and V. T. Ramakrishnan, Indian J. Chem. B. Org., 40, 78 (2001); (b) P. Shanmugasundaram, P. Murugan, V. T. Ramakrishnan, et al., Heteroatom Chem., 7, 17 (1997). 2. G. P. Hua, X. J. Zhang, F. Shi, et al., Chin. J. Chem., 23, 1646 (2005).

(a) B. Das, P. Thirupathi, I. Mahender, et al., J. Mol. Catal. Chem., 247, 233 (2006); (b) T. S. Jin, J. S. Zhang, T. T. Guo, et al., Synthesis, 2001 (2004)

M. Kaya, Y. Yildirir, and G. Y. Celik, Med. Chem. Res., 20, 293 (2011).

A. Srivastava and A. Nizamuddin, Indian J. Heterocycl. Chem., 13, 261 (2004).

G. Cholewinski, K. Dzierzbicka, and A. M. Kolodziejczyk, Pharmacol. Rep., 63, 305 (2011).

I. Antonini, P. Polucci, L. R. Kelland, et al., J. Med. Chem., 42, 2535 (1999).

S. A. Gamega, J. A. Spicer, G. J. Atwell, et al., J. Med. Chem., 42, 2383 (1999).

C. Millot, J. M. Millot, H. Morjani, et al., J. Histochem. Cytochem., 45, 1255 (1997).

O. Berkan, B. Sarac, R. Simsek, et al., Eur. J. Med. Chem., 37, 519 (2002).

B. G. Katzung, Basic and Clinical Pharmacology, Lange Medical Books – McGraw-Hill, New York (1998), pp. 45 – 46.

(a) G. J. Atwell, B. C. Baguley, D. Wilmanska, and W. A. Denny, J. Med. Chem., 29, 69 (1986); (b) M. K. Piestrzeniewicz, D. Wilmanska, K. Studzian, et al., Naturforsch C. Biosci., 53, 359 (1998).

(a) E. C. Horning and M. G. Horning, J. Org. Chem., 11, 95 (1946); (b) F. E. King and D. G. I. Felton, J. Chem. Soc. Chem. Comm., 1371 (1948).

M. Kaya, Y. Yildirir, and L. Türker, J. Heterocycl. Chem., 46, 294 (2009).
Acknowledgments
The authors are very grateful to Dumlupýnar University Research Fund for providing financial support for this project (Grant No. 2011-16).
About this article
Cite this article
Kaya, M., Yıldırır, Y. & Çelik, G.Y. Synthesis, Characterization, and In Vitro Antimicrobial and Antifungal Activity of Novel Acridines. Pharm Chem J 48, 722–726 (2015). https://doi.org/10.1007/s11094-015-1181-4
Received:

Published:

Issue Date:

DOI: https://doi.org/10.1007/s11094-015-1181-4
Keywords
acridine

cyclizations

antimicrobial activity

atifungal activity

antibiotic