Silver sulfadiazine (Ag-SD) was introduced as an antibacterial agent for topical treatment of burns and healing of wounds. But when sliver is ingested it caused severe complication like gastro-intestinal tract damages and disturbances, convulsions and shock, which may lead to death. Glutathione, containing sulfhydryl group, has strong affinity for silver and may interact with silver. In the present study, Ellman's method was used to investigate spectophotometrically the effects of silver sulfadiazine on glutathione under various conditions in aqueous medium. It was found that the interaction of silver with glutathione causes depletion of glutathione in aqueous medium. This effect was more pronounced with increasing concentration of silver and with extended time of incubation. The maximum decline in glutathione was also observed at physiological pH (~7.6) and temperature (37°C). This decrease in glutathione level in aqueous medium may be due to conjugation of silver with glutathione (Ag-GS conjugate). From this finding, we can conclude that glutathione has significant role in the detoxification of silver, which further suggests the use of glutathione supplement in the management of silver-related toxicity.
This is a preview of subscription content,
to check access.
Access this article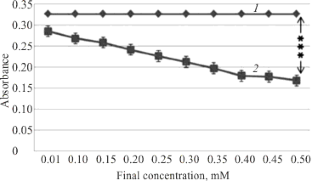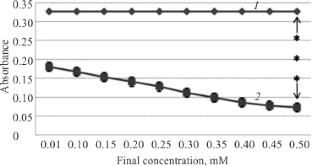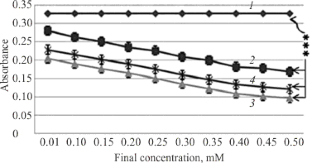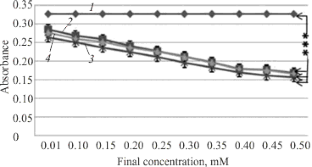 Similar content being viewed by others
References
C. L Fox. Silver Sulfadiazine Addendum to Local Therapy, in Modern Treatment, Harper and Row, New York (1967), p. 1259.

S. Bishara, C. Michel, and N. Shady, Burns, 33, 139 – 148 (2007).

W. Stanford, B. W. Rappole, and C. L. Fox, J. Trauma, 9, 377 – 388 (1969).

H. J. Klasen, Burns, 26(2), 131 – 138 (2000).

K. Ziegler, R. Gorl, J. Effing, et al., Skin Pharmacol. Physiol., 19(3), 140 – 146 (2006).

R. S. Kirsner, H. Orstead, and J. B. Wright, Wounds, 13, 5 – 12 (2001).

A. V. Bechert, P. Steinrucke, M. Wagener, et al., Biomaterials, 25(18), 4383 – 4391(2004).

H. Liedberg and T. Lundeberg, Urol. Res., 17, 359 – 360 (1989).

F. Q. Zhang, W. J. She, and Y. F. Fu, Zhonghua Kou Qiang Yi Xue Za Zhi, 40(6), 504 – 507 (2005).

S. M. Hussain, K. L. Hess, J. M. Gearhart, et al., Toxicol. In-Vitro, 19(7), 975 – 983 (2005).

Z. H. Verjee and R. Behal, Clin. Chim. Acta., 70, 139 – 147 (1976).

J. D. Hayes and D. J. Pulford, Crit. Rev. Biochem. Mol. Biol., 30(6), 445 – 600 (1995).

A. Meister, Gluthathione, in The Liver Biology and Pathobiology, Ed. by I. M. Aria et al., Raven Press, New York (1988), pp. 401 – 417.

G. L. Ellman, Arch. Biochem. Biophys., 82(1), 70 – 77 (1959).

M. Magda and S. Helmut, Comp. Biochem. Physiol., Part A, 120, 83 – 88 (1998).

R. Pearson and R. Mawby, The Nature of Metal – Halogen Bonds, in Halogen Chemistry, Ed. by V. Gutmann, Academic Press, London (1967), Vol. 3, pp. 55 – 84.

D. L. Rabenstein and D. A. Keire, in Glutathione, Ed. by D. Dolphin et al., Wiley, New York (1989), Part A, pp. 147 – 86.
About this article
Cite this article
Khan, H., Khan, M.F. & Khan, B.A. Coordination of Silver Sulfadiazine with Glutathione in Aqueous Medium. Pharm Chem J 48, 269–272 (2014). https://doi.org/10.1007/s11094-014-1091-x
Received:

Published:

Issue Date:

DOI: https://doi.org/10.1007/s11094-014-1091-x
Keywords