Abstract
The present study examined whether prejudices towards Islam can be altered through corrective information. A total of 1715 German participants were first asked to appraise their opinions towards Judaism, Christianity and Islam (the ratings pertained to progressiveness, tolerance, peacefulness). Subsequently, questions regarding knowledge about religious topics were posed to participants. Questions were selected to elicit common prejudices pertaining to Islam. The correct answers were then displayed along with detailed explanations. Finally, participants were asked to rate their current opinion towards the three religions once again. Opinions towards Islam were largely negative at baseline but improved significantly after presentation of the correct answers. The present study suggests that prejudices against Islam are partially fueled by knowledge gaps.
This is a preview of subscription content, log in to check access.
Access options
Buy single article
Instant access to the full article PDF.
US$ 39.95
Price includes VAT for USA
Subscribe to journal
Immediate online access to all issues from 2019. Subscription will auto renew annually.
US$ 99
This is the net price. Taxes to be calculated in checkout.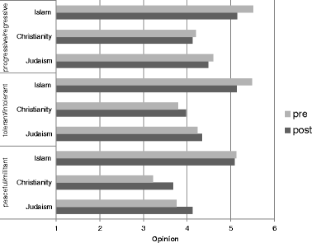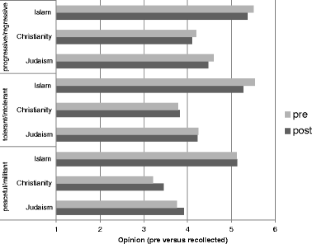 References
ABC News/Washington Post Poll (2008). Broad skepticism of Islam marks post-9/11 sentiment. Washington, DC: ABC News/Washington Post.

Ajzen, I., Nicholas, J., Sheikh, S., & Gilbert Cote, N. (2011). Knowledge and the prediction of behavior: The role of information accuracy in the theory of planned behavior. Basic and Applied Social Psychology, 33, 101–117.

Ali, S. S., & Rehman, J. (2005). The concept of Jihad in Islamic international law. Journal of Conflict and Security Law, 10, 321–343.

Ali, A., Brakhw, M. A., Bin Nordin, M. Z. F., & Ismail, S. F. S. (2012). Some linguistic difficulties in translating the holy Quran from Arabic into English. International Journal of Social Science and Humanity, 2, 588–590.

Aly, A. (2007). Australian Muslim responses to the discourse on terrorism in the Australian popular media. Australian Journal of Social Issues, 42, 27–40.

Angus Reid Global (2013). Canadians view non-Christian religions with uncertainty, dislike. Vancouver: Angus Reid Global.

Arab American Institute (2014). American attitudes toward arabs and muslims. Washington, DC: Arab American Institute.

Bernstein, D. M., Erdfelder, E., Meltzoff, A. N., Peria, W., & Loftus, G. R. (2011). Hindsight bias from 3 to 95 years of age. Journal of Experimental Psychology: Learning, Memory, and Cognition, 37, 378–391.

Cesari, J. (2010). Islam is a religion, not a terror ideology, CNN.com. http://edition.cnn.com/2010/OPINION/08/24/cesari.islam.is.a.religion/. Accessed 22 Nov 2014.

Dunn, K. M. (2005). Australian public knowledge of Islam. Indonesian Journal for Islamic Studies, 12, 1–32.

Fetzer, J. S., & Soper, J. C. (2003). The roots of public attitudes toward state accommodation of European Muslims' religious practices before and after September 11. Journal for the Scientific Study of Religion, 42, 247–258.

Fink, S. (2014). Fear under construction: Islamophobia within American Christian zionism. Islamophobia Studies Journal, 2, 26–43.

Gebauer, J. E., Göritz, A. S., Hofmann, W., & Sedikides, C. (2012). Self-love or other-love? Explicit other-preference but implicit self-preference. PLoS ONE, 7(7), e41789.

González, K. V., Verkuyten, M., Weesie, J., & Poppe, E. (2008). Prejudice towards Muslims in the Netherlands: Testing integrated threat theory. British Journal of Social Psychology, 47, 667–685.

Göritz, A. S. (2007). Using online panels in psychological research. In A. N. Joinson, K. Y. A. McKenna, T. Postmes, & U.-D. Reips (Eds.), The Oxford handbook of internet psychology (pp. 473–485). Oxford: Oxford University Press.

Göritz, A. S. (2014). Determinants of the starting rate and the completion rate in online panel studies. In M. Callegaro, R. Baker, J. Bethlehem, A. S. Göritz, J. A. Krosnick, & P. J. Lavrakas (Eds.), Online panel research: A data quality perspective (pp. 154–170). Chichester: Wiley.

Haug, S., Müssig, S., & Stichs, A. (2009). Muslim life in Germany: A study conducted on behalf of the German conference on Islam (Vol. 1). Berlin: Bundesamt für Migration und Flüchtlinge.

Hervik, P. (2012). The Danish Muhammad cartoon conflict. Malmö: Malmö University.

Hussain, M. (2000). Islam, media and minorities in Denmark. Current Sociology, 48, 95–116.

Jackson, R. (2007). Constructing enemies: 'Islamic Terrorism' in political and academic discourse. Government and Opposition, 42, 394–426.

Jorgensen, O., Backstrom, M., & Bjorklund, F. (2013). Bidirectional correction in social judgments: How a cue to the risk of bias causes more favorable ratings of some groups but less favorable of others. Journal of Social Psychology, 153, 131–148.

Judge, T. A., Ilies, R., & Scott, B. A. (2006). Work-family conflict and emotions: Effects at work and at home. Personnel Psychology, 59, 779–814.

Kunst, J. R., & Thomsen, L. (2015). Prodigal sons: Dual Abrahamic categorization mediates the detrimental effects of religious fundamentalism on Christian-Muslim relations. International Journal for the Psychology of Religion, 25, 293–306.

Lee, S. A., Gibbons, J. A., Thompson, J. M., & Timani, H. S. (2009). The Islamophobia Scale: Instrument development and initial validation. International Journal for the Psychology of Religion, 19, 92–105.

Moritz, S., Andreou, C., Schneider, B. C., Wittekind, C. E., Menon, M., Balzan, R. P., & Woodward, T. S. (2014). Sowing the seeds of doubt: Anarrative review on metacognitive training in schizophrenia. Clinical Psychology Review, 34, 358–366.

Open Society Institute (2010). Muslims in Europe. A report on 11 EU cities. New York: Open Society Institute.

Panagopoulos, C. (2006). The polls-trends: Arab and Muslim Americans and Islam in the aftermath of 9/11. Public Opinion Quarterly, 70, 608–624.

Park, J., Felix, K., & Lee, G. (2007). Implicit attitudes toward Arab-Muslims and the moderating effects of social information. Basic and Applied Social Psychology, 29, 35–45.

Pew Research Center (2003). Religion and politics: Contention and consensus. Washington, DC: Pew Research Center.

Pew Research Center (2014). How Americans feel about religious groups—Jews, Catholics & Evangelicals rated warmly, atheists and Muslims more coldly. Washington, DC: Pew Research Center.

Piccolo, R. F., & Colquitt, J. A. (2006). Transformational leadership and job behaviors: The mediating role of core job characteristics. Academy of Management Journal, 49, 327–340.

Pitz, G. (1969). An inertia effect (resistance to change) in the revision of opinion. Canadian Journal of Psychology, 23, 24–33.

Pohl, R. F. (2004). Hindsight bias. In R. F. Pohl (Ed.), Cognitive illusions: A handbook on fallacies and biases in thinking, judgement and memory (pp. 363–378). Hove: Psychology Press.

Pollack, S. (2010). Wahrnehmung und Akzeptanz religiöser Vielfalt [Perception and acceptance of religious diversity]. Münster: Westfälische Wilhelms-Universität Münster.

Rowatt, W. C., Franklin, L. M., & Cotton, M. (2005). Patterns and personality correlates of implicit and explicit attitudes toward Christians and Muslims. Journal for the Scientific Study of Religion, 44, 29–43.

Savage, T. M. (2004). Europe and Islam: Crescent waxing, cultures clashing. Washington Quarterly, 27, 25–50.

Schneider, J., Fincke, G., & Will, A.-K. (2013). Muslime in der Mehrheitsgesellschaft: Medienbild und Alltagserfahrungen in Deutschland [Muslims in the majority society: Reflection in the media and everyday experiences in Germany]. Berlin: Sachverständigenrat deutscher Stiftungen für Integration und Migration (SVR) GmbH.

Zajonc, R. B. (1968). Attitudinal effects of mere exposure. Journal of Personality and Social Psychology, 9, 1–27.

Zdanowski, J. (2008). Christianity and Islam. Focus on Oriental Studies, 17, 12–15.
About this article
Cite this article
Moritz, S., Göritz, A.S., Kühn, S. et al. Muslims Love Jesus, Too? Corrective Information Alters Prejudices Against Islam. Pastoral Psychol 66, 65–77 (2017). https://doi.org/10.1007/s11089-016-0706-4
Keywords
Religion

Islam

Christianity

Judaism

Prejudices

Opinion