Abstract
Gas-phase molecular adsorption was investigated as a model for molecular cloud formation. Molecular adsorption on cold gas-phase hydrogen-bonded clusters containing protonated tryptophan (Trp) enantiomers and monosaccharides such as methyl-α-d-glucoside, d-ribose, and d-arabinose was detected using a tandem mass spectrometer equipped with an electrospray ionization source and cold ion trap. The adsorption sites on the surface of cold gas-phase hydrogen-bonded cluster ions were quantified using gas-phase N2 adsorption-mass spectrometry. The gas-phase N2 adsorption experiments indicated that the number of adsorption sites on the surface of the hydrogen-bonded heterochiral clusters containing l-Trp and d-monosaccharides exceeded the number of adsorption sites on the homochiral clusters containing d-Trp and d-monosaccharides. H2O molecules were preferentially adsorbed on the heterochiral clusters, and larger water clusters were formed in the gas phase. Physical and chemical properties of cold gas-phase hydrogen-bonded clusters containing biological molecules were useful for investigating enantiomer selectivity and chemical evolution in interstellar molecular clouds.
Graphical abstract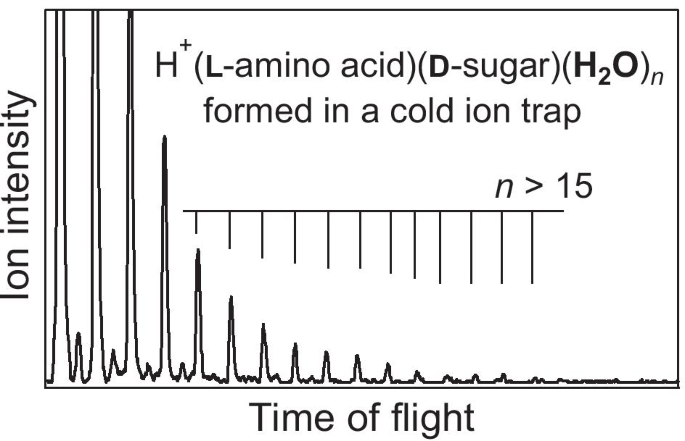 Access options
Buy single article
Instant access to the full article PDF.
US$ 39.95
Tax calculation will be finalised during checkout.
Subscribe to journal
Immediate online access to all issues from 2019. Subscription will auto renew annually.
US$ 79
Tax calculation will be finalised during checkout.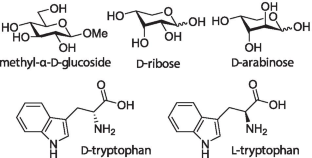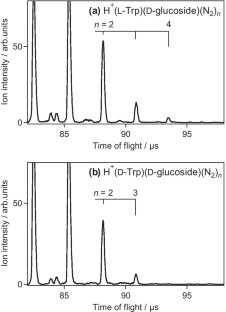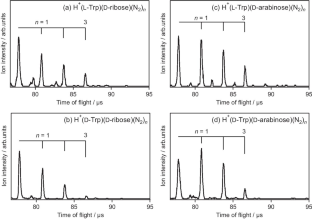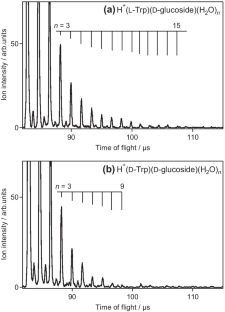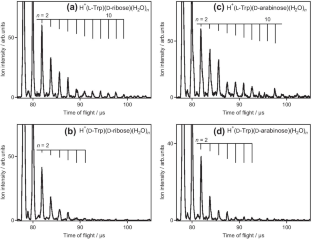 References
Abplanalp MJ, Förestel M, Kaiser RI (2016) Exploiting single photon vacuum ultraviolet photoionization to unravel the synthesis of complex organic molecules in interstellar ices. Chem Phys Lett 644:79–98

Bailey J, Chrysostomou A, Hough JH, Gledhill TM, McCall A, Clark S, Ménard F, Tamura M (1998) Circular polarization in star-formation regions: implications for biomolecular homochirality. Science 281:672–674

Bernstein MP, Dworkin JP, Sandford SA, Cooper GW, Allamandola LJ (2002) Racemic amino acids from the ultraviolet photolysis of interstellar ice analogues. Nature 416:401–403

Callis PR, Liu T (2004) Quantitative prediction of fluorescence quantum yields for tryptophan in proteins. J Phys Chem B 108:4248–4259

Campbell MT, Chen D, Wallbillich NJ, Glish GL (2017) Distinguishing biologically relevant hexoses by water adduction to the lithium-cationized molecule. Anal Chem 89:10504–10510

Candace MP, Lee JC (2010) Tryptophan probes at the α-synuclein and membrane interface. J Phys Chem B 114:4615–4622

Cleeves LI, Bergin EA, Alexander CMO'D, Du F, Graninger D, Öberg KI, Harries TJ, (2014) The ancient heritage of water ice in the solar system. Science 345:1590–1593

Cooper G, Rios AC (2016) Enantiomer excesses of rare and common sugar derivatives in carbonaceous meteorites. Proc Natl Acad Sci USA 113:E3322–E3331

Cronin JR, Pizzarello S (1997) Enantiomeric excesses in meteoritic amino acids. Science 275:951–955

DeMott PJ, Möhler O, Stetzer O, Vali G, Levin Z, Petters MD, Murakami M, Leisner T, Bundke U, Klein H, Kanji ZA, Cotton R, Jones H, Benz S, Brinkmann M, Rzesanke D, Saathoff H, Nicolet M, Saito A, Nillius B, Bingemer H, Abbatt J, Ardon K, Ganor E, Georgakopoulos DG, Saunders C (2011) Resurgence in ice nuclei measurement research. B Am Meteorol Soc 92:1623–1635

Doan TN, Fujihara A (2018) Enantiomer-selective photo-induced reaction of protonated tryptophan with disaccharides in the gas phase. Orig Life Evol Biosph 48:123–130

Engel MH, Macko SA (1997) Isotopic evidence for extraterrestrial non-racemic amino acids in the Murchison meteorite. Nature 389:265–268

Fujihara A, Okawa Y (2018) Chiral and molecular recognition of monosaccharides by photoexcited tryptophan in cold gas-phase noncovalent complexes as a model for chemical evolution in interstellar molecular clouds. Anal Bioanal Chem 410:6279–6287

Fujihara A, Sato T, Hayakawa S (2014) Enantiomer-selective ultraviolet photolysis of temperature-controlled protonated tryptophan on a chiral crown ether in the gas phase. Chem Phys Lett 610–611:228–233

Fujihara A, Shimada A (2019) Gas-phase N2 adsorption on mass-selected hydrogen-bonded cluster ions. Chem Phys Lett 718:1–6

Fujihara A, Maeda N, Hayakawa S (2015) Quantitative chiral analysis of tryptophan using enantiomer-selective photolysis of cold non-covalent complexes in the gas phase. J Mass Spectrom 50:451–453

Fujihara A, Maeda N, Doan TN, Hayakawa S (2017) Enantiomeric excess determination for monosaccharides using chiral transmission to cold gas-phase tryptophan in ultraviolet photodissociation. J Am Soc Mass Spectrom 28:224–228

Furukawa Y, Chikaraishi Y, Ohkouchi N, Ogawa NO, Glavin DP, Dworkin JP, Abe C, Nakamura T (2019) Extraterrestrial ribose and other sugars in primitive meteorites. Proc Natl Acad Sci USA 116:24440–24445

Gerlich D, Horning S (1992) Experimental investigation of radiative association processes as related to interstellar chemistry. Chem Rev 92:1509–1539

Gerlich D, Smith M (2006) Laboratory astrochemistry: studying molecules under inter- and circumstellar conditions. Phys Scr 73:C25–C31

Gontareva NB, Kuzicheva EA, Shelegedin VN (2009) Synthesis and characterization of peptides after high-energy impact on the icy matrix: Preliminary step for further UV-induced formation. Plan Space Sci 57:441–445

Hoose C, Möhler O (2012) Heterogeneous ice nucleation on atmospheric aerosols: a review of results from laboratory experiments. Atmos Chem Phys 12:9817–9854

Kohtani K, Jarrold MF (2004) Water molecule adsorption on short alanine peptides: how short is the shortest gas-phase alanine-based helix? J Am Chem Soc 126:8454–8458

Kong X, Tsai I-A, Sabu S, Han C-C, Lee YT, Chang H-C, Tu S-Y, Kung AH, Wu C-C (2006) Progressive stabilization of zwitterionic structures in [H(Ser)2–8]+ studied by infrared photodissociation spectroscopy. Angew Chem Int Ed 45:4130–4134

McGuire BA, Carroll PB, Loomis RA, Finneran IA, Jewell PR, Remijan AJ, Blake GA (2016) Discovery of the interstellar chiral molecule propylene oxide (CH3CHCH2O). Science 352:1449-1452

Miyazaki M, Fujii A, Ebata T, Mikami N (2004) Infrared spectroscopic evidence for protonated water clusters forming nanoscale cages. Science 304:1134–1137

Muñoz Caro GM, Meierhenrich UJ, Schutte WA, Barbier B, Segovia AA, Rosenbauer H, Thiemann WHP, Brack A, Greenberg JM (2002) Amino acids from ultraviolet irradiation of interstellar ice analogues. Nature 416:403–406

Nanita SC, Cooks RG (2006) Serine octamers: Cluster formation, reactions, and implications for biomolecule homochirality. Angew Chem Int Ed 45:554–569

Nguyen DT, Fujihara A (2018) Chiral recognition in cold gas-phase cluster ions of carbohydrates and tryptophan probed by photodissociation. Orig Life Evol Biosph 48:395–406

O'Brien DP, Izidoro A, Jacobson SA, Raymond SN, Rubie DC (2018) The delivery of water during terrestrial planet formation. Space Sci Rev 214:47

Ochiai N, Murashima H, Fujihara A (2020) Quantification of hydroxy groups in carbohydrates using gas-phase N2 adsorption. Chem Phys Lett 750:137484

Ohshimo K, Mizuuchi I, Akimoto K, Tsukamoto K, Tona M, Yamamoto H, Nakano M, Misaizu F (2017) Mass spectrometric study of N2-adsorption on copper cluster cations formed by modulated pulsed power magnetron sputtering in aggregation cell. Chem Phys Lett 682:60–63

Patwari GN, Ito T, Egashira K, Terasaki A (2011) Probing structures of small gold cluster cations with dinitrogen. Chem Asian J 6:1834–1838

Robert F (2001) The origin of water on Earth. Science 293:1056–1058

Sarafian AR, Nielsen SG, Marshall HR, McCubbin FM, Monteleone BD (2014) Early acceretion of water in the inner solar system from a carbonaceous chondrite-like source. Science 346:623–626

Spieler S, Duong CH, Kaiser A, Duensing F, Geistlinger K, Fischer M, Yang N, Kumar SS, Johnson MA, Wester R (2018) Vibrational predissociation spectroscopy of cold protonated tryptophan with different messenger tags. J Phys Chem A 122:8037–8046

Takats Z, Nanita SC, Cooks RG (2003) Serine octamer reactions: Indicators of prebiotic relevance. Angew Chem Int Ed 42:3521–3523

Vandenbussche S, Vandenbussche G, Reisse J, Bartik K (2006) Do serine octamers exist in solutions? Relevance of this question in the context of the origin of homochirality on Earth. Eur J Org Chem 2006:3069–3073

Zamith S, Feiden P, Labastie P, L'Hermite JM (2010) Attachment cross sections of protonated water clusters. J Chem Phys 133:154305
Additional information
Publisher's Note
Springer Nature remains neutral with regard to jurisdictional claims in published maps and institutional affiliations.
About this article
Cite this article
Murashima, H., Fujihara, A. Molecular Adsorption on Cold Gas-Phase Hydrogen-Bonded Clusters of Chiral Molecules. Orig Life Evol Biosph 51, 61–70 (2021). https://doi.org/10.1007/s11084-021-09605-4
Received:

Accepted:

Published:

Issue Date:
Keywords
Molecular cloud

Water cluster

Mass spectrometry

Ion trap

Electrospray ionization