Abstract
In this study, borate was found to selectively increase the stability of ribose over other aldopentoses. Ribose is the only sugar present in both early RNA-based biochemistry and contemporary DNA-based life, and the stability of ribose is of fundamental concern for determining the origin of early RNA-based biochemistry. The formose reaction is a potential process in the prebiotic synthesis of ribose and its stereoisomers arabinose, xylose, and lyxose. Ribose is the least stable of these aldopentoses, raising the fundamental question of whether it was originally a component of primitive RNA or was selected through biotic processes. Borate is known to increase the stability of aldopentoses, but the specific differences in the stabilization achieved among different stereoisomers remain unclear. In this study, it was found that the stabilities of all of the tested pentoses increased with the concentration of added borate, but notably, the stability of ribose increased the most. The predominant formation of complexes between borate and ribose was verified, in agreement with previous studies. This borate complex formation might have sequestered ribose from the isomerization and decomposition reactions, resulting in its selective stabilization. These findings indicate that ribose could have accumulated in borate-rich environments on the early Earth and suggest that ribose-based nucleotides combined with phosphate and nucleobases formed abiotically.
Access options
Buy single article
Instant access to the full article PDF.
USD 39.95
Price includes VAT (USA)
Tax calculation will be finalised during checkout.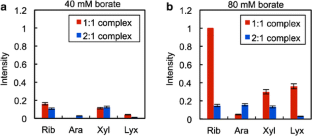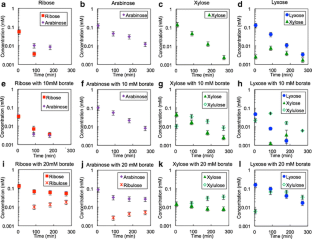 References
Appel PWU (1995) Tourmalinites in the 3800-Ma-old Isua supracrustal belt, West Greenland. Precambrian Res 72:227–234

Appel PWU, Rollinson HR, Touret JLR (2001) Remnants of an Early Archaean (>3.75 Ga) sea-floor, hydrothermal system in the Isua Greenstone Belt. Precambrian Res 112:27–49

Bartel DP, Szostak JW (1993) Isolation of new ribozymes from a large pool of random sequences. Science 261:1411–1418

Benner SA, Ellington AD, Tauer A (1989) Modern metabolism as a palimpsest of the RNA world. Proc Natl Acad Sci U S A 86:7054–7058

Boschi C, Dini A, Früh-Green GL, Kelley DS (2008) Isotopic and element exchange during serpentinization and metasomatism at the Atlantis Massif (MAR 30°N): insights from B and Sr isotope data. Geochim Cosmochim Acta 72:1801–1823

Breslow R (1959) On the mechanism of the formose reaction. Tetrahedron Lett 1:22–26

Chapelle S, Verchere JF (1988) A 11B and 13C NMR determination of the structures of borate complexes of pentoses and related sugars. Tetrahedron 44:4469–4482

Chaussidon M, Uitterdijk Appel PW (1997) Boron isotopic composition of tourmalines from the 3.8-Ga-old Isua supracrustals, West Greenland: implications on the δ11B value of early Archean seawater. Chem Geol 136:171–180

Chyba CF, Thomas PJ, Brookshaw L, Sagan C (1990) Cometary delivery of organic-molecules to the early Earth. Science 249:366–373

Cleaves HJ (2008) The prebiotic geochemistry of formaldehyde. Precambrian Res 164:111–118

El Khadem HS, Ennifar S, Isbell HS (1987) Contribution of the reaction pathways involved in the isomerization of monosaccharides by alkali. Carbohydr Res 169:13–21

Grew ES, Bada JL, Hazen RM (2011) Borate minerals and origin of the RNA world. Orig Life Evol Biosph 41:307–316

Heijlen W, Appel PWU, Frezzotti ML, Horsewell A, Touret JLR (2006) Metamorphic fluid flow in the northeastern part of the 3.8–3.7 Ga Isua Greenstone Belt (SW Greenland): a re-evalution of fluid inclusion evidence for early Archean seafloor-hydrothermal systems. Geochim Cosmochim Acta 70:3075–3095

Holm NG, Dumont M, Ivarsson M, Konn C (2006) Alkaline fluid circulation in ultramafic rocks and formation of nucleotide constituents: a hypothesis. Geochem Trans 7:7

Joyce GF (1989) RNA evolution and the origins of life. Nature 338:217–224

Kelley DS et al (2005) A serpentinite-hosted ecosystem: the lost city hydrothermal field. Science 307:1428–1434

Kim H et al (2011) Synthesis of carbohydrates in mineral-guided prebiotic cycles. J Am Chem Soc 133:9457–9468

Larralde R, Robertson MP, Miller SL (1995) Rates of decomposition of ribose and other sugars: implications for chemical evolution. Proc Natl Acad Sci U S A 92:8158–8160

Lenkinski RE, Reuben J (1976) Studies of the binding of calcium and lanthanum ions to d-lyxose and d-ribose in aqueous solutions using proton magnetic resonance. J Am Chem Soc 98:3089–3094

Li Q, Ricardo A, Benner SA, Winefordner JD, Powell DH (2005) Desorption/ionization on porous silicon mass spectrometry studies on pentose–borate complexes. Anal Chem 77:4503–4508

Miljković M (2009) Carbohydrates: synthesis, mechanisms, and stereoelectronic effects. Springer, New York

Mukhin LM, Gerasimov MV, Safonova EN (1989) Origin of precursors of organic molecules during evaporation of meteorites and mafic terrestrial rocks. Nature 340:46–48

Nielsen PE (2007) Peptide nucleic acids and the origin of life. Chem Biodivers 4:1996–2002

Orgel LE (2004) Prebiotic chemistry and the origin of the RNA world. Crit Rev Biochem Mol Biol 39:99–123

Pepi F, Garzoli S, Tata A, Giacomello P (2010) Low-energy collisionally activated dissociation of pentose–borate complexes. Int J Mass Spectrom 289:76–83

Ricardo A, Carrigan MA, Olcott AN, Benner SA (2004) Borate minerals stabilize ribose. Science 303:196

Schwartz AW, Degraaf RM (1993) The prebiotic synthesis of carbohydrates: a reassessment. J Mol Evol 36:101–106

Seyfried WE Jr, Dibble WE Jr (1980) Seawater–peridotite interaction at 300 °C and 500 bars: implications for the origin of oceanic serpentinites. Geochim Cosmochim Acta 44:309–321

Shapiro R (1988) Prebiotic ribose synthesis: a critical analysis. Orig Life Evol Biosph 18:71–85

Speck JC (1958) The Lobry de Bruyn-Alberda van Ekenstein transformation. Adv Carbohydr Chem 13:63–103

Spivack AJ, Palmer MR, Edmond JM (1987) The sedimentary cycle of the boron isotopes. Geochim Cosmochim Acta 51:1939–1949

Šponer JE, Sumpter BG, Leszczynski J, Šponer J, Fuentes-Cabrera M (2008) Theoretical study on the factors controlling the stability of the borate complexes of ribose, arabinose, lyxose, and xylose. Chem Eur J 14:9990–9998

Symons MCR, Benbow JA, Pelmore H (1982) Study of calcium ion binding to d-ribose in aqueous solutions using hydroxy-proton resonance shifts. J Chem Soc Faraday Trans 1 78:3671–3677

Turner S, Tonarini S, Bindeman I, Leeman WP, Schaefer BF (2007) Boron and oxygen isotope evidence for recycling of subducted components over the past 2.5 Gyr. Nature 447:702–705

Verchere JF, Hlaibi M (1987) Stability constants of borate complexes of oligosaccharides. Polyhedron 6:1415–1420

Vils F, Pelletier L, Kalt A, Müntener O, Ludwig T (2008) The lithium, boron and beryllium content of serpentinized peridotites from ODP Leg 209 (Sites 1272A and 1274A): implications for lithium and boron budgets of oceanic lithosphere. Geochim Cosmochim Acta 72:5475–5504

Williams LB, Hervig RL, Holloway JR, Hutcheon I (2001) Boron isotope geochemistry during diagenesis. Part I. Experimental determination of fractionation during illitization of smectite. Geochim Cosmochim Acta 65:1769–1782

Yanagihara R, Soeda K, Shiina S, Osanai S, Yoshikawa S (1993) C-2 epimerization of aldoses by calcium ion in basic solutions: a simple system to transform d-glucose and d-xylose into d-mannose and d-lyxose. Bull Chem Soc Jpn 66:2268–2272
Acknowledgments
We appreciate the comments by S. Benner and anonymous reviewers. This work was supported by the Global Education and Research Center for Earth and Planetary Dynamics of Tohoku University and by Grants-in-Aid for Scientific Research from the Japan Society for the Promotion of Science to T.K. (22654063 and 24244084) and Y.F. (23740402).
Electronic supplementary material
Below is the link to the electronic supplementary material.
About this article
Cite this article
Furukawa, Y., Horiuchi, M. & Kakegawa, T. Selective Stabilization of Ribose by Borate. Orig Life Evol Biosph 43, 353–361 (2013). https://doi.org/10.1007/s11084-013-9350-5
Received:

Accepted:

Published:

Issue Date:
Keywords
Ribose

Borate

RNA

Complex

Early Earth