Abstract
The rapid increase in internet services demands high capacity and brings high energy dissipation. For broadband access networks, energy efficient passive optical networks (PONs) are ubiquitously demonstrated to conserve energy. However, high cost components for monitoring, complexity, delays and synchronization issues in active/passive optical network unit (ONU) status are the utmost issues to be addressed. Energy efficient symmetrical Wavelength division multiplexed (WDM) and Time division multiplexed (TDM) hybrid passive optical network using Access-Load Difference between ONUs (ALD) approaches with dynamic wavelength switches has been proposed. Dual capacity providing system is presented where 2 Gbps and 12 Gbps sources are operated according to traffic at ONUs. Total capacity of individual low data rate transmitter are 8 Gbps (2 Gbps × 4) and 48 Gbps (12 Gbps × 4) for each ODN serving 64 ONU. Proposed approach is competent to only use specific transmitter module based on load at ONU and keep rest of the transmitters inactive. Design of ALD DWS is such that there is no service interruption even when any transmitter stops working. Moreover, nonlinear carrier generation eliminate the requirements of lasers for upstream transmission which saves cost as well as energy. It is observed that proposed system save 400% energy below 10 Gbps, 300% between 10–20 Gbps, 200% between 20–30 Gbps, 100% between 30–40 Gbps and 0% for beyond 50 Gbps. Therefore variable transmitters (Bandwidth) are operational in this architecture and provide economical in initial operational expenditure (OPEX).
Access options
Buy single article
Instant access to the full article PDF.
US$ 39.95
Tax calculation will be finalised during checkout.
Subscribe to journal
Immediate online access to all issues from 2019. Subscription will auto renew annually.
US$ 119
Tax calculation will be finalised during checkout.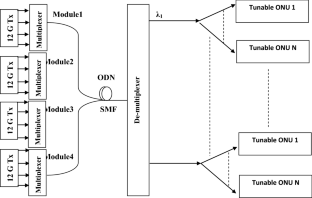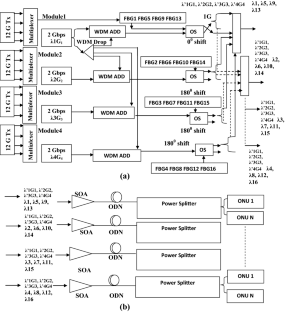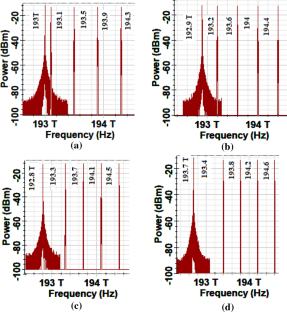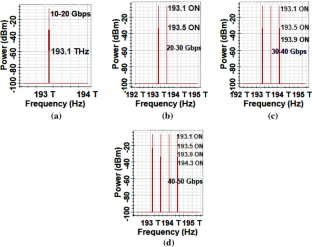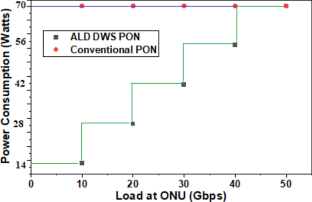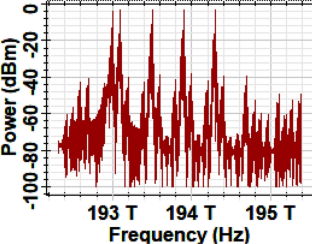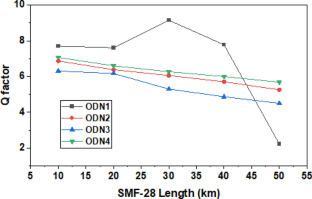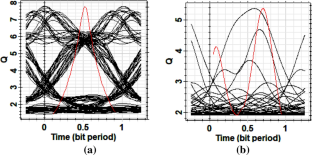 References
Ahmed, F., Naeem, M., Iqbal, M.: ICT and renewable energy: a way forward to the next generation telecom base stations. Telecommun. Syst. 64, 43–56 (2017)

Banerjee, A., et al.: Wavelength-division-multiplexed passive optical network (WDM-PON) technologies for broadband access: A review. J. Opt. Netw. 4(11), 737–758 (2005)

Butt, R.A., Idrus, S.M., Qureshi, K.N., Zul, N.: An energy efficient cyclic sleep control framework for ITU PONs. Opt. Switch. Network. 27, 7–17 (2018)

Chauhan, A., Vaish, A., Verma, A.: Compensation of SPM and Dispersion in Long Reach COOFDM System with Multiple Symmetrical Dispersion Compensation and Midlink Spectrum Inversion Modules. International Journal of Microwave And Optical Technology 13(1), 98–105 (2018)

Cheng, N.: Flexible TWDM PON with WDM overlay for converged services. Opt. Fiber Technol. 26, 21–30 (2015)

Chow, H.: "Demonstration of Low Power Bit-Interleaving TDM-PON", 38th European Conference and Exhibition on Optical Communications. IEEE, Amsterdam, Netherlands (2014)

Dixit, A., et al.: Flexible TDMA/WDMA passive optical network: energy efficient next-generation optical access solution. Opt. Switch. Networking 10(4), 491–506 (2013)

Dourado, D., Ferreira, R., Rocha, M., Duarte, U.: Strategies to increase spectral efficiency and energy saving with quality metric assurance in TWDM-PON. Opt. Switch. Netw. 36, 2019 (2019). https://doi.org/10.1016/j.osn.2019.100550

Dutta, S., Das, G.: Design of energy-efficient EPON: a novel protocol proposal and its performance analysis. IEEE Trans. Green Commun. Netw. 3, 840–852 (2019)

En, T., et al.: (2015) An energy minimization algorithm based on distributed dynamic clustering for long term evolution (LTE) heterogeneous networks. Sci. China Inf. Sci. 58(4), 1–12 (2015)

Garfias, P., Andrade, M.D., Tornatore, M., Buttaboni, A., Sallent, S., Gutiérrez, L.: Energy-saving mechanism in WDM/TDM-PON based on upstream network traffic. Photonics 1, 235–250 (2014)

Garg, A.K., Jayani, V., Singh, G., Ismail, T., Selmy, H.: Dedicated and broadcasting downstream transmission with energy-efficient and latency-aware ONU interconnection in WDM-PON for smart cities. Opt. Fiber Technol. 52, 101949 (2019). https://doi.org/10.1016/j.yofte.2019.101949

Gielen, D., et al.: The role of renewable energy in the global energy transformation. Energ. Strat. Rev. 24, 38–50 (2019)

Glen, K., Biswanath, M., Gerry, P.: IPACT: a dynamic protocol for an Ethernet PON (EPON). IEEE Commun. Mag. 40, 74–80 (2002)

Gong, X., Guo, L., Zhang, Q.: Joint resource allocation and software-based reconfiguration for energy-efficient OFDMA-PONs. J. Optic. Commun. Networking 10(8), C75–C85 (2018)

Hamadouche, H., Merabet, B., Bouregaa, M.: The performance comparison of hybrid WDM/TDM, TDM and WDM PONs with 128 ONUs. J. Opt. Commun. ISSN 2191–6322, 2020 (2020)

Han, M.S., Yoo, H., Yoon, B.Y., Kim, B., Koh, J.S.: Efficient dynamic bandwidth allocation for FSAN-compliant GPON. J. Opt. Networking 7(8), 783 (2008)

Han, M.S., Yoo, H., Lee, D.S.: Development of efficient dynamic bandwidth allocation algorithm for XGPON. ETRI J 35, 18–26 (2013)

Hirafuji, R.O.C., Dhaini, A.R., Khotimsky, D.A., Campelo, D.R.: Energy Efficiency Analysis of the Watchful Sleep Modein Next-Generation Passive Optical Networks, IEEE Symposium on Computers and Communication (ISCC). IEEE, Messina, Italy (2016)

Horvath, T., Munster, P., Oujezsky, V., Bao, N.: Passive optical networks progress: a tutorial. Electronics 9(1081), 1–31 (2020)

Hossienabadi, M.T., Ansari, N.: Multi-power-level energy saving management for passive optical networks. IEEE/OSA J. Opt. Commun. Netw. 6, 965–973 (2014)

Hu, X., Zhang, L., Cao, P., Wang, K., Su, Y.: Energy-efficient WDM-OFDM-PON employing shared OFDM modulation modules in optical line terminal. Opt. Express 20(7), 8071–8077 (2012)

Hu, X., et al.: Energy-efficient optical network units for OFDM PON based on time-domain interleaved OFDM technique. Opt. Express 22(11), 13043–13049 (2014)

Hwang, I.-S., Nikoukar, A., Su, Y.-M., Liem, T.A.: Decentralized SIEPOn-Based ONU-Initiated Tx/TRxEnergy-Efficiency Mechanism in EPON. IEEE/OSA J. Opt. Commun. Netw. 8, 238–248 (2016)

Jie, L., et al.: A comparison of sleep mode mechanisms for PTP and TDM-PONs. In: Proceedings of ICC, pp. 543–547 (2013)

Kaur, S., Kumar, M., Verma, A.: An integrated high-speed full duplex coherent OFDM-PON and visible-light communication system. J. Opt. Commun. 1(1), 2019 (2019). https://doi.org/10.1515/joc-2018-0236

Khalili, H., Rincón, D., Sallent, S., Piney, J.: An energy-efficient distributed dynamic bandwidth allocation algorithm for passive optical access networks. Sustainability 12(6), 1–20 (2020)

Khotimsky, D.A., Zhang, D., Yuan, L., Hirafuji, R.O.C., Campelo, D.R.: Unifying sleep and doze modes for energy-efficient PON systems. IEEE Commun. Lett. 18, 688–691 (2014)

Khou, Y., Gu, R., Ji, Y.: An energy-efficient mechanism of passive optical access network based on Ethernet. In: Proceedings of the 12th International Conference on Optical Communications and Networks (ICOCN), Chengdu, China, pp. 1–4, 2013.

Kim, T., Kim, H., Sun, Y., Jin, Z.: Physical layer and medium access control design in energy efficient sensor networks: an overview. IEEE Trans. Ind. Inform. 11, 2–15 (2015)

Kubo, R., Kani, J., Fujimoto, Y., Yoshimoto, N., Kumozaki, K.: Adaptive power saving mechanism for 10 Gigabit class PON systems. IEICE Trans. Commun. 93(2), 280–288 (2010)

Kumar, A., Randhawa, R.: An improved hybrid WDM/TDM PON model with enhanced performance using different modulation formats of WDM transmitter. J. Opt. Commun. 1, 1 (2018). https://doi.org/10.1515/joc-2018-0154

Lange, A.G.: Energy consumption of telecommunication networks - a network operator's view. In: OFC/NFOEC'09, Workshop on Energy Footprint of ICT: Forecast and Network Solutions, SanDiego, CA, March 2009.

Langendoen, K., Halkes, G. (2005) Energy-efficient medium access control. In: Embedded systems handbook, pp. 34.1–34.29. CRC Press, Boca Raton, FL.

Li, J., et al.: Physical-layer energy-efficient receiving method based on selective sampling in orthogonal frequency division multiplexing access passive optical network. Opt. Eng. 53(5), 056106 (2014)

Liu, C., et al.: Performance investigation of PM-based wavelength remodulation scheme in bidirectional TWDM-PON. J. Opt. Commun. 1, 1 (2021). https://doi.org/10.1515/joc-2020-0198

Pubuduni, M., Dias, I., Wong, E.: Sleep/doze controlled dynamic bandwidth allocation algorithms for energy-efficient passive optical networks. Opt. Express 21(8), 9931–9946 (2013)

Qin, Y., Zhang, J.: Physical Layer Energy-efficient Scheme Exploiting Clock-gating off Mode in ONUs for OFDM-PON. Asia Commun. Photon. Conf. 1, 1 (2016). https://doi.org/10.1364/ACPC.2017.Su3C.8

Qi-yu, Z., Bin, L., Run-ze, W.: A Dynamic Bandwidth Allocation Scheme for GPON Based on Traffic Prediction. In: 9th International Conference on Fuzzy System Knowledge Discovery, no. Fskd, pp. 2043–2046, 2012.

Rabhi, S., Barrak, R., Menif, M., Moussati, A.: Performance evaluation of radio over fiber system model in multipath fading channel at 60 GHz. Int. J. Microw. Opt. Tech. 9(6), 460–467 (2014)

Ullah, R., Liu, B., Mao, Y., Feng, T., Ali, A., Ahmad, I., et al.: Application of optical frequency comb generation with controlled delay circuit for managing the high capacity network system. AEU-Int. J. Electron. Commun. 94, 322–331 (2018). https://doi.org/10.1016/j.aeue.2018.07.025

Van, D.P., et al.: Energy-saving framework for passive optical networks with ONU sleep/doze mode. Opt. Express 23(3), A1–A14 (2015)

Wong, E., Mueller, M., Amann, M.C.: Characterization of energyefficient and colorless ONUs for future TWDM-PONs. Opt. Express 21(18), 20747–20761 (2013)

Yan, Y., Dittmann, L.: Energy Efficiency in Ethernet Passive Optical Networks (EPONs): Protocol Design and Performance Evaluation. J. Commun. 6(3), 249–261 (2011)

Zhang, X., Sun, X.: Optical pulse width modulation based TDM-PON monitoring with asymmetric loop in ONUs. Sci Rep. 8(1), 1 (2018). https://doi.org/10.1038/s41598-018-22195-y

Zhang, Y., et al.: Energy efficiency in telecom optical networks. IEEE Commun. Surv. Tutorials 12(4), 441–458 (2010)
Acknowledgements
The authors would like to acknowledge the management and technical team of Punjab Technical University, Jalandhar for providing the state of the art laboratory facility to carry out the research work.
Funding
This is to declare that no funding has been provided by any internal/external agency for this research work.
Ethics declarations
Conflicts of interest
On behalf of all authors, the corresponding author states that there is no conflict of interest.
Additional information
Publisher's Note
Springer Nature remains neutral with regard to jurisdictional claims in published maps and institutional affiliations.
About this article
Cite this article
Sachdeva, S., Malhotra, J. & Kumar, M. Energy efficient hybrid WDM-TDM passive optical networks with access-load difference between ONUs using FBGs, SOA and DWS. Opt Quant Electron 53, 309 (2021). https://doi.org/10.1007/s11082-021-02944-6
Received:

Accepted:

Published:
Keywords
WDM-TDM-PON

Dynamic wavelength selection (DWS)

Access load difference (ALD)

ICT

SOA