Abstract
In this paper, a mode-division (de)multiplexer capable of multiplexing three transverse magnetic modes simultaneously at the operating wavelength of 1550 nm has been proposed. The device structure is designed using slab waveguides with Si and SiO2 as core and cladding materials, respectively. Grating assisted couplers have been employed to couple the fundamental modes of two single-mode waveguides with the two higher-order modes of a multimode waveguide in the opposite direction. The fundamental mode of the multimode waveguide keeps propagating in the same waveguide without any power coupling to other modes. Using perturbation approach and coupled-mode theory, the proposed structure is theoretically analyzed. 2D Finite Difference Time Domain numerical simulation technique has been used to simulate and analyze the proposed mode division (de)multiplexer. During the demultiplexing operation, the proposed device exhibits insertion loss ranging from − 2.01 to − 0.01 dB, return loss ranging from − 31.07 to − 9.17 dB, and crosstalk in the range of − 41.76 to − 13.58 dB. Whereas for the multiplexing operation, insertion loss, return loss, and crosstalk range from − 1.59 to − 0.01 dB, − 31.07 to − 10.17 dB, and − 41.76 to − 8.05 dB respectively.
Access options
Buy single article
Instant access to the full article PDF.
USD 39.95
Price excludes VAT (USA)
Tax calculation will be finalised during checkout.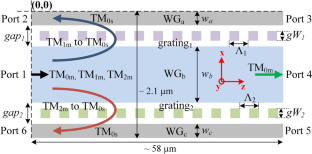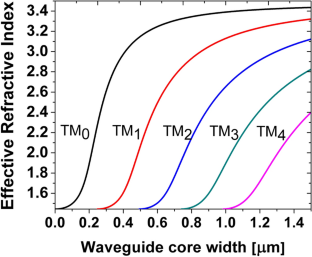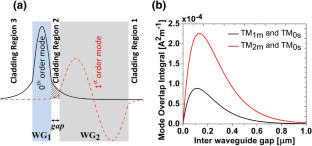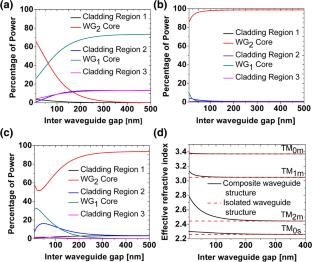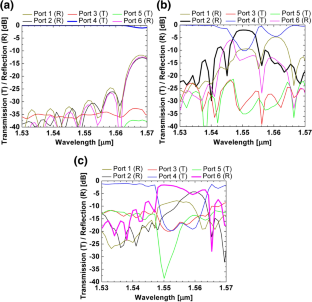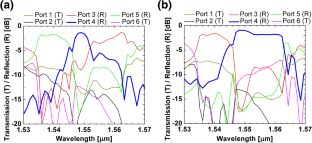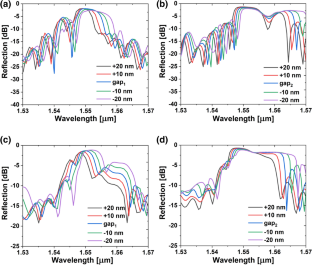 References
Biberman, A., Bergman, K.: Optical interconnection networks for high-performance computing systems. Rep. Prog. Phys. 75(4), 046402 (2012)

Chen, G.H., Chow, C.W., Yeh, C.H., Peng, C.W., Guo, P.C., Tsai, J.F., Cheng, M.W., Tong, Y., Tsang, H.K.: Mode-division-multiplexing (mdm) of 9.4-tbit/s ofdm signals on silicon-on-insulator (soi) platform. IEEE Access 7, 129104–129111 (2019)

Chen, W., Wang, P., Yang, J.: Mode multi/demultiplexer based on cascaded asymmetric y-junctions. Opt. Express 21(21), 25113–25119 (2013)

Chrostowski, L., Hochberg, M.: Silicon Photonics Design: From Devices to Systems. Cambridge University Press, Cambridge (2015)

Dai, D.: Silicon nanophotonic integrated devices for on-chip multiplexing and switching. J. Lightwave Technol. 35(4), 572–587 (2017)

Dai, D., Bowers, J.E.: Silicon-based on-chip multiplexing technologies and devices for peta-bit optical interconnects. Nanophotonics 3(4–5), 283–311 (2014)

Dai, D., Wang, J., Shi, Y.: Silicon mode (de) multiplexer enabling high capacity photonic networks-on-chip with a single-wavelength-carrier light. Opt. Lett. 38(9), 1422–1424 (2013)

Gepner, P., Kowalik, M.F.: Multi-core processors: New way to achieve high system performance. In: International Symposium on Parallel Computing in Electrical Engineering, 2006. PAR ELEC 2006, pp. 9–13. IEEE (2006)

Hanzawa, N., Saitoh, K., Sakamoto, T., Matsui, T., Tsujikawa, K., Uematsu, T., Yamamoto, F.: Plc-based four-mode multi/demultiplexer with lp 11 mode rotator on one chip. J. Lightwave Technol. 33(6), 1161–1165 (2015)

Hsu, Y., Chuang, C.Y., Wu, X., Chen, G.H., Hsu, C.W., Chang, Y.C., Chow, C.W., Chen, J., Lai, Y.C., Yeh, C.H., et al.: 2.6 tbit/s on-chip optical interconnect supporting mode-division-multiplexing and pam-4 signal. IEEE Photonics Technol. Lett. 30(11), 1052–1055 (2018)

Jafari, Z., Zarifkar, A., Miri, M.: Compact fabrication-tolerant subwavelength-grating-based two-mode division (de) multiplexer. Appl. Opt. 56(26), 7311–7319 (2017)

Jiang, W., Cheng, F., Xu, J., Wan, H.: Compact and low-crosstalk mode (de) multiplexer using a triple plasmonic-dielectric waveguide-based directional coupler. JOSA B 35(10), 2532–2540 (2018)

Kirchain, R., Kimerling, L.: A roadmap for nanophotonics. Nat. Photonics 1(6), 303–305 (2007)

Kogelnik, H., Tamir, T.: Guided-wave optoelectronics. Electron. Photon. 26, 57–58 (1988)

Li, C.L., Jiang, X.H., Hsu, Y., Chen, G.H., Chow, C.W., Dai, D.X.: Ten-channel mode-division-multiplexed silicon photonic integrated circuit with sharp bends. Front. Inf. Technol. Electron. Eng. 20(4), 498–506 (2019)

Li, Y., Li, C., Li, C., Cheng, B., Xue, C.: Compact two-mode (de) multiplexer based on symmetric y-junction and multimode interference waveguides. Opt. Express 22(5), 5781–5786 (2014)

Lifante, G.: Integrated Photonics: Fundamentals. Wiley, Chichester (2003)

Luo, L.W., Ophir, N., Chen, C.P., Gabrielli, L.H., Poitras, C.B., Bergmen, K., Lipson, M.: Wdm-compatible mode-division multiplexing on a silicon chip. Nat. Commun. 5, 3069 (2014)

Miller, D.A.: Device requirements for optical interconnects to silicon chips. Proc. IEEE 97(7), 1166–1185 (2009)

Nawwar, O.M., Shalaby, H.M., Pokharel, R.K.: Modeling, simulation, and fabrication of bi-directional mode-division multiplexing for silicon-on-insulator platform. Appl. Opt. 57(1), 42–51 (2018)

Pollock, C.R., Lipson, M.: Integrated Photonics, vol. 20. Springer, New York (2003)

Qiu, H., Yu, H., Hu, T., Jiang, G., Shao, H., Yu, P., Yang, J., Jiang, X.: Silicon mode multi/demultiplexer based on multimode grating-assisted couplers. Opt. Express 21(15), 17904–17911 (2013)

Riesen, N., Love, J.D.: Tapered velocity mode-selective couplers. J. Lightwave Technol. 31(13), 2163–2169 (2013)

Safa, K.: Optoelectronics and Photonics: Principles and Practices. Pearson Education India (2009)

Shalaby, H.M.: Bi-directional coupler as a mode-division multiplexer/demultiplexer. J. Lightwave Technol. 34(15), 3633–3640 (2016)

Tran, T.A., Nguyen, H.D.T., Truong, C.D., Nguyen, H.T., Van Vu, Y., Tran, D.H.: Three-mode multiplexed device based on tilted-branch bus structure using silicon waveguide. Photonics Nanostruct. Fundament. Appl. 35, 100709 (2019)

Wang, J., Xuan, Y., Qi, M., Huang, H., Li, Y., Li, M., Chen, X., Sheng, Z., Wu, A., Li, W., et al.: Broadband and fabrication-tolerant on-chip scalable mode-division multiplexing based on mode-evolution counter-tapered couplers. Opt. Lett. 40(9), 1956–1959 (2015)

Wu, X., Huang, C., Xu, K., Shu, C., Tsang, H.K.: Mode-division multiplexing for silicon photonic network-on-chip. J. Lightwave Technol. 35(15), 3223–3228 (2017)

Xu, H., Shi, Y.: Ultra-broadband 16-channel mode division (de) multiplexer utilizing densely packed bent waveguide arrays. Opt. Lett. 41(20), 4815–4818 (2016)

Yang, Y.D., Li, Y., Huang, Y.Z., Poon, A.W.: Silicon nitride three-mode division multiplexing and wavelength-division multiplexing using asymmetrical directional couplers and microring resonators. Opt. Express 22(18), 22172–22183 (2014)

Yariv, A., Yeh, P.: Photonics-optical electronics in modern communications (2007)

Yin, M., Deng, Q., Li, Y., Wang, X., Li, H.: Compact and broadband mode multiplexer and demultiplexer based on asymmetric plasmonic-dielectric coupling. Appl. Opt. 53(27), 6175–6180 (2014)

Zhang, Z., Yu, Y., Fu, S.: Broadband on-chip mode-division multiplexer based on adiabatic couplers and symmetric y-junction. IEEE Photonics J. 9(2), 1–6 (2017)
Acknowledgements
This research is supported by the Ministry of Electronics and Information Technology (MeitY), Science and Engineering Research Board (SERB), and the Department of Science & Technology (DST-FIST), Government of India.
Ethics declarations
Conflicts of interest
The authors declare no conflicts of interest.
Additional information
Publisher's Note
Springer Nature remains neutral with regard to jurisdictional claims in published maps and institutional affiliations.
About this article
Cite this article
Minz, M., Sonkar, R.K. Numerical modeling and analysis of a TM mode-division (de)multiplexer based on grating assisted couplers. Opt Quant Electron 52, 400 (2020). https://doi.org/10.1007/s11082-020-02514-2
Received:

Accepted:

Published:

DOI: https://doi.org/10.1007/s11082-020-02514-2
Keywords