Abstract
We report an investigation on the effect of oxygen flow rate on the structural and optical properties of zinc oxide thin films prepared by RF magnetron sputtering. The structural measurements were carried using grazing incidence X-ray diffraction, atomic force microscopy and Raman spectroscopy. The role of oxygen partial pressure on the crystallinity, the surface morphology and vibrational modes has been established. The optical properties of the films were investigated using FR-Basic-VIS/NIR fitted with FR-Monitor software for film thickness, refractive index and color determination. The film thickness is observed to increase when oxygen is introduced at 4 sccm but eventual decrease with increase in the flow rate an indication of initial increase in rate of deposition followed by reduction. Elaborate explanations of these trends are provided.
Access options
Buy single article
Instant access to the full article PDF.
US$ 39.95
Tax calculation will be finalised during checkout.
Subscribe to journal
Immediate online access to all issues from 2019. Subscription will auto renew annually.
US$ 119
Tax calculation will be finalised during checkout.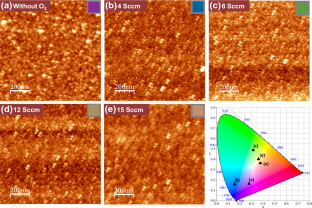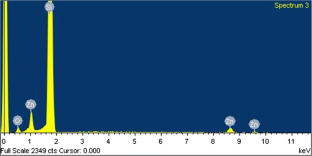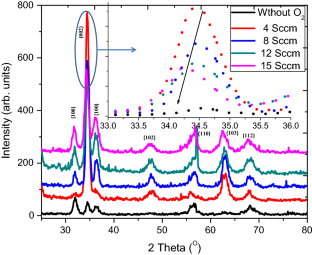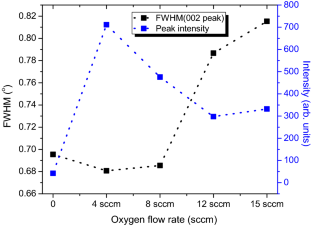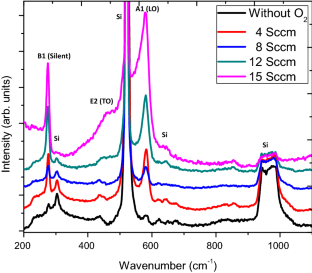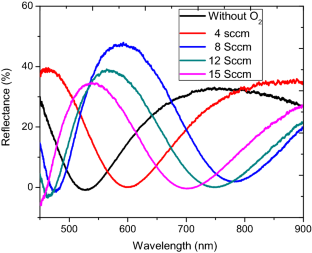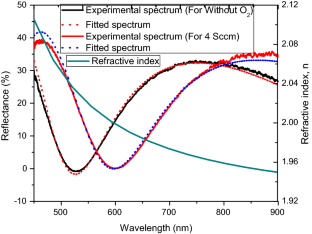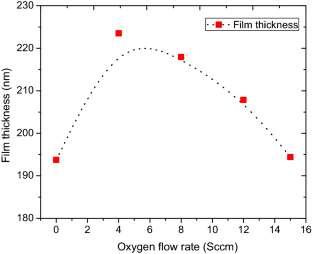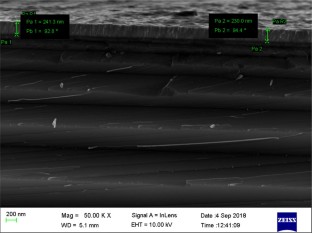 References
Badre, C., Pauporté, T., Turmine, M., Lincot, D.: A ZnO nanowire array film with stable highly water-repellent properties. Nanotechnology 18, 365705 (2007)

Chen, Y., Bagnall, D., Koh, H.-J., Park, K.-T., Hiraga, K., Zhu, Z., Yao, T.: Plasma assisted molecular beam epitaxy of ZnO on c-plane sapphire: growth and characterization. J. Appl. Phys. 84, 3912–3918 (1998)

Chiu, C., Pei, Z., Chang, S., Chang, S., Chang, S.: Effect of oxygen partial pressure on electrical characteristics of amorphous indium gallium zinc oxide thin-film transistors fabricated by thermal annealing. Vacuum 86, 246–249 (2011)

Chuang, R.W., Wu, R.-X., Lai, L.-W., Lee, C.-T.: ZnO-on-GaN heterojunction light-emitting diode grown by vapor cooling condensation technique. Appl. Phys. Lett. 91, 231113-1–231113-3 (2007)

Du, Y.-P., Zhang, Y.-W., Sun, L.-D., Yan, C.-H.: Efficient energy transfer in monodisperse Eu-doped ZnO nanocrystals synthesized from metal acetylacetonates in high-boiling solvents. J. Phys. Chem. C 112, 12234–12241 (2008)

Hong, R., Qi, H., Huang, J., He, H., Fan, Z., Shao, J.: Influence of oxygen partial pressure on the structure and photoluminescence of direct current reactive magnetron sputtering ZnO thin films. Thin Solid Films 473, 58–62 (2005)

Huang, J.: Zinc oxide thin film transistors by radio frequency magnetron sputtering, pp. 7–47 (2014)

Iqbal, A., Zakria, M., Mahmood, A.: Structural and spectroscopic analysis of wurtzite (ZnO)1–x (Sb2O3)x composite semiconductor. Prog. Nat. Sci. Mater. 25, 131–136 (2015)

Janotti, A., Van de Walle, C.G.: Fundamentals of zinc oxide as a semiconductor. Rep. Prog. Phys. 72, 126501-1–126501-29 (2009)

Jie, J., Morita, A., Shirai, H.: Role of oxygen atoms in the growth of magnetron sputter-deposited ZnO films. J. Appl. Phys. 108, 033521-1–033521-8 (2010)

Karpina, V., Lazorenko, V., Lashkarev, C., Dobrowolski, V., Kopylova, L., Baturin, V., Pustovoytov, S., Karpenko, A.J., Eremin, S., Lytvyn, P.: Zinc oxide–analogue of GaN with new perspective possibilities. Cryst. Res. Technol. 39, 980–992 (2004)

Kukla, R., Krug, T., Ludwig, R., Wilmes, K.: A highest rate self-sputtering magnetron source. Vacuum 41, 1968–1970 (1990)

Kumar, V., Som, S., Kumar, V., Kumar, V., Ntwaeaborwa, O., Coetsee, E., Swart, H.: Tunable and white emission from ZnO: Tb3+ nanophosphors for solid state lighting applications. Chem. Eng. J. 255, 541–552 (2014)

Levinson, J., Shepherd, F., Scanlon, P., Westwood, W., Este, G., Rider, M.: Conductivity behavior in polycrystalline semiconductor thin film transistors. J. Appl. Phys. 53, 1193–1202 (1982)

Li, C., Wang, D., Li, Z., Li, X., Kawaharamura, T., Furuta, M.: Stoichiometry control of ZnO thin film by adjusting working gas ratio during radio frequency magnetron sputtering. J. Mater. 2013, 1–6 (2013)

Look, D.C., Reynolds, D., Hemsky, J.W., Jones, R., Sizelove, J.: Production and annealing of electron irradiation damage in ZnO. Appl. Phys. Lett. 75, 811–813 (1999)

Lupan, O., Chow, L., Chai, G., Chernyak, L., Lopatiuk-Tirpak, O., Heinrich, H.: Focused-ion-beam fabrication of ZnO nanorod-based UV photodetector using the in situ lift-out technique. Phys. Stat. Solidi (a) 205, 2673–2678 (2008a)

Lupan, O., Shishiyanu, S., Chow, L., Shishiyanu, T.: Nanostructured zinc oxide gas sensors by successive ionic layer adsorption and reaction method and rapid photothermal processing. Thin Solid Films 516, 3338–3345 (2008b)

Lupan, O., Chow, L., Chai, G.: A single ZnO tetrapod-based sensor. Sens. Actuat. B Chem. 141, 511–517 (2009a)

Lupan, O., Shishiyanu, S., Ursaki, V., Khallaf, H., Chow, L., Shishiyanu, T., Sontea, V., Monaico, E., Railean, S.: Synthesis of nanostructured Al-doped zinc oxide films on Si for solar cells applications. Sol. Energy Mater. Sol. Cells 93, 1417–1422 (2009b)

Lupan, O., Pauporté, T., Chow, L., Viana, B., Pellé, F., Ono, L., Cuenya, B.R., Heinrich, H.: Effects of annealing on properties of ZnO thin films prepared by electrochemical deposition in chloride medium. Appl. Surf. Sci. 256, 1895–1907 (2010)

Nagata, T., Ashida, A., Fujimura, N., Ito, T.: The effects of Xe on an rf plasma and growth of ZnO films by rf sputtering. J. Appl. Phys. 95, 3923–3927 (2004)

Nomura, K., Ohta, H., Ueda, K., Kamiya, T., Hirano, M., Hosono, H.: Thin-film transistor fabricated in single-crystalline transparent oxide semiconductor. Science 300, 1269–1272 (2003)

Otieno, F., Airo, M., Erasmus, R.M., Billing, D.G., Quandt, A., Wamwangi, D.: Structural and spectroscopic analysis of ex situ annealed RF sputtered aluminium doped zinc oxide thin films. J. Appl. Phys. 122, 0753031–07530310 (2017)

Özgür, Ü., Alivov, Y.I., Liu, C., Teke, A., Reshchikov, M., Doğan, S., Avrutin, V., Cho, S.-J., Morkoc, H.: A comprehensive review of ZnO materials and devices. J. Appl. Phys. 98, 041301-1–041301-11 (2005)

Pauporte, T., Rathouský, J.: Electrodeposited mesoporous ZnO thin films as efficient photocatalysts for the degradation of dye pollutants. J. Phys. Chem. C 111, 7639–7644 (2007)

Pauporté, T., Lincot, D., Viana, B., Pellé, F.: Toward laser emission of epitaxial nanorod arrays of ZnO grown by electrodeposition. Appl. Phys. Lett. 89, 233112-1–233112-3 (2006)

Reynolds, D., Look, D.C., Jogai, B., Litton, C., Cantwell, G., Harsch, W.: Valence-band ordering in ZnO. Phys. Rev. B 60, 2340–2344 (1999)

Saravanakumar, K., Gopinathan, C., Mahalakshmi, K., Ganesan, V., Sathe, V., Sanjeeviraja, C.: XPS and Raman studies on (002) oriented nanocrystalline ZnO films showing temperature dependent optical red shift. Adv. Stud. Theor. Phys. 5, 155–170 (2011)

Spizzirri, P., Fang, J.-H., Rubanov, S., Gauja, E., Prawer, S.: Nano-Raman spectroscopy of silicon surfaces. arXiv preprint http://arxiv.org/abs/1002.2692 (2010)

Sultan, Md, Sultana, N.: Analysis of reflectance and transmittance characteristics of optical thin film for various film materials, thicknesses and substrates. J. Electr. Electron. Syst. 4, 1–4 (2015)

Szczyrbowski, J., Dietrich, A., Hartig, K.: Bendable silver-based low emissivity coating on glass. Sol. Energy Mater. 19, 43–53 (1989)

Thanikaikarasan, S., Mahalingam, T., Sundaram, K., Kathalingam, A., Kim, Y.D., Kim, T.: Growth and characterization of electrosynthesized iron selenide thin films. Vacuum 83, 1066–1072 (2009)

Thomas, D.: The exciton spectrum of zinc oxide. J. Phys. Chem. Solids 15, 86–96 (1960)

Tominaga, K., Iwamura, S., Fujita, I., Shintani, Y., Tada, O.: Influence of bombardment by energetic atoms on c-axis orientation of ZnO films. Jpn. J. Appl. Phys. 21, 999–1002 (1982)

Tzolov, M., Tzenov, N., Dimova-Malinovska, D., Kalitzova, M., Pizzuto, C., Vitali, G., Zollo, G., Ivanov, I.: Modification of the structure of ZnO: Al films by control of the plasma parameters. Thin Solid Films 396, 276–281 (2001)

Valliyil Sasi, V., Iqbal, A., Chaik, K., Iacopi, A., Mohd-Yasin, F.: RF sputtering, post-annealing treatment and characterizations of ZnO (002) thin films on 3C-SiC (111)/Si (111) substrates. Micromachines 8(148), 2–9 (2017)

Wang, R., Liu, C., Huang, J.-L., Chen, S.-J., Tseng, Y.-K., Kung, S.-C.: ZnO nanopencils: efficient field emitters. Appl. Phys. Lett. 87, 013110-1–013110-3 (2005)

Willander, M., Nur, O., Zhao, Q., Yang, L., Lorenz, M., Cao, B., Pérez, J.Z., Czekalla, C., Zimmermann, G., Grundmann, M.: Zinc oxide nanorod based photonic devices: recent progress in growth, light emitting diodes and lasers. Nanotechnology 20, 332001-1–332001-40 (2009)

Yoshida, T., Zhang, J., Komatsu, D., Sawatani, S., Minoura, H., Pauporté, T., Lincot, D., Oekermann, T., Schlettwein, D., Tada, H.: Electrodeposition of inorganic/organic hybrid thin films. Adv. Funct. Mater. 19, 17–43 (2009)

Youssef, S., Combette, P., Podlecki, J., Asmar, R.A., Foucaran, A.: Structural and optical characterization of ZnO thin films deposited by reactive rf magnetron sputtering. Cryst. Growth Des. 9, 1088–1094 (2008)

Zhang, J., He, G., Zhu, L., Liu, M., Pan, S., Zhang, L.: Effect of oxygen partial pressure on the structural and optical properties of ZnO film deposited by reactive sputtering. Appl. Surf. Sci. 253, 9414–9421 (2007)
Acknowledgements
The authors would like to thank the University of the Witwatersrand, Material Physics Research Institute, School of Physics; the XRD and MMU facilities at Wits, National Research Foundation (NRF) Grant Number (85675) and Material Energy Research Group (MERG) for funding. Special thanks to Erasmus+ office for support to carry out optical measurements at the University of West Attica, Egaleo, Greece and to GCRF-START: Synchrotron Techniques for African Research and Technology for postdoctoral funding (F.O.).
Funding
Funding was provided by UKRI (Grant No. ST/R002754/1), National Research Foundation (Grant No. 85675) and University of the Witwatersrand, Johannesburg (2016–2018).
Additional information
Publisher's Note
Springer Nature remains neutral with regard to jurisdictional claims in published maps and institutional affiliations.
About this article
Cite this article
Otieno, F., Airo, M., Ganetsos, T. et al. Role of oxygen concentrations on structural and optical properties of RF magnetron sputtered ZnO thin films. Opt Quant Electron 51, 359 (2019). https://doi.org/10.1007/s11082-019-2076-5
Received:

Accepted:

Published:
Keywords
Zinc oxide

Photo-luminescence

Thin films

Raman