Abstract
This paper discuss the preparation of the binary system of Phosphate Based Glass (PBG) xP2O5–(100 − x) Na2O mol% and investigates the compositions that form glassy matrix. It is found that x in the range between x = 40–60 mol% and divided in to 5 glass samples (x = 40, 45, 50, 55, 60) and for compositions of 40 > x > 60 no glassy matrix is formed. The intensities of the peak centers of the IR spectra of sodium phosphate glasses and the suggested vibrational modes of structural phosphate chains, terminal groups and tabulated data imply a shift in absorption bands with increasing the Na2O mol% content. The amount of bridging phosphorous, shows a maximum value for the glass containing 60 mol% Na2O due to the depolymerization of the phosphate matrix with increasing Na2O content from 40 to 60 mol% via a breakdown of some terminal bonds (P=O) in the glass network which decreases the bond strength, consequently the peak center is shifted towards lower wave number. Essentially, five compositions of glassy samples were investigated: (x = 40, 45, 50, 55, and 60) mol%. The kinetics of dissolution rate were investigated by two ways: 1—the weight loss data and 2—electrical properties of the solution (pH, Electrical Conductivity) leached by the glass sample in to the deionized water. It is found that with increasing the Na2O% content, the pH values, the dissolution rate and the solubility are increasing. It could be noticed that the ionic levels increased with the immersion time and were directly related to the solubility of the glasses. The highest in solubility (x = 40) is the highest in EC and pH values caused by high Na2O%. By studying the effect of PBG on the real water medium physical characteristics the following results were achieved: Softening of (Treated drinking water, Nile raw water) by removal of hardness (Ca, Mg) by x = 50; 50% P2O5–50% Na2O, Sequestering and agglomerating of (groundwater, wastewater) of some heavy metals as (Fe, Mn) up to 100% removal by x = 60; 60% P2O5–40% Na2O and the electrical properties (pH, EC) were discussed. Results are assuring the possibility of applying PBG for groundwater treatment of high Fe and Mn content. The data show that municipal groundwater supplies become acceptable according to the guidelines of American Chemistry Council for safe drinking water by using of polyphosphates for water treatment.
Access options
Buy single article
Instant access to the full article PDF.
USD 39.95
Price excludes VAT (USA)
Tax calculation will be finalised during checkout.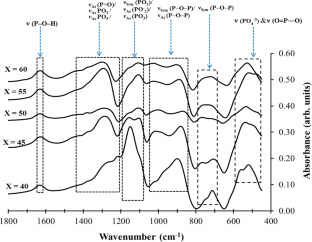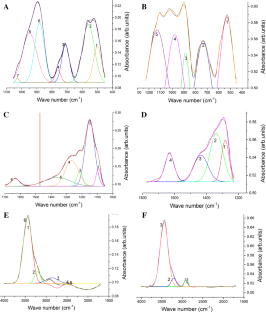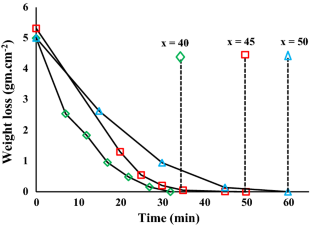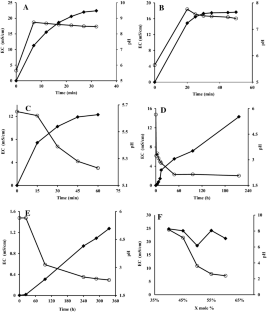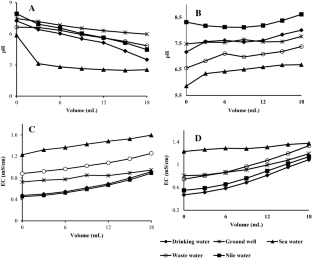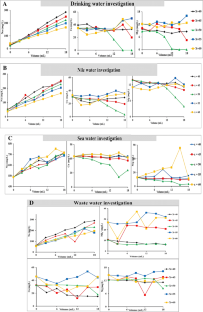 References
Abdel-Gayed, M.S., Elbashar, Y.H., Barakat, M.H., Shehata, M.R.: Optical spectroscopic investigations on silver doped sodium phosphate Glass. Opt. Quant. Electron. 49, 305 (2017)

Abdul Ghafoor, S., Murtaza, G.: Estimation of ionic strength from electrical conductivity of Punjab Groundwaters. Pak. J. Agri. Sci. 37, 3–4 (2000)

American Society of Standard Material (ASTM) International: D6919–17 Standard test method for determination of dissolved Alkali and Alkaline earth cations and ammonium in water and wastewater by ion chromatography

Aqdim, S., Chabbou, Z.: Chemical durability and structural proprieties of the vitreous part of the system × CaO-(40–x) ZnO–15 Na2O–45 P2O5. Adv. Mater. Phys. Chem. 4, 179–186 (2014)

Aqdim, S., Ouchetto, M.: Elaboration and structural investigation of iron (III) phosphate glasses. Adv. Mater. Phys. Chem. 3, 332–339 (2013)

Berzina-Cimdina, L., Borodajenko, N.: Research of Calcium Phosphates Using Fourier Transform Infrared Spectroscopy, Infrared Spectroscopy—Materials Science, Engineering and Technology (2012)

Benjamin, M.M., Reiber, S.H., Ferguson, J.F., Vanderwerff, S.A., Miller, M.W.: Chemistry of corrosion inhibitors in portable water. J. AWWARF (1990)

Bunker, B.C., Arnold, G.W., Wilder, J.A.: Phosphate glass dissolution in aqueous solutions. J. Non-Cryst. Solids 64, 291–316 (1984)

Cantor, A.F., Denig-Chakroff, D., Vela, R.R., Oleinik, M.G., Lynch, D.L.: Use of polyphosphate in corrosion control. J. AWWA 92, 95–102 (2000)

Cao, X., Wahbi, A., Ma, L., Li, B., Yang, Y.: Immobilization of Zn, Cu, and Pb in contaminated soils using phosphate rock and phosphoric acid. J. Hazard. Mater. 164, 555–564 (2009)

Cao, X., Ma, L.Q., Rhue, D.R., Appel, C.S.: Mechanisms of lead, copper and zinc retention by phosphate rock. Environ. Pollut. 131, 435–444 (2004)

Corami, A., D'Acapito, F., Mignardi, S., Ferrini, V.: Removal of Cu from aqueous solutions by synthetic hydroxyapatite: EXAFS investigations. Mat. Sci. Eng. B. 149, 209–213 (2008)

Edwards, M.: Role of phosphate inhibitors in mitigating lead and copper corrosion in distribution systems. AWWARF (2001)

Elbashar, Y.H., Rashad, M.M., Rayan, D.A.: Physical and mechanical properties of neodymium doped zinc borate glass with different boron content. Silicon 10, 115–122 (2018)

Elbashar, Y.H., Rayan, D.A., Rashad, M.M.: Protection glass eyewear against a YAG laser based on a bandpass absorption filter. Silicon 9, 111–116 (2017a)

Elbashar, Y.H.: Design and fabrication of protection window against YAG laser. Silicon 9, 711–715 (2017)

Elbashar, Y.H., Rayan, D.A., Rady, H.S.: Molecular spectroscopic study of borate glass doped neodymium oxide. Nonlinear Opt. Quant. Opt. NLOQO 48, 237–245 (2017b)

Elbashar, Y.H., Abd El-Ghany, H.A.: Optical spectroscopic analysis of Fe2O3 doped CuO containing phosphate glass. Opt. Quant. Electron. 49, 310 (2017)

Er-rouissi, Y., Chabbou, Z., Beloued, N., Aqdim, S.: Chemical durability and structural properties of Al2O3–CaO–Na2O–P2O5 glasses studied by IR spectroscopy, XRD and SEM. Adv. Mater. Phys. Chem. 7, 353–363 (2017)

El-Damrawi, G., Hassan, A., Doweidar, H., Shaboub, A.: Structural Studies on Ag2O-P2O5 Glasses. New J. Glass Ceram. 7, 77–89 (2017)

Gao, H., Tan, T., Wang, D.: Dissolution mechanism and release kinetics of phosphate controlled release glasses in aqueous medium. J. Control. Release 96, 29–36 (2004)

Illig Jr., G.L.: Glassy phosphates in water treatment. Am. Water Works Assoc. 49, 805–816 (1957)

Islam, M., Chandra Mishra, P., Patel, R.: Physicochemical characterization of hydroxyapatite and its application towards removal of nitrate from water. J. Environ. Manage. 91, 1883–1891 (2010)

Jamnický, M., Znášik, P.: Preparation, infrared spectra and structure of glasses in the system CuCl–Cu2O–(P2O5 + MoO3). J. Non-Cryst. Solids 146, 74–80 (1992)

Jha, P.K., Pandey, O.P., Singh, K.: Non-isothermal crystallization kinetics of K2O modified sodium-phosphate glasses. J. Non-Cryst. Solids 440, 76–84 (2016)

Kentucky Water Watch.: Total Iron. Kentucky water quality total iron information (2004)

Kiani, A., Lakhkar, N.J., Salih, V., Smith, M.E., Hanna, J.V., Newport, R.J., Pickup, D.M., Knowles, J.C.: Titanium-containing bioactive phosphate glasses. Phil. Trans. R. Soc. A 370, 1352–1375 (2012a)

Kiani, A., Hanna, J.V., King, S.P., Rees, G.J., Smith, M.E., Roohpour, N., Salih, V., Knowles, J.C.: Structural characterization and physical properties of P2O5–CaO–Na2O–TiO2 glasses by Fourier transform infrared. Raman and solid-state magic angle spinning nuclear magnetic resonance spectroscopies, Acta Biomaterialia 8, 333–340 (2012b)

Kumar, H., Chaudhhary, R.S.: Influence of sodium hexa metaphosphate antiscalant on the corrosion of carbon steel in industrial cooling water system. Indian J. Chem. Technol. 17, 181–190 (2010)

Ma, Q.Y., Traina, S.J., Logan, T.J., Ryan, J.A.: In situ lead immobilization by apatite. Environ. Sci. Technol. 27, 1803–1810 (1993)

Moustafa, Y.M., El-Egili, K., Doweidar, H., Abbas, I.: Structure and electric conduction of Fe2O3–P2O5 glasses. Phys. B 353, 82–91 (2004)

Marchat, D., Bernache-Assollant, D., Champion, E.: Cadmium fixation by synthetic hydroxyapatite in aqueous solution Thermal behaviour. J. Hazard. Mater. 139, 453–460 (2007)

Moustafa, Y.M., El-Egili, K.: Infrared spectra of sodium phosphate glasses. J. Non-Cryst. Solids 240, 144–153 (1998)

Mehrotra, R.C., Dhar, N.R.: Studies in hexametaphosphates: Part I. Preparation and properties of sodium hexametaphosphate and a study of the extend of complex formation with calcium ions by conductivity data, the University of Allahabad, vol. 16, pp. 60–65 (1949)

Ma, L.N.: Dissolution behavior of phosphate glasses, Doctoral Dissertations. 2349 (2014)

Navarro, M., Ginebra, M., Clement, J., Martinez, S., Avila, G., Planell, J.A.: Physicochemical degradation of titania-stabilized soluble phosphate glasses for medical applications. J. Am. Ceram. Soc. 86, 1345–1352 (2003)

Pascal.: Hexametaphosphates. Compt. Rend. 177, 1298 (1923)

Saeed, A., Elbashar, Y.H., El Kameesy, S.U.: Optical spectroscopic analysis of high density lead borosilicate glasses. Silicon 10, 185–189 (2018a)

Saeed, A., Elbashar, Y.H., El Khameesy, S.U.: A novel barium borate glasses for optical applications. Silicon 10, 569–574 (2018b)

Saeed, A.A., Elshazly, R.M., El-Okr, M.M., Abou El-azm, A.M., Elbashar, Y.H., Comsan, M.N.H., Kansouh, W.A., El-Sersy, A.R.: Neutron shielding properties of a borated high-density glass. Nucl. Technol. Radiat. Prot. 32, 120–126 (2017)

Saeed, A., Elbashar, Y.H., El Shazly, R.M.: Optical properties of high density barium borate glass for gamma ray shielding applications. J. Opt. Quant. Electron. 48, 1 (2016)

Shastry, M.C.R., Rao, K.J.: Vibrational Raman spectra of AgI-AgPO3 glasses. Spectrochim. Acta, Part A 46, 1581–1586 (1990)

Shekhar, A.: Reversion of poly-phosphates to ortho-phosphates in water distribution systems (2005)

Sullivan, R.: Treatment of manganese in west boylston drinking water (2007)

Suneel Kumar, A., Sambasiva Rao, M.V., Chinna Ram, G., Krishna Rao, D.: Microstructure and spectroscopic investigations of calcium zinc bismuth phosphate glass ceramics doped with manganese ions. Indian J. Phys. 92, 92–109 (2018)

The Standard Methods for the Examination of Water and Wastewater (23rd Edition) is a joint publication of The American Public Health Association (APHA, 2017), the American Water Works Association (AWWA), and the Water Environment Federation (WEF)

Volpe, D.: Assessment of iron and manganese sequestration, Environ. Water Resour. Eng. Masters Projects (2012)

Yoon, J.K., Cao, X., Ma, L.Q.: Application methods affect phosphorus-induced lead immobilization from a contaminated soil. J. Environ. Qual. 36, 373–378 (2007)

Zhou, Y., Hou, G.G.: Effects of phosphate salts on the pH values and rapid visco analyser (RVA) pasting parameters of wheat flour suspensions. Cereal Chem. 89, 38–43 (2011)
Acknowledgements
The authors acknowledge the support of the Reference Laboratory for Drinking Water-The Holding Company for Water and Waste Water (HCWW) and Qalyubia Company for Water and Waste Water (QLBWW).
Additional information
Publisher's Note
Springer Nature remains neutral with regard to jurisdictional claims in published maps and institutional affiliations.
About this article
Cite this article
Elfeky, E.M., Elbashar, Y.H., Barakat, M.H. et al. Structural investigation and applications of glassy sodium phosphate including the kinetics of dissolution rates and spectral analysis of the prepared samples with a focus on their effects on water treatment. Opt Quant Electron 51, 102 (2019). https://doi.org/10.1007/s11082-019-1822-z
Received:

Accepted:

Published:

DOI: https://doi.org/10.1007/s11082-019-1822-z
Keywords
Phosphate Based Glass (PBG)

Band deconvolution of IR spectra

Dissolution rate

Water medium