Abstract
In this study, with the help of Wolfram Mathematica 9 software, the powerful sine-Gordon expansion method is used in constructing new hyperbolic function solutions to the two well known nonlinear differential equations that arise in the field of nonlinear sciences, namely; the modified Zakharov–Kuznetsov and the (2+1)-dimensional cubic Klein–Gordon equations. We also plot the two- and three-dimensional graphics of all the obtained solutions in this paper by utilizing the same program in the Wolfram Mathematica 9 software.
Access options
Buy single article
Instant access to the full article PDF.
USD 39.95
Price includes VAT (USA)
Tax calculation will be finalised during checkout.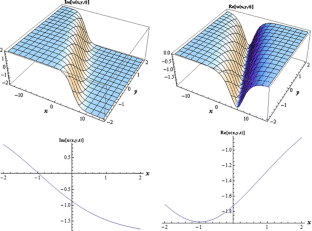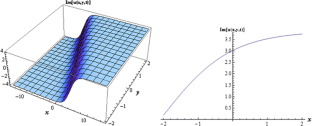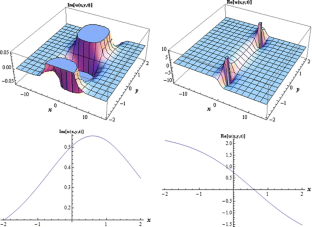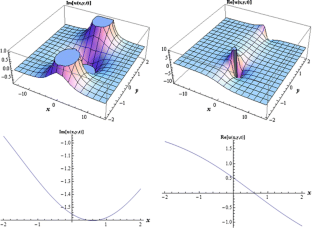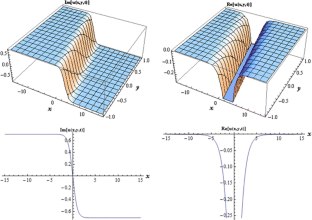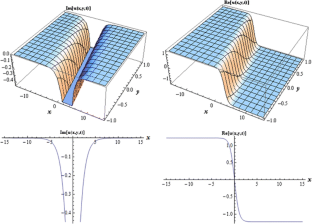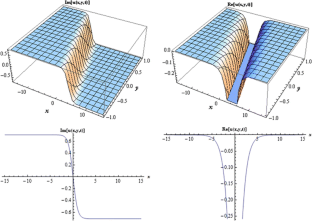 References
Abdelkawey, M.A., Bhrawy, A.H., Zerrad, E., Biswas, A.: Application of tanh method to complex coupled nonlinear evolution equations. Acta Phys. Pol. A 129(3), 278–283 (2016)

Abdou, M.A.: The extended tanh method and its applications for solving nonlinear physical models. Appl. Math. Comput. 190(1), 988–996 (2007)

Alquran, M., Katatbeh, Q., Al-Shrida, B.: Applications of first integral method to some complex nonlinear evolution systems. Appl. Math. Inf. Sci. 9(2), 825–831 (2015)

Baskonus, H.M.: New acoustic wave behaviors to the Davey–Stewartson equation with power nonlinearity arising in fluid dynamics. Nonlinear Dyn. 86(1), 177–183 (2016)

Baskonus, H.M., Bulut, H.: New hyperbolic function solutions for some nonlinear partial differential equation arising in mathematical physics. Entropy 17, 4255–4270 (2015)

Bulut, H., Sulaiman, T.A., Baskonus, H.M.: New solitary and optical wave structures to the Korteweg–de Vries equation with dual-power law nonlinearity. Opt. Quantum Electron. 48(564), 1–14 (2016)

Eslami, M., Vajargah, B.F., Mirzazadeh, M.: Exact solutions of modified Zakharov–Kuznetsov equation by the homogeneous balance method. Ain Shams Eng. J. 5, 221–225 (2014)

He, J.: Variational iteration method—a kind of non-linear analytical technique: some examples. Int. J. Non Linear Mech. 34(4), 699–708 (1999)

He, J., Wu, X.: Exp-function method for nonlinear wave equations. Chaos Solitons Fractals 30(3), 700–708 (2006)

Islam, M.S., Khan, K., Arnous, A.H.: Generalized Kudryashov method for solving some (3+1)-dimensional nonlinear evolution equations. New Trends Math. Sci. 3(3), 46–57 (2015)

Kadkhoda, N., Jafari, H.: Kudryashov method for exact solutions of isothermal magnetostatic atmospheres. Iran. J. Numer. Anal. Optim. 6(1), 43–52 (2016)

Kaplan, M., Bekir, A., Akbulut, A.: A generalized Kudryashov method to some nonlinear evolution equations in mathematical physics. Nonlinear Dyn. 85(4), 2843–2850 (2016)

Karimi, M.: The tanh method for solutions of the nonlinear modified Korteweg de Vries equation. Math. Sci. J. 9(1), 47–54 (2013)

Khalfallah, M.: New exact traveling wave solutions of the (2+1)-dimensional Zakharov–Kuznetsov (ZK) equation. An. Stiint. Univ. Ovidius Constanta 15(2), 35–43 (2007)

Khan, K., Akbar, M.A.: Exact solutions of the (2+1)-dimensional cubic Klein–Gordon equation and the (3+1)-dimensional Zakharov–Kuznetsov equation using the modified simple equation method. J. Assoc. Arab Univ. Basic Appl. Sci. 15, 74–81 (2014)

Lin, X., Tang, S., Huang, W.: The extended tanh method for compactons and solitons solutions for the ch(n,2n \(-\) 1,2n,\(-\)n) equations. J. Inf. Secur. 3, 185–188 (2012)

Malfliet, W.: The tanh method: a tool for solving certain classes of nonlinear evolution and wave equations. J. Comput. Appl. Math. 164, 529–541 (2004)

Manafian, J., Shahabi, R., Norbakhsh, N., Zamanpour, I., Jalali, J.: Application of the exp-function method for the KP-BBM equation and its generalized form. Open Sci. J. Mod. Phys. 1(3), 17–23 (2014)

Moradi, E., Varasteh, H., Abdollahzadeh, A., Malekshah, M.M.: The exp-function method for solving two dimensional sine-Bratu type equations. Appl. Math. 5, 1212–1217 (2015)

Naher, H., Abdullah, F.A.: The improved \((G^{^{\prime }}/G)\)-expansion method for the (2+1)-dimensional modified Zakharov–Kuznetsov equation. J. Appl. Math. 2012, 438928 (2012). doi:10.1155/2012/438928

Navickas, Z., Telksnys, T., Ragulskis, M.: Comments on "The exp-function method and generalized solitary solutions". Comput. Math. Appl. 69, 798–803 (2015)

Pandir, Y., Gurefe, Y., Misirli, E.: A new approach to Kudryashov's method for solving some nonlinear physical models. Int. J. Phys. Sci. 7(21), 2860–2866 (2012)

Rao, D.V.G.: A study of the variational iteration method for solving three species food web model. Int. J. Math. Anal. 6(16), 753–759 (2012)

Ryabov, P.N., Sinelsshchikov, D.I., Kochanov, M.B.: Application of Kudryashov method for finding exact solutions of the higher order nonlinear evolution equations. Appl. Math. Comput. 218(7), 3965–3972 (2011)

Seadawy, A.R.: Three-dimensional nonlinear modified Zakharov–Kuznetsov equation of ion-acoustic waves in a magnetized plasma. Ain Shams Eng. J. 71(1), 201–212 (2016)

Sharma, P., Kushel, O.Y.: The first integral method for Huxley equation. Int. J. Nonlinear Sci. 10(1), 46–52 (2010)

Taghizadeh, N., Mirzazadeh, M., Paghaleh, A.S.: The first integral method to nonlinear partial differential equations. Appl. Appl. Math. Int. J. 7(1), 117–132 (2012)

Taghizadeh, N., Mirzazadeh, M., Mahmoodirad, A.: Application of Kudryashov method for higher-order nonlinear Schrodinger equation. Indian J. Phys. 87(8), 781–785 (2013)

Tascan, F., Bekir, A., Koparan, M.: Travelling wave solutions of nonlinear evolution equations by using the first integral method. Commun. Nonlinear Sci. Numer. Simulat. 14, 1810–1815 (2009)

Wang, Q., Fu, F.: Variational iteration method for solving differential equations with piecewise constant arguments. I J Eng. Manuf. 2, 36–43 (2012)

Wazwaz, A.M.: The tanh and the sine–cosine methods for the complex modified KdV and the generalized KdV equations. Comput. Math. Appl. 49, 1101–1112 (2005)

Wazwaz, A.M.: The variational iteration method: a reliable analytic tool for solving linear and nonlinear wave equations. Comput. Math. Appl. 54, 926–932 (2007)

Wazwaz, A.M.: The extended tanh method for the Zakharov–Kuznetsov (ZK) equation, the modified ZK equation and its generalized forms. Commun. Nonlinear Sci. Numer. Simul. 13(6), 1039–1047 (2008)

Weisstein, E.W.: Concise Encyclopedia of Mathematics, 2nd edn. CRC Press, New York (2002)

Yan, C.: A simple transformation for nonlinear waves. Phys. Lett. A 22(4), 77–84 (1996)

Yan, Z., Zhang, H.: New explicit and exact travelling wave solutions for a system of variant Boussinesq equations in mathematical physics. Phys. Lett. A 252, 291–296 (1999)

Yusufoglu, E.: The variational iteration method for studying the Klein–Gordon equation. Appl. Math. Lett. 21, 669–674 (2008)

Yusufoglu, E., Bekir, A.: On the extended tanh method applications of nonlinear equations. Int. J. Nonlinear Sci. 4(1), 10–16 (2007)

Zakharov, V.E., Kuznetsov, E.A.: Three-dimensional solitons. Zh. Eksp. Teor. Fiz. 66, 594–597 (1974)

Zayed, E.M.E., Abdelrahman, H.M.: The extended tanh-method for finding traveling wave solutions of nonlinear evolution equations. Appl. Math. E Notes 10, 235–245 (2010)
About this article
Cite this article
Bulut, H., Sulaiman, T.A., Baskonus, H.M. et al. Novel hyperbolic behaviors to some important models arising in quantum science. Opt Quant Electron 49, 349 (2017). https://doi.org/10.1007/s11082-017-1181-6
Received:

Accepted:

Published:
Keywords
The sine-Gordon expansion method

Modified Zakharov–Kuznetsov equation

(2+1)-Dimensional cubic

Hyperbolic function solution