Abstract
We demonstrate narrowband CW mid-infrared generators based on difference frequency generation in periodically poled KTP and KTA crystals. The crystals are used to nonlineary mix the beams from high-power narrowband fiber laser systems working at 1060- and 1550-nm spectral bands. We explore various techniques to control the linewidth of fiber lasers. The tunability achieved in a source based on nonlinear mixing in a KTA crystal exceeds the range of 3100–3620 nm.
This is a preview of subscription content, log in to check access.
Access options
Buy single article
Instant access to the full article PDF.
US$ 39.95
Price includes VAT for USA
Subscribe to journal
Immediate online access to all issues from 2019. Subscription will auto renew annually.
US$ 199
This is the net price. Taxes to be calculated in checkout.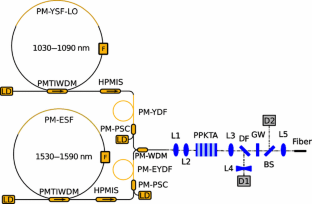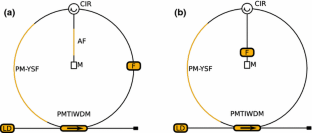 References
Bewley, W.W., Canedy, C.L., Kim, C.S., Kim, M., Merritt, C.D., Abell, J., Vurgaftman, I., Meyer, J.R.: High-power room-temperature continuous-wave mid-infrared interband cascade lasers. Opt. Express 20, 20894–20901 (2012)

Bismuto, A., Blaser, S., Terazzi, R., Gresch, T., Muller, A.: High performance, low dissipation quantum cascade lasers across the mid-IR range. Opt. Express 23, 5477–5484 (2015)

Borri, S., Cancio, P., De Natale, P., Giusfredi, G., Mazzotti, D., Tamassia, F.: Power-boosted difference-frequency source for high-resolution infrared spectroscopy. Appl. Phys. B 76, 473–477 (2003)

Cristescu, S.M., Persijn, S.T., Lintel Hekkert, S.Te, Harren, F.J.M.: Laser-based systems for trace gas detection in life sciences. Appl. Phys. B 92, 343–349 (2008)

Curl, R.F., Tittel, F.K.: Tunable infrared laser spectroscopy. Annu. Rep. Prog. Chem. Sect. C 98, 219–272 (2002)

Fradkin, K., Arie, A., Skliar, A., Rosenman, G.: Tunable midinfrared source by difference frequency generation in bulk periodically poled KTiOPO\(_4\). Appl. Phys. Lett. 74, 914–916 (1999)

Fradkin-Kashi, K., Arie, A., Urenski, P., Rosenman, G.: Mid-infrared difference-frequency generation in periodically poled KTiOAsO\(_4\) and application to gas sensing. Opt. Lett. 25, 743–745 (2000)

Honzatko, P., Baravets, Y., Todorov, F., Gladkov, P.: Comparison of widely tunable narrowband CW MIR generators based on the difference frequency generation in KTP and KTA crystals, in Advanced Solid State Lasers, OSA Technical Digest (online) (Optical Society of America, 2014), paper ATh2A.36

Jackson, S.D.: Towards high-power mid-infrared emission from a fibre laser. Nat. Photonics 6, 423–431 (2012)

Kosterev, A., Wysocki, G., Bakhirkin, Y., So, S., Lewicki, R., Fraser, M., Tittel, F., Curl, R.F.: Application of quantum cascade lasers to trace gas analysis. Appl. Phys. B 90(2), 165–176 (2008)

Krzempek, K., Sobon, G., Abramski, K.M.: DFG-based mid-IR generation using a compact dual-wavelength all-fiber amplifier for laser spectroscopy applications. Opt. Express 21, 20023–20031 (2013)

Peltola, J., Vainio, M., Ulvila, V., Siltanen, M., Metsl, M., Halonen, L.: Off-axis re-entrant cavity ring-down spectroscopy with a mid-infrared continuous-wave optical parametric oscillator. Appl. Phys. B 107(3), 839–847 (2012)

Tittel, F.K., Lewicki, R., Lascola, R., McWhorter, S.: Emerging infrared laser absorption spectroscopic techniques for gas analysis. In: Geiger, W.M., Raynor, M.W. (eds.) Rrace Analysis of Specialty and Electronic Gases. Wiley, Hoboken (2013)

Wang, C., Sahay, P.: Breath analysis using laser spectroscopic techniques: breath biomarkers, spectral fingerprints, and detection limits. Sensors 9(10), 8230–8262 (2009)

Yin, F., Yang, S., Chen, H., Chen, M., Xie, S.: Tunable single-longitudinal-mode Ytterbium all fiber laser with saturable-absorber-based auto-tracking filter. Opt. Commun. 285, 2702–2706 (2012)
Acknowledgments
The work was supported by the Ministry of Education, Youth and Sports under Grant No. LD14112 in the frame of COST Action MP1204.
Additional information
This article is part of the Topical Collection on TERA-MIR: Materials, Generation, Detection and Applications.
Guest Edited by Mauro F. Pereira, Anna Wojcik-Jedlinska, Renata Butkute, Trevor Benson, Marian Marciniak and Filip Todorov.
About this article
Cite this article
Baravets, Y., Honzatko, P., Todorov, F. et al. Narrowband widely tunable CW mid-infrared generator based on difference frequency generation in periodically poled KTP and KTA crystals. Opt Quant Electron 48, 286 (2016). https://doi.org/10.1007/s11082-016-0556-4
Received:

Accepted:

Published:
Keywords
Mid-infrared tunable laser source

Fiber laser

Fiber optics amplifier

Difference-frequency generation