Abstract
A number of advanced economies carried out a sequence of extensive reforms of their labor and product markets in the 1990s and early 2000s. Using the Synthetic Control Method (SCM), this paper implements six case studies of well-known waves of reforms, those of New Zealand, Australia, Denmark, Ireland and Netherlands in the 1990s, and the labor market reforms in Germany in the early 2000s. In four of the six cases, GDP per capita was higher than in the control group as a result of the reforms. No difference between the treated country and its synthetic counterpart could be found in the cases of Denmark and New Zealand, which in the latter case may have partly reflected the implementation of reforms under particularly weak macroeconomic conditions. Overall, also factoring in the limitations of the SCM in this context, the results are suggestive of a positive but heterogenous effect of reform waves on GDP per capita.
Access options
Buy single article
Instant access to the full article PDF.
US$ 39.95
Tax calculation will be finalised during checkout.
Subscribe to journal
Immediate online access to all issues from 2019. Subscription will auto renew annually.
US$ 79
Tax calculation will be finalised during checkout.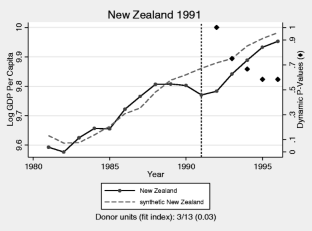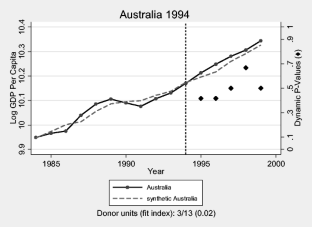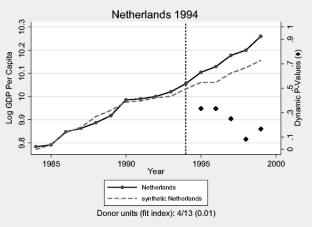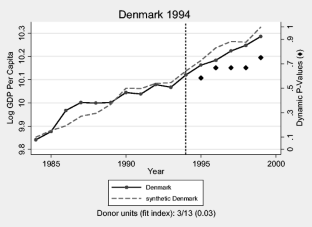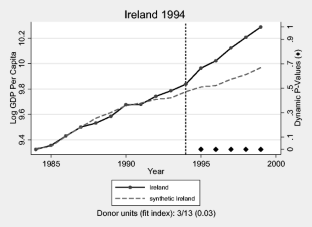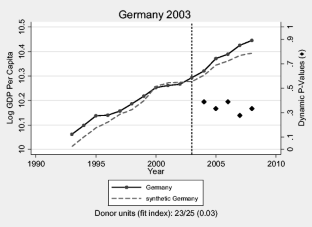 Notes
1.

We have tried to examine the reform impact on alternative outcome variables such as total factor productivity, employment rate, and female labor participation rate. However, we did not obtain meaningful results because given the volatility in these outcome variables, we were unable to find synthetic units that could provide sufficiently good pre-treatment fit for the treated countries. In addition, we would like to focus on the impact of reforms on overall economic performance.

2.

Campos and Kinoshita (2010) use the synthetic control method to analyze the impact of financial reforms on FDI inflows, as a robustness check of their regression results.

3.

Abadie and Gardeazabal (2003) use the approach to assess the negative impact of the violent conflict in the Spanish Basque Country on economic growth. Abadie et al. (2010) use it to estimate the impact of a large anti-tobacco initiative in California on the per capita sales of cigarettes, the impact of the terrorist attacks on electoral outcome (Montalvo 2011); the effects of relaxing restrictions on home equity lending on retail spending by households (Abdalah and Lastrapes 2012); the impact of natural disasters on economic growth (Cavallo et al. 2013); the effect of civil conflict on economic growth (Dorsett 2013); the impact of nutrition policies on dietary behavior and childhood obesity (Bauhoff 2014); the effect of immigration laws on demographic composition (Bohn et al. 2014); the impact of decrease in police enforcement on traffic fatalities and injuries (DeAngelo and Hansen 2014); and the impact of major natural resource discoveries on economic growth (Smith 2015).

4.

See Abadie, Diamond, Hainmueller (2015) for details on the comparison of SCM and traditional regression techniques.

5.

The firms may also make their decision in advance, in anticipation of the reforms. In either case, the anticipation effects make it difficult to identify the effective treatment date.

6.

See Appendix V in Abadie and Gardeazabal (2003) for details.

7.

Calculated using "in space" placebo experiments. See, for instance, Abadie et al. (2015). The dynamic p-value indicates the likelihood of obtaining an estimate at least as large as the one obtained for the treated unit at each post-reform period analyzed. The placebo experiment graphs for each of the treated countries are provided in the Appendix (Figs. 7, 8, 9, 10, 11 and 12).

8.

We acknowledge that in the case of Ireland, the synthetic control method may not be able to disentangle the effects of other developments in the 1990s that may have contributed to the success of the reforms, such as a favorable external environment and rising confidence of international investors associated with financial globalization and its EU membership.
References
Abadie A, Diamond A, Hainmueller J (2010) Synthetic control methods for comparative case studies: estimating the effect of California's tobacco control program. J Am Stat Assoc 105(490):493–505

Abadie A, Diamond A, Hainmueller J (2015) Comparative politics and the synthetic control method. Am J Polit Sci 59(2):495–510

Abadie A, Gardeazabal J (2003) The economic costs of conflict: a case study of the Basque Country. Am Econ Rev 93(1):113–132

Abdallah CS, Lastrapes WD (2012) Home equity lending and retail spending: evidence from a natural experiment in Texas. Am Econ J Macroecon 4(4):94–125

Adhikari B, Alm J (2016) Evaluating the economic effects of flat tax reforms using synthetic control methods. Southerm Economic Journal 83(2):437–463

Athey S, Imbens GW (2017) The state of applied econometrics: causality and policy evaluation. J Econ Perspect 31(2):3–32

Bauhoff S (2014) The effect of School District nutrition policies on dietary intake and overweight: a synthetic control approach. Economics & Human Biology 12:45–55

Bertrand M, Duflo E, Mullainathan S (2004) How much should we trust differences-in-differences estimates? Q J Econ 119(1):249–275

Bhagwati J, Srinivasan TN (2002) Trade and poverty in the poor countries. Am Econ Rev 92(2):180–183

Billmeier A, Nannicini T (2011) Economies in transition: How important is trade openness for growth? Oxf Bull Econ Stat 73(3):287–314

Billmeier A, Nannicini T (2013) Assessing economic liberalization episodes: a synthetic control approach. Rev Econ Stat 95(3):983–1001

Bohn S, Lofstrom M, Raphael S (2014) Did the 2007 legal Arizona workers act reduce the State's unauthorized immigrant population? Review of Economics and Statistics 96(2):258–269

Boulhol, Herve, Alain De Serres and Margit Molnar. 2008. "The contribution of economic geography to GDP per capita." OECD Economic Journal: Economic Studies Volume 2008

Briggs C, Buchanan J (2000) Labor market deregulation: a critical assessment. In: Research paper no 21. Information and Research Services, Department of Parliamentary Library, Canberra, ACT, Australia, pp 1999–2000

Smith B (2015) The resource curse exorcised: evidence from a panel of countries. J Dev Econ 116:57–73

Campos N, Kinoshita Y (2010) Structural reforms, financial liberalization, and foreign direct investment. IMF Staff Pap 57(2):326–365

Cavallo E, Galiani S, Noy I, Pantano J (2013) Catastrophic natural disasters and economic growth. Rev Econ Stat 95(5):1549–1561

DeAngelo G, Hansen B (2014) Life and death in the fast lane: police enforcement and traffic fatalities. Am Econ J Econ Pol 6(2):231–257

Dorsett R (2013) The effect of the troubles on GDP in Northern Ireland. Eur J Polit Econ 29:119–133

Duval R, Furceri D, Hu B, Jalles J, Nguyen H (2018) A narrative database of major labor and product market reforms in advanced economies. IMF working paper No. 18/19. International Monetary Fund, Washington D.C.

Dustmann C, Fitzenberger B, Schonberg U, Spitz-Oener A (2014) From sick man of Europe to economic superstar: Germany's resurgent economy. J Econ Perspect 28(1):167–188

Evans L, Grimes A, Wilkinson B, Teece D (1996) Economic reform in New Zealand 1984-95: the pursuit of efficiency. J Econ Lit 34(4):1856–1902 http://www.jstor.org/stable/2729596

Galt, David. 2000. "New Zealand's economic growth". New Zealand Treasury Working Paper No. 00/09

Glyn, Andrew. 2005. Labour market success and labour market reform: lessons from Ireland and New Zealand. In Fighting Unemployment: The Limits of Free Market Orthodoxy: 197, edited by David Howell, Oxford University Press, New York

International Monetary Fund (IMF) (2016) World economic outlook: April 2016. Washington, D.C.

International Monetary Fund (IMF) (2015) Fiscal policies and long-term growth. Washington, D.C.

Jacobi L, Kluve J (2006) Before and after the Hartz reforms: the performance of active labour market policy in Germany. In: IZA discussion paper no. 2100; RWI discussion paper no. 41. Available at SSRN http://ssrn.com/abstract=900374

Krebs T, Scheffel M (2013) Macroeconomic evaluation of labor market reform in Germany. IMF Economic Review 61(4):664–701

McCann P (2003) Geography, trade and growth: problems and possibilities for the New Zealand economy. New Zealand Treasury Working Paper 03(/03)

Montalvo JG (2011) Voting after the bombings: a natural experiment on the effect of terrorist attacks on democratic elections. Review of Economics and Statistics 93(4):1146–1154

Organization for Economic Co-operation and Development (OECD) (1991) OECD economic surveys: New Zealand 1990/1991. OECD Publishing, Paris

OECD (1995) OECD economic surveys: Ireland 1995. OECD Publishing, Paris

Parham, Dean. 2004. Australia's 1990s productivity surge and its determinants. In Growth and Productivity in East Asia, edited by Takatoshi Ito and Andrew rose. Chicago: University of Chicago Press

Persson T, Roland G, Tabellini G (2007) Electoral rules and government spending in parliamentary democracies. Quarterly Journal of Political Science 2(2):155–188

Quiggin J (2001) The Australian productivity miracle: a Sceptical view. Agenda 8(4):333–348

Quiggin J (2004) Looking back on microeconomic reform: a skeptical viewpoint. In: Australian public policy program working paper 1/P03, vol 15. The University of, Queensland, pp 1–25

Rodriguez, Francisco, and Dani Rodrik. 2001. "Trade Policy and Economic Growth: a Skeptic's Guide to the Cross-national Evidence." In NBER Macroeconomics Annual 2000, Volume 15, pp. 261–338. MIT Press

Tille, Cedric, and Kei-Mu Yi, 2001. Curbing unemployment in Europe: are there lessons from Ireland and the Netherlands? Current Issues in Economics and Finance 7(5), Federal Reserve Bank of New-York

Walsh, Brendan, 2003, "When Unemployment Disappears: Ireland in the 1990s". CESifo Working Paper Series No. 856. Available at SSRN: http://ssrn.com/abstract=382944
Acknowledgments
The authors would like to thank Ashvin Ahuja and Melesse Tashu for comments. The views expressed in this paper are those of the authors and cannot be attributed to the IMF or its member countries. Any remaining errors are ours.
Appendix: Figures for placebo experiments
Appendix: Figures for placebo experiments
About this article
Cite this article
Adhikari, B., Duval, R., Hu, B. et al. Can Reform Waves Turn the Tide? Some Case Studies using the Synthetic Control Method. Open Econ Rev 29, 879–910 (2018). https://doi.org/10.1007/s11079-018-9490-3
Keywords
Structural reforms

Synthetic control method

Liberalization

Labor and productivity market reforms

Growth
JEL Classification