Abstract
Are the costs of exporting to a market reduced if a firm has experience of exporting to a neighbouring market? If so, does this effect operate through reducing entry barriers or by increasing sales once the firm is operating in the market? This paper examines linkages between current export destinations and entry, sales and exit for new markets. We find that measures of exporting experience in geographically nearby markets increase the probability of entry into a market and reduce the probability of exit. However, these same measures have very limited effect on the firm's export sales in the market. The effect of related experience on sales tends to be negative for recently entered firms. We interpret this result in the context of the Melitz heterogeneous-firm model of trade by showing that lower fixed costs reduce the entry threshold, but this lower threshold has the effect of allowing lower-sales marginal firms to be present in the market.
Access options
Buy single article
Instant access to the full article PDF.
US$ 39.95
Tax calculation will be finalised during checkout.
Subscribe to journal
Immediate online access to all issues from 2019. Subscription will auto renew annually.
US$ 79
Tax calculation will be finalised during checkout.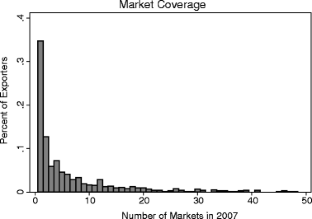 Notes
1.

See Disdier and Head (2008) for a meta-analysis of the effect of distance in aggregate gravity estimation.

2.

3.

A separate agency, the Industrial Development Agency, is responsible for attracting foreign direct investment and promoting foreign-owned businesses. The data from the Enterprise Ireland survey were made available to us by Forfás, which is the Irish national policy advisory board for enterprise, trade and technology.

4.

Note that the entry and exit rates are calculated by market - the same firm may simultaneously be entering one market and exiting a different one.

5.

6.

Earlier work with this data in Lawless (2009) showed that firms with more markets were more likely to increase or decrease their number of markets - the result here however refers to the probability of leaving a specific market and thus does not contradict that finding.
References
Albornoz F, Calvo Pardo HF, Corcos G, Ornelas E (2009) Sequential exporting, mimeo. University of Bermingham

Bernard A, Jensen JB, Schott PK (2009) Importers, exporters and multinationals: a portrait of firms in the US that trade goods. In: Dunne T, Jensen JB, Roberts MJ (eds) Producer dynamics: new evidence from micro data. University of Chicago Press, Chicago

Blonigen BA, Davies RB, Waddell GR, Naughton HT (2007) FDI in space: spatial autoregressive relationships in foreign direct investment. Eur Econ Rev 51:1303–1325

Disdier A-C, Head K (2008) The puzzling persistence of the distance effect on trade. Rev Econ Stat 90:3748

Eaton J, Eslava M, Kugler M, Tybout J (2008) The margins of entry into export markets: evidence from Columbia. In: Helpman E, Marin D, Verdier T (eds) The organization of firms in a global economy. Harvard University Press, Cambridge, MA

Evenett SJ, Venables AJ (2002) Export growth in developing countries: market entry and bilateral trade flows, mimeo. World Trade Institute

Fabling R, Grimes A, Sanderson L (2009) Whatever next? Export market choices of New Zealand firms. Reserve Bank of New Zealand discussion paper series DP2009/19.

Helpman E, Melitz M, Rubinstein Y (2008) Estimating trade flows: trading partners and trading volumes. Q J Econ 123:441–487

Heston A, Summers R, Aten B (2009) Penn world table version 6.3, Center for international comparisons of production, income and prices at the University of Pennsylvania

Lawless M (2009) Firm export dynamics and the geography of trade. J Int Econ 77(2):245–254

Lawless M (2010) Deconstructing gravity: trade costs and extensive and intensive margins. Can J Econ 43(4):1149–1172

Lawless M, Whelan K (2008) Where do firms export, how much, and why? Central bank of Ireland technical paper 6/RT/08

Mayer T, Zignago S (2006) Notes on CEPII's distance measures, mimeo. http://www.cepii.fr/distance/noticedist_en.pdf. Accessed 30 Sept 2009

Melitz M (2003) The impact of trade on intra-industry reallocations and aggregate industry productivity. Econometrica 71(6):1695–1725
Acknowledgments
I would like to thank Forfás for provision of the anonymous data, Debbie Quinn for her help with queries on the data and two anonymous referees for helpful comments on an earlier draft. The views expressed in this paper are the author's own, and do not necessarily reflect the views of the Central Bank of Ireland or the ESCB.
About this article
Cite this article
Lawless, M. Marginal Distance: Does Export Experience Reduce Firm Trade Costs?. Open Econ Rev 24, 819–841 (2013). https://doi.org/10.1007/s11079-013-9275-7
Keywords
Distance

Export performance

Heterogeneous firms
JEL Classification