Abstract
We analyze exports along five margins to observe the changes of newly exported products, products removed from the export market, and continuously traded products to new, old, and exited destinations on export growth. We find export shares differ between developing and developed countries: 1) entering and exiting products are an important source of export value, but more so for developing than developed countries, 2) that continuously exported products to new destinations are a more important source of export value for developing than developed countries, 3) that though the removal of exiting products has a large impact on export value, the removal of products from one destination that continue to be exported elsewhere results in little loss to total export value, and 4) that larger and richer exporting countries have less opportunity to increase exports from new destinations than smaller and poorer exporting countries. Understanding the change in these margins across different types of countries may be important for formulating trade agreements and targeting of new trade partners.
Access options
Buy single article
Instant access to the full article PDF.
US$ 39.95
Tax calculation will be finalised during checkout.
Subscribe to journal
Immediate online access to all issues from 2019. Subscription will auto renew annually.
US$ 79
Tax calculation will be finalised during checkout.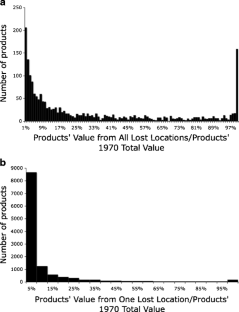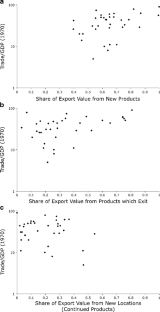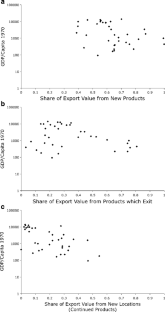 Notes
1.

The data for years 1970–1983 were originally collected under SITC Revision 1, however, they have been recoded and are now only available in Revision 2 classification.

2.

We perform the same exercise using more recent product data after the revision, but the time period is much shorter. We find a qualitative match in results that we interpret as a robustness check on the results reported. An analysis of the newer data is available upon request.
References
Bernard AB, Jensen JB, Schott PK (2003) Falling trade costs heterogenous firms, and industry dynamics. NBER working paper no 9639. http://www.nber.org/papers/w9639.pdf

Bernard AB, Jensen JB, Redding SJ, Schott PK (2009) The margins of U.S. trade (long version), NBER working paper no 14662

Cassey AJ, Schmeiser KN (2013) Six comparisons of firm-level and product-level data. Appl Econ Lett 20:382–385

Eaton J, Kortum S (2002) Technology, geography, and trade. Econometrica 70(5):1741–1779

Eaton J, Eslava M, Kugler M, Tybout JE (2007) Export dynamics in Colombia: firm-level evidence. NBER working paper no 13531. http://www.nber.org/papers/w13531.pdf

Eaton J, Kortum S, Kramarz F (2011) An anatomy of international trade: evidence from French firms. Econometrica 79(5):1453–1498

Evenett SJ, Venables A (2002) Export growth by developing economies: market entry and bilateral trade. CEPR working paper no 2315. http://www.alexandria.unisg.ch/publications/22177

Feenstra RC, Lipsey RE, Deng H, Ma AC, Mo H (2005) World trade flows: 1962–2000. NBER working paper no 11040. http://cid.econ.ucdavis.edu/data/undata/NBER-UN_Data_Documentation_w11040.pdf

FRED (2011) Federal Reserve Economic Data. St. Louis Federal Reserve Bank. Producer Price Index on Finished Goods (PPIFGS). http://research.stlouisfed.org/fred2/. Accessed 18 Apr 2011

Kehoe TJ, Ruhl KJ (2009) How important is the new goods margin in international trade? Federal Reserve Bank of Minneapolis Staff Report no 324. http://www.minneapolisfed.org/research/sr/SR324.pdf

Melitz MJ (2003) The impact of trade on intra-industry reallocations and aggregate industry productivity. Econometrica 71(6):1695–1725

Ruhl KJ, Willis JL (2008) New exporter dynamics. NYU Stern School of Business

Schmeiser KN (2012) Learning to export: export growth and the destination decision. J Int Econ 87(1):89–97

WDI (2011) World Development Indicators. Series on GDP (2000USD) NY.GDP.MKTP.KD. http://data.worldbank.org/data-catalog/world-development-indicators. Accessed 6 June 2011
Additional information
The authors thank Tim Kehoe and an anonymous referee for excellent suggestions. Portions of this research supported by the Agricultural Research Center Project #0540 atWashington State University.
About this article
Cite this article
Cassey, A.J., Schmeiser, K.N. Multilateral Export Decompositions. Open Econ Rev 24, 901–918 (2013). https://doi.org/10.1007/s11079-013-9273-9
Keywords
International trade

Exports

Products
JEL Classifications