Abstract
Various studies have pointed to urgency in decision-making as a major catalyst for policy change. Urgency evokes a crisis frame in which emotions and cognitive and institutional biases are more likely to be mobilised in support of the policy preferences of powerful actors. As a result, decision-makers tend to be driven by emotions and opportunity, often with detrimental results for the quality of the planning process. Although urgency has such a profound influence on the quality of decision-making, little is known about how, when and by whom urgency is constructed in the planning process of public infrastructure. By means of a discourse analysis, this study traces the timing, motives and ways actors discursively construct a sense of urgency in decision-making on the building of terminals for the reception and treatment of the natural gas that was recently found off the coast of Israel. The results of this study indicate that government regulators, but also private sector actors, deliberately constructed an urgency discourse at critical moments during the planning process. By evoking terms that resonated with the target audience, regulators employed urgency as an instrument to legitimise unorthodox planning practices whilst precluding the consideration of alternative planning solutions. Thus, urgency framing is a means of controlling both the discourse and the agenda—and is therefore an exercise in power maintenance—by entrenched interest groups.
This is a preview of subscription content, log in to check access.
Access options
Buy single article
Instant access to the full article PDF.
US$ 39.95
Price includes VAT for USA
Subscribe to journal
Immediate online access to all issues from 2019. Subscription will auto renew annually.
US$ 99
This is the net price. Taxes to be calculated in checkout.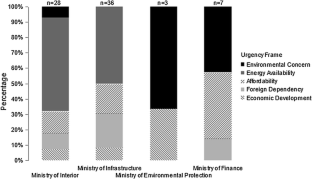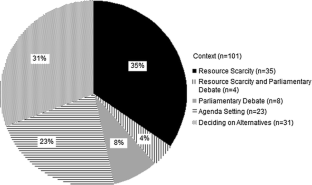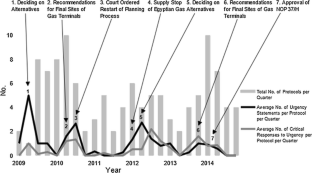 References
Adam, B., & Van Loon, J. (2000). Introduction: Repositioning risk; the challenge for social theory. In B. Adam, U. Beck, & J. Van Loon (Eds.), The risk society and beyond: Critical issues for social theory (pp. 1–31). London: Sage.

Altshuler, A. A., & Luberoff, D. (2003). Mega-projects: The changing politics of urban public investment. Washington DC: Brookings Institution Press.

Ariely, D., & Zakay, D. (2001). A timely account of the role of duration in decision making. Acta Psychologica, 108(2), 187–207.

Barkat, A. (2013, December 25). The wheel turns: Egypt asks Israel to ensure the flow of gas. Globes. Retrieved October 18, 2015 from http://www.globes.co.il/news/article.aspx?did=1000904184 (Hebrew).

Beck, U. (1992). Risk Society: Towards a New Modernity. London: Sage Publications.

Ben-Israel, A. (2010, September 23). Development of Tamar gas field commences at a cost of 3 billion US Dollar. Globes. Retrieved May 24, 2016 from http://www.globes.co.il/news/article.aspx?did=1000590165 (Hebrew).

Bernauer, T., & McGrath, L. (2016). Simple reframing unlikely to boost public support for climate policy. Nature Climate Change: Advance online publication. doi:10.1038/nclimate2948.

Bruzelius, N., Flyvbjerg, B., & Rothengatter, W. (2002). Big decisions, big risks. Improving accountability in mega projects. Transport Policy, 9(2), 143–154.

Buzan, B., Wæver, O., & De Wilde, J. (1998). Security: A new framework for analysis. Colorado: Lynne Rienner Publishers.

Chong, D., & Druckman, J. N. (2007). Framing theory. Annual Review of Political Science, 10(1), 103–126.

Cobb, R. W., & Elder, C. D. (1971). The politics of agenda-building: An alternative perspective for modern democratic theory. The Journal of Politics, 33(4), 892–915.

Dilling, L., & Moser, S. C. (2007). Introduction. In S. C. Moser & L. Dilling (Eds.), Creating a climate for change: Communicating climate change and facilitating social change (pp. 1–30). Cambridge: Cambridge University Press.

Dobbs, R., Pohl, H., Lin, D., Mischke, J., Garemo, N., Hexter, J., et al. (2013). Infrastructure productivity: How to save $1 trillion a year. McKinsey Global Institute. Retrieved from http://www.mckinsey.com/industries/infrastructure/our-insights/infrastructure-productivity.

Fischhendler, I., & Nathan, D. (2014). In the name of energy security: The struggle over the exportation of Israeli natural gas. Energy Policy, 70, 152–162.

Flyvbjerg, B., Bruzelius, N., & Rothengatter, W. (2003). Megaprojects and risk: An anatomy of ambition. Cambridge: Cambridge University Press.

Follmann, A. (2015). Urban mega-projects for a 'world-class' riverfront—the interplay of informality, flexibility and exceptionality along the Yamuna in Delhi, India. Habitat International, 45, 213–222.

Foust, C. R., & O'Shannon Murphy, W. (2009). Revealing and reframing apocalyptic tragedy in global warming discourse. Environmental Communication, 3(2), 151–167.

Garb, Y. (2004). Constructing the Trans-Israel highway's inevitability. Israel Studies, 9(2), 180–216.

Giddens, A. (1990). The consequences of modernity. Cambridge: Polity.

Giddens, A. (2009). The politics of climate change. Cambridge: Polity.

Giezen, M. (2013). Adaptive and strategic capacity: Navigating megaprojects through uncertainty and complexity. Environment and Planning B: Planning and Design, 40(4), 732–741.

Giglioli, I., & Swyngedouw, E. (2008). Let's drink to great thirst! Water and the politics of fractured techno-natures in Sicily. International Journal of Urban and Regional Research, 33(2), 392–414.

Gross, J. J. (2014). Emotion regulation: Conceptual and empirical foundations. In J. J. Gross (Ed.), Handbook of emotion regulation (pp. 3–20). New York: Guilford.

Gutman, L. (2013, October 15). The state fell asleep during development, the old gas reservoirs depleted and the electricity tariff soared. Calcalist. Retrieved October 18, 2015 from http://www.calcalist.co.il/local/articles/0,7340,L-3614386,00.html (Hebrew).

Hajer, M. (1995). The politics of environmental discourse: Ecological modernization and the policy process. Oxford: Clarendon Press.

Hajer, M., & Versteeg, W. (2005). A decade of discourse analysis of environmental politics: Achievements, challenges, perspectives. Journal of Environmental Policy & Planning, 7(3), 175–184.

Hardy, C., & Maguire, S. (2016). Organizing risk: Discourse, power and "riskification". Academy of Management Review, 41(1), 80–108.

Higgs, R. (2010). Cumulating policy consequences, frightened overreactions, and the current surge of government's size, scope, and power. Harvard Journal of Law & Public Policy, 33(2), 531–556.

Israel. High Court of Justice. (2010). Ruling 2293/10 (Hebrew).

Jhagroe, S., & Frantzeskaki, N. (2015). Framing a crisis: Exceptional democracy in Dutch infrastructure governance. Critical Policy Studies. doi:10.1080/19460171.2015.1066690.

Jones, B. D., & Baumgartner, F. R. (2012). From there to here: Punctuated equilibrium to the general punctuation thesis to a theory of government information processing. Policy Studies Journal, 40(1), 1–20.

Lakoff, G. (2010). Why it matters how we frame the environment. Environmental Communication, 4(1), 70–81.

Leijten, M. (2013). Real-world decision-making on mega-projects: Politics, bias and strategic behaviour. In H. Priemus & B. Van Wee (Eds.), International handbook on mega-projects (pp. 57–82). Cheltenham: Edward Elgar Publishing.

Leiserowitz, A. (2007). Communicating the risks of global warming: American risk perception, affective images, and interpretive communities. In S. C. Moser & L. Dilling (Eds.), Creating a climate for change: Communicating climate change and facilitating social change (pp. 44–63). Cambridge: Cambridge University Press.

Lombard, M., Snyder-Duch, J., & Bracken, C. C. (2002). Content analysis in mass communication: Assessment and reporting of intercoder reliability. Human Communication Research, 28(4), 587–604.

Lorenzoni, I., & Benson, D. (2014). Radical institutional change in environmental governance: Explaining the origins of the UK Climate Change Act 2008 through discursive and streams perspectives. Global Environmental Change, 29, 10–21.

Lu, H., & Schuldt, J. P. (2015). Exploring the role of incidental emotions in support for climate change policy. Climatic Change, 131(4), 719–726.

Majoor, S. (2011). Framing large-scale projects: Barcelona forum and the challenge of balancing local and global needs. Journal of Planning Education and Research, 31(2), 143–156.

Maor, M. (2012). Policy overreaction. Journal of Public Policy, 32(3), 231–259.

Maor, M. (2016). Emotion-driven negative policy bubbles. Policy Sciences, 49(2), 191–210.

Maule, A. J., Hockey, G. R. J., & Bdzola, L. (2000). Effects of time-pressure on decision-making under uncertainty: Changes in affective state and information processing strategy. Acta Psychologica, 104(3), 283–301.

Mehta, L. (2001). The manufacture of popular perceptions of scarcity: Dams and water-related narratives in Gujarat, India. World Development, 29(12), 2025–2041.

Ministry of Interior. (2015). Natural gas—NOP 37/H homepage. Retrieved October 18, 2015 from http://www.moin.gov.il/Subjects/Energy/Pages/tama37-8.aspx (Hebrew).

Ministry of National Infrastructures, Energy and Water Resources. (2015). The Israeli electricity sector homepage. Retrieved October 20, 2015 from http://energy.gov.il/Subjects/Electricity/Pages/GxmsMniAboutElectricity.aspx. (Hebrew).

Moser, S. C. (2007). More bad news: The risk of neglecting emotional responses to climate change information. In S. C. Moser & L. Dilling (Eds.), Creating a climate for change: Communicating climate change and facilitating social change (pp. 64–80). Cambridge: Cambridge University Press.

Nabi, R. L. (2003). Exploring the framing effects of emotion. Do discrete emotions differentially influence information accessibility, information seeking, and policy preference? Communication Research, 30(2), 224–247.

Priemus, H. (2010). Mega-projects: Dealing with pitfalls. European Planning Studies, 18(7), 1023–1039.

Rafey, W., & Sovacool, B. K. (2011). Competing discourses of energy development: The implications of the Medupi coal-fired power plant in South Africa. Global Environmental Change, 21(3), 1141–1151.

Rein, M., & Schön, D. A. (1993). Reframing Policy Discourse. In F. Fischer & J. Forester (Eds.), The argumentative turn in policy analysis and planning (pp. 145–166). Durham USA: Duke University Press.

Risbey, J. S. (2008). The new climate discourse: Alarmist or alarming? Global Environmental Change, 18(1), 26–37.

Roeser, S. (2012). Risk communication, public engagement, and climate change: A role for emotions. Risk Analysis, 32(6), 1033–1040.

Sánchez, F., & Broudehoux, A. M. (2013). Mega-events and urban regeneration in Rio de Janeiro: Planning in a state of emergency. International Journal of Urban Sustainable Development, 5(2), 132–153.

Schmidt, V. A. (2011). Speaking of change: Why discourse is key to the dynamics of policy transformation. Critical Policy Studies, 5(2), 106–126.

Shaffer, B. (2011). Israel—New natural gas producer in the Mediterranean. Energy Policy, 39(9), 5379–5387.

Smith, N., & Leiserowitz, A. (2014). The role of emotion in global warming policy support and opposition. Risk Analysis, 34(5), 937–948.

State Comptroller (2013). Annual report 64a for the year 2013. (Hebrew).

Swyngedouw, E., Moulaert, F., & Rodriguez, A. (2002). Neoliberal urbanization in Europe: Large-scale urban development projects and the new urban policy. Antipode, 34(3), 542–577.

Tversky, A., & Kahneman, D. (1981). The framing of decisions and the psychology of choice. Science, 211(4481), 453–458.

Urgent. (2016). In Oxford Online Dictionaries. Retrieved May 26, 2016 from http://www.oxforddictionaries.com/definition/english/urgent.

Van Loon, J. (2002). Risk and technological culture: Towards a sociology of virulence. London: Routledge.

Zahariadis, N. (2003). Ambiguity and choice in public policy: Political decision making in modern democracies. Washington DC: Georgetown University Press.

Zinn, J. O. (2010). Risk as discourse: Interdisciplinary perspectives. Critical Approaches to Discourse Analysis Across Disciplines, 4(2), 106–124.
Acknowledgments
We would like to thank Gil Tal and Moshe Maor who shared with us their invaluable insights and expertise that greatly assisted our research, and three anonymous referees for their useful suggestions and constructive comments on earlier versions of this manuscript. We would like to express our gratitude to The Levi Eshkol Institute at The Hebrew University for partially funding this research.
Ethics declarations
Conflicts of interest
The authors declare that they have no conflict of interest.
About this article
Cite this article
van Wijk, J., Fischhendler, I. The construction of urgency discourse around mega-projects: the Israeli case. Policy Sci 50, 469–494 (2017). https://doi.org/10.1007/s11077-016-9262-0
Keywords
Mega-projects

Infrastructure

Planning

Urgency

Crisis

Discourse

Framing